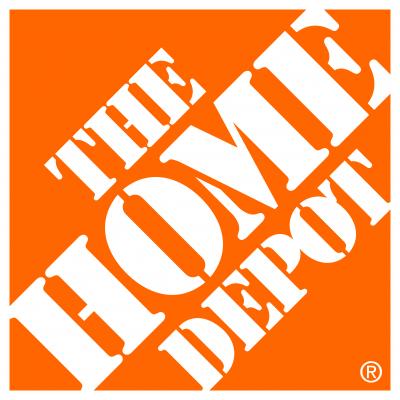 Home Depot (HD) is growing revenue and earnings and pays a very nice dividend. Given projections of earnings increases, its likely future dividend payments have a net present value in excess of the current market price. That makes HD a good opportunity for a dividend growth investor.
Is HD a good investment partner?
Last week, I wrote an article about Lowe's (LOW). The company seemed to be doing quite well and I found that the shares were selling at a good value based on using DDM to determine an NPV for future dividend payments. A number of readers suggested that HD was a stronger company. So I decided to look into HD.
As a dividend growth investor, I want companies I own to be able to support the dividends they pay and to grow those payments over time. I have identified what I call 4 key characteristics that help me find companies that can do that. These 4 keys are: growing markets and revenues, growing profits, managing debt well, and growing dividends. Each of the 4 key characteristics gets support from the ones before it, and having all 4 makes for the type of company able to grow its dividend payments into the future.
While I will look for evidence that a company has my 4 keys in many places, I like it best when the company and its management recognize the importance of these characteristics. So for HD, I will start where I usually start, at the latest annual report. Below I will present the slides that best illustrate the characteristics I am looking for, but reading the whole presentation has value as well.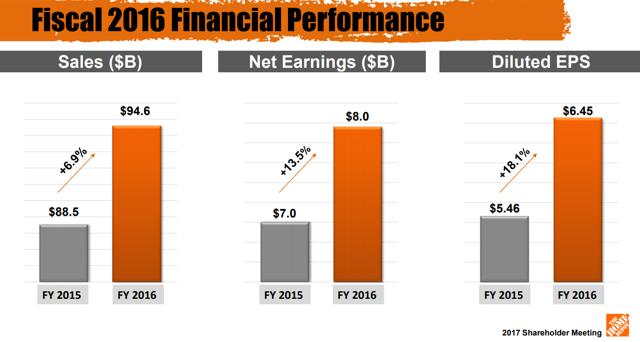 The slide above addresses my first 2 key characteristic. An increase in net sales in the upper end of mid-single digits is pretty good. I notice that net earnings increased by less than EPS, which tells me the company is buying back shares. From my calculations the buybacks increased EPS by about $0.25 a share. Given where the price of HD was during 2016, I don't know as that was a great time to buy back shares, but it looks like it wasn't a total waste.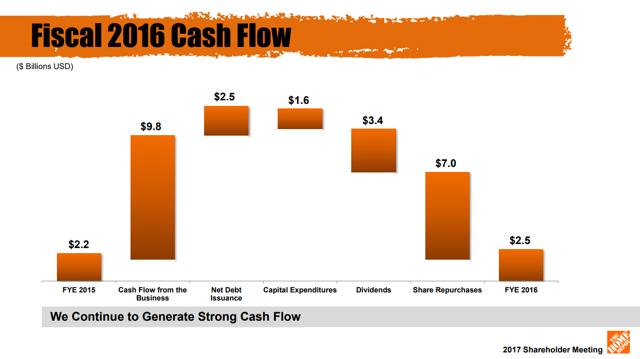 The slide above shows how HD management uses the cash it generates. I am a little concerned that debt is being used to fund some of the CAPEX, dividends and share buybacks. But with more cash left over at the end of 2016 than 2015 and the fact that the dividend payments and CAPEX total around half of the cash generated by the business, I am not too worried at this time. The buybacks can always be scaled back and management is buying enough shares that it should allow for better dividend growth on a per share basis. But I will definitely want to look at what the credit rating agencies say about HD debt.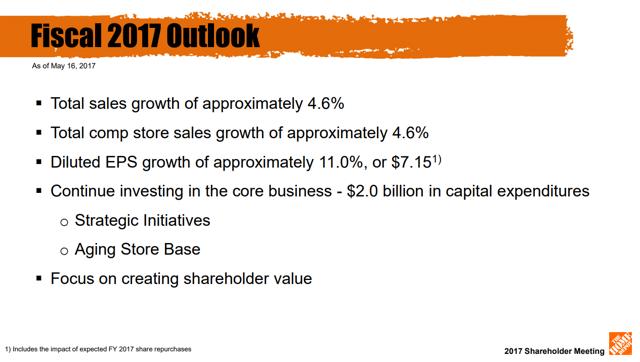 The slide above shows us what management is thinking it can do in 2017. This gives us a set of numbers to compare performance in 2017 against. An 11% target for EPS growth will be helpful in figuring out future dividend growth and ultimately the price I am willing to pay to buy shares of HD. While the predicted sales growth is less than 2016, it sounds reasonable. Again, this will also give me numbers to compare actual growth in 2017 against.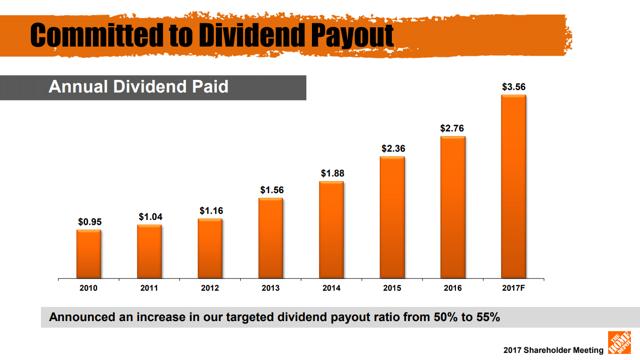 As a dividend growth investor, I very much like it when companies I own make a commitment to the dividend payment. In the slide above I like it even better in that management has a policy in place for how to determine the dividend and announces a change in that policy that will allow for a larger dividend in the future. I don't think a difference between 50% and 55% payout ratio will make a big difference in the amount of cash available to grow the company, especially since any additional cash can be obtained by reducing the amount of share buybacks if needed.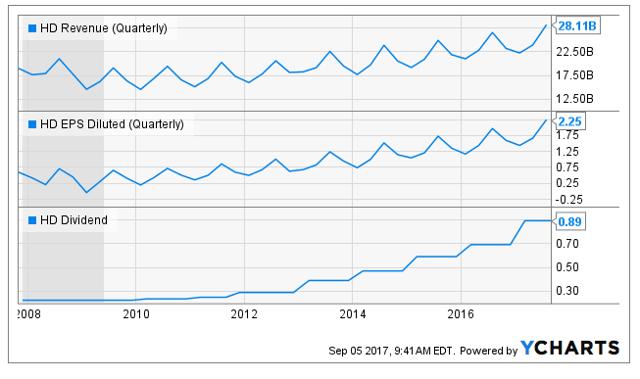 The YChart above gives a longer history of revenue, EPS, and dividend growth. As I expected during the last recession, EPS and revenue suffered some, but HD was able to maintain the dividend payment. That is exactly what I want the management of a company I own to do. HD didn't cut the dividend and only froze it for one year (2008).
With HD borrowing to fund stock repurchases, I am especially interested in what the rating agencies say about HD. And Moody's rating looks pretty positive to me. From what I see, Moody's upgraded HD to A2 back in late 2013 based on strong operating earnings growth potential. Since that time the only credit negative event that Moody's has recorded is a data breach back in late 2014. With A rated credit and no earnings or debt negatives, this looks like HD is managing its debt well.

What does the latest earnings reports say?
Investing is always about what a company has done lately, as you can't buy any more shares in the past. So HD in its annual report issued guidance that it would increase EPS by 11% while growing sales and revenue by 4.6%. So how has it done in the first 2 quarters of 2017?
Well in Q1 it reported EPS of $1.67 and revenue of $23.9 billion. An 11% increase in EPS from the same quarter last year would have been $1.60, so it did 7 cents better than guidance. And revenue increased 5%, also ahead of guidance.
Looking at Q2, I also see good news for HD. Comparable sales were up 6.3% which is quite a bit higher than the yearly guidance. EPS for the year was also revised upwards from $7.15 a share to $7.29. Management also increased the target for share buybacks to $7 billion from the previous $5 billion target. EPS for the quarter was up 28 cents far more than the 11% gain of management's original guidance.
Looking at EPS based on the new guidance by management, EPS for Q1 needed to be $1.63, so at $1.67 Q1 still beat guidance. For Q2, EPS needed to be $2.23 so the $2.25 still beat management's guidance. So HD is still ahead of yearly guidance even as that guidance is revised upwards.
All things considered, HD looks to be doing a good job at growing earnings, growing profits, handling its debt well and growing dividends. As such I think it makes a good investment partner for me as a dividend growth investor. At the right price, I think HD represents a solid opportunity for a dividend growth investor.
What is a good price?
To figure out a good price, I do a DDM calculation using my Excel based DDM calculator (pictured below, you can see the web-based calculator I based it on here and read a discussion on how the formulas were developed here). Looking at the David Fish's CCC List(which contains a data on companies that have raised their dividend each year for 5 or more years) I see HD has been growing its dividend since 2008, in the middle of the last recession. HD has also been growing the dividend at a very fast pace, as even taking in the time it froze the dividend, its CAGR over the last 10 years has been over 15%. Looking at projections of EPS growth for the next 5 years, I think estimating that it can grow the dividend at 11% is reasonable. HD has already made 2 dividend payments at $0.89, so I think over the next 12 months investors can expect 2 payments at a higher rate. Given that the last dividend increase was 20 cents a quarter, I think that projecting the next increase to be 10 cents is very conservative. That gives me a $3.76 dividend payment for the next 12 months.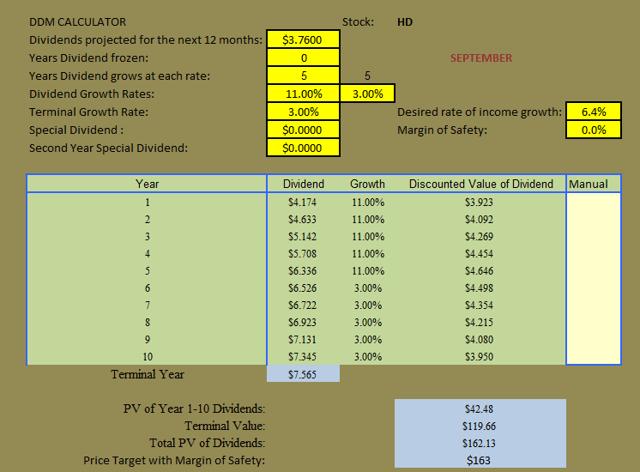 Using those parameters, I calculate that the NPV of future dividend payments is $162.13. Since HD seems to be hitting on all cylinders now and beating analysts' estimates, I do not need any additional margin of safety, so my buy price is anything below $163. Even with the pop in price this morning, the market price of HD is around $154, so that is a good deal for a dividend growth investor.
Using the 4 year average yield to calculate a price, I get a price around $184. I think HD was likely over-price over the last 4 years, or the 1.93% yield is just too low for me. However if I instead use a yield of 2.1% (about the average between the 4 year and current yields), I get a price of about $170, which would be a reasonable price and a reasonable yield.
Can options help?
With Harvey just passed and Irma on its way, there is likely to be some volatility in HD prices, so a careful look at options may reveal some good deals.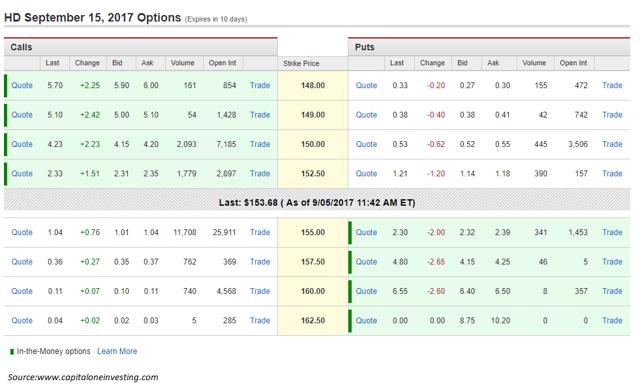 With a buy price of $163, I don't see any call contracts with attractive premiums at that strike price. I do however see a couple of put contracts at the September 15th expiration date that offer an opportunity.
I like both the $152.50 and $155 strike price put contracts. If assigned, both will get you an effective price for the shares below the current market price. The $155 strike price put contract will give you better odds of getting the shares, while the $152.50 strike price contract will get you a better price. With only 10 days to go and hurricanes pushing prices up, I think there is a good chance that neither contract will actually get exercised, in which case the higher premium of the $155 strike is the better deal.
Conclusion
HD is a growing company in the home improvement sector. It is also doing a very good job of growing its dividends. Based on that and the current market price, I think HD currently represents a good opportunity for a dividend growth investor.
Note: I hope you all got something out of this article. I do appreciate the time you took reading it. If you are one of those who follow me here, I appreciate it; if you'd like to include yourself amongst those individuals, please hit the "Follow" button next to my name as well as following other contributors whose work you enjoy. As always, please leave any feedback and questions you may have in the comments below.
Disclaimer: This article is intended to provide information to interested parties. As I have no knowledge of individual investor circumstances, goals, and/or portfolio concentration or diversification, readers are expected to complete their own due diligence before purchasing any stocks mentioned or recommended. The price I call fair valued is not a prediction of future price but only the price at which I consider the stock to be of value for its dividends.
Disclosure: I/we have no positions in any stocks mentioned, and no plans to initiate any positions within the next 72 hours.
I wrote this article myself, and it expresses my own opinions. I am not receiving compensation for it (other than from Seeking Alpha). I have no business relationship with any company whose stock is mentioned in this article.