Most risky asset classes endured losses during the first half of August before rallying to end the month with modest gains (for more details, see chart below). At month-end gold and emerging market equities ended at the top of the pile (see table below) while REITs and High Yield endured modest losses. At month-end, asset class valuations remain elevated, with the possible exception of emerging market equities. Given current valuations and the balance between upside and downside risks, we continue to hold 25% of the multi-asset portfolio in cash.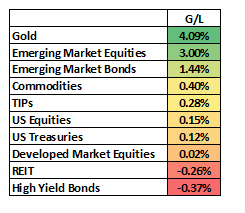 We do not expect the Fed to aggressively raise interest rates, given ongoing concerns about financial market stability and a weak real economy (see here). Employment growth in August was 156,000, slightly below expectations, and wage growth also was weaker-than-expected. One more hike by year-end currently has been priced-in by the market.
At this point in time, upside opportunities for investors appear limited relative to potential downside risk, and uncertainty associated with the political situation (to say nothing about the tension with North Korea) is not helping matters.
The ICycle Market State framework remains in a Neutral Market State (where it has been for the past nineteen months).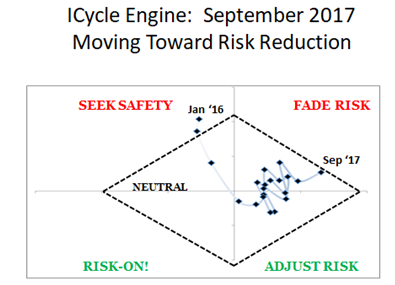 However, the probability that we enter a Fade Risk (de-risking) Market State over the next three months has increased from 29% to 48% with the probability that we remain in a Neutral Market State having fallen from 56% to 33%. If the portfolio crosses the line into a Fade Risk Market State, we will likely increase our allocation to risk-free asset classes (e.g., TIPs, UST and Cash).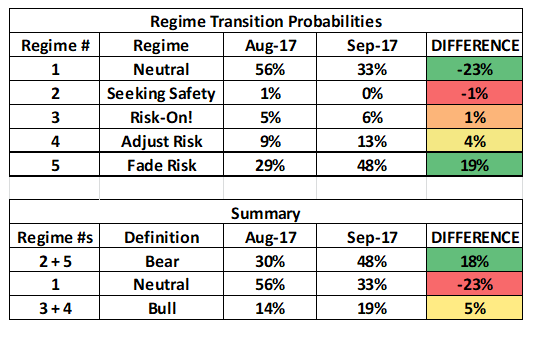 Financial markets have generated significant returns since the end of the crisis, yet the real economy continues to operate under a cloud, with real GDP growth rates well below trend at 2%. The ICycle Multi-Asset Model Portfolio is transitioning from US to foreign stocks as it scales back exposure to several risky asset classes, notably US equities and high yield bonds.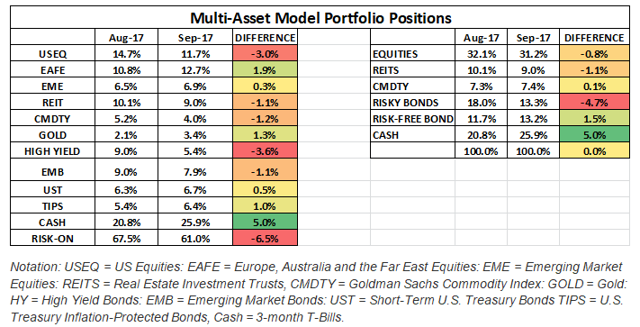 In our view, this financial cycle cannot end well, given private sector debt levels, overvalued asset prices and the eventual need to unwind post-crisis monetary policy (for more information, see here and here). Achieving a "soft landing" in this environment will be no easy feat. Over the past thirty years inflation has exited goods and services and become firmly embedded in asset prices (emboldened by asymmetric monetary policy, aka the "Greenspan Put"). In fact, it is no coincidence that financial crises have intensified during this period of time. And since the crisis in 2008, real economic growth has failed to recover to anywhere near what was achieved in earlier post-war expansions.
What is badly needed today in the U.S. today are serious measures that spur productivity and real economic growth, designed to benefit the lower end of the income distribution. Incredibly, the bottom 50% of income earners' share of income distribution declined from 20% in 1980 to 12% in 2014 (most recent figures available), while the share going to the top 1% increased from 12% to 20%. Excessive indebtedness means that the lower 50% cannot afford to increase consumption (which drives nearly 70% of the US economy). Until this situation begins to be addressed, we believe that growth will remain stuck in the 2% range. And if there is a recession and/or financial crisis, all bets are off.
In this environment, agility and steps to preserve capital until markets begin to adjust makes sense. Logically, if there is a 50% chance that markets increase by, say 10%, and an equal chance that they fall by 30%, we know which way we would go – namely, to reduce risk.
We do not know whether the cycle ends in 2017 or persists for another two to three years. It is easy to make the bearish case for it ending this year, given valuations, debt ratios, etc., but we are not perma bears and the case for a sharp decline is not (yet) compelling. We believe that what matters most in investing is protecting portfolios in a downturn. We continue to harbor doubts about the sustainability of current market valuations, and for that reason, in addition to our upside/downside risk calculation, we hold 25% in cash. And we are doing our best to diversify these risks, while holding some powder in reserve (just in case!).
In our view, these risks underscore the need for an adaptive, real-world regime-based approach that integrates financial cycle and macroeconomic risk (for more information, see here and here). Unlike mainstream economic and financial market theory, this approach recognizes that financial markets are inherently unstable.
Disclosure: I/we have no positions in any stocks mentioned, and no plans to initiate any positions within the next 72 hours.
I wrote this article myself, and it expresses my own opinions. I am not receiving compensation for it. I have no business relationship with any company whose stock is mentioned in this article.