While I come across most of my ideas via screeners, sometimes, you run across OTC stocks in the most roundabout of ways:
Recently, I purchased a one-month subscription to PropertyShark, which provides data on commercial real estate. I live in Northern Virginia, and while most of the prime properties are owned by nationally known REITs, I am curious what obscure entities own the smaller properties in the region.
Last weekend, I was getting some food at a Mexican place on Route 1 just south of Alexandria, VA. Route 1 is a more rundown part of Northern Virginia, but the area is seeing rapid redevelopment as of late. Later on, I decided to look up various properties in that area.
While looking at PropertyShark datasheets, I came across an entity known at "Lenco Realty".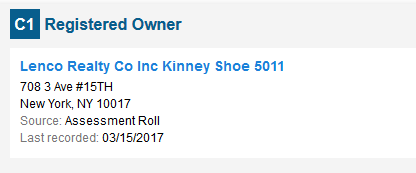 Source: PropertyShark.com
I could not find anything for this name on Google, but once I searched for the address (708 Third Avenue), I came across the company:
Merchants National Properties Inc. (OTCPK:MNPP)

(Source: MNP 2016 Annual Report)
At first, I assumed it was an old-line family owned real estate company (like the many other such entities based in NYC, such as Rudin and Durst). But as luck would have it, the company is publicly traded, an "OTC Dark" stock.
But despite this "OTC Dark" status ("Dark" as in the company is not required to file quarterly SEC filings due to small number of shareholders), the company issues annual reports to shareholders, which are publicly available on its website.
Company Overview
There is no clear-cut company history available online, but from numerous anecdotes made in public statements, I have pieced together the company's history.
In 1928, Merchants National Properties is incorporated. The company subsequently purchases 17 retail properties. Based upon this entry in a 1944 Moody's Manual, the company was set up to be an owner of NNN Retail Properties.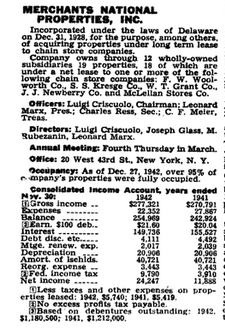 (Source: Moody's Manual via Google Books)
At the time, owning the real estate of a Kresge's (predecessor to Kmart) or W.T. Grant was like today owning an NNN Walgreens property.
In 1933, the company fell in bankruptcy, and Leonard Marx, a New York real estate developer (and owner of Marx Realty & Improvement), became a major bondholder, taking control via a reorganization (the link above also indicates that the company was set up by Merrill Lynch, which would explain why Charles Merrill's son, philanthropist Charles Merrill Jr., owns a large stake in the company).
There is very little information related to the company after this reorganization. There is a reference to the company in the history of Warren Buffett: Buffett's original partnerships were invested in the company during the early 1960s, but Buffett sold his shares to Walter Schloss's fund in order to free up capital.
Leonard Marx, Sr. died in 2002, but his son (Leonard Marx, Jr.) and his two surviving daughters continue to own ~30% of shares.
In 2006, the Marx family sold its privately-held Marx Realty and Improvement to MNP, adding to the portfolio some of the Marx family's personal holdings, as well as a property management business.
As a result of this transaction, on the company's website, the MNP and Marx Realty names are used interchangeably.
There is also an entity known as Joseph Marx & Co., of which MNPP owns 23%. Many of MNP's property interests are indirectly through this position in Joseph Marx. There is very little online about Joseph Marx & Co, which I assume is another Marx family real estate investment entity (perhaps a company set up by Leonard Marx's father).
80% of MNP's direct and indirect gross income comes from these six properties:
Cross County Shopping Center (Yonkers, NY): MNP owns 37.62% of this property, a major retail property in Yonkers, NY (just north of the Bronx in Westchester County). Retail REIT Macerich (NYSE:MAC) is the operating partner and manager of the property.

(Source: Marxrealty.com)
708 Third Avenue (New York, NY): MNP owns 35.71%. This mid-town office property is 12% vacant. Marx Realty first acquired an interest in the property in 1976.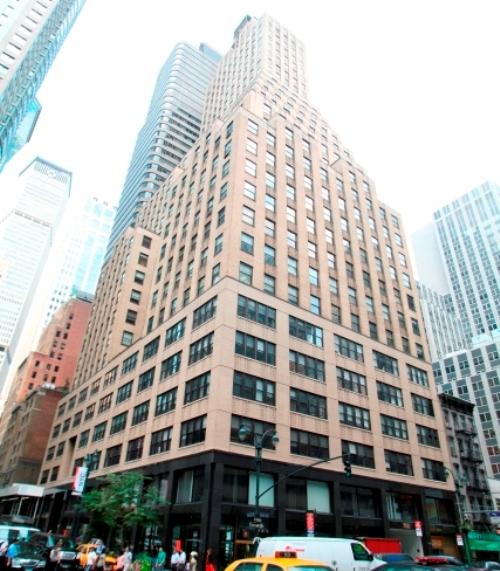 (Source: Marxrealty.com)
430 Park Avenue (New York, NY): MNP owns 8.22%. This property contains 287,000 sq. feet of leasable space. Although the building is heavily vacant (42%), this primarily due to Boston Consulting not renewing its lease. 30,000 of the 96,000 SF previous occupied by BCG has been leased to other parties.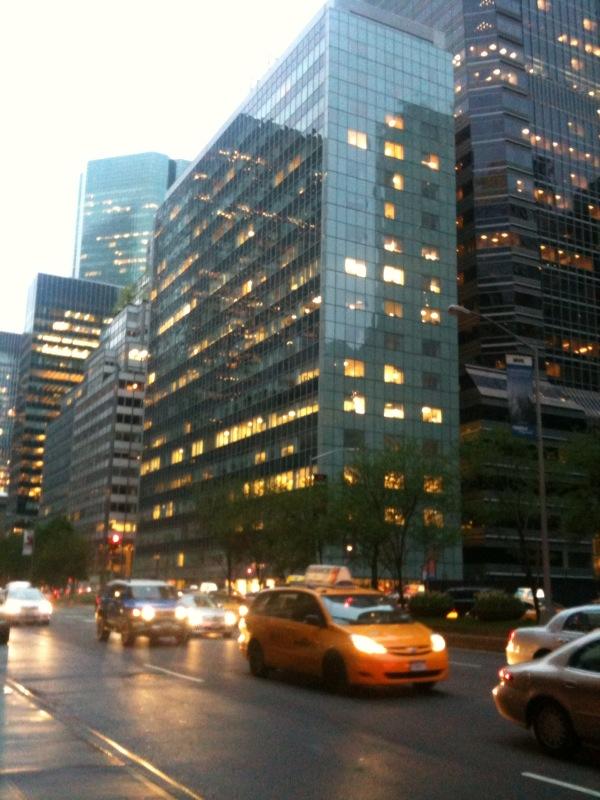 (Source: Marxrealty.com)
545 Madison Avenue (New York, NY): MNP owns 23.33% of the land underneath this property (0.2 acres). The ground lease ($6m/year, rent increases every five years) is held by Thor Equities.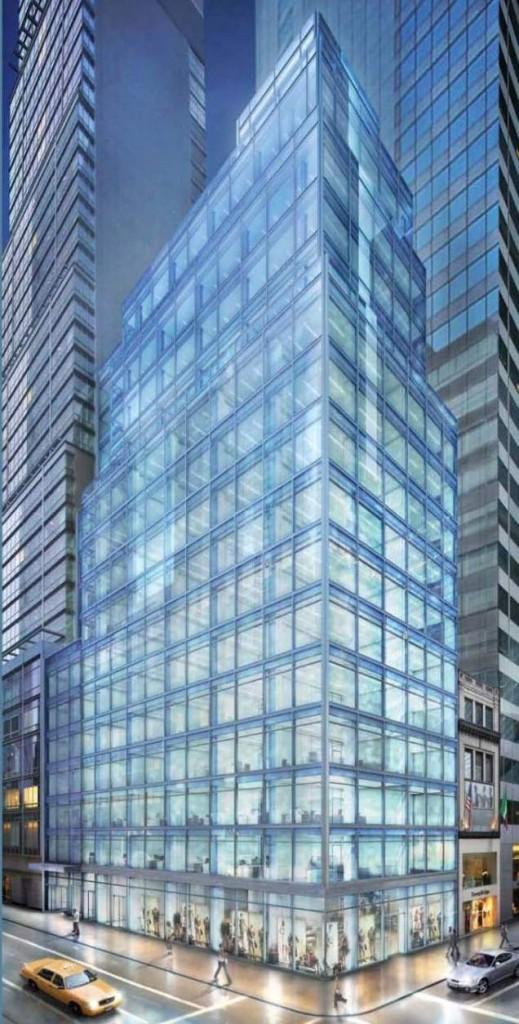 (Source: Marxrealty.com)
605 West 181st Street (New York, NY): Wholly owned retail property.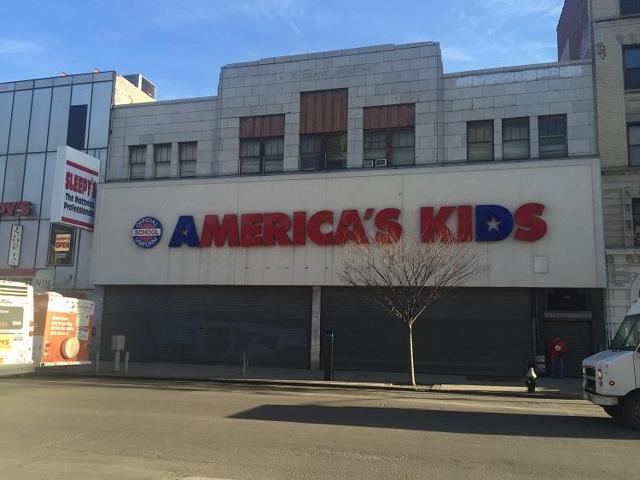 (Source: Marxrealty.com)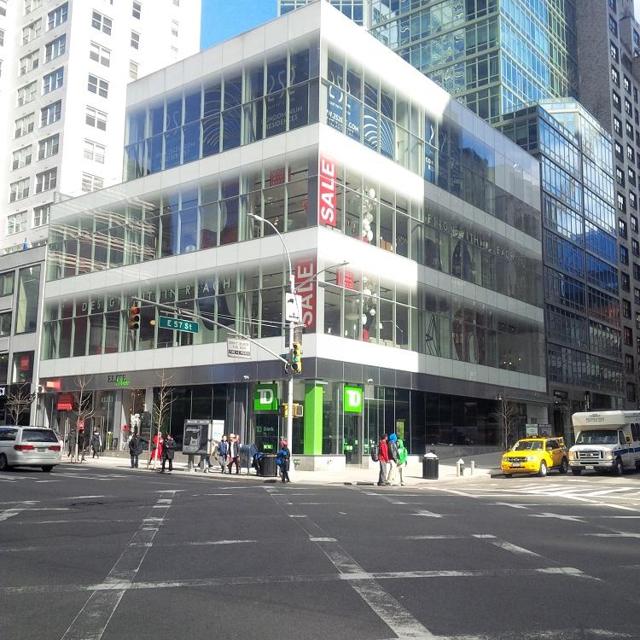 (Source: Marxrealty.com)
Other Properties of Note:
30 Flagler: 6,000 square foot lot in Downtown Miami. Purchased by developer Moishe Mana in June 2017 for $4m.
Retail Block at Washington and Bromfield Streets (Boston, MA): MNP owns 25% of this property, which managing partner Midwood Development has been trying to redevelop for years. However, the proposed mixed-use building (which includes two floors of retail, and a combination of rental units and condos) has been nixed by the Boston Redevelopment Authority over building height.
85 North 3rd Street (Brooklyn, NY): Retail block in the Williamsburg neighborhood of Brooklyn. MNP owns 40.6% of this property.
2320 Ocean Avenue (Farmingville, NY): Expressway Plaza is a strip mall on Long Island. MNP owns 12.3%, and Midwood Development controls/manages the property. The property is currently under renovation to modernize.
532 Madison Avenue (New York, NY): Another midtown land holding, 23.3% owned by MNP. Stahl Midtown Properties holds the ground lease, which expires in 2019.
4601 S. Orange Blossom Trail (Orlando, FL): 23.3% owned by MNP, the Southgate Shopping Center is a strip mall anchored by an Aldi grocery store.
Valuation

Cash
MNP had $12.6m in cash as of 12/31/16.
Securities Portfolio
Throughout its history, MNP has invested excess cash into various equity investments (based upon financial filings from the early 2000s, this equity portfolio at one time made up a significant portion of the company's asset base). This portfolio has a fair value (as of 12/31/16) of $37.8m.
Wholly Owned Properties
Based upon sales comps generated from LoopNet and other sources, I have estimated the value of MNP's wholly owned/majority-owned properties (I have included MNP's Boston properties in this calculation, although technically, they are not majority-owned properties, the entity that holds the interest in the asset is majority owned by MNP, and therefore, said entity's mortgage debt is included on MNP's balance sheet as a direct liability).
The net value of MNP's wholly owned/majority owned property interests is ~$44.8m.
These properties are encumbered with $20.9m in direct mortgages (before unamortized debt issuance costs), as well as $2m drawn on a line of credit.
I have constructed a valuation analysis of MNP's listed properties. Based upon comps derived from LoopNet and other sources (as well as the purchase price for recently acquired properties), I pieced together estimates for each of the properties in question (properties derived from "Property List" in the most recent annual report):

(Table by the Author)
The valuation of the New York, Bethpage, White Plains, Topeka, and Huntsville properties was derived from the valuations of comparable sales listings on LoopNet.
The Bronx land was valued based upon figures in a TheRealDeal article regarding land values throughout the 5 boroughs.
The Greenwich property valuations (~$1000/square foot) are in line for LoopNet listings on Greenwich Ave (Downtown Greenwich) and East Putnam Avenue (Riverside, just west of Stamford, CT).
The Washington, DC property valuation is based upon the price MNP paid for the property in 2012 (1031 Exchange after the sale of another property).
Joint Venture Investments

The bulk of MNP's holdings are minority interests in 34 retail and office properties, primarily in the New York MSA. Below is a table of the company's varying joint venture interests, where I provided a valuation estimate (based upon LoopNet and PropertyShark listings, in some cases, purchase price for recently acquired properties), net value (based upon estimates of debt held by each property), and the value of MNP's interest in the venture: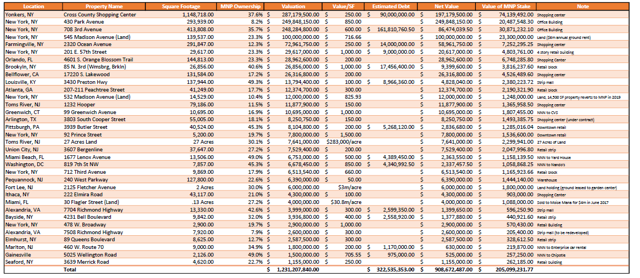 (Table by the Author)
I estimated the net value of the JV interests at ~$205.1m.
The 545 Madison Avenue land interest was valued by assigning the $6m in annual ground rent a capitalization rate of 6%.
The Gainesville, VA property, is valued based upon the purchase price of the property (NNN property leased to Chipotle, which explains the high PSF valuation). The property was purchased with $800,000 cash remaining from a property sale that had to be reinvested in order to defer taxes (1031 Exchange), along with a $700,000 loan.
The biggest challenge was determining the outstanding debt on each property: MNP provides only an aggregate amount of liabilities for their joint ventures ($322.5m). According to the 2011 Annual Report, $135m in construction loans were taken out by the Cross County partnership in order to revamp the shopping center. These loans matured in 2014, at which date I assumed the debt was rolled over into a regular mortgage. Assuming the new $135m loan amortizes over 10 years (similar to another rolled-over loan mentioned below), the outstanding balance must be around $90-100m. For my estimates, I used $90m for the amount of JV debt allocated to Cross County.
From the 2016 annual report, I determined that $14m was borrowed by the entity holding the Farmingdale shopping center, which is using the proceeds for redevelopment.
In the 2016 report, the 201 East 57th Street property was refinanced with a $13m mortgage around 2014. This mortgage is 10-year self-amortizing, so likely has a current balance of ~$8-10m. For purposes of the JV debt allocation, I went with $9m.
With the $209.5m remaining, I allocated the debt proportionately between the 10 joint venture properties (outside of Cross County) in which MNP held the largest ownership interest. Each of these properties received debt equal to 65% of my valuation (with the remainder of ~$400k allocated to 708 3rd Ave). This was done to ensure a conservative valuation: if I divided the debt proportionately, it would skew the debt towards 430 Park Avenue (estimated gross value ~$250m), a property in which MNP only holds an 8.2% interest. I had done so in my original valuation model and received a net value for the joint venture investments of ~$234m, as opposed to the $205.1m valuation used in this article.
There are several factors to take into account with this valuation: the estimates may be too conservative, in that the bulk of the debt could be held against the properties in which MNP holds the smallest interests. The valuation estimates are also location-driven. For example, I have not personally visited 708 Seventh Avenue, so I cannot determine whether or not the building is truly a Class A office building (hence the hesitation to assign the building too high a PSF valuation).
Sum of the Parts

Factoring in cash ($12.6m), the securities portfolio worth $37.7m, the net value of the wholly-owned/majority owned properties ($44.8m), and the net value of the joint venture interests ($205.1m), MNP is worth ~$298.3m, or ~$3,196/share.

(Table by the Author)
Catalysts
Divestiture of Properties in Non-Core Markets
MNP has made it a high priority to divest of legacy properties in slower growing markets and reinvest the proceeds (via 1031 exchange transactions) into stronger markets (such as New York, Washington, Boston, and Miami).
This is a smart move: as suburban strip malls are facing an existential crisis, downtown real estate in strong, wealthy markets continue to see rising rents and property appreciation. While downtown retail is not immune from the specter of e-commerce, there remains strong demand for retail space in New York City and Washington, DC.
Redevelopment of Properties in Core Markets
Along with non-core properties that should be sold, MNP holds a plethora of properties that could be redeveloped. After the success of the revamp of Cross County and Expressway Plaza, there is plenty of untapped upside in MNP's portfolio.
In tandem with Midwood Development (which manages the asset), the Boston retail blocks are to be developed into a condo tower - however, red tape has delayed this project for several years.
In the DC metro area, one of the Downtown Washington, DC properties, along with one of the Alexandria, VA investments, are to be redeveloped.
Sale/Merger of Company
While the children of Leonard Marx continue to hold a significant stake in the company, none of the Marx children (or grandchildren) appears to be active in the operation of Marx Realty & Improvement. Leonard Marx, Jr.'s brother-in-law (Leonard Gruenberg, Jr.), serves on the board of directors, but the remaining board members are non-family.
There is a high possibility that in the future, successive generations of the Marx family will seek to either sell or better monetize their position in MNP.
A merger of MNP into another publicly traded real estate company could one day be in the cards. The Marx family could also be open to swapping their stake in the company for several of MNP's property interests. This would pave the way for the company to transform to what is essentially a de-facto private company into a major retail REIT.
I am not holding my breath that strategic alternatives will occur anytime soon - the Marx family's cost basis for MNP must be effectively zero, it would not make a lot of sense for them to cash out.
Another thing to consider is the age of Charles Merrill Jr. - he is 97 years old. Given his career as an educator and philanthropist, I would speculate that once he passes away, a significant portion of his assets will be donated to his philanthropic efforts (such as Boston's Commonwealth School, where he served as headmaster for 23 years). While this will not lead to a company sale, it may provide investors an entry into MNP as more shares come to market (assuming said philanthropies decide to liquidate the bequeathed holdings).
Risks
Complex Asset Ownership Structure
MNP's disparate assets are held through a series of holding companies and joint ventures, which, to some extent, justifies the discount to intrinsic value.
MNP has divested properties held through these entities but has maintained the entities in order to roll over the proceeds in 1031 transactions. While this minimizes taxes, it reduces MNP's ability to move funds out of these partnerships and into ventures they wholly own/control.
Liquidity/Control
While the Marx family only holds 30% of outstanding shares, combined with Charles Merrill Jr.'s stake and the board's share ownership, a majority of shares are held by insiders.
Given the Marx family's track record, this is not a major concern: with the exception of the 2006 transaction (where MNP paid cash for a Marx-family owned asset), there are minimal conflicts of interest, as the Marx family is not employed in an executive capacity at the company. The current management appears to be caretaker in nature, conservatively managing the company's assets, and working with more active strategic partners (Benenson and Midwood) to take calculated risks.
Benenson and Midwood are both family-run real estate empires, each with several generations worth of experience in the dog-eat-dog New York area real estate market. While they are not the most well-known real estate dynasties, they appear to be the perfect fit for MNP.
Information Asymmetry ("OTC Dark")
Information asymmetry is another concern - this is an "OTC Dark" stock. A modicum of financial data (annual reports) is provided, but many material details are left out (such as the allocation of joint venture debt by entity). Some of these details can be pieced together by through older annual reports, but there are many questions that are left unanswered.
Heavily Correlated With Health of Retail Real Estate Market
With investors assuming the end is nigh for bricks and mortar, it would seem imprudent to dive into a real estate company primarily in the business of leasing out retail space.
MNP's saving grace is the portfolio of primarily downtown properties in high-demand markets. As the company continues to sell off non-core properties and reinvest the proceeds, MNP will emerge as primarily an owner of core retail space in New York, Washington, Boston, and South Florida.
Bottom Line
MNP is selling at a discount to the net value of its holdings, but to some extent, this discount is warranted: the complex structure of the company's holdings, along with the illiquid nature of the stock, do not make this company a screaming buy (especially this late in the real estate cycle). Purchasing shares may also be difficult: shares trade sporadically, and the bid/ask spread can be quite high.
Nevertheless, MNP may be an opportune way to invest in commercial real estate during a pullback. While many have anticipated a complete game-change for Retail CRE, MNPP's core assets in healthy markets (New York, Washington, Boston, and Miami) stand a strong chance of maintaining and growing their value long term. Add in the upside potential from redevelopment, and MNP may be one of the best opportunities in publicly-traded real estate companies not yet discovered by the market.
Disclosure: I/we have no positions in any stocks mentioned, and no plans to initiate any positions within the next 72 hours. I wrote this article myself, and it expresses my own opinions. I am not receiving compensation for it (other than from Seeking Alpha). I have no business relationship with any company whose stock is mentioned in this article.
Editor's Note: This article discusses one or more securities that do not trade on a major U.S. exchange. Please be aware of the risks associated with these stocks.