The purpose of this article is to provide an update on the company after the H1 2017 and to share what the back half of the year could hold for PDL BioPharma (NASDAQ:PDLI). To that end, I will share some analysis of the 1H financial statements that will demonstrate how undervalued PDLI currently is, even after a 45% move from lows in Q1 of the year.
As a recap of the business, PDLI invests in debt and equity of commercial grade medical devices, pharmaceutical companies, and medical royalties and patents. In 2014, the Queen et al patents ran out, and PDLI began the last stage of collections from products made with the patents. The Queen et al patents accounted for 68%, 82% and 84% of 2016, 2015 and 2014 revenues for PDLI. As if losing your biggest income generating asset wasn't bad enough, 2016 provided other setbacks for the company. For instance, a major royalty deal for $140 million fell into jeopardy, when an alleged Sanofi (NASDAQ:SNY) manufacturing error led to the Kaleo auto injector recall. The issue was later addressed, as Sanofi ended the manufacturing deal, and Kaleo took over manufacturing and commercialized the product again in February 2017. However, that was not all that caused 2016 to be one of the worst years on record for PDLI.
I have bullet pointed other critical factors that caused the stock to fade in 2016:
Eli Lily's (NYSE:LLY) solanezumab failed phase 3 trials, of which PDLI would have received royalties from.
Continued court battle for assets of Wellstat Diagnostics. PDLI originally won the case, yet that decision was later appealed. The court decision was later revoked on procedural grounds in the defendants favor. The case is back in the courts and still pending.
The company launched a debt offering for convertible notes due 2021.
The stock ended the year down from its 2016 high of about $3.77 down to $2.00. I started researching the company at that point, as the company began to show up on a few screeners I use for value stocks. I first wrote about PDLI in March 2017, when PDLI was trading at $2.11. By May 18, 2017, the price was up to $2.34. On May 18, my second article about PDLI was published: "PDL BioPharma: Now Is The Time To Buy." Since my initial article was posted on SA, PDLI has appreciated 45%. And I believe it still has a way to go.
Q2 was a positive one for the company, albeit not as positive as the earnings report might initially seem at first glance. Namely, because PDLI crushed Q2 estimates due in large part to a non-cash change in the fair value of Depomed assets and a $19.5 million litigation payoff from Merck over Keytruda, neither of which should be considered recurring revenue streams.
Q2 Income Statement (author's notes added in red):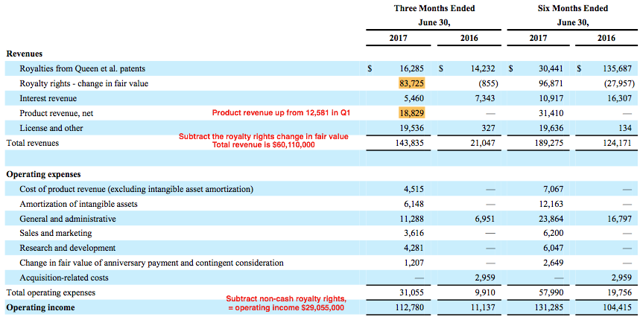 If you subtract the non-cash change in fair value of the royalty rights, total revenue is about $60 million, operating income - or EBITDA - is $29 million, and adjusted earnings of $16 million, or 9.6 cents per share. While 9.6 cents per share is about 75% lower than reported earnings, I do think it's a better figure for forecasting the earnings of the company, exclusive of non-recurring or non-cash income. Assuming PDLI can earn 9 cents per share in future quarters, that gives it a forward P/E of 8. A final bright spot in the Q2 income statement is the 33% increase in Noden product revenue, shown on the income statement as "Product revenue, net."
Further down the financial statements, the Q2 cash flow statement provides another measure for valuing the future cash generative potential of PDLI.
H1 Cash Flow statement from Q2 2017 10Q (author's notes added in red):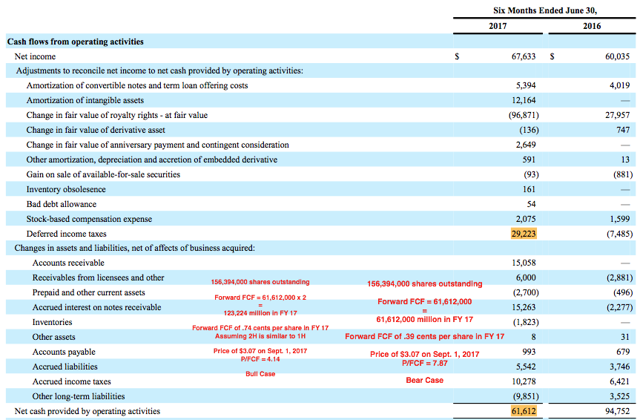 In my back-of-the-napkin valuation for cash from operating activities, I give a bull case P/FCF of 4.14 and a bear case P/FCF of 7.87. In the bull case scenario, 1H 2017 cash from operating activities is consistent for the year, and PDLI generates $123.2 million in FCF in 2017.
Conversely, in the bear case, PDLI fails to generate another cent of FCF and they end the year with $61.6 million. In both scenarios, the 2017 P/FCF valuations look incredibly cheap, especially when coupled with the balance sheet. As there are no capital expenditures listed on the statement of cash flow, I'm using net cash provided by operating activities as a proxy for FCF.
An additional Q2 valuation can be made by looking at the balance sheet. Using a Benjamin Graham style adjustment to the balance sheet to determine what the book value would be in a fire sale, I created the chart below: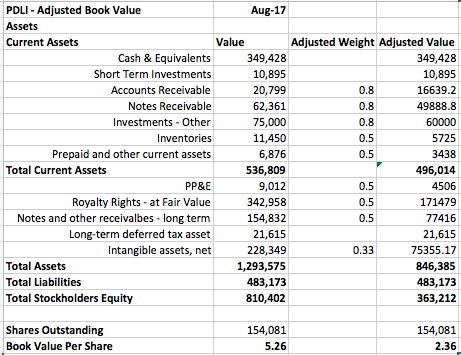 After substantial adjusting for intangible assets, PP&E, and long term royalty rights and notes at fair value, I believe a fire-sale adjusted book value of $154,081 million, or $2.36 per share, which compares to the actual book value per share of $5.26. Just a few months ago, PDLI was trading for about $2.36, which is about the time I wrote my first two articles about the company. At that point, there was a lot of doubt that the Noden products and the turnaround in the model would succeed, coupled with all the aforementioned bad news coming out about the company. It was at that particular time that you could buy the assets of a positive cash flow company for what it was sell in liquidation. Classic Benjamin Graham.
While you can still buy PDLI at a fraction of reported book value and only a small premium to fire-sale adjusted book value - for a cash flow positive company no less - I still maintain there are more potential catalysts in store for 2H 2017. In the most recent earnings call, CEO John McGlaughlin responded to a question about another acquisition, stating that they 'actively looking' and efforts are underway.

That is one potential catalyst. And for a company that generally returns 18% on invested capital (see Piper Jaffray analyst Charles Duncan comments in Q1 earnings call transcript), an acquisition is genuinely a positive announcement for a company like PDLI. Another potential catalyst includes the possibility of another buyback program, which again was alluded to in the closing statements from John McGlaughlin in the Q2 earnings call. The first share buyback program in 1H 2017 was - in my opinion - a huge success. I like to see companies buying back stock when shares are cheap, which is exactly what PDLI did. They purchased 13.3 million shares with the program, cancelling nearly 30% of the dilutive potential of the 2021 convertible notes. While I don't think the companies intent was to offset the dilutive potential of the notes - due to the companies purchased a call option on those notes - I do think it's a helpful way to look at the buybacks.
The final three catalysts for the back half of 2017 are Noden products, Kaleo sales resuming, the potential closure of the Wellstat Diagnostics litigation, and the potential tax implications of the $140 million of NOLs that could be available from the LENSAR debt to equity exchange.
Disclosure: I am/we are long PDLI. I wrote this article myself, and it expresses my own opinions. I am not receiving compensation for it (other than from Seeking Alpha). I have no business relationship with any company whose stock is mentioned in this article.