Gold prices posted 52-week highs on Monday and Tuesday after North Korea's latest and most powerful nuclear test stimulated safe-haven purchases of the yellow metal.
Gold rose 1 percent on Monday and higher by an additional 1 percent on Tuesday as investors' anxiety increased over the rising geopolitical tensions. Spot gold closed at $1,339 on Tuesday, its highest level since late September. December gold was up 1.1 percent to $1,344. Silver rose 1.08 percent to $17.85.
North Korea on conducted its sixth nuclear test on Sept. 3, of what it said was an advanced hydrogen bomb, prompting President Trump to threaten a "massive" military response from the U.S. if it or its allies were threatened. U.S. Treasury bond prices rallied in response to the overseas news as investors flocked to the perceived safety of government bonds. The Japanese yen and sovereign bonds also climbed in response to North Korea's nuclear test. Equity market losses were fairly modest on Tuesday, however, and while gold demand was in evidence for safety purposes there was no sign of panic buying. This is good news for precious metals investors as it increases the odds that the uptrend in gold prices has legs even when the recent fears diminish.
South Korea said on Tuesday an agreement with the U.S. to scrap a weight limit on its warheads would help it to respond to the threat from North Korea after Pyongyang conducted its sixth and largest nuclear test two days ago. Meanwhile, North Korea has been observed moving what appeared to be an intercontinental ballistic missile (ICBM) towards its west coast, as reported by various media outlets including Reuters, as reported in Fortune.com.
Adding to the growing list of tensions, Russia also denounced the closure of three Russian diplomatic facilities in the U.S. as a "blatantly hostile act" that violated international law and demanded Washington reverse the order. Investors were also looking ahead to a European Central Bank (ECB) meeting on Thursday, Sept. 7. Investors expect no policy change from the ECB this month, though the bank is expected by economists to announce a reduction of its monthly asset purchases in October.
It's not just fear that underlies the gold market, however. Commodity prices are rising in synch with gold, which suggests that something other than just safe-haven buying is boosting the gold price. The Thomson Reuters/Core Commodity CRB Index (CRB) saw a sharp rally between Aug. 31 and Sept. 5 and is trying to establish an intermediate-term bottom. Persistent strength in the CRB is a positive accompaniment to rising gold prices as it attracts the attention of fund managers to the inflation-sensitive commodities, especially the precious metals. A move above the 186.00 level in the CRB index (the May interim high) would provide additional technical confirmation that commodity market inflation is on the rise, thereby attracting even more institutional attention to the case for gold.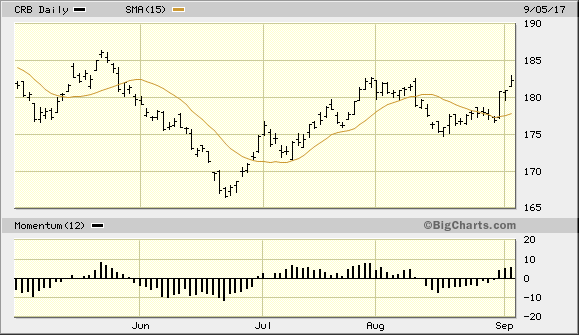 Source: www.BigCharts.com
While I still believe the long-term gold trend is quite positive, the short-term trend should be closely monitored for cracks in the edifice. Any diminution of investor uncertainty, especially as it pertains to the situation in North Korea, could temporary reduce the immediate-term safe haven demand for gold. For safety conscious traders, now would be a good time to raise stop losses on open long positions in gold futures contracts and ETFs to protect against a sudden price reversal in September.
Of immediate concern for gold is the relationship between the gold price and the 15-day moving average. The 15-day MA is my preferred measure of the strength of the immediate-term (1-3 week) trend. This tool does an excellent job of highlighting the turning points in the immediate-term and frequently serves as both a support and a resistance for the gold price line. As long as the price of gold remains above the rising 15-day MA and the 10-day momentum indicator remains above zero (see chart below), the immediate-term trend is assumed to be intact.
The iShares Gold Trust ETF (IAU) daily chart shown here is my favorite proxy for the gold price. It reflects strength on an intermediate-term basis, yet the price line for gold is quickly becoming rapidly distended from its underlying 15-day trend line. This underscores that gold is becoming somewhat overheated on a short-term basis and is therefore vulnerable to a potentially sharp corrective pullback. Traders should be aware of this possibility going forward.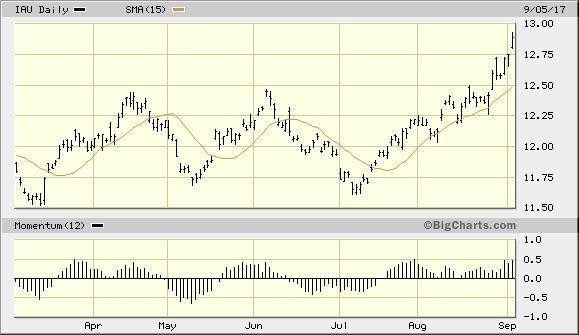 Source: www.BigCharts.com
Meanwhile, internal momentum continues to lead the way higher for the actively traded U.S.-listed gold mining shares. Shown below are the three components of the short-term gold stock internal momentum (GOLDMO) index. This indicator is based on the new highs-new lows for the 50 most actively traded mining shares and is an excellent gauge of the incremental demand for mining stocks as a group.
The blue line in the following graph depicts the short-term (4-week) rate of change of the new highs-new lows for the gold stocks, while the red line is the momentum bias component. Both indicators have recovered since earlier last month and have become synched up in a powerful ascent. This has been quite bullish for the mining stocks as a group since the short-term GOLDMO components tend to reflect the market's near-term path of least resistance. The continued strength reflected in both components of the short-term GOLDMO index provides ample testimony of the market's willingness to follow this path.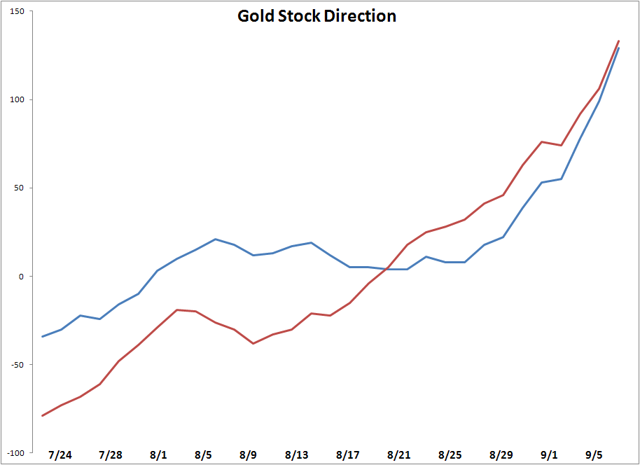 Chart created by Clif Droke
As long as internal momentum for the gold stocks is rising, as reflected in the above chart, the outlook for the mining and exploration shares as a whole is assumed to be on a solid footing.
Disclosure: I am/we are long IAU. I wrote this article myself, and it expresses my own opinions. I am not receiving compensation for it (other than from Seeking Alpha). I have no business relationship with any company whose stock is mentioned in this article.