Summary
This summer's crude oil inventory drawdown is above the 5-year average, but it's just not enough.
Once again, inventories will be entering the buildup season at very high levels and OPEC is seeking an answer.
The ongoing oil glut will continue to keep the price of crude oil range-bound.
With the end of the summer driving season here, it's worthwhile for investors to see how this summer's oil inventory change compares with previous years. This view gives much better perspective than just watching the weekly reports for trying to anticipate the price of oil (The United States Oil ETF, LP (NYSEARCA:USO), BNO, DBO, DIA, DNO, DTO, OTC:DWTI, OIL, OLEM, OLO, SCO, SPY, SZO, UCO, USL, UWTI).
WTI crude oil prices seem to be range-bound between $44-54/barrel, with no major catalyst to make a significant move. Will crude-oil prices remain stuck?
Historic and annual U.S. oil-inventory-change comparisons provide a mean to interpret the current inventory situation. They also provide information for decisions regarding investments.
Here's how this summer is shaping relative to prior years. I'll use 3-yr seasonally adjusted numbers in many of these plots.
Summer Driving Season Comparisons
First, we see that the seasonally adjusted weekly change is clearly biased to the drawdown side, and these drawdowns are seasonally significant. Such drawdowns indicate above average inventory reductions.
Source: PLM based on EIA data
Consequently, the average weekly crude oil drawdown has gotten quite large. Currently, the 2017 average weekly change is significantly greater than the last several years and even higher than in 2016. Of course, these are all negative as they represent the average weekly summer draws.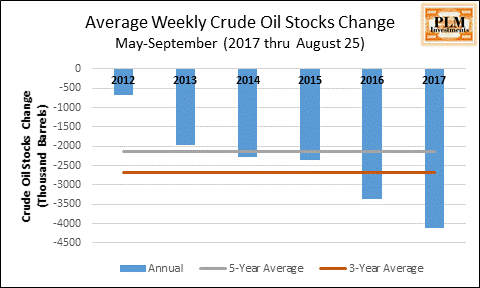 Source: PLM based on EIA data
Next, we look at the seasonally adjusted average weekly change. At this stage of the season, the average is coalescing to around a 2M barrel drawdown. This is exceeding the 2016 average by nearly a factor of 2.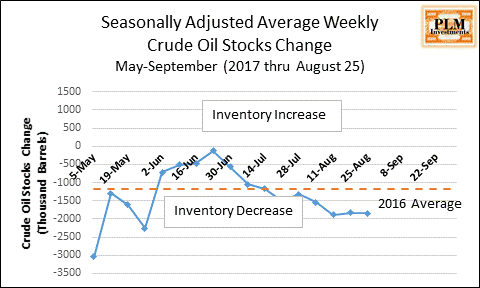 Source: PLM based on EIA data
So, from an annual perspective, in both the direct and average cases, the drawdown is meaningful.
Fall/Winter Buildup is Coming
But there is more to the story. In 2017, we are close to neutral inventory change going into the fall/winter build-up season.
The problem is that we are starting from what was such an extremely unbalanced situation that we are once again entering the build-up period with unusually high stocks, albeit slightly lower than last year. These drawdowns, while noticeably strong from a seasonal perspective are not large enough from an absolute perspective to make a dent in the inventory.
The impact of the slight unbalance to the downside can be seen on the next chart where weekly total (crude oil and products) are plotted. When the top and bottom of the red curve are approximately equal in magnitude relative to zero, the net result of the changes over a year balances out.
The huge imbalance created in 2015 and 2016 is quite noticeable. These are highly unusual changes from a historical perspective.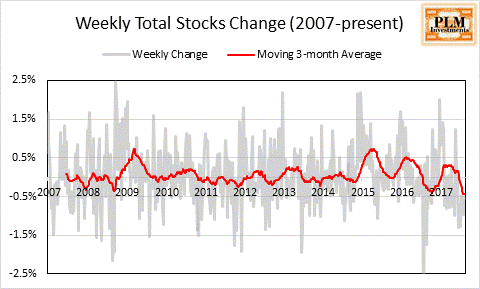 Source: PLM based on EIA data
Note that the oscillations are now going both ways, down below zero and up again. Hence, while we are seeing some overall inventory reduction occurring, this summer's draws are still not large enough to have a major impact on total inventories.
Crude oil and product inventories look likely to remain highly elevated well into 2018.
Investment Implications
At this point, it seems to me that there is no reason to expect sufficiently large average weekly drawdown in oil inventories this 2017 summer driving season to make a significant impact relative to the current cycle. Consequently, while we will have eaten into some of the surplus, it's really not going to matter much.
I don't expect WTI crude oil to make any major moves above $55/barrel this year without a significant event of some sort to change the status quo. Unless OPEC can make another concerted, large long-term production cut, the winter buildup will be as big or greater than last season's build-up and prices will remain range-bound.
As a result, I don't expect the first half of 2018 to be bullish for oil. A concerted producer effort to limit production might help bring prices up, but conversely, there will be trouble for oil if there is, for example, no OPEC reduction agreement.
Expect a neutral to bearish 2018 for oil.
Disclosure: I/we have no positions in any stocks mentioned, and no plans to initiate any positions within the next 72 hours. I wrote this article myself, and it expresses my own opinions. I am not receiving compensation for it (other than from Seeking Alpha). I have no business relationship with any company whose stock is mentioned in this article.