Platinum is a rare precious metal that has many industrial applications. The annual output of platinum is around 250 tons, and the vast majority of the metal comes from South Africa and Russia. Russian platinum production is a byproduct of nickel output in the Norilsk region of Siberia. Platinum has the highest density of all of the precious metals that trade on the U.S. futures exchanges, and it has the highest melting and boiling point. Therefore, platinum has a myriad of industrial applications.
Platinum is also an investment metal. Like gold and silver, platinum is often held by individuals as a store of value. Additionally, fabrication of platinum of jewelry and ornamental uses accounts for a large percentage of annual supplies. Platinum is a precious and industrial metal, and at times the price has reflected its value. In 2008, the price of the precious metal rose to an all-time nominal peak at $2,308.80 on the nearby NYMEX futures contract. In modern times, platinum's high still stands as the pinnacle when compared to any of the other precious metals including gold, silver, and palladium, that trade on the U.S. futures exchanges. While platinum shined brightest in 2008, it has dulled since and has been a laggard in the precious metals sector since 2014.
Platinum has been a laggard since 2014
Platinum has been the weakest performing precious metal since 2014, but the bearish price action in the rare metal goes way back to 2008 when it traded at an all-time peak of $2308.80 per ounce.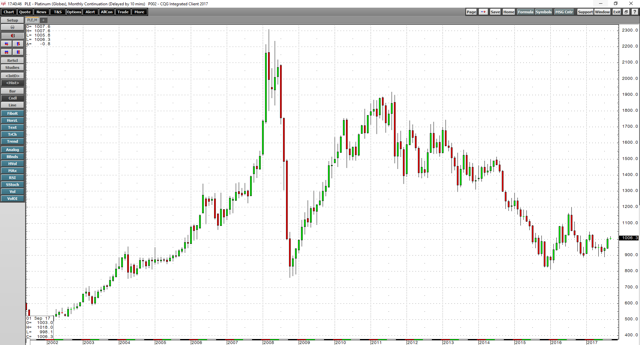 Source: CQG
The monthly chart shows that platinum suffered a brutal decline in 2008 when the price dropped from a record level to $761.80 in only seven months. The steep drop of 67% likely caused a change in how many speculators, traders, and investors view the platinum market. The lack of liquidity in platinum took lots of luster off the metal as an investment vehicle as those holding positions likely suffered significant losses. Platinum was able to rally back to just over $1900 per ounce in 2011 when gold moved to its pinnacle at $1920 per ounce, and silver traded at almost the $50 level. However, since the rebound in 2011, platinum has been moving lower, and since 2014 it has lagged the price action in all of the other precious metals markets.
Other precious metals pull platinum higher and above the $1000 level
Most recently, since the beginning of July when gold and silver traded to lows, the prices of precious metals have moved significantly higher.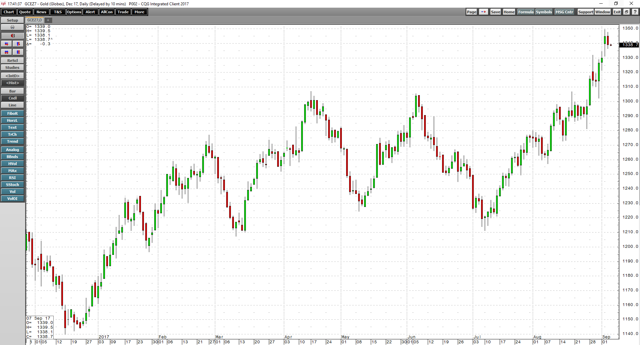 Source: CQG
December gold futures have rallied from $1211.10 on July 10 to highs of $1349.70 at the beginning of September. Gold is now trading at its highest price of 2017 and has its sights set on $1377.50, the 2016 highs which were only around $32 above the most recent peak in the yellow metal.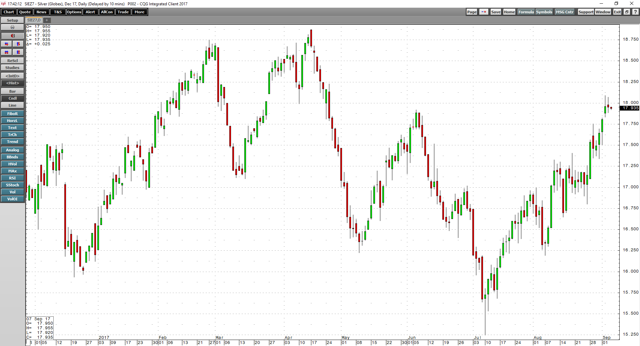 Source: CQG
December silver futures have moved from lows of $15.245 on July 10 to just over $18 per ounce at the start of September. While silver is not trading above the 2017 highs, the 18% rally since July 10 is the most impressive in the precious metals sector.
Meanwhile, platinum's precious and industrial cousin palladium has been in a bull market since trading at $451.50 per ounce in January 2016. The price of the platinum group metal has more than doubled since then and in August palladium broke above technical resistance at $912. At the start of September, palladium traded to a high of just under $1000 per ounce, and it is currently trading at the highest price since 2001 when it rose to a record high at $1090.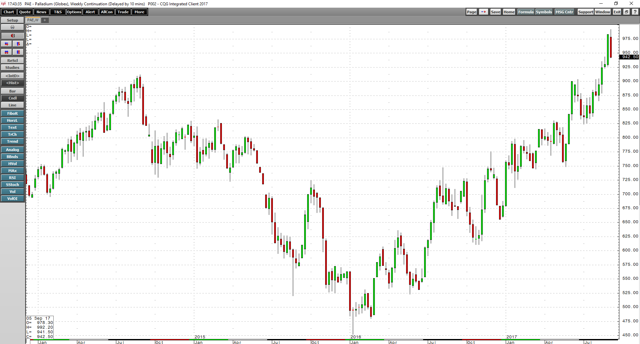 Source: CQG
While platinum has been a laggard, it has rallied from lows of $891.40 on July 11 to highs of $1018 at the start of September.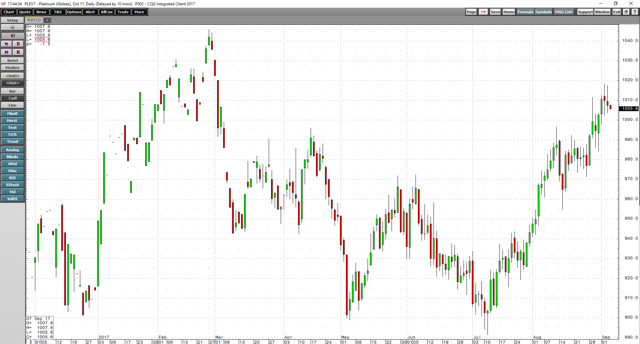 Source: CQG
The rally in platinum has been impressive, but the price when compared to other precious metals shows that the precious metal continues to lag and when it comes to platinum's value proposition, it remains cheap.
Gold says that platinum is too low
Rich man's gold has not traded at a premium to the yellow metal since 2014.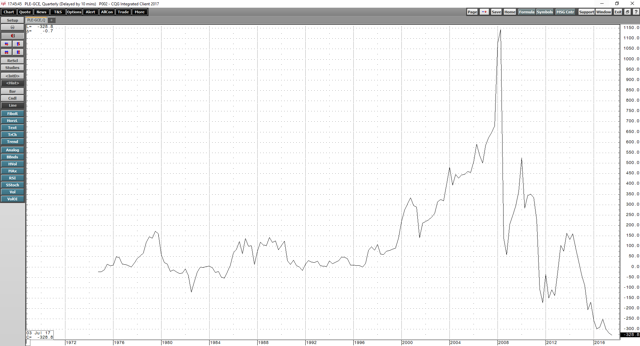 Source: CQG
As the quarterly chart dating back to 1974 shows, platinum is trading at around a $330 per ounce discount to gold as of the start of September. The long-term norm for the price relationship is a $100-$200 per ounce premium for platinum which is ten times rarer than gold when it comes to annual production, has a higher production cost than the yellow metal, and has many more industrial applications on a per ounce produced basis. Platinum has a higher melting and boiling point than gold, and it is a denser metal. On a historical basis dating back over four decades, the price of platinum is cheap or too low when compared to the price of gold. Platinum traded at over a $1200 premium to the price of gold in 2008, and it fell to a $360 discount in 2016. At $330 discount, platinum is trading close to the lows on a relative basis.
Palladium could be the most bullish factor for platinum
When it comes to the price relationship between the two platinum group metals, platinum is at the cheapest level against palladium since way back in 2001.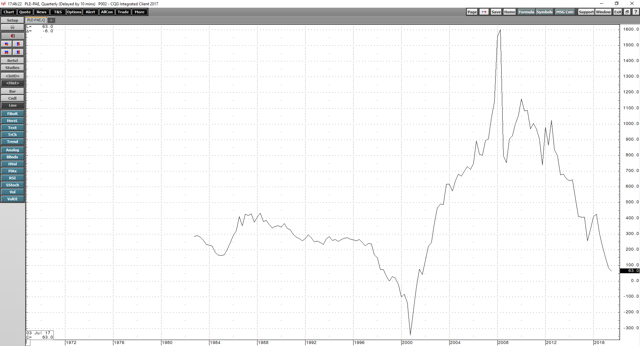 Source: CQG
As the quarterly chart of the price of platinum minus the price of palladium shows, platinum was trading at under a $70 premium to palladium. In 2008, platinum traded at a $1600 premium to its precious cousin. Platinum and palladium are interchangeable metals when it comes to their industrial uses in catalysts that require metals with a high resistance to heat. Platinum has a higher density, melting, and boiling point than palladium and at its current premium to palladium it is likely that industrial users could switch to platinum for their requirements because of the value proposition that platinum now offers. The spread between the two industrial precious metals could turn out to be the most bullish factor for platinum and the thing that launches platinum through its 2017 highs at the $1050 level and set the course for $1200 or above in the weeks and months ahead.
A potential for a bullish explosion in the rare precious metal
Mean reversion against gold and palladium are the strongest reasons for a long overdue recovery in the price of platinum. Moreover, with all precious metals prices moving to the upside, platinum's time could be coming sooner rather than later. The rarity of platinum and its industrial applications are reason enough for the metal to move to the upside. Moreover, the value proposition for platinum these days given its over decade and a half low against palladium and its proximity to an all-time nadir against gold are reasons for a fast and furious rebound in the price of platinum. The futures market in platinum is small, with open interest below the 80,000 contract level. When investors and traders turn-on to the platinum market once again watch out. The price appreciation could wind up being an equal and opposite reaction to the price action since 2014 which made the metal a laggard and which could turn it into a leader in late 2017 and 2018. The most direct route for investment in platinum is via the physical market where coins and bars are available. Futures are leveraged vehicles, but it is possible to stand for delivery after the purchase of a nearby futures contract which often avoids many of the fees and premiums for buying the precious metal from a dealer. At the same time, PPLT is the ETN vehicle that does a good job replicating price action in the platinum market.
Platinum is showing signs of life now that the price is back above the $1000 per ounce level. A break above the $1050 level could launch the price of the precious metal and end the era of its role as a laggard in the sector.
To profit from commodities, you have to stay ahead of the trade. As a veteran commodities market watcher, I'm uniquely qualified to help you do that. My Marketplace service, the Hecht Commodity Report, offers a comprehensive weekly outlook on over 30 individual commodities markets, including U.S. futures. One of the most detailed commodities reports available, The Hecht Commodity Report provides weekly up, down or neutral calls on each market and highlights technical and fundamental trends. I also make timely recommendations for risk positions in ETF and ETN markets and commodity equities and related options. The Hecht Commodity Report is a must-read if you want to profit in commodities, so subscribe today.