Hurricane Irma is headed more towards eastern Florida and potentially impacting millions of people along the Southeast coast of the U.S. I hate to discuss money making opportunities at times like this, but here are a few. Our strength for 35 years has been in the commodity space and a new paid newsletter in conjunction with Seeking Alpha, will soon be available. Global weather woes into the fall could support the cotton ETF(BAL) and I think that wheat (NYSEARCA:WEAT) prices are oversold with weather problems and potential lower production issues in at least 3 countries including Australia and recent brush fires in the Pacific Northwest.
But for now, here are various industries and stocks that have been affected by the past two hurricanes. I expect more hurricanes on the way the next 6-8 weeks and one of the most active seasons ever.
Hurricane Harvey and Irma could cause a $190 billion hit to our overall economy. This means we might see a short term downtick in the economy over the next two months. It is likely that 3rd quarter GDP could drop, especially with more storms on the way later. Could this cause the Fed to hold off in deciding to unwinding its balance sheet a bit longer? In other words, a slower rate of interest rate increases, if at all in the near future?
Here are some of the industries of stocks affected by hurricanes, below
These two storms (Harvey/Irma) and potentially more on the way, are likely to promote a much bigger need to rebuild domestic infrastructure. Our administration better step up to the plate with this and also realize that climate change is real. It's about time. Not ratifying the Paris Climate Agreement is absolutely ridiculous. Again, this is terrible for millions of folks, but is this (as Carl Jung preached years ago) an eerie form of "synchronicity? What is this? Click here.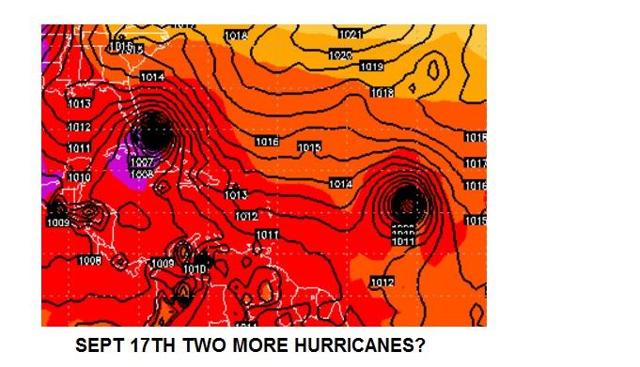 Miami, Sea Level Rise and the Need to Make Improvements in Infrastructure
The biggest impact of storm surge from Irma will be over Georgia and possibly the South Carolina coast. No question Irma will be a huge blow to properties along the eastern Florida coast, but if there is one saving grace, it is that flooding could be a lot worse. The winds will of course be destructive, as most models have the track further east than a couple days ago. For more information about this and a video about what can be done about sea level rise, click here.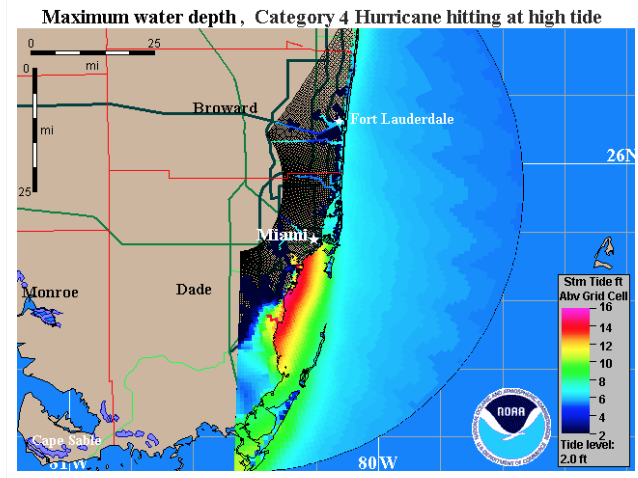 South Florida (above) is not at as great of a risk of high storm surge as there is deep water offshore. This is because the amount of water the hurricane piles up can flow downward into the deep ocean instead of getting piled up on land. The worst-case scenario from Miami to West Palm Beach is a storm surge of 7-9 feet. However, the 2nd image below across Georgia and southern South Carolina, the surge can be as high as 20 feet. I expect by the time Irma heads closer to Georgia, it will be closer to a category 3. However, if Irma stays a bit further east into the open water and not a direct hit over southeastern Florida, more devastating effects will be felt further north and Irma could be a cat 4 when it hits Georgia. Orange juice, energy and lumber traders are trading all of these storms (both long and short).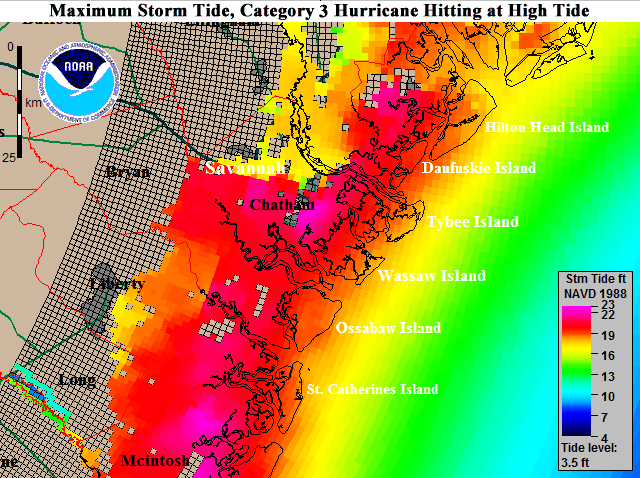 Track of Hurricane Irma? How to Predict Hurricane Tracks?
Our CLIMATECH program, produced with a friend of mine from MIT, helps us look at weather trends months in advance for global regions. You can find more information about it here.
Here is how we predicted the most active hurricane season since 2005 and 2010 back in June. It uses teleconnections. Below are the analog years we found three months ago. Since the eastern Pacific is cooling and we are trending towards a La Nina, we threw out the analog year of 1987 (a non active hurricane season)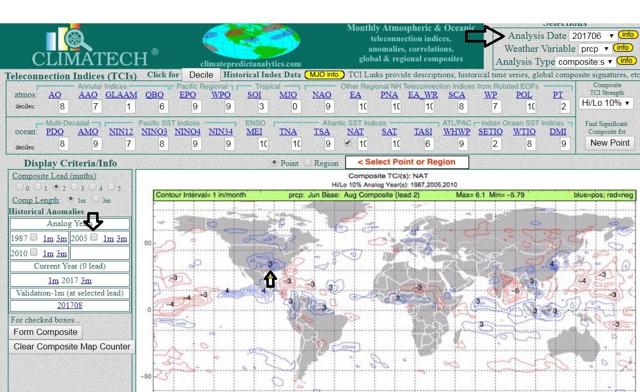 The best short term weather forecast program available for hurricane forecasting, in my opinion is from Tigerrisk. It is pretty incredible.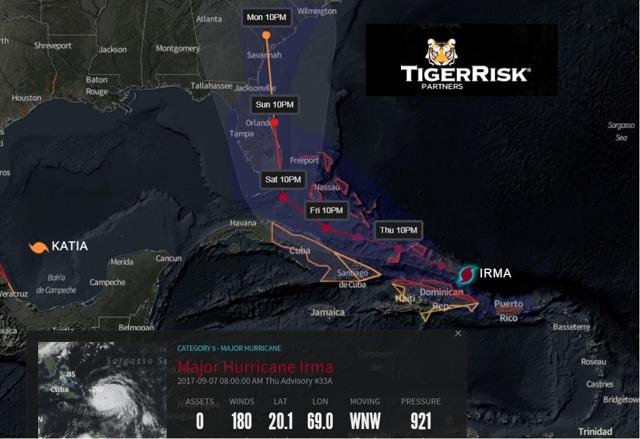 For more information about Tigerrisk and their services, and to monitor hurricane tracks all season long, please click here.
In summary, the weather is potentially bullish cotton, orange juice and lumber given the active hurricane season and has actually been bearish gasoline, unless a storm goes into the Gulf. If that happens, gasoline will again be a buying opportunity. Many of the stocks listed above may be the beneficiary of an active hurricane season, even if the stock market in general sees some sort of fall sell-off. Natural gas and grains will also be very weather sensitive to weather in the weeks ahead.
Disclosure: I/we have no positions in any stocks mentioned, and no plans to initiate any positions within the next 72 hours.
I wrote this article myself, and it expresses my own opinions. I am not receiving compensation for it. I have no business relationship with any company whose stock is mentioned in this article.
Editor's Note: This article discusses one or more securities that do not trade on a major U.S. exchange. Please be aware of the risks associated with these stocks.