Historically, copper has acted as a barometer for global growth given the myriad applications the metal has in basic construction, infrastructure, housing and electrical circuitry. True to form, investor optimism has heightened with recent positive economic news coming out of China, a country that consumed 50% of the world's copper production last year. The country's overall PMI measure hit 51.7 in August for the 13th consecutive month that the index was above the all-important 50+ divide between economic contraction and growth, signaling that the much-anticipated Chinese economic slowdown from about a year ago has largely disappeared-despite a downgrade in the country's credit rating by Moody's this past May. While copper underlying fundamentals are arguably sound, its current market rally appears well beyond current global growth trends and will likely face a correction by year's end.
Figure 1: Southern Copper (SCCO), Powershares US Dollar Index (UUP) and Headline PCE Inflation ($$PCE)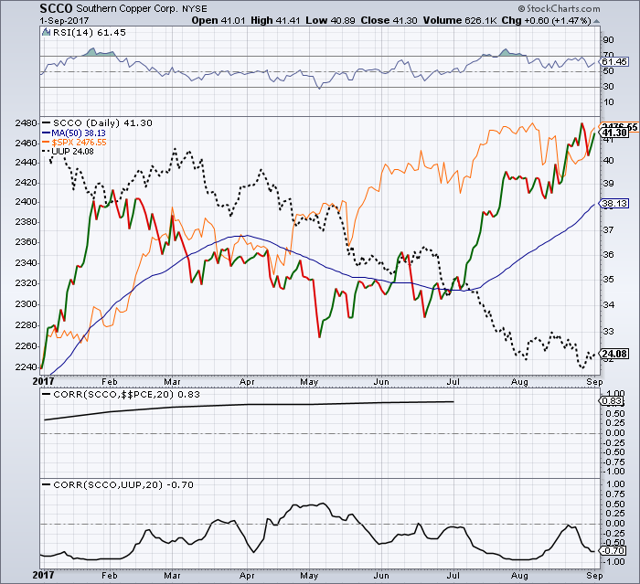 Fixed investment in China hit a pace of 8.6% year-over-year (YoY) in the first half of the year, exceeding expectations. Fixed investment remains the prime driver of Chinese GDP growth which in turn creates the biggest demand for a variety of commodities-including copper. Fixed investment comprised about 44% of total GDP output in 2015. By comparison, fixed investment in Japan comprised about 30% of total output while here in the US that figure was closer to 22%. Infrastructure as a share of overall fixed asset investment hit 21.4% in July, the highest level on record. By contrast, real estate accounted for just under 18% to total GDP growth for the period. Beijing planners have steadily moved away from manufacturing as the pivotal driver of economic output. One key reason for the shift came as a result of the 2008 stimulus package engineered by the government that flooded the economy with liquidity, creating excess capacity throughout the economy, especially in the steel making. That excess capacity proved difficult to absorb domestically as cheap Chinese steel flooded world markets to the din of protectionist calls from all corners of the world.
The Herculean dilemma facing Party planners is the fact that China saves much more than it can profitably invest domestically. In 2015, gross national savings came to about 48% of total GDP, according to World Bank data. Households contributed about half of this amount with the rest of the sum coming from state enterprise profits, but mostly from government savings and investments abroad-including dividend payments on $1.146 trillion in US Treasury holdings through the end of June. Current growth estimates of roughly 6% consumes about 30% these potential savings, leaving about 15% GDP for investment abroad. At the same time, household disposable income rose 7.3% in real terms through the first half of the year-more than the 6.9% growth rate of the Chinese economy over the same period. Government is also spending more on safety net programs such as pensions and health care, which over time will free up more consumer spending for consumption of goods and services in the greater economy. Some of this shifting sentiment is being noticed by investors that in turn provides fuel for breakout growth, particularly consumption, in the not too distant future.
Herein lies the trap: if the government halts credit growth in the domestic economy, investment will drop, with the net result being a recession, the buildup of an even bigger trade surplus with China's main trading partners-or a combination of both. Capital would pour out of the country weakening the renminbi in world currency markets while applying intense downward pressure on forex reserves expended in defending the renminbi. If the government keeps credit and investment in infrastructure growing but tightens the flow of capital abroad, local government debt, currently estimated at Rmb40 trillion or about 40% GDP, continues to grow. Still, China's property developers were able to amass profits of about 50% on average in the most recent earnings reports. The government is now restricting land supply to developers in a concerted effort to place a floor on real estate prices. The government is also limiting residential property sales volumes through its continuing effort to rein in credit access to consumers. Squeezing the flow of interbank liquidity which puts upward pressure on the cost of borrowing has become the monetary policy of choice as authorities at the Peoples Bank of China (PBOC) continue to rein in the country's credit bubble without causing it to spill out into the greater economy. The PBOC has put into place severe restrictions on overseas investment, a move that has limited the use of the renminbi in global markets. Similarly, the PBOC has begun to discourage banks from lending to heavily indebted private cabals, while continuing the flow of capital to perennial loss-making state-owned enterprises (SOE). The resulting squeeze is one of the main reasons why China's exchange reserves fell from an estimated $4 trillion in June 2014 to about $3 trillion by January 2017. With the weakened dollar, those reserves have increased for the sixth straight month through the end of July, pushing the renminbi to its strongest position against the dollar in over a year. At $3.1 trillion, China's foreign reserves are at their highest level over a comparable period, according to the latest PBOC data. The growing uncertainty in the ability of the PBOC to orchestrate a so-called soft landing and contain the economy's growing debt was behind the growing concern of Moody's in their downgrade of China's credit rating this past May.
Copper, like almost all commodities, is priced in US dollars. While it is largely true that global economic growth remains steady throughout much of the developed and emerging market worlds, the current weakness of the dollar has certainly provided much of the current fuel for the recent metals rally. The correlation between the US copper and the US dollar is -0.70 through Friday's market close (1 Sept.) as the two measures approach a 1:1 relationship to the negative (see Figure 1, above). Institutional long positions in copper options and futures since the 2nd of May have soared over 70% while short positions have plummeted just over 25% for the same period. Southern Copper is up 25% on the year and trading well above its 50-day moving average (see Figure 1, above). BHP Billiton (BHP) is up just shy of 20%, Glencore (OTCPK:GLNCY) is up over 29% and Rio Tinto (RIO) is up just over 25% over the same period-for a combined market surge that is almost three times that of the S&P 500 benchmark. By way of comparison, long positions by institutional traders in palladium are up 5.51% while short positions down 7.46% for the period. Combined long positions in gold futures and options are up just under 6% while short positions are down over 68%.
Meanwhile, the dollar has slid steadily for the past six months for its longest sustained slide since 2011 and now trades in correction territory-down 10.37% on the year. The dollar's decline paints a rather unique market picture as the interest rate gap that favors US assets over those housed in Europe, the UK and Japan remains substantial, signaling that factors other than yield are at work. While investors, particularly on the retail side, continue to be bullish on equities pushing US exchanges continuously toward record market closes, the dollar has blazed an equally record pace in the opposite direction. The administration's incessant political problems, its inability to pass any of its ambitious legislative agenda to date mixed with growing international challenges from trade to emigration to North Korea continue to fan market uncertainty and undermine confidence. That said, rock bottom inflation measures, low inflation measures and historically low borrowing costs and a weak dollar continue to provide a fecund investment and revenue growth environment-particularly for US exports which enjoy pricing advantages in world markets.
The dollar has likely been oversold in its steady slide through much of July and into August. A technical bounce in the dollar's fortunes is likely in the offing with the Federal Reserve's FOMC September meeting on the 19th-20th of the month. New projections on inflation, unemployment, economic growth and interest rates will be published and Chair Janet Yellen will outline the FOMC's forward guidance on monetary policy in a press conference following the conclusion of the meeting. An outline and projected start-date of the Committee's balance sheet reduction program is expected. Another 25-basis point increase in the federal funds rate is still on the table. Each of these actions will tighten monetary policy and either one measure, or both, could nudge the dollar out of its current doldrums. The re-emergence of the dollar will apply downward pressure on both the renminbi, making life a good deal more difficult for the PBOC as it attempts to rein in credit and moderate accumulated domestic debt levels while at the same time stemming capital flight and defending the renminbi--all without starting a trade war with the US over North Korea. A resumption of these domestic and international economic pressures will likely dampen investor enthusiasm for outsized economic growth in China over the short- and intermediate-term. Copper prices, in the face of economic uncertainty in China coupled with a strengthening dollar, will likely pull back from current levels and assume price levels more in line with other base metals in global markets.
I would project a correction in the current price of copper in a range of 10% to 15% from current market prices by the end of the year. For SCCO, the pullback projects a price range of $35 to $37 from its market close of $41.24 (6 Sept) by the end of the year.
Disclosure: I/we have no positions in any stocks mentioned, and no plans to initiate any positions within the next 72 hours.
I wrote this article myself, and it expresses my own opinions. I am not receiving compensation for it (other than from Seeking Alpha). I have no business relationship with any company whose stock is mentioned in this article.
Editor's Note: This article covers one or more stocks trading at less than $1 per share and/or with less than a $100 million market cap. Please be aware of the risks associated with these stocks.