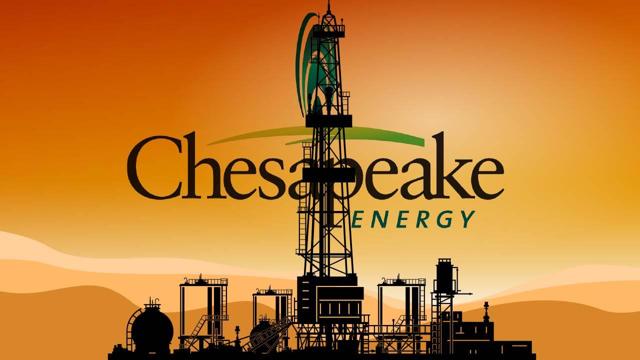 Source: Live Trading News
Introduction
In this article, we will lay out several earnings, cash flow, and share price scenarios for Chesapeake Energy (CHK). This article follows our examination of Chesapeake's latest Q2 results, located here: Chesapeake Energy Q2 - State Of The Company By The Numbers. Note that it may be useful to reference this article as we discuss forecasted values. We perform this analysis by examining past and current quarterly performance to make conservative future forecasts. We will examine two cases: $50/barrel oil (the worst of times) and $100/barrel oil (the best of times). While $100 oil may seem quixotic for some, you can reference our article that summarizes a well-researched bull case here: Sage Wisdom - Conventional, Shale, And Where We Stand. While there are many complex factors that underlie Chesapeake's ultimate performance, we believe that this analysis will provide a backdrop of context to the ultimate earning power of Chesapeake with respect to oil. First, we will examine "the worst of times" – the $50/barrel case.
The Worst of Times
At the time of this writing, oil hovers around the $50/barrel price mark. Oil has oscillated around this mark for most of the year and Chesapeake's most recent quarterly reports give a solid indication of where the company stands with oil at these levels.
To summarize our recent Q2 analysis, the outlook in "the worst of times" isn't great. Our cash flow analysis pegged CHK at using approximately $100M of cash last quarter after capex. Extrapolating this out yearly gives us a cash rate burn of $400M/year after capex. While we do believe that CHK may be able to trim capex slightly to achieve positive cash flow and maintain current production, this is not ultimately sustainable in the face of the quick production decline functions of shale wells. As of Q2, Chesapeake's large revolving credit facility remained mostly untapped, and asset sales are always a possibility to keep the company afloat in the future. With no substantial debt due until 2019 ($380M), and more debt due in 2020 ($851M), we believe that Chesapeake can easily stay above water for the next several years, especially by carrying forward large losses suffered during the oil decline for tax purposes. However, growth potential will be extremely limited and the stock price will likely hover near or below current levels, bleeding away slowly as the clock ticks out for Chesapeake.
The Best of Times
In "the best of times" scenario, we examine Chesapeake's performance given a $100/barrel operating environment. We will make several conservative assumptions given this scenario. First, we assume that Chesapeake's revenue to cost-of-revenue ratio averages at 1.75. We believe that this assumption is reasonable given Chesapeake's historical values of this metric. Second, we assume operating expenses float around a conservative $1.4B/year. We feel that this number is reasonable given historical data and smaller depreciation expenses due to large impairment charges leaving less asset value to depreciate. Third, we assume capital expenditures at the high end of management's guidance: $2.5B/year. Fourth, we assume that Chesapeake does not grow oil, natural gas, or NGL production. Fifth, we assume that Chesapeake's interest expense floats around $100M/quarter. Chesapeake reported an interest expense of $92M last quarter. Lastly, we assume that Chesapeake's compression and gathering business stays approximately breakeven.
To make our forecast, we turn to Chesapeake's most recent 10Q filing, page 43 – operating results financial data: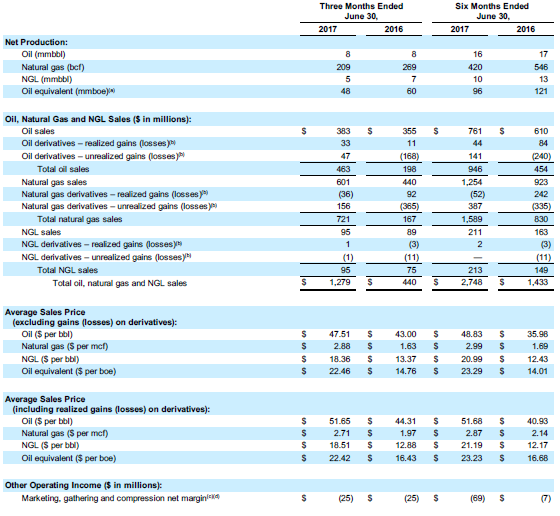 Source: Chesapeake Energy Q2 10Q
In our conservative "best of times" case, we assume that realized natural gas and NGL prices stay constant at $2.71/mcf and $18.51/bbl, respectively. Based on our commodity pricing assumptions, Chesapeake realizes an additional $185.7M/quarter – or $742.96M per year after subtracting expenses using our revenue to cost-of-revenue ratio of 1.75. This brings Chesapeake's gross profit to approximately $3.69B/year or $923M per quarter. Subtracting our assumed operating expenses of $1.4B/year yields an operating income of $2.29B/year. Subtracting our assumed yearly interest expense of $400M/year yields earnings of $1.89B/year after interest payments. Chesapeake has billions of dollars of accumulated losses to carry forward on taxes, however, for the sake of this conservative analysis, we assume a tax rate close to the historical average of 38%. After paying taxes, Chesapeake reports $1.176B/year of owner's income. After subtracting capex of $2.5B per a year – we find Chesapeake still in a negative cash flow situation, even after adding back a forecasted depreciation and depletion expense of $892M/year – still yielding an overall negative cash flow situation of $2.0B/year vs capex of $2.5B/year.
Conclusion
Based on this analysis – it appears that even $100 oil will not make Chesapeake energy a truly profitable company after capital expenditures. This is due to Chesapeake's limited exposure to oil prices and much higher exposure to natural gas prices. Based on current production profiles, for every 10% increase in oil prices – Chesapeake only realizes a 3.62% increase in revenue. For every 10% increase in natural gas prices – Chesapeake realizes a 5.64% increase in revenue. This is due to Chesapeake's NG/oil production currently sitting at over 4 to 1 on a barrel of oil equivalent basis. Stay tuned for future articles, where we plan to evaluate Chesapeake's profitability picture across a range of natural gas and crude oil price scenarios.
Disclosure: I am/we are long CHK.
I wrote this article myself, and it expresses my own opinions. I am not receiving compensation for it (other than from Seeking Alpha). I have no business relationship with any company whose stock is mentioned in this article.