A member of my investment club dropped a bombshell during our August meeting.
"They say buying Target (NYSE:TGT) today is like buying Amazon (NASDAQ:AMZN) in 1997."
First - My Rant
There are two words that irritate me far more than others - "They say...". If you're going to try to convince me that what "they" say has any validity, at least establish who "they" are first. Further, if you can't vouch for the credibility of "they", just don't mention them at all.
Now, The Situation
During an open discussion in the meeting, a member shared our local newspaper had just published an article about Target. Then came the irritant - "They say buying Target today is like buying Amazon in 1997." It was a head-snapper. But it didn't turn the heads of others. They were already busy discussing whether or not they shop at Target and why.
The discussion moved away from Target quickly and on to other things. I noticed the Target-suggesting member leaned toward her neighbor and whispered, "Did you notice how quickly they ignored my Target suggestion?"
There are a number of probable reasons the Target suggestion fell flat:
It could have been Target is simply not a favorite merchant for our demographic. A few years ago, we had a discussion heat up about whether Whole Foods Market (WFM) shoppers and employees were "snooty." The Target discussion took a similar, somewhat emotional slant as members named family who favored shopping at Target. It was quickly cast as a "millennial" favorite. The majority of our members are Boomers and older. It's not that we purposely avoid investing in millennial favorites. Rather, we're usually very interested in what is in vogue with millennials. In this particular case, the members just simply could not understand Target as a first shopping stop over other options. It probably didn't help that practically every warning locally on social media about strangers attempting to lure children away from their mothers happens at a Target.

Or it could have been Target's recent association with political stands. In 2016, the retailer faced a boycott after announcing its transgender bathroom policy. Though we live in a historically staunchly Republican-voting state, our club membership is divided equally between Democrats and Republicans. We try our best to avoid political discussions at meetings. But it doesn't mean innuendos don't get slipped in. When they do, we typically ignore the statement and move on. That particular discussion did resemble a maneuver to avoid a political discussion.

It could have been personal. The particular member who suggested Target is a club founder. She has been vocally anti-Wal-Mart (NYSE:WMT) since the club began. Her premise has always been Wal-Mart destroyed small town Main Streets across America. She's been a small business owner her entire life. So, we understand her disgust irrespective of whether we agree. She walks her talk and never steps foot in a Wal-Mart. We've tried to respect every member's bias over the years. To my recollection, we've only crossed a line once by investing in AT&T (NYSE:T) (whose customer service is despised by another member as much as our Target-suggesting member despises Wal-Mart).

It could have been a short-term memory challenge. The majority of our members are older. We trail off. We simply may have managed to sidetrack ourselves.
Regardless the reason (if one were to insist on believing there truly was a reason), the discussion on Target waned quickly without opposition. Based on the suggesting member's quiet buy obvious disappointment, I promised I'd look closer at Target for a future meeting. Though her recounting did include that irritant that ruffles my feathers quickly ("they say"), her premise for suggesting Target does filter through the first level of our club's GRAVY strategy - Target has increased its dividend annually for five decades.
"Target"ing GRAVY and Amazon of '97
GRAVY is my investment club's acronym for our criteria for dividend-growing companies - "GR"owth, "A"bility, "V"aluation and "Y"ield. We strive to invest in healthy, fairly-valued dividend payers with clear potential for dividend growth. Understanding how the suggestion surfaced and why I'd offer to look closer, it's now time to sniff around Target for GRAVY. And, yes, there will be attempts to reconcile that comparison to Amazon in 1997.
I'll admit I interpreted the statement to mean Target's share price could appreciate in the next 20 years as Amazon's has in the past 20. On December 31, 1997, Amazon, on a split-adjusted basis, closed at $5.02. In August 2017, Amazon traded between $936 and $1,006. By that measure, a Target share based on current pricing in the $55 range should be worth over $10,000 in 20 years.
Then again, the statement may have meant the Target of 2017 closely resembles the Amazon of 1997. Since "they said" it and it was not part of the local newspaper article, it's hard to know in certainty the exact context.
Regardless, either comparison seems quite a stretch.
Amazon established its online presence in the summer of 1995. Its IPO was two years later in the summer of 1997. At the time, Amazon was solely an "online bookseller." It had plans to extend its product offerings to include music in 1998. Overall, however, its vision was focused more on the "how" than the "what".
"Today, online commerce saves customers money and precious time. Tomorrow, through personalization, online commerce will accelerate the very process of discovery."

"Over time we believe that other products may be prudent investments."
In 1997, Amazon was intent on establishing an enduring brand and solidifying customer relationships.
By comparison, Target's founders, the Dayton family, were conceptualizing a chain of discount stores in 1960. The first store opened 55 years ago in 1962 in Minnesota. Target's IPO was five years later in 1967.
How Target as a 55-year-old company resembles Amazon as a two-year-old company is still cloudy.
Perhaps it's because Target needs to start anew. The company may be 50+ years old today but its world is full of challenges.
"Our industry is [in] the midst of a seismic shift."
Could it be Target's 50+ years of experience are actually trifling in today's retail environment?
The article in our local newspaper coincided with Target's announcement it would acquire Grand Junction. The primary purpose of the acquisition is to improve Target's delivery speed. It had already worked with Grand Junction on a pilot program for same-day delivery in a limited area in New York City. Rob Howard, CEO of Grand Junction, described the opportunity:
"It's a thrill to join a brand like Target, especially at a time like this when the company is dedicated to making supply chain and local delivery a game-changer."
Investments & Expenses
Mr. Howard's description strikes a familiar chord. Note this excerpt from the 1997 Amazon letter to shareholders published in March, 1998:
"This requires sustained investment in systems and infrastructure to support outstanding customer convenience, selection, and service while we grow.:
In 2016, Target's management focused on several goals Amazon was mulling over in the late '90s:
"Now I stood before you a year ago and I laid out five key priorities. I talked about on-demand shopping, establishing category roles, localization and personalization. I talked about small formats. And I talked about simplifying and controlling our costs." (Emphasis added)
Many will point out Amazon isn't known for fretting over costs. Amazon has long been known for its stance on profitability. It was a subject even in 1997:
"We will continue to make investment decisions in light of long-term market leadership considerations rather than short-term profitability considerations or short-term Wall Street reactions."

"We will balance our focus on growth with emphasis on long-term profitability and capital management. At this stage, we choose to prioritize growth because we believe that scale is central to achieving the potential of our business model."
In fairness, the company did address its philosophy on spend:
"We will work hard to spend wisely and maintain our lean culture. We understand the importance of continually reinforcing a cost-conscious culture, particularly in a business incurring net losses."
Just because Target is discussing today some of the same topics Amazon foresaw as pivotal in 1997, it still seems a stretch to compare the two. For starters, Target will not get by with adopting an Amazon approach of prioritizing growth over short-term profitability year after year after year. Target has in fact warned the market of a short-term impact to its profitability to reset its growth trajectory. It is going to invest $2 billion in 2017 and another $7 billion in the following three years:
"This year will be an investment phase, we will move to lower margins to enable faster growth in the future."

"As we all know, we could make changes to maintain our margins through this transition. We could cut store service and cleanliness standards. We could pull back on marketing. We could stop investing in brands and cut back on their quality. And, we could stop investing in our stores. Those changes would help our P&L in the short term. But, they are absolutely the wrong long-term decisions."

"In 2018 we will continue to transition as these different initiatives begin to mature. As we get into 2019 and beyond, we certainly expect stability and a return to growth."
Target may well be borrowing the page from Amazon's early playbook regarding aggressive investment. But it is only borrowing it - not adopting it. Amazon was building a brand. Target will be spending its $9 billion budget on reinventing its brand. This reinvention will come through product, store remodels and new technology.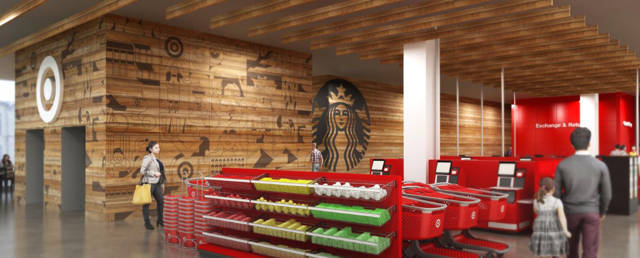 Product Lines
As already mentioned, Amazon in 1997 was developing a brand, honing its book distribution and venturing into music. By the end of 1998, it had introduced an online music store. In one quarter, it laid claim to the position of "leading online music retailer." Amazon quickly followed with video and gifts. In six weeks, it claimed to be the "leading online video retailer." By 1999, it had ventured into online auctions.
On the other hand, in 2015 and 2016, Target's average comparative sales grew less than 1%. Traffic actually declined in 2016. The company decided it must at least try to "reinvent" the products associated with its brand.
When 2017 commenced, Target expected a further decline in comp sales. In 2017 and 2018, it plans to introduce more than a dozen new and exclusive brands. The pace will be moderated so as to not "overwhelm" its customers.
Target hopes to repeat the success it experienced replacing its children's apparel lines with the Cat & Jack brand in the summer of 2016. It also introduced a children's home décor line, Pillowfort, in early 2016. In May of this year, it introduced Cloud Island, a line of 500 products for babies. Isabel Maternity naturally followed in July 2017.
September will be a big test for Target. An exclusive line for women, A New Day, will replace Target's legacy brands Merona and Mossimo. Goodfellow & Co. will be the new men's line. A new line of products for the home, Project 62 (so named to honor Target's founding year), will also be launched in September. Finally, October will introduce Joy Lab, athletic fashions for women.
In addition to swapping out brands, offerings in these lines will be updated more frequently to keep products fresh in an attempt to keep customers intrigued. In all of the newness, Target also intends to revitalize its brand promise of "Expect more. Pay less." The Target of late is "embracing who we are."
Leon Nicholas of Kantar Retail surmised:
"In recent years, Target has gotten somewhat distracted by trying to leverage groceries and household essentials as a way to drive traffic to the store."
And, yet, by comparison, Amazon in the late '90s was opening its theoretical doors to be able to sell almost anything a customer wanted.
Physical Locations
In 1997 and 1998, Amazon was focused on distribution capacity. In 1997, it expanded its original Seattle facilities by 70% and added a second center in Delaware. In 1998, it expanded into the U.K. and Germany. A Nevada "highly-mechanized" distribution center was leased in early 1999.
"We intend to build out a significant distribution infrastructure to ensure that we can support all the sales our customers demand, with speedy access to a deep product inventory."
Target's distribution model for years has been based on the traditional model of vendor to warehouse to store. Currently, Target has approximately 1,800 stores across the United States. It has recently implemented "order pickup in store" capability and is again introducing curbside pickup. Its reinvention plans include expanding the distribution model to include "ship from store" capability.
By Target's own conclusion, many of its stores are "old and tired". Another initiative will update the physical.
"Each store is going to look and feel like a totally new Target."
More than one hundred stores will be updated in 2017. Activity will accelerate in 2018, and by year-end, over 350 stores are scheduled to be completed. By year-end 2019, over 600 stores should be reworked. The remainder will be scheduled afterward.
Target is also actively developing a new concept dubbed small format stores. These stores are located in urban neighborhoods and on college campuses. In addition to being traditional stores, they serve as "hyper local fulfillment centers." In three years, Target will add over 100 small format stores.
Target has determined it has a physical location within 10 miles of 75% of the population. Its "local fulfillment center" and "ship from store" concepts for the storerooms will be included in remodeling efforts. These changes combined with Grand Junction's delivery platform will enable the retailer to tackle local deliveries.
But ensuring accuracy, speed and efficiency in the storerooms and small format stores will require more than physical change. Target is also redefining its inventory control and supply chain methodologies. And technology to support the methodology changes must be implemented.
Technology
In 1998, Amazon believed "brand image follows reality". In other words, Amazon's brand was being defined by its customers.
"Our customers tell us that they choose Amazon.com and tell their friends about us because of the selection, ease-of-use, low prices, and service that we deliver."
Its technology platform had to be "open" 24 hours a day, 7 days a week. It also had to be able to grow and scale quickly to support both additional customers and transactions as well as new features and systems. Amazon was intent on providing an online marketplace where "tens of millions of customers can come to find and discover anything they might want to buy online." Oh, and throw in that crucial element of speedy delivery.
It's clear Target is refocusing on selection, ease-of-use, low prices, service and speedy delivery as well. Like many physical retailers are finding, Target is being forced to throw in the crucial element of "experience." It is incorporating a "digital experience" into the guest's physical trip whether the trip be for shopping or order pickup.
"Guests will be able to make their lists, find items in stores, take advantage of great offers, and pay for their orders - all within a single app."
Target intends to build all sorts of digital features to enhance the shopping experience such as:
Being able to alert customers (if they so choose) about items on sale near the guest's physical location in the store,

personalized product recommendations, and

arranging payment and home delivery for out-of-stock inventory from the sales floor.
They Said
Target does appear to be "embracing the new reality." It recognizes repeat visits are achieved through building and maintaining relationship with a customer. And that relationship must embrace both physical and digital encounters.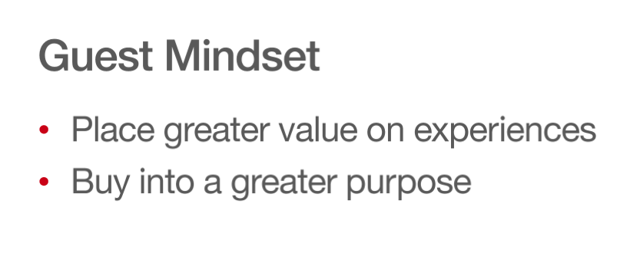 Unlike other retailers choosing to scale back or shut down physical locations, Target is focusing on gaining customer loyalty through experiences. Perhaps this is the reason "they said" the Target of 2017 is like the Amazon of 1997.
Target's 2017 Performance
Though early in its redefinition, Target is experiencing some success. It hoped its Cat & Jack brand would surpass the $1 billion mark in its first year. It did far more:
"Cat & Jack just crossed the $2 billion mark only slightly more than a year after its launch."
Target expected to deliver adjusted GAAP EPS in a range of $3.80 to $4.20 for the full year in 2017. When reporting second-quarter results, Target saw traffic improve just over 2%. Comp sales improved 1.3% and digital channel sales improved 32%. Revenue of $16.43 billion exceeded the previous year total of $16.17 billion by 1.6%. Target did see bottom-line improvement, in part due to a decreased outstanding share count. Net earnings in the 2017 second quarter were $672 million compared to $680 million in the 2016 second quarter. Because its share count decreased 6% from 587 million shares to 552 million shares, diluted EPS in the quarter improved 5.1% from $1.16 to $1.22.
The improvement sparked Target to increase its full-year EPS range:
"Based on our better-than-expected performance in the first half of the year, we are now raising our full year GAAP EPS expectation to the range of $4.35 to $4.55 representing an increase of about 11% from our prior guidance range."
However, even with the adjustment, Target still expects to fall below its 2015 and 2016 performances.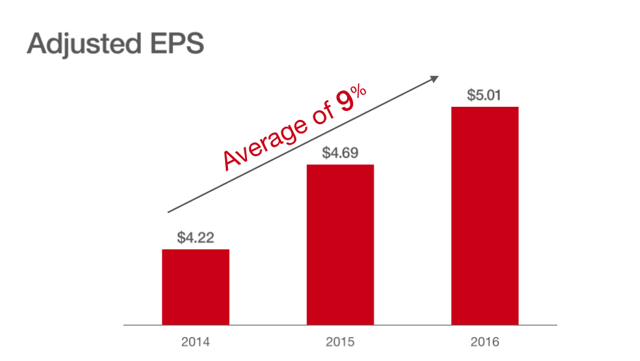 Market's Valuation
Target is trading at a forward P/E ratio just over 12 based on the midpoint of the adjusted 2017 EPS guidance. This is much lower than the S&P's forward P/E ratio of nearly 19. In 2014 and 2015, it traded at P/E ratios as high as 20 and 24. In 2009 and 2010, it traded at ratios as low as 8 and 9. The market is not ignoring Target's struggle.
Because of the market's valuation of its share price, Target's dividend yield has puffed to over 4%. The struggle has slowed its dividend growth. From 2004 to 2015, the average increase was approximately 19%. In 2016, the dividend increase was less than half this average at 7.1%. In June 2017, the company bumped its rate time to $2.48, an increase of only 3.3%. Though the market credits Target with 50 years of annual increase, the company claims less based on its 2016 year-end review in February 2017.
"This year we are on track to deliver our 46th straight year of annual dividend growth."
Understanding Target is not expecting stability and a return to growth until "2019 and beyond" most likely means accepting minimal dividend growth for the next few years. So, even though its valuation is lower than average making its yield higher than average, its dividend "growth ability" is being strangled.
Summary
Our supposal that Target is a millennial (born after 1980) destination was not far off target (wordplay intended). Ronald Friedman, partner of Marcum Accounting, agrees:
"The millennials have all the buying power and that's who Target is chasing."
The retailer signaled such in its ordering of brand line introductions - children, baby, maternity. But it is still to be determined whether key product lines will attract attention and, even more importantly, lock in loyalty:
"It's going to come back to the guest reaction. And we are fighting for footsteps, we're fighting for clicks online and we're fighting for a share of mind."
As well, Target acknowledges catering to the same demographic when discussing service offerings:
"We will never be successful if we dig in and insist they shop the way their parents did."
"They" obviously refers to millennials. But the retailer has played catch-up to Amazon and Wal-Mart in its service offerings. For example, it is just now rolling out next day delivery (Target Restock) and will soon reintroduce curbside pickup. There does still linger the possibility it could leap-frog ahead by solving the same-day local delivery service challenge which explains why the Grand Junction acquisition was newsworthy.
There are definitely efforts underway at Target that I suspect will be news to my investment club. There are even changes some members may be interested in exploring. Perhaps our October meeting should be held onsite. Though our locale isn't on the schedule for remodels yet, we could peruse the new brands and test Target on its promise to pay less for more.
As far as its GRAVY aroma, Target's valuation is certainly not inflated while its yield is. The question marks surrounding Target are real. Despite the apparent success of Cat & Jack, one brand alone cannot carry Target. To its credit, the company is not in denial. Yet, until its reinvention is completed and the results are evident, it is risky to assume Target will be able to offer atypical dividend growth again. Despite its commitment to dividend, its payout ratio is nearing .50 and its first obligation is investment:
"First, we invest in our business with a long-term view. Second, we support our dividend."
That ordering will not be negotiable. Target has decided capital investment is paramount for its survival.
My investment club is often enamored with a turnaround story on the brink of turnaround. Target could be the subject of such a story. Whether the story's ending portrays success or failure is the lingering question.
I predict Target may end up with members of my club visiting more frequently as shoppers. But I do doubt Target will end up with us as new shareholders. Still, I've been wrong before trying to predict how my club will vote. Marrying an above-average yield with minimal growth potential to a turnaround possibility may just be a combination that is on "target" with the club's risk appetite. It's not GRAVY yet. But in a few years, it could be.
About That Bombshell
"They" were way, way, way off target. Other than a faint similarity of being focused on branding and customer loyalty, Target hardly resembles Amazon 20 years ago. I feel comfortable declaring to my club that investing in Target today will not be like investing in Amazon in 1997, regardless of what "they" say.
Disclosure: I am/we are long T.
I wrote this article myself, and it expresses my own opinions. I am not receiving compensation for it (other than from Seeking Alpha). I have no business relationship with any company whose stock is mentioned in this article.
Additional disclosure: There's a slim (based on initial reactions) possibility my investment club may vote to initiate a position in Target.