Introduction - Mayhem from Lego Retrenchment Exercise and Toys 'R' Us Possible Bankruptcy
Employees in toy companies returned to work after the Labor Day holiday to the news that their counterparts in Lego could be facing job cuts. Jakks Pacific (JAKK), Hasbro (NASDAQ:HAS), and Mattel (NASDAQ:MAT) fell 4.3%, 3.1%, and 1.7%, respectively. Apparently, misery loves company and news of Toys 'R' Us possibly filing for bankruptcy protection emerged hot on the heels of Lego's announcement. Market players reacted swiftly to the negative report, sending the shares of the three toy companies plunging around 2.30pm on Wednesday, after what was initially a peaceful trading session for the trio. The shares of Jakks Pacific declined the most again (-4.6%), followed by Mattel (-3.2%) and Hasbro (2.0%). In this article, I lay down the reasons why I felt Hasbro, and to a lesser extent Mattel, have been unfairly dragged down by the two incidents.
Lego - A Victim of Shortened Attention Span
The NPD Group reported that of the "supercategory" of the U.S. toy industry, building sets declined the most in the first half of 2017 as compared to a year ago. It is obvious that Lego is synonymous with building sets and it is thus no surprise that the chairman of Lego, Jorgen Vig Knudstorp, said that the company is "losing momentum". Understanding the negative performance in the context of today's children, I suppose the shortened attention span is to blame. Kids are overstimulated and lack the patience to build a structure brick by brick. They crave immediate (or at least prompt) satisfaction or fulfillment. This phenomenon is exemplified by the huge growth in "All Other Toys" where the hottest craze of the year - the fidget toys - is categorized under.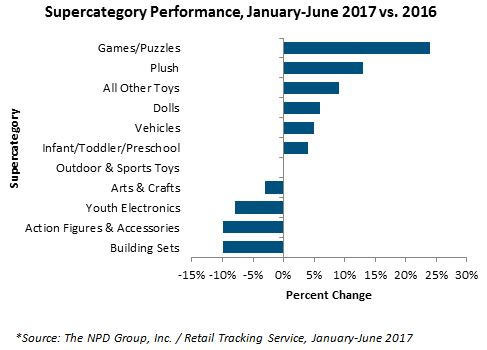 On the other hand, Hasbro and Mattel have been quite resilient against the onslaught of competition. While Lego Star Wars fell to number 10 (from sixth in position last year) of the Top 10 U.S. Toy Properties (based on dollar value) in the first half of the year, Hasbro's Nerf retained its second position. Hasbro has many products linked to Star Wars, and with the theme still placed high on the ranking despite a tough comparable period, the company certainly would have benefited. Mattel also did well with Hot Wheels jumping three positions to number six and Barbie inching up one rank to number four.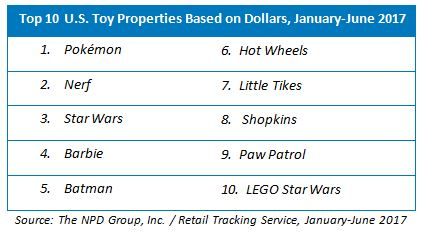 Top 10 U.S. Toy Properties Based on Dollars, January-June 2016
1. Star Wars
6. LEGO Star Wars
2. NERF
7. Little Tikes
3. Shopkins
8. Disney Frozen
4. Pokémon
9. Hot Wheels
5. Barbie
10. Minecraft
(Source: The NPD Group, Inc. / Weekly Retail Tracking Service)
While there have been many anecdotes of parents stopping or reducing their purchases of toys attributable to the kids' lack of interest, the splendid growth in Games/Puzzles and Plush (led by Hatchimals) clearly shows that the general population still endeavor to play some physical games. With Lego still having a "property" in the Top 10, it also goes to show that Lego is not "dead" and debunks the notion that nobody plays building sets anymore. The issue is one of over-expansion and the creation of an organization which Knudstorp described as having "too many layers and overlapping functions" which impacted productivity and hampered growth. With Hasbro and Mattel having properties still high in the spend ranking, it would thus be unfair to regard them as experiencing the same deterioration as Lego.
Another important difference between the toy companies on two different continents is the effect of the exchange rate. While the U.S. companies have suffered from the sharp appreciation in the US dollar in 2014-2015, the recent decline has returned the dollar strength back to the lows since 2015. On the other hand, Lego, which is headquartered in Denmark and reports in Danish Krone, is facing the reverse situation. This meant that in 2017, while U.S. companies like Hasbro and Mattel which have significant international sales (around 44% in 2016 gross sales for Hasbro and 40% for Mattel) and would benefit from the weakened US dollar, it is the opposite for Lego which would be seeing a negative impact from the strengthening of its local reporting currency - Danish Krone. Thus, investors should discount the currency headwind on Lego when assessing the U.S. toy companies.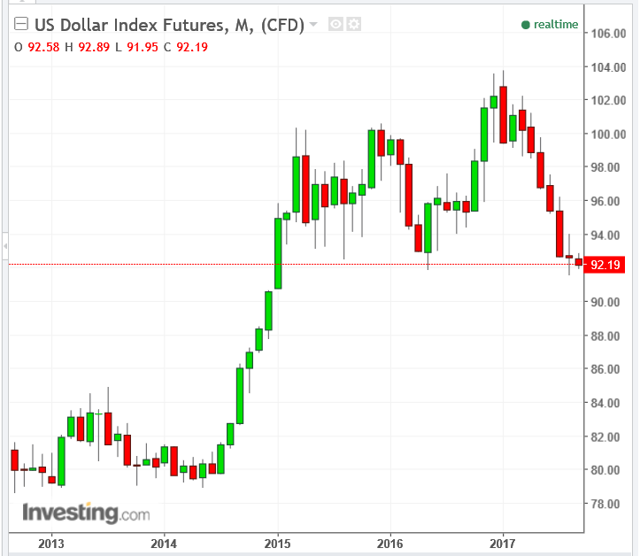 Toys 'R' Us - Double Whammy from Heavy Discounting by Big-Box Stores and Competitive E-Retailers
The woes facing Toys 'R' Us are not new as being a primarily "brick and mortar" business, it has been subjected to rising competition from e-retailers like Amazon (AMZN). Its effort into e-commerce is commendable but remains inadequate to handle the onslaught of existing and new digital upstarts. Furthermore, big-box players like Wal-Mart (WMT) have used toys as a loss leader to attract parents into their stores in the hope that they eventually buy higher-margin merchandise. Unfortunately for Toys 'R' Us, toys are the bread and butter. Even retailers like J.C. Penney (JCP) have recently entered into the fray, having announced in July its plans to open toy shops in all of its stores.
With Toys 'R' Us having liquidity constraints, it is highly probable that it would be forced to reduce inventory despite the critical Christmas peak season. That would inevitably mean lower sales for the toy suppliers like Hasbro and Mattel. Nevertheless, it is not necessary a bad thing for them. Toys 'R' Us is losing out in the retailer war for a reason and the consequence is that they are less effective in selling toys. Toy suppliers are better off sending less inventory to poorer performing avenues and diverting the limited merchandise to where they could have higher turnover. That would reduce the occurrence of missed sales opportunity when someone who is interested to purchase a toy is not able to do so due to an out-of-stock situation. As shoppers moved in larger numbers to big-box players and e-retailers, toy suppliers will do well to recognize the fact and move with the times. Hence, while on the surface the bankruptcy of Toys 'R' Us, if it indeed materializes, sounds negative for the toy industry, it is in fact, better for the toy makers as they shift more of their allocations to the more successful retailers which can move their goods faster.
Insiders Are Selling, Should We Be Concerned?
Amid the doom and gloom, perhaps the overwhelming sales of the shares by the insiders of Hasbro is more telling of the dire prospects facing the toy company? Whether in the last three months or the entire twelve months, insiders have made more sales than purchases by a wide margin. At Mattel where its shares have plunged more over the year, the situation is reversed - there are more insider purchases than sales. Nevertheless, I would like to point out that insiders might not be better market timers. For instance, one Hasbro insider, Alan G. Hassenfeld, Chairman of the Board, has been selling the company shares as early as February last year at a low price of $71.07. If one has panicked then, he/she would have missed out on the rally to $116.20.
Hasbro: Total insider purchases and sales reported to the SEC
Time frame
Transactions
Shares
Last 3 months

18 Purchases

53 Sales

351,553

1,446,327

Last 6 months

29 Purchases

53 Sales

367,624

1,446,327

Last 12 months

39 Purchases

75 Sales

632,388

1,603,858
Mattel: Total insider purchases and sales reported to the SEC
Timeframe
Transactions
Shares
Last 3 months

21 Purchases

20 Sales

243,422

105,158

Last 6 months

37 Purchases

27 Sales

479,219

178,769

Last 12 months

47 Purchases

34 Sales

552,501

203,923
(Source: MarketWatch.com Insider Actions)
Institutional Investors Are Generally Sanguine About Hasbro & Mattel
Retail investors often look to institutional investors for clues into the prospects of a company. Institutional investors are deemed to have performed better due diligence and possess better investment acumen. Hence, it is comforting to note that Vanguard Group and BlackRock have added significantly to their existing holdings in Hasbro even as some other players pared down their stakes. Publicly listed global financial investment management leader, The Principal Financial Group (PFG), quadrupled its holdings in Hasbro in the second quarter.
Hasbro: Ownership status as reported in the 13F filings (Top 10 by Value)
| Owner Name | Date | Shared Held | Change (Shares) | Change (%) | Value (in 1,000s) |
| --- | --- | --- | --- | --- | --- |
| VANGUARD GROUP INC | 06/30/2017 | 12,882,037 | 695,231 | 5.71 | 1,230,492 |
| BLACKROCK INC. | 06/30/2017 | 9,880,626 | 700,898 | 7.64 | 943,797 |
| BANK OF AMERICA CORP /DE/ | 06/30/2017 | 5,451,183 | (22,978) | (0.42) | 520,697 |
| STATE STREET CORP | 06/30/2017 | 4,862,235 | (151,210) | (3.02) | 464,441 |
| CAPITAL RESEARCH GLOBAL INVESTORS | 06/30/2017 | 3,914,309 | 10 | 0.00 | 373,895 |
| WELLS FARGO & COMPANY/MN | 06/30/2017 | 2,767,920 | 26,350 | .96 | 264,392 |
| CAPITAL WORLD INVESTORS | 06/30/2017 | 2,511,000 | (255,647) | (9.24) | 239,851 |
| LONDON CO OF VIRGINIA | 06/30/2017 | 2,477,050 | 47,315 | 1.95 | 236,608 |
| LANSDOWNE PARTNERS (UK) LLP | 06/30/2017 | 2,399,599 | 1,601 | .07 | 229,210 |
| PRINCIPAL FINANCIAL GROUP INC | 06/30/2017 | 2,177,740 | 1,648,675 | 311.62 | 208,018 |
(Source: Nasdaq - Hasbro Institutional Holdings)
Over at Mattel, while there has been significant exodus by BlackRock and FMR LLC (the parent company of Fidelity Investments), there were also large additions by Primecap Management, American Century Companies, and Janus Henderson Group. The mixed bag is apparently tilted towards the buyers and is indicative of the rising confidence in the company. These big players are certainly cognizant of the challenges faced by the toy companies. Yet they are willing to take huge new positions. Perhaps the retail investors are too bearish?
Mattel: Ownership status as reported in the 13F filings (Top 10 by Value)
| Owner Name | Date | Shared Held | Change (Shares) | Change (%) | Value (in 1,000s) |
| --- | --- | --- | --- | --- | --- |
| VANGUARD GROUP INC | 06/30/2017 | 34,329,879 | 662,676 | 1.97 | 538,636 |
| BLACKROCK INC. | 06/30/2017 | 27,319,912 | (8,568,220) | (23.88) | 428,649 |
| PRICE T ROWE ASSOCIATES INC /MD/ | 06/30/2017 | 26,566,265 | (1,609,672) | (5.71) | 416,825 |
| PRIMECAP MANAGEMENT CO/CA/ | 06/30/2017 | 19,670,380 | 19,670,380 | New | 308,628 |
| STATE STREET CORP | 06/30/2017 | 14,638,423 | (135,107) | (0.92) | 229,677 |
| FMR LLC | 06/30/2017 | 13,167,385 | (3,214,519) | (19.62) | 206,596 |
| BANK OF NEW YORK MELLON CORP | 06/30/2017 | 10,947,939 | (273,919) | (2.44) | 171,773 |
| JANUS CAPITAL MANAGEMENT LLC | 03/31/2017 | 10,732,158 | (2,898,634) | (21.27) | 168,388 |
| AMERICAN CENTURY COMPANIES INC | 06/30/2017 | 9,958,114 | 4,759,608 | 91.56 | 156,243 |
| JANUS HENDERSON GROUP PLC | 06/30/2017 | 9,617,527 | 9,568,634 | 19,570.56 | 150,899 |
(Source: Nasdaq - Mattel Institutional Holdings)
Conclusion
The news of Lego retrenchment and possible Toys 'R' Us bankruptcy have exacerbated the jittery feelings of Hasbro investors already reeling from the failed talks with Lions Gate (LGF.A, LGF.B) and worsened the bearish sentiment of Mattel investors already depressed from an unabated revenue downtrend and a dividend cut. In my previous article on the two names, I explained why the share price of Hasbro is actually undemanding while the share price of Mattel might have reached fair value after a period of declines.
Unfortunately, as a reader correctly pointed out, the charts suggest that technically the share price of Hasbro could still weaken further. Based on the multi-year price channel, the share price of Hasbro could touch the bottom of the channel at ~$89-90 before rebounding. It could turn really ugly if the shares breach the support line convincingly. For Mattel, the share price looks vulnerable to further corrections and could touch the decades-long uptrend support line at ~$12.50.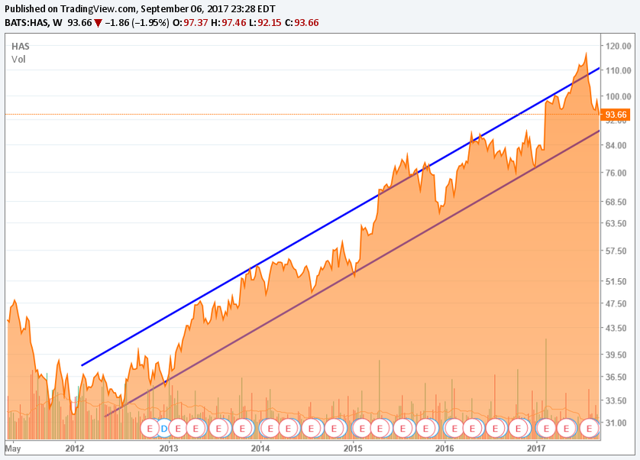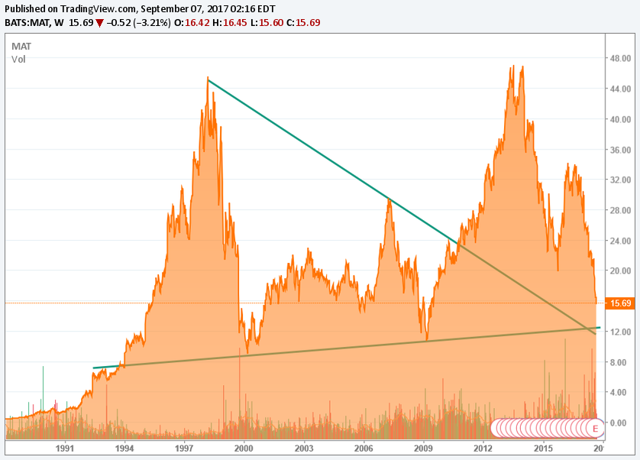 Fundamentally, however, I explained in this article why the concerns over the woes facing Lego and Toys 'R' Us should not spill over to Hasbro and Mattel. It might take some time for the dust to settle and the realization of the differences to sink in. Meanwhile, this might be the buying opportunity for those who felt they have missed the Hasbro boat. Bargain hunters might also use this opportunity to get into Mattel for a rebound play.
Note from author: Thank you for reading. My articles revolve around a subject or angle that I feel might have been overlooked. If you would like more of such articles and wish to be informed as soon as they are published, please click on the "Follow" button below the title near the top of this page and check the "Get email alerts." If you have additional insights on the topic or contrasting views, please kindly share them in the comments section for further discussion. Please also provide your feedback in the comments. Your constructive inputs would help me craft better articles to aid in your analysis.
Editor's Note: This article covers one or more microcap stocks. Please be aware of the risks associated with these stocks.