Ford Motor's (NYSE:F) shares have staged a breakout in the last couple of days, surging past the $11 price mark on slightly-better-than expected U.S. sales in August. Though sales still declined year-over-year, investors jumped on the news, heartened by a robust year-over-year increase in pickup sales and growing transaction costs. That said, though, the sales trajectory in the important U.S. market still doesn't look too good. Investors should tread carefully.
I have regularly written about Ford Motor, and the auto company's value proposition, which largely hinges on Ford's highly competitive dividend. While I see a rocky road ahead for Ford Motor based on its slumping U.S. vehicle sales, the dividend alone is worth buying, so my main argument. In other words, Ford Motor's five percent dividend yield justifies the risk of buying into the auto company despite auto sales cooling off.
Headwinds Persist
Ford Motor released much awaited sales numbers for the U.S. market earlier this month. The auto company sold 209,897 vehicles in August compared to 214,482 vehicles that were sold in the same month a year ago, reflecting a 2.1 percent year-over-year decline. While Ford's total sales slumped - again -, the company nonetheless beat sales expectations: The estimate was for a year-over-year decline of 2.4 percent. Year-to-date, Ford Motor has sold 1,711,211 vehicles as opposed to 1,784,009 vehicles that were sold in the first eight months of last year. This represents a decline of 4.1 percent.
Ford Motor's retail sales dropped 2.7 percent year-on-year to 164,067 vehicles. Fleet sales - an area of weakness for Ford Motor in the past - fell 0.2 percent, with sales totaling 45,830 vehicles.
A bit of a bright spot were Ford Motor's F-Series sales, which surged 15 percent year-over-year to 77,007. Ford Motor had this to say about the F-Series:
Ford F-Series sales totaled 77,007 trucks for August, a 15.0 percent gain. Demand remains strong for high trim-level Super Duty trucks, with Lariat, King Ranch and Platinum accounting for 53 percent of retail sales last month. This, together with demand for Raptor, translates into a $3,400 gain in F-Series average transaction pricing versus 2016 - now $45,600 per vehicle.
Though transaction price gains and better truck sales are good news for shareholders, the fact is that Ford's August sales still slipped. Ford has seen a rather strong truck performance in August (total truck sales showed a gain of 9.3 percent year-over-year), but Ford's total sales trajectory is still pretty much a concern, which will likely limit Ford's upside.
Breakout?
Ford Motor's share price has climbed 5.98 percent in the last five days. Despite the surge on the back of better-than-expected August sales, I don't think the rate of price appreciation that we have seen in the last several days will be sustainable.
As much as I like Ford Motor from a valuation and cash flow yield point of view, nothing fundamentally has actually changed for the auto company with the latest sales release. Auto sales are still in a cyclical decline, even though some segments - such as trucks - are bright spots for Ford.
Though Ford's shares have staged a breakout to the upside in the first week of September, there is a considerable risk that the share price will drop again as U.S. sales will likely remain weak for the rest of the year.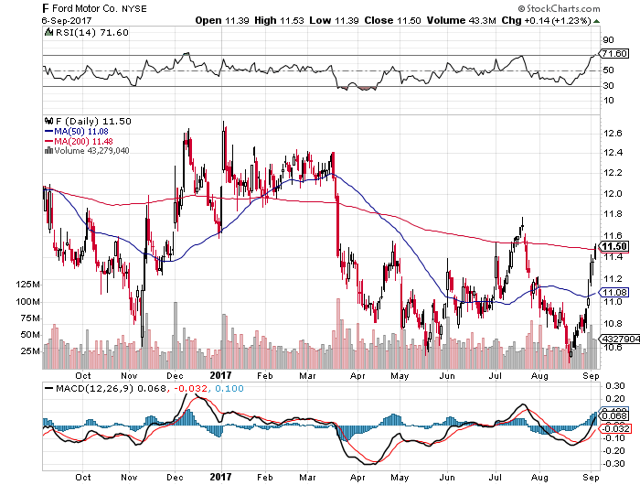 Source: StockCharts.com
Your Takeaway
Ford Motor's shares have risen up to $11.50 in a matter of days, which in itself is a bullish sign.
However, the circumstances are not that bullish. Ford Motor's sales in the U.S. continued to decline in August, even though there are some bright spots (F-150 truck sales, transaction price gains). There is a very real chance that the breakout we have seen in the last several days is a 'false breakout', and that Ford Motor's shares will fall back below $11 as investors take profits. The lack of positive catalysts in the near future will likely keep a lid on Ford Motor's shares. This may very well be a fool's rally.
If you like to read more of my articles, and like to be kept up to date with the companies I cover, I kindly ask you that you scroll to the top of this page and click 'follow'. I am largely investing in dividend paying stocks, but also venture out occasionally and cover special situations that offer appealing reward-to-risk ratios and have potential for significant capital appreciation. Above all, my immediate investment goal is to achieve financial independence.