Investors are completely enamored with the current disruption in retail, and with good reason. Amazon (NASDAQ:AMZN) and e-commerce have changed the way the world has shopped for most every good, retail stores are closing doors left, right, and center, and companies have slashed guidance and margins (Fossil (NASDAQ:FOSL) and Foot Locker (NYSE:FL) being two of the most recent victims). With bankruptcies and store closures running amuck, and online retailers disrupting the retail landscape while capturing market share hand over fist, it seems rational to expect valuations to reign in. It seems reasonable to expect lower earnings in the years to come. It seems reasonable, and even responsible, to be as wary of seemingly dirt cheap valuations as you would of the promises of a seedy telemarketer.
I even completely understand the value trap argument. Francesca's (NASDAQ:FRAN) operating margins just cratered more than 1,600 bps in the last five years. But at the same time, there are signs that the business is actually being fixed. The margin guidance is the result of healthy investment, and subtle shift in inventory strategy, and not the product of "trying to find the customer" and a hopeless attempt to regain a lost customer (a trait that we've seen too often in the world of brick and mortar retailers).
The recent guidance for an abysmal negative mid-high teens comp adds to the translucent future as the negative effects from Hurricane Harvey cloud the margin recovery on the horizon. I estimate this cost about a dime (or more) to EPS for the 3Q outlook as well as the year.
At this current valuation (~2.3 x next year EBITDA and ~7x EPS), margins don't need to recover anytime soon for the stock to double; they only need to stay intact. FRAN is still opening stores (opening 50-57 stores this fiscal year, implying ~8% growth), and the new stores are opening at an INCREASINGLY productive level. E-commerce, albeit only ~7% of sales, continues to grow in the 30-40% range, and inventory turns improved 2 full turns in the last four years and is now the best in the company's history.
FRAN also threw off $1.30/share in FCF last year, and will most likely still earn ~$0.70 in FCF this year (even with the Harvey effect, implying a FCF yield of over 10%). The company also boasts pristine balance sheet ($0.90/share in cash and 0 debt). These aren't characteristics of a company that is going away anytime soon. 7x (the five-year average multiple) a reasonable EBITDA assumption on what next year could hold implies a $19 stock price, a 166% premium to the current price. I will discuss why the margin detriment this year is actually semi-healthy and is not a sign of a completely clueless business model searching for its customer (ala FOSL). This is not a story of a highly levered, shrink-to-grow retail concept (ala ASNA). I will discuss my takeaway from the 2Q report and dismal 3Q outlook. I will also discuss the bear, value trap case, and why I understand it, but am not a believer in it. But first, a brief history on Francesca's and how we got to where we are today.
Francesca's Holdings, a brief history

Francesca's was founded in 1999 offering fashion apparel, jewelry, accessories and gifts for women in the 18-35 age range. The offerings are "broad and shallow" making the shopping experience similar to a treasure hunt and create an urgency to make an immediate purchase (as opposed to repeat purchases or using the store as a showcase for an Amazon purchase). FRAN is still rapidly expanding its store base (goal of 900 stores). Due to the "broad and shallow" inventory assortment, the high merchandise margins were thought of as consistently sustainable, until they weren't.
John De Meritt was the CEO from ~2006 until he announced his retirement in late 2012. Neil Davis (former CFO of Men's Wearhouse) took the reins in the January 2013. Margins fell almost immediately. In the short two-year time frame that Davis was in charge, gross margins and EBIT margins cratered 640 bps and 1,100 bps respectively. Comps were down mid single digits in both years of Davis's tenure.
After the disastrous Neil Davis experiment, Mike Barnes took over. This inspired a restored messiah-like hope within the retail investment community. Barnes was formerly the COO of FOSL during the accessory store roll-out (believe it or not now, but it was a successful endeavor once upon a time). He was also the CEO of Signet (NYSE:SIG) during the Zales acquisition. Merchandise margins improved ~150 bps during Barnes's first year.
A short 17 months after Barnes took the helm, he resigned for personal reasons on May 17, 2016. Lead Director Richard Kunes was interim CEO until the hire of Steven Lawrence in September 2016. Lawrence has been a career merchant, with positions at J.C. Penney (NYSE:JCP) and Stage Stores (Stage Stores) (where he was the CMO).
Now I'm not sure of the reasons for the high CEO turnover in recent years, or am I even sure whatever the reason is, are that important. Barnes was only at SIG for a little under four years and left there for personal reasons as well, and Davis was doing an abysmal job at running the business. My point for bringing attention to the CEO rotation is this: we saw the margins free fall under Davis, stabilize under Barnes and now there's an actual merchant running the show. I'm not touting the great merchandising prowess of J.C. Penney or Stage Stores, but having a merchant as CEO can be a benefit to FRAN which turns inventories >9x a year, and has yet to have a career merchant running things. Barnes was primarily an operator, proficient at opening retail stores. Lawrence is more of a merchant and should be awarded some leeway with regard to quarterly guidance, which I'll address shortly.
Recent Developments
A lot has happened with regard to FRAN in the last three weeks. First it pre-announced 2Q with EPS above the high end of the guide with comps at the low end, with commentary that comps have slowed in August. Then Hurricane Harvey hit Houston, where FRAN is headquartered, has a distribution center and 40 stores in the area. Then most recently FRAN announced 2Q results and lowered 3Q and 4Q guidance. At the time of this writing, the stock is trading at $7.14.
4Q remains the pivotal inflection catalyst quarter and the management's margin protection game plan seems to be working. My main takeaway is that despite this near-term catastrophe (literally and metaphorically), the margin recovery narrative is still intact.
2Q:17 Report
FRAN reported 2Q EPS of $0.20 on a (3%) comp vs. guidance of $0.13-0.18 and comp of (3%)-1%. What I think is important here for this report are two things: 1) The merchandise margin came in flat vs. (130 bps) guidance and 2) inventory turns improved to 7.3x (vs. 6.6x last year and 7.1x in 1Q). Both of these metrics show me that the fix-the-margin narrative is alive and well. On the call, management pointed to merchandising missteps for the back-to-school season, and while comp was sluggish, it could still preserve the merchandise margin. This also tells me that there is some conservativism in the 3Q guidance.
3Q Guidance
Management guided 3Q EPS of $0.00-0.05 on a negative mid-high teen comp, which includes the best estimated impact from Hurricane Harvey. I expected a guide down in 3Q, but obviously Hurricane Harvey exacerbated that guide down. Management couldn't quantify the exact effect from Hurricane Harvey vs. a lower comp (the comparison gets 700 bps tougher sequentially), so assuming the two-year comp trend held constant from 2Q, I can estimate the hurricane effect was about 500-700 bps to comp and $0.07-0.12 to EPS. This is probably in the ballpark as management gave commentary that while the first half of August slowed from July, the second half pre-Harvey improved. Merchandise margins are expected to decrease 180-200 bps in 3Q. Given what we saw in 2Q, I'll chalk some of this up to conservatism and giving Lawrence some breathing room to clear through merchandise and keep inventories lean (planning on inventories/store to be down high single digits, while commentary previously pointed to an increase in that metric in 3Q as they anniversary inventory control initiatives).
FY Guidance
Management lowered FY guidance to $0.71-0.81 vs. $1.07-1.17 and consensus of $0.99. Obviously the Street was expecting the guide down given the lower-than-guidance consensus, but given Harvey this was a little greater than expected. Earnings just came in $0.02 above the high end of the 2Q guidance with a comp on the low end, which shows me there is room baked into the guidance and I'm modeling a ~$0.87-0.92 ultimate FY17 EPS, implying close to $1.00 ex my estimated Harvey impact.
Implied 4Q Guidance
So given what was guided, we can imply 4Q EPS guidance is in the range of $0.35-0.50 (vs. $0.39 last year and $0.46 consensus prior to the guide down). I believe there is some conservatism here but this still implies merchandise margin in my estimation of at least 200-300 bps.
The Bear Case
The stock price has been a downhill slope since the pop after the 3Q:16 EPS print. Earnings came in at $0.26, or $0.07 above the high end of the guidance range (partially due to a higher comp of 7%, and partially due to planned expenses shifting into 4Q). In the days following the report, the stock popped to ~$22 representing >20x consensus FY17 EPS estimates. The stock price (and subsequently the multiple) has been in a downward trajectory ever since. FRAN is down more than 65% since that report.
Some of the multiple contraction has been a disdain for retail. AMZN has disrupted the workings of the industry and this narrative has been becoming more and more apparent. The S&P Retail SPDR (NYSEARCA:XRT) decreased 18% between December 8, 2016, and July 11, 2017, vs. the S&P 500 which is up 8% in that same time period. The continual disappointments in some of retail's favorite "value traps" (M, JCP, ASNA and FOSL are great examples) exacerbate this narrative.
However, not all of the decline can be attributed to the popular "death of retail" trade. When FRAN reported 4Q:16 EPS, management guided 1Q:17 EPS $0.12-0.16 vs. $0.18 (the first year-over-year EPS decline in five quarters). Then earnings for 1Q came in at the low end of consensus ($0.12 vs. $0.14 consensus). Comps came in down 5% vs. the down low-single digit to flat guidance range. Adding to the bad news, management guided 2Q:17 EPS to $0.13-0.18 (vs. adjusted EPS of ~$0.22 in 2Q:16). EPS ultimately came in at $0.20, representing an 11% decline over last year. While this was a sequential improvement over the 1Q drop, it was a drop nonetheless.
Now the 3Q guidance is absolutely abysmal, calling for comps down in the mid- to high-teen range and EPS of $0.00-0.05 with merchandise margins down 180-200 bps. Now assuming that ~500 bps of the comp decline and ~$0.10 of EPS detriment is from the Hurricane Harvey detriment and carrying out that trend, a bear would think that 4Q comps down around mid-single digits and earnings come in somewhere around $0.35-0.40 and the full year is $0.68-0.70. Next year would see a mid-single comp decline and margins continue to deteriorate and earnings around $0.55-0.60, equating to a $5.50-6.00 stock price.
The Bull Case
Obviously I believe the bear case I just painted is far too bleak, or I wouldn't be writing a bullish note. However, even in that scenario ($0.60 in the out year and the stock trading at $6.00), FRAN could still produce ~$0.20/share in FCF.
So what is the outlook that I expect to happen and why? Let's start with the comp. At the time of the pre-announcement, management warned that August slowed down from the 2Q trend (down 3%). On the 2Q call, management clarified that sales actually picked up as the assortment improved, but then Harvey threw a curve ball in the second half of the month. Also comparisons get 700 bps tougher sequentially in 3Q (last year FRAN comped up 7% vs. flat in 2Q). So this tells me that the two-year comp trend ex Harvey probably didn't get materially worse sequentially (a down 10% comp ex Harvey would be flat on the two-year comp trend. So if Harvey cost 500-700 bps to the comp, the two-year trend of down 3% is in line with the guidance, which isn't a material drop off from what was already going on.
The merchandise margin/comp trade-off is paramount to the bull case. What's interesting to me is that management guided merchandise margin down 130 bps, and it ultimately came in flat. 3Q guidance calls for merchandise margin down 180-200 bps. This tells me that management is giving itself room to clear through inventory and still hit the guidance.
Now remember when I pointed out that Steven Lawrence was a career merchant? Here is where that is important. Despite the ~180-190 bps merch margin degradation in the 3Q, guidance calls for an INCREASE of merchandise margin for the full year (4Q last year had deep discounts to clear holiday inventory). Lawrence says he doesn't want to come into the fourth quarter being inventory heavy from back to school, so he is planning to take markdowns quickly to keep the broad and shallow inventory, broad and shallow. He spoke to inventory efficiency on the last three calls and seemingly has a plan in increase merch margin through time by improving the turns. It is beneficial to have a career merchant at the helm of a business that turns inventories more than 9x a year.
I believe this EPS guide is conservative, and think the $0.85 range is fair. Furthermore, I believe next year grows to the $1.10+ range and I have a few reasons why.
FRAN is still opening new stores at an increasingly productive rate. This isn't a characteristic of a dying retailer. In 2016 new store productivity reached 96.6% of comparable stores (the highest in FRAN's history as a public company). This even continued into 1Q where NSP was ~104%, and 2Q where it was 115%. Some of this is from comp store decreases, but the higher new store metrics tell me that the store roll-outs are productive, and are not a lost cause.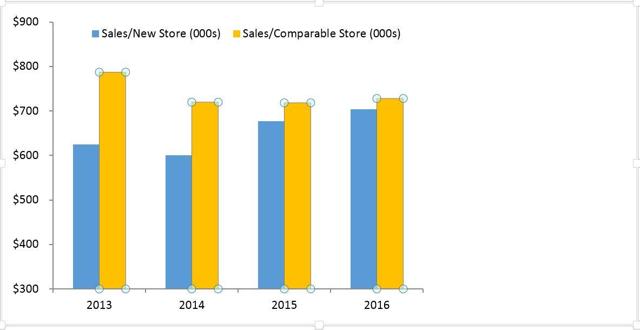 Source: Jared Orr
Inventory is healthy and improving. Inventory turned ~9.3x in FY16 (the most in the company's history). Comparable store inventory in 1Q was down 15%. 2Q inventory/boutique was down 2% and management guided 3Q to be down high single digits. Lawrence seems to be an inventory hawk, and will keep the line squeaky clean.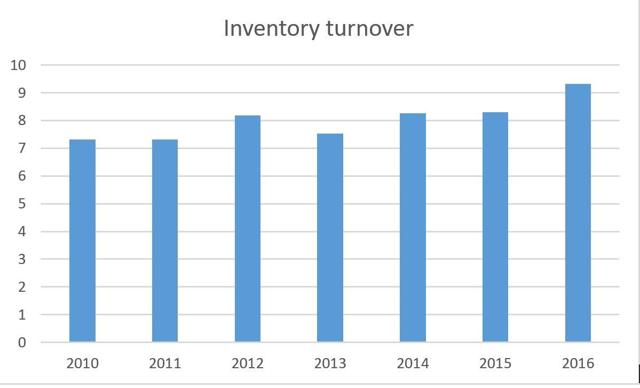 The SG&A growth rate is healthy investment. The incremental investments include initiatives such as a CRM, customer loyalty programs and geographic differentiated merchandising (cold weather stores dragged down the comp in 1Q and helped boost comp later in the quarter). We've seen similar programs add hundreds of basis points to comp in the past (Ulta (NASDAQ:ULTA) and Macy's both employed strategies along those lines that helped comps in the past). Also, a strong loyalty program makes sense with FRAN's business model, which is reliant on the frequent "treasure hunting" customer. While these are new efforts and it's difficult to quantify the benefit, reinvesting in sustainable growth is a healthy sign of a retailer vs. an attempt to cut costs faster than the top line declines.
The E-Commerce business. While this business is still small, it is growing at an outsized rate (the business grew an estimated 42% in FY16 and 35% in 1Q, and comprised 5% and 7% of the revenues in the respective periods).
The Balance sheet is strong, and cash flows are impressive. The company has 0 debt and $0.90/share in cash. In FY16 it threw off $1.31/share in FCF and should do about $1.00-1.31 in FCF next year. It continues to repurchase shares. Even when capitalizing operating leases, lease adjusted ROIC was ~16% last year, and will most likely be in the high teens to low 20%'s next year given ~$1.10 in EPS.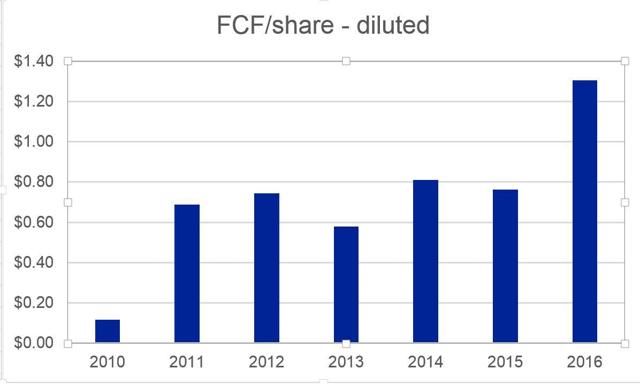 All of these characteristics are not ones that resemble a dying retailer, and turn me into an optimist when looking at the future of FRAN. While the initiatives create optimism around sales growth and margin expansion, it's too early to quantify the upside beyond 2018. But at this current valuation, all that it needs to do is NOT lower guidance again this year, and grow earnings next year for the stock to work, and with adding these productive stores while improving inventory, that shouldn't be too hard of a task.
There is a "blue sky" narrative that could result in stock price appreciation over 500% in 3-4 years
In my bull case that I just discussed, I am assuming only minimal improvement in operating margins. However, if FRAN can get BACK to 2012 levels of sales/store and operating margins while growing its store base to 900 (its previously stated goal), the company would have about $4.50 in earnings power (I also assume that share repurchases continue at similar levels, given the FCF is a reasonable assumption). If you were to assume the current store growth trajectory, and an annualized mid-high single digit comp, ~75 bps of merchandise margin expansion, and investment spending at normalized levels, FRAN can realize these economics around the fiscal 2021-2022 time period. If that scenario comes to realization, 10x $4.50 = $45 is a reasonable target about two years prior to that earnings power becoming a reality. A lot needs to happen for that dream to become a reality, but it isn't beyond rational assumptions
Risks and Warnings
As with all stock picks, there are risks and uncertainties related with FRAN. There are plenty right around the corner in the near term. There is a chance that there is negative credit card, or proprietary channel checks that I'm not privy to. Unexplainable price action with heavy volume certain days concerns me that there are these types of negative data (an example would be the drop on 7/21).
I highlighted the bear case above. Although I believe it's sufficiently insulated from the AMZN effect, FRAN is not immune to the risks associated with the current domestic retail market.
Valuation
FRAN is currently trading at sub 7x FY18 EPS and 2.3x 2018 EBITDA. I believe the valuation is at such absurd levels due to the consensus disdain for everything retail based. Once we see margin stabilization 16x FY18 P/E and 7x EBITDA (in line with its five-year average multiple) is conservative, fair and implies a stock price of over $19. Given the store growth and margin recapture capabilities, this is a reasonable valuation.
I also want to highlight the strong balance sheet and cash flow. Unlike other recent retail horror stories (ASNA and FOSL), FRAN has no debt and $0.90 in cash per share. The company threw off $1.31 in free cash flow last year. The market obviously believes this will evaporate, and I obviously disagree. If the stock were to trade at a 5% 2016 FCF yield, that would imply a stock price of $26! That isn't a metric of the past. I believe 2018 FCF can match that of 2016.
The risk/reward is highly favorable at current levels. In the medium term (about 6-18 months), I believe the downside risk is to $5.50 while the upside reward is up to ~$19, given the current price of $7.14 the risk/reward in my opinion is in the bulls' favor.
Below is the historical EV/EBITDA ratios (based on consensus EBITDA one-year out). Valuation based on EBITDA is at historic lows. This implies that the Street is expecting numbers to come down in a rapid fashion. I went over the reasons why I believe these fears are overblown, and exacerbated by other brick and mortar fears. My $19 price target is based not off of peak valuations, but 7x EBITDA, a rational valuation realized only one year ago, and still far below historical levels.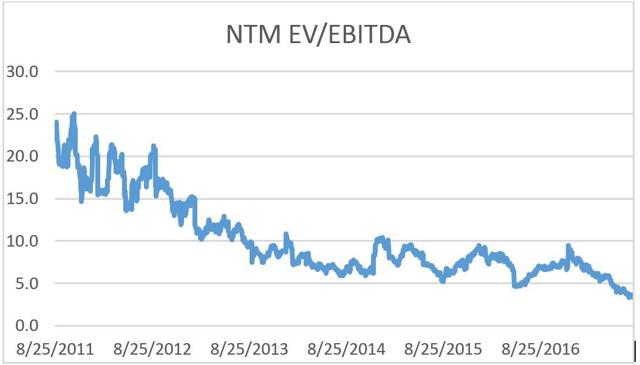 Conclusion
Don't throw the baby out with the bath water. With no brand name of its own and a miniscule e-commerce business, FRAN has been thrown to the wolves. The story isn't as sexy or interesting as AMZN or even W with industry disrupting logistical capabilities, but the fundamental business is still there and attractive, and currently vastly undervalued. To me, the narrative hasn't changed. Hurricane Harvey may have delayed the fruits of a higher margin structure and leaner inventories, but the signs are apparent and the writing is on the wall. The underlying metrics continue to improve and indicate margin improvement in the future. If they can couple the leaner inventory, improved merchandise margin with an actual comp next year, you'll begin to see outsized earnings growth, and multiple expansion, with a stock price in the high teens.
Disclosure: I/we have no positions in any stocks mentioned, and no plans to initiate any positions within the next 72 hours.
I wrote this article myself, and it expresses my own opinions. I am not receiving compensation for it. I have no business relationship with any company whose stock is mentioned in this article.