Abbott Laboratories (ABT) recently announced it has obtained FDA (food and drug administration) approval for its medical device HeartMate 3, reported StarTribune. The share price of Abbott Laboratories is hovering around all-time high of $51. StarTribune said:
Wells Fargo Securities senior analyst Larry Biegelsen said in a note to investors that the HeartMate 3 should provide a boost to the overall U.S. market and help Abbott take market share from Medtronic because the device is smaller and has lower rates of complications in treating end stage heart failure.
Does this imply share price of Abbott Laboratories will cross the all-time high and rise significantly beyond that? Let's get deeper inside the story.
HeartMate 3 vs. Traditional LVADs
The device pumps blood for heart-failure patients. The device has a a fully magnetically levitated propeller compared to a propeller mounted on bearings inside HeartMate 2 and other traditional LVADs. Such LVADs can cause "pump thrombosis," a condition led by the bio-incompatible presence of the propeller mounted on bearings. This condition leads to blockage in the blood vessel (vein, artery or capillary), which in turn expose patients to the risk of cerebral attack.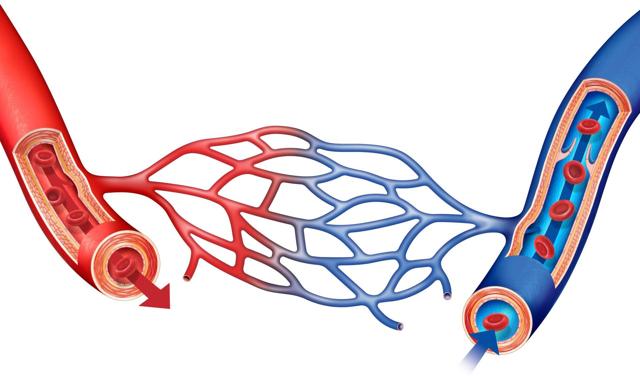 Image Source: DKfindout
I agree with Wells Fargo analyst Larry Biegelsen that HeartMate 3 will help Abbott take market share from Medtronic (MDT). Medtronic acquired cardiac pump maker HeartWare for $1.1 billion last year, and is the main competitor of Abbott's HeartMate LVAD line (originally developed by Thoratec) with the former's HVAD (read HeartWare-LVAD).
Thoratec received FDA approval for HeartMate 2 in April 2008 for BTT (bridge-to-transplantation), and for DT (destination therapy) the device received FDA approval in January 2010. The company received CE Mark approval in November 2005. Technologically speaking, HeartMate 2 was always remained a better device compared to HeartWare's HVAD. BTT supports HF (heart failure) patients who are waiting for heart transplantation, and DT supports patients who are too sick for transplant.
It's noteworthy here that Abbott received FDA approval for HeartMate 3 only for BTT, not DT (for DT HeartMate 2 is Abbott's solution for now). And Medtronic's current version of HVAD also received FDA approval for BTT. To learn more about Medtronic's effort to obtain FDA approval for DT, click here.
Before being acquired by Medtronic, HeartWare's plan was developing an advanced LVAD, called MVAD. However, it's not clear if Medtronic is still interested in developing MVAD. Go here to learn more. In this competitivge landscape, Abbott is far well-positioned than Medtronic in the LVAD market.
Investors' Angle
Abbott's LVAD business generates a miniscule part of its total revenue. The real story is Abbott's international presence. The LVAD news is a trigger to boost Abbott's stock price up.
The falling US Dollar would be actually beneficial for Abbott's future revenue. Let's take a look at Abbott's relative valuation in terms of trailing 12-month P/S multiple compared to Medtronic and Johnson and Johnson (JNJ).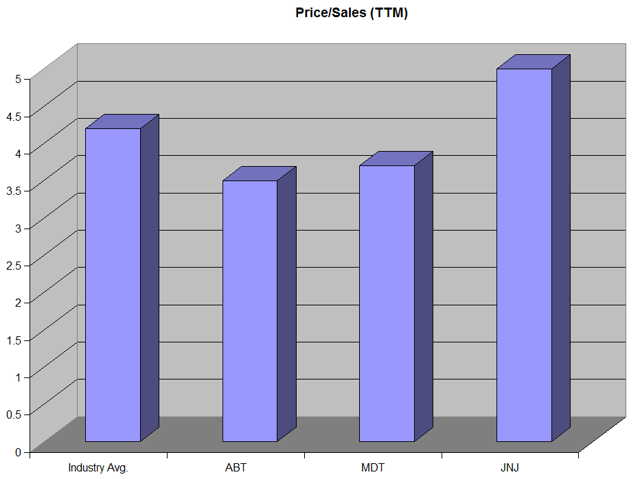 Image Source: Author (Data: Morningstar)
Clearly, Abbott is attractively valued compared to its competitors, and industry average as well. Since Abbott is an international story alongside its competitors, P/S multiple should be the appropriate valuation metric. If the industry average multiple of 4.2x is applied on Abbott's revenue per share, we will get a target price of around $61 for the stock. I believe Abbott is heading towards that mark.
Potential Risk
When Thoratec received FDA clearance for HeartMate 2 for BTT and DT, FDA didn't warn that it can cause pump thrombosis. The device malfunction was detected later. Similarly, if magnetically levitated propeller inside HeartMate 3 results in any unforeseen complicated condition for HF patients, that might lead to FDA recall. According to an article:
Magnetic fields have been found to significantly affect cardiac function, in addition to effects on a myriad of other body systems and problems. Not all magnetic fields are the same. Different types of magnetic fields may have different effects on the heart.
Conclusion
I believe HeartMate 3 won't lead to any adverse impacts on patients because the device has gone through extensive trials before getting approval. Although it didn't cause pump thrombosis, other complications might occur. Since heart is an electrically dynamic organ, I'd recommend investors considering this potential risk factor before investing in Abbott.
Disclosure: I/we have no positions in any stocks mentioned, and no plans to initiate any positions within the next 72 hours.
I wrote this article myself, and it expresses my own opinions. I am not receiving compensation for it (other than from Seeking Alpha). I have no business relationship with any company whose stock is mentioned in this article.