Some general comments on silver miners will kick off this week's
Resource Sector Digest.
(Vol. 104 - September 4, 2017)
Brought to you by Itinerant and The Investment Doctor.
In this edition, we shall:
set the scene,
highlight actionable ideas,
comment on news releases and
link to relevant articles.
In case you missed out on previous editions of this newsletter, simply click here, here or here to catch up.
And while you are here, why not sign up for a free two-week trial for Itinerant Musings?
Setting The Scene
Precious metals have been breaking through technical resistance levels over the past couple of weeks, and that seems to have rekindled an especial interest in silver miners, judging from the number of queries we have received in personal messages and on the Itinerant Musings chat board.
Here is one example from last week's edition of this newsletter, which focused on Tahoe Resources (NYSE:TAHO) but also drew comments on silver in general: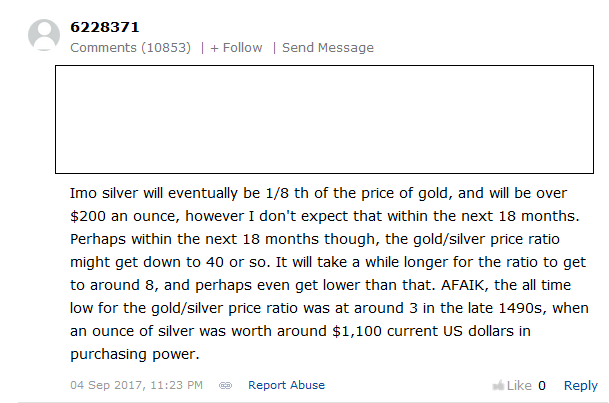 And when prompted, this post was followed up: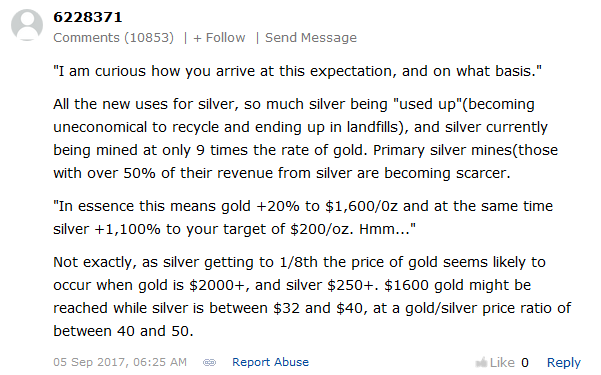 We are less optimistic with regard to the price of silver in general and about the associated fortunes for primary silver miners in particular. Here are some points we would like to throw out for consideration, and perhaps discussion in the comment section below:
Projections of silver consumed in industrial applications don't seem to support the thesis of an imminent supply shortage. Solar panels are often mentioned in this context, as are various new-age gadgets, biocides, and others. However, we note that the amount of silver consumed by various new industrial applications has only just managed to compensate for the decline in silver usage caused by digital photography.
Silver is touted as a store of value with similar attributes as gold, except more affordable for the masses (the "poor man's gold" narrative). Again, we see little factual evidence of this argument. Silver is exactly as affordable as gold, except in different quantities; and we don't see any central banks hold silver, whereas we certainly see the same for gold.
Primary silver miners account for less than a third of total silver output. The other two-thirds are mined as a by-product in base metal or gold mines. Silver supply is, therefore, driven by the supply-demand dynamics of other metals, and primary silver miners are vulnerable, as supply from their mines is relatively unimportant globally.
Having said this, we are still in agreement with those stating that silver remains an attractive vehicle to play a gold rally (should it eventuate), as silver price generally still follows the gold price with some added leverage.
However, we are still less constructive on the silver miners than we are on gold miners, for the reason summarized in the following chat board post:

And hence, we currently only own only one silver miner, with intentions to take profits before too long.
Actionable Ideas
Stephen Kwai thinks Detour Gold (OTCPK:DRGDF) is trading at a discount, and we could not agree more.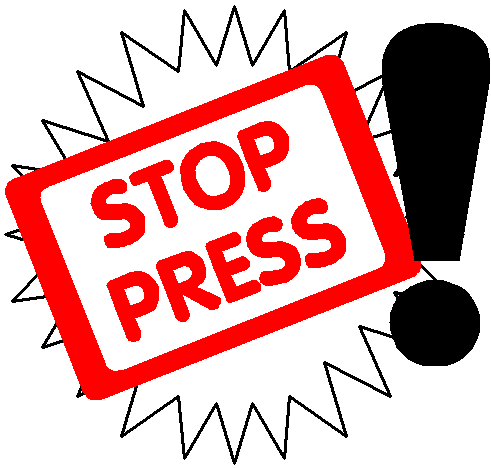 Drill Result Summary
Wheelings and Dealings
Trevali Mining (OTCQX:TREVF) has formally closed the acquisition of a set of African zinc mines from Glencore (OTCPK:GLCNF), arguably turning the junior into a mid-tier and the pure-play go-to name for investors seeking exposure to zinc.
Barkerville Gold Mines (OTCPK:BGMZF) is raising C$35 million in a flow-through placement and has the drill results to maintain investor interest for the company's Cariboo project in BC.
Osisko Metals (OTC:BWMXD) is the latest iteration on the Osisko theme, with a focus on zinc in the Bathurst camp. The company is raising C$8 million in a flow-through financing, at a hefty 40% premium to its share price at the time of writing.
Dolly Varden Silver Corp. (OTCPK:DOLLF) is turning into the silver explorer of the moment, confirming earlier drill results, announcing new discoveries, and placing C$5 million in flow-through shares while the going is good.
McEwen Mining (NYSE:MUX) and Primero Mining (NYSE:PPP) have completed the paperwork for the transfer of the Black Fox mine from the latter to the former. McEwen's landholdings in the Timmins are not only growing, but they also include a mill with excess capacity now.
Other News
Aurico Metals (OTCPK:ARCTF) has submitted permit applications for its Kemess underground copper-gold project in BC, starting a process that should see a decision sometimes in Q2 2018. How this asset fits into the overall strategy of this royalty company will presumably become more apparent once the process concludes.
Treasury Metals (OTCQX:TSRMF) has commenced a feasibility study on its Goliath project, targeting Q3 2018 for completion. The study will build on the recently completed PEA, and it will consider drill results obtained during the past couple of years.
And here we say our good bye for now, as we are looking forward to returning to our office next week after two weeks of travel. See youse all happy and healthy for the next issue of this newsletter.
And Before We Go...
The free two-week trial for Itinerant Musings is still available for all comers leading up to the two-year anniversary of this newsletter. Why not drop by and check out this friendly and knowledgeable community of resource sector investors. Itinerant Musings offers exclusive access to our small- and mid-cap ideas, a lively community, and regular commentary and outlook on metal prices.
Disclosure: I am/we are long TSRMF, TREVF.
I wrote this article myself, and it expresses my own opinions. I am not receiving compensation for it (other than from Seeking Alpha). I have no business relationship with any company whose stock is mentioned in this article.
Editor's Note: This article covers one or more microcap stocks. Please be aware of the risks associated with these stocks.