The U.S. Economy
Amid the tumultuous political landscape, it seems unreasonable to expect the combination of political uncertainty and financial market calm to last in perpetuity. We feel it is important for investors to prepare for potentially attractive investment opportunities that may arise when volatility eventually returns.
Earlier this year, market participants became optimistic on expectations that pro-growth reforms would soon be implemented, given the post-election Republican victory for control of the Federal government. However, the prospects for those pro-growth reforms are facing challenges. Thus far, much of the progress has been through improving the regulatory burden via the executive branch, as these changes are easier for President Trump's administration to implement versus going through Congress.
In the meantime, market optimism and reform expectations appear to be resetting. For example, small-cap stocks, boosted by the prospects for corporate tax reform, had outperformed large-cap names considerably post-election. As political realities and difficulties began to stall progress, their outperformance receded and they have now fallen back to parity. We still acknowledge the potential upside should Republican leadership succeed in implementing some pro-growth reforms, but we remain firmly of the view that any upside scenario would be within the post-Global Financial Crisis range of GDP growth.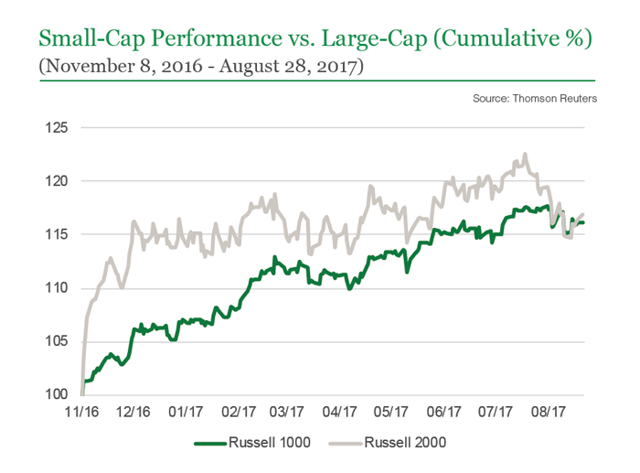 Within the context of this outlook, we see the U.S. as steady and continuing to advance later cycle. While we see few signs of excess that indicate that a sustained bear market is lurking around the corner, there are a number of developing risks that must be monitored closely. Chief among them is the combination of complacency and elevated valuations.
Although there have been moments of increasing volatility, for example, when North Korea stirs up fears of conflict, volatility by many traditional measures still remains near historic lows. The resiliency with which markets shake off seemingly bad news suggests that investors may be becoming increasingly insensitive to risk.
Furthermore, U.S. equity markets remain near all-time highs. While there have been some improvements to the economic outlook - consumption remains steady, investment levels are marginally improving, and exporters are benefiting from recent weakness in the U.S. dollar - current elevated valuations in domestic financial markets provide little support in the event of a market pullback.
The combination of risk insensitivity and elevated valuations may persist for some time, but it may also come to a volatile conclusion as the unpleasant adjustments often have catalysts that are obvious in hindsight but less clear in real-time. Therefore, it is important to continuously assess developing risks and warning signs to avoid being lulled into a false sense of complacency.
This is particularly key as the bull market moves along in its ninth year. For these reasons, we believe it is important for investors to have proper expectations in this environment, especially considering that elevated starting valuations suggest lower long-run returns.
The Global Economy
Despite an increasingly later-cycle U.S. economy, we see mounting evidence that a global, synchronized expansion is ongoing. According to the Organization for Economic Cooperation and Development (OECD), all 45 OECD countries are on track to grow this year. It is the first time all are growing since 2007, and we see several macroeconomic factors aiding the outlook.
Global credit conditions remain supportive, boosted by the extension of easy monetary policy from global central banks. The conditions are keeping real rates low, or even negative in some markets, and should aid investment expansion. Additionally, key inflation metrics have largely weakened on the margin and remain at low levels, while forward looking inflation expectations are also generally modest, collectively suggesting that a lack of decisive inflation pressure persists.
From a big picture perspective, several international economies are experiencing a pleasant combination of improving investment and labor market trends as inflation holds at a healthy level. This may allow central banks around the world to continue providing accommodative monetary stimulus policies longer than they may otherwise.
In a speech in June, Fed governor Lael Brainard acknowledged the growth environment stating, "For the first time in many years, we are seeing signs of synchronized economic expansions at home and abroad." Should central banks continue to keep interest rates near zero or at negative levels, then asset prices and/or markets may be further supported.
From a valuation perspective, although current forward price-to-earnings for International Developed Markets and Emerging Markets are each more relatively attractive than the U.S., there are significantly fewer pockets of cheap valuations remaining compared to the past several years. This necessitates the importance of a selective approach.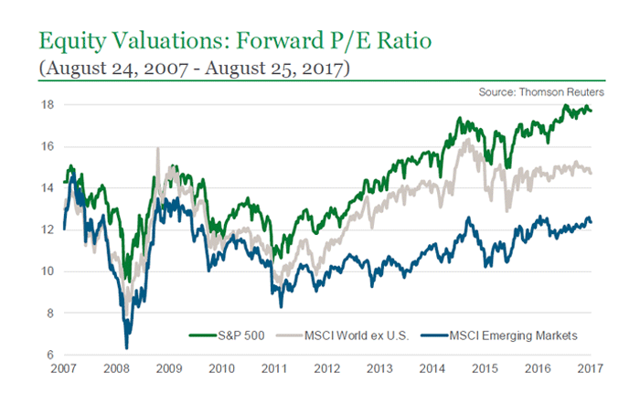 Our Perspective
Though valuations in the broad U.S. stock market remain elevated, we continue to see few unsustainable excesses that would suggest the U.S. economy is at risk of imminent recession. In this environment, discernment and flexibility are critical.
Given the slow global growth environment, in portfolios geared toward capital growth, we are focused on targeting investments in fundamentally strong businesses with unique growth drivers, although we have become incrementally more comfortable owning economically sensitive names. In general, we continue to believe that the key to generating attractive returns in today's slow growth environment is through owning innovative companies that achieve growth by creating new markets or disrupting old ones. However, as certain growth-oriented holdings reach our estimate of fair value and are trimmed, portfolios are becoming incrementally less growth-tilted.
Regarding fixed income, our outlook remains constructive toward credit, and although credit spreads are tight, they remain relatively attractive on a fundamental basis. As such, portfolios maintain a sizeable allocation to investment-grade corporate bonds, although some portfolios may contain high yield exposure as well. As we are in the later stages of the economic cycle, we are monitoring corporate credit allocations to determine if any action is warranted. Portfolios also have a notable allocation to U.S. Treasuries and Agencies as well as Pass-Through securities, including asset-backed securities. Generally speaking, portfolios are underweight non-agency mortgages.
We continue to believe a modest duration remains in clients' best interests. Over the intermediate-term (which we define as the next 12–18 months), we expect that there will be continued pressure for interest rates to gradually move higher. We think the Fed will remain opportunistic, looking to hike the Federal Funds target rate when economic conditions allow, while also remaining sensitive to domestic and global market conditions, particularly if they begin to reduce the size of their balance sheet later in the year by decreasing reinvestments of principal in Treasuries and agency mortgage-backed securities.
In our view, short-term and income-oriented investors should also explore equities that display stable fundamentals and are trading at attractive valuations. We believe companies that generate strong, stable cash flows and pay an attractive dividend could be compelling options for these types of investors in the current environment.
Source: Thomson Reuters. Analysis: Manning & Napier Advisors, LLC (Manning & Napier).