Palo Alto Networks (NASDAQ:PANW) investors have gotten their fair share of adrenaline rushes in the past year.
After reporting a solid beat last week and overshadowing concerns over the end of Palo Alto's hyper-growth days, the stock is back above $140/share -- levels not seen since February 2017. But the voyage has not been without many bumps. PANW has traded as high as $161/share and as low as $108/share over the past 52 weeks. Depending on when investors bought the stock within this period of time, a PANW trade could be up as much as +33% or down as deep as -11% today.
After seeing sentiment around shares shift as often and as fast as it has, investors might be wondering whether now is a good time to buy the stock and ride the updraft or sell it on recent price strength.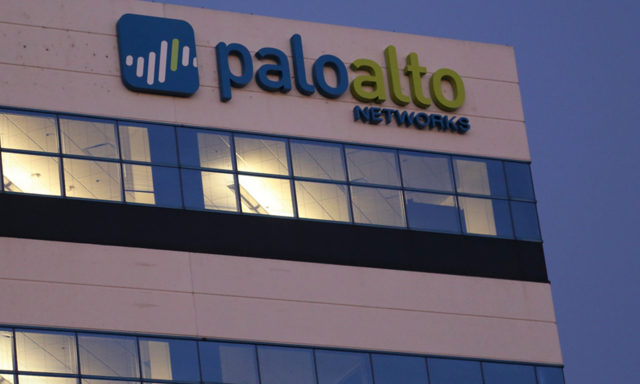 Credit: Skyhigh Networks
The graph below suggests that, after the early 2017 hiccup, the cyber-security company may be on the way to finding its footing once again. After seeing YOY revenue increase drop sharply below the 50% mark for the first time since fiscal 2013 at least, management now projects growth to slowdown at a decelerating pace and billings to stabilize in fiscal 2018. Better yet for value-biased investors, opex and S&M as a percentage of revenues have pulled back substantially in fiscal 2017 despite the low sales volume. Margins could, at last, improve as the company slowly gains scale and potentially shifts focus a bit toward profitability -- management is already projecting an organic increase in operating margin of 150 basis points next year.

But I also fear that the top-line and billings stabilization will occur at a much lower growth level than investors have become accustomed to in the past. The go-to-market challenges that management highlighted earlier in the year may, in the end, not fully account for what now seems to be a secular (and not cyclical) downturn in top-line growth. In the case of Palo Alto's revenues, what comes down might not necessarily go up.
CEO Mark McLaughlin said that the company's efforts to turn its marketing infrastructure around is fully in place and already in "runtime" phase -- a period through which Palo Alto lets the client relationships "bake over time". Looking at guidance, I see little to no evidence that fiscal 2018 results will reflect substantial improvement driven by the revitalized go-to-market strategy. For this reason, I can only assume that low-20s moving into high-teen top-line growth should be Palo Alto's new normal going forward -- to the dismay of the the more aggressive investors who might need to look for hyper-growth elsewhere.
My views on the stock
Following a turbulent fiscal 2017, PANW is slowly becoming a more affordable stock (see first chart below) to reflect a lower-growth environment, despite the +13% stock price run of the past week and a half. On a forward P/E basis, shares are now valued at a multiple of 43.4x that is much more de-risked than year-ago's 55x and early 2016's 100x. Once long-term earnings growth expectations are taken into account (see table below), PANW's forward PEG of 1.7x even looks enticing in the comparison against its peer group.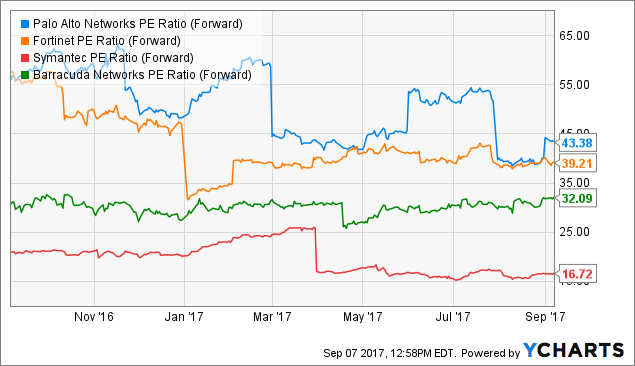 | | | | |
| --- | --- | --- | --- |
| Company/Ticker | Forward P/E | LT EPS Growth | Forward PEG |
| PANW | 43.4x | 25.9% | 1.7x |
| FTNT | 39.2x | 18.6% | 2.1x |
| SYMC | 16.7x | 8.9% | 1.9x |
| CUDA | 32.1x | 11.4% | 2.8x |
Should Palo Alto's efforts to improve its marketing strategy pay off and margins improve substantially as the company reaches scale over the next several quarters, PANW investors could be lavishly rewarded. But being a value investor at heart and given all the uncertainties, I will continue to sit this one out and watch Palo Alto's ongoing recovery as a spectator.
Note from the author: If you have enjoyed this article and would like to receive real-time alerts on future ones, please follow DM Martins Research. To do so, scroll up to the top of this screen and click on the orange "Follow" button next to the header, making sure that the "Get Email Alerts" box remains checked. Thanks for reading.