This article is the final in a series covering the Canadian banks. You can find the rest of the series covering the Royal Bank of Canada (NYSE:RY) here, The Canadian Imperial Bank of Commerce (NYSE:CM) here, The Bank of Nova Scotia (NYSE:BNS) here, and the Bank of Montreal (NYSE:BMO) here. Thanks for reading.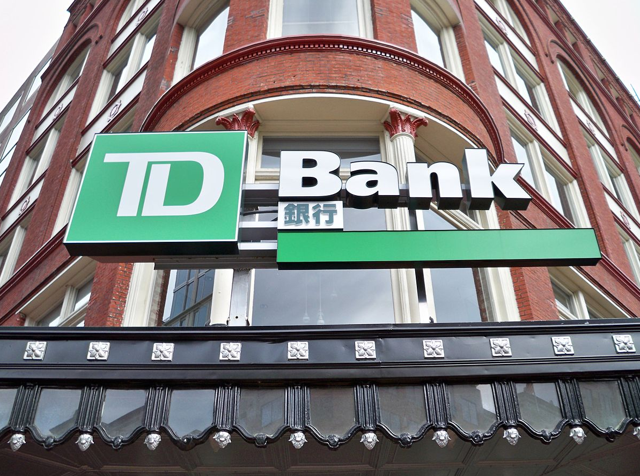 The Toronto-Dominion Bank (NYSE:TD) had a great quarter, continuing to deliver strong results for its shareholders. The Canadian bank has extensive and successful operations in America, and a significant stake in TD Ameritrade (NYSE:AMTD) which provides exposure to a leading discount brokerage. Although TD isn't trading cheaply on a relative basis at the moment, it is right around fair value with strong cash generation, dividend growth, and significant opportunities for continues earnings growth.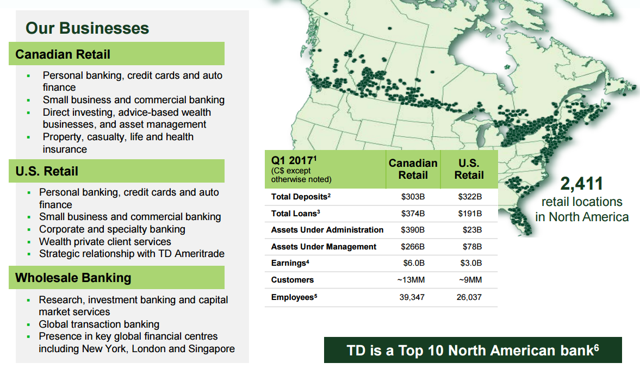 Source: Analyst Presentation
TD has operations across Canada and the US, with a particular focus in retail banking. The company also has a significant stake in TD Ameritrade (NYSE:AMTD), providing additional exposure to a retail brokerage that has grown strongly over time.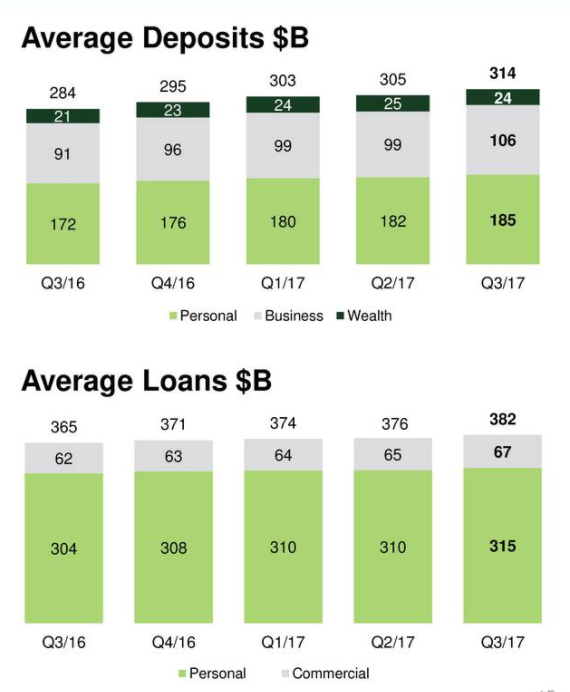 Source: Analyst Presentation
The bank's most recent quarter saw 19% earnings growth, with a revenue increase of 7%. In Canadian Banking, the bank saw strong results from its real-estate secured lending business, and sequential loan growth of about 1.5% and 5% YOY. Expense growth moderated from previous quarters, which has been a common theme among the Canadian banks as they roll out digital innovations to improve the customer experience and take market share. Deposit growth came in at close to 3% sequentially and 11% YOY, which is outstanding. Deposit growth in the double-digits would tend to show TD taking market share in its key markets.
Looking at some of the digital innovations out of the bank, it improved its digital home-buying app by adding listings from the Canadian Real Estate Association through an exclusive contract. Additionally, the bank rolled out the TD Send Money P2P service, which has now facilitated nearly 300,000 transactions, giving its customers another way to send money back and forth. Finally, the TD ASAP service automatically authenticates callers to directly connect them with an advisor when calling in to the service. It saves time, manpower, and improves the customer experience. 60% of the bank's digital users are now mobile active users, and the functionality is there to open a checking accounts, savings accounts, and credit cards all online. These improvements have shown through in the bank's growth, and I see TD as a top performer among its peers in retail banking.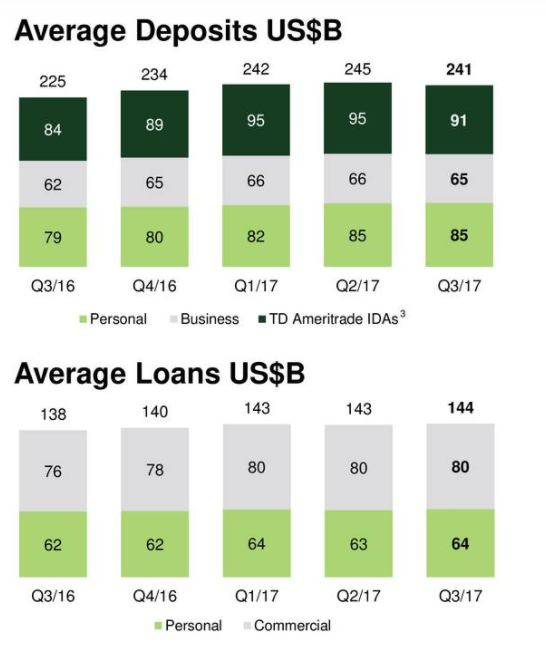 Source: Analyst Presentation
In US Banking, earnings grew 15% YOY on the back of 10% revenue growth. Deposits were down slightly sequentially, but up 7% YOY. Loans were up by 5%, reflecting moderation across the industry. US results weren't quite on par with the bank's solid Canadian results, but results were stronger than BMO's in America. It will be something to keep an eye on in future quarters.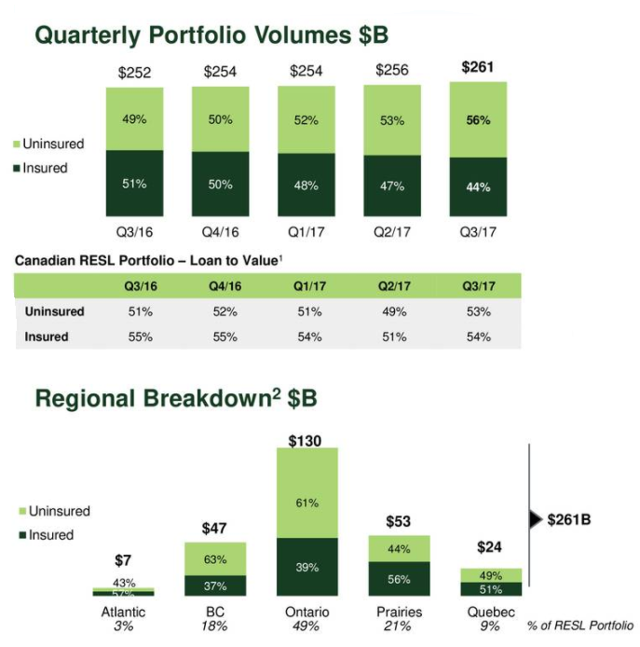 Source: Analyst Presentation
Fears remain over the Canadian housing market, although I have detailed in my previous articles that prices seem to have turned and it is likely that government regulations may bring the market down for a soft landing in Toronto and Vancouver. Regardless, TD has a conservative portfolio in-line with peers, with LTV ratios in the low 50% range on its uninsured portfolio. Additionally, mortgage exposure is lower than some other banks. TD does have a significant portion of its exposure in Ontario (where Toronto is located) and those mortgages are at 61% uninsured. However, with the low LTV ratios and prices turning, I am not overly concerned.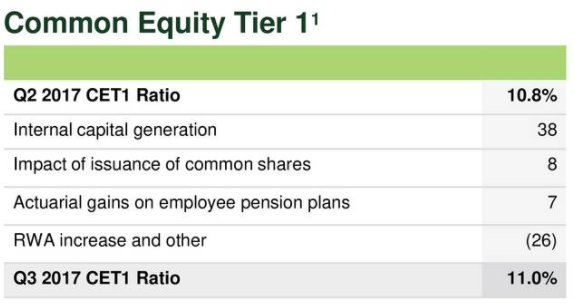 Source: Analyst Presentation
The bank's CET1 ratio improved slightly sequentially, with strong internal capital generation offset somewhat by an increase in risk-weighted assets. The bank was a net issuer of shares over the past year, which improves the ratio as well by generating capital. 11% is significantly higher than the regulatory requirement of 6%, in-line with peers, and the internal capital generation shows TD is maintaining a strong capital position. The bank's leverage ratio, or growth of revenues versus growth in expenses, was 4.1%, which is a good target moving forward. Regarding share issuance, management has approved a plan to repurchase 20 million common shares to add to its current 15 million share buyback. This should fully offset share dilution from DRIP and employee compensation.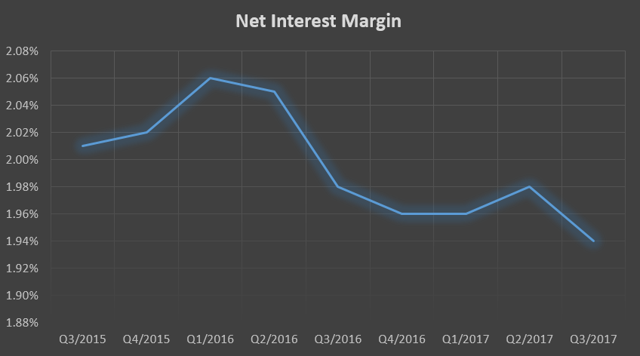 The bank's net interest margin is fallen slightly over the past few quarters, although interest rate hikes in both Canada and America should allow for NIM expansion in the medium term.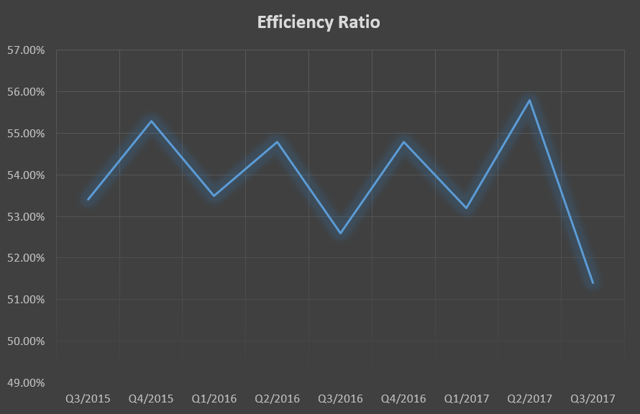 The bank's efficiency ratio is among the best of its peers, notably second to RY's leading ratio in the low 40% range. As I detailed above, the bank has driven strong customer growth through its investments into digitization and functionality. With these investments paying off in the results, I don't plan on nitpicking the efficiency ratio. However, looking at the graph above, there is nothing not to like as the bank has maintained it in the low 50's over time.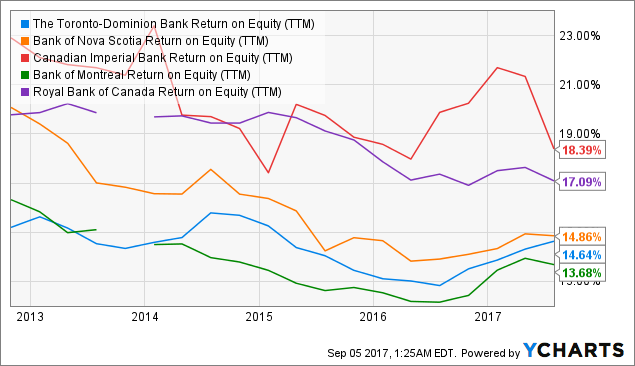 TD Return on Equity (NYSE:TTM) data by YCharts
TD's returns on equity are mostly in-line with peers, and in a pretty stable trend with BMO and BNS. CM is likely to see some compression with its American expansion, and RY continues to maintain a very noteworthy ROE. TD maintaining a close to 15% ROE with its extensive American operations is fine by me, and higher than the average American bank.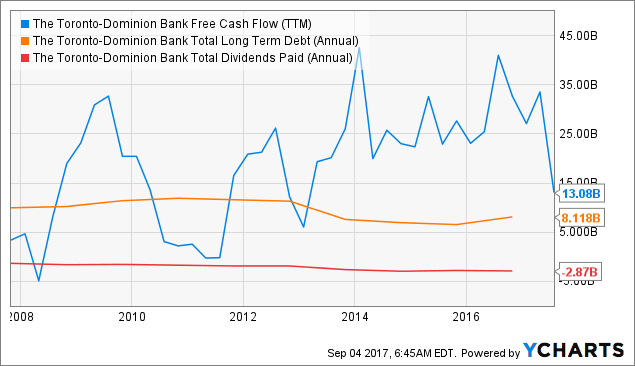 TD Free Cash Flow (TTM) data by YCharts
An area where TD shines is in its cash generation. The bank's free cash flow has been outstanding over time, with stable long-term debt levels and a growing dividend. The most recent hike coming into this year was 9%, with one more dividend declaration before the bank will likely hike it again. The bank targets a 40-50% payout ratio, and with the current ratio of 43%, there is plenty of room for continued growth. The current dividend adjusted into US currency at today's prices gives a generous yield of about 3.6%.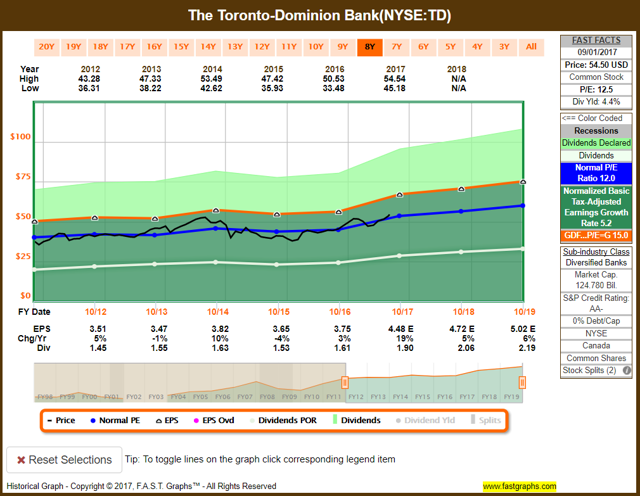 Looking at the bank's recent valuation, TD is trading right around its average, in the 12X earnings range.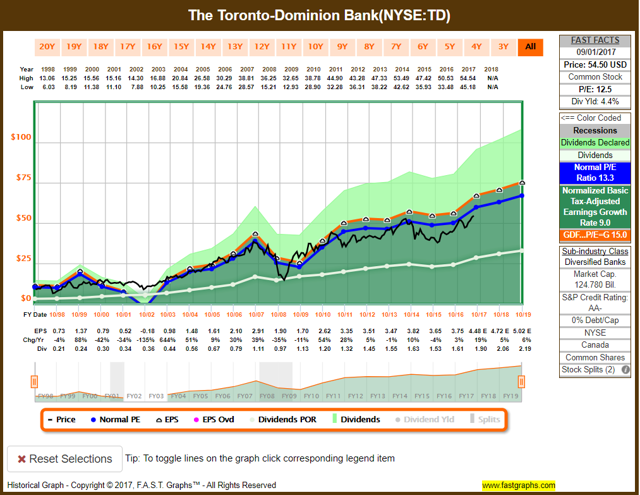 Zooming out, TD is actually lower than its long term average of a little over 13X earnings, and the graph shows both solid earnings and dividend growth over the long-term.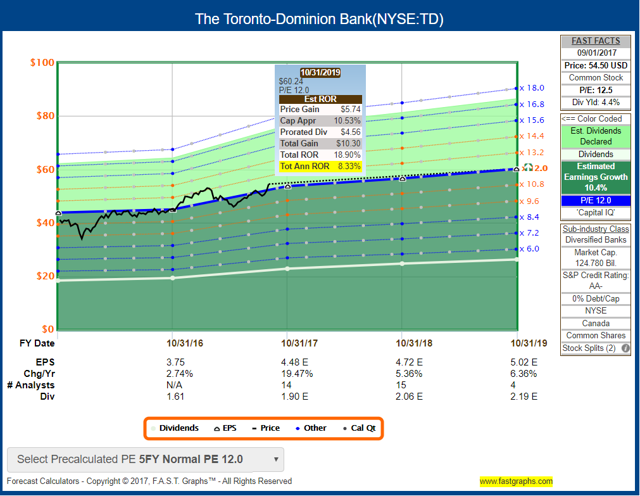 Based on analyst estimates and a valuation in-line with the more recent average of 12X earnings, an investment today would yield an annualized total return in the 8% range. However, changes in valuation and obviously earnings growth would have a notable impact on that figure in either direction. Regardless of that figure, TD is trading for a fair relative valuation with strong growth across its businesses. It has a good yield of around 3.6%, plenty of room for growth, and a conservative capital structure with strong cash generation. I view TD as a strong candidate for adding financial exposure to a long-term dividend growth portfolio.
If you liked this article and would like to read more covering the Canadian banks, please click the "Follow" button next to my picture at the top and select Real-time alerts. Thanks for reading and please leave a comment below.
Financial statistics were sourced from Morningstar, with the charts and tables created by the author, unless otherwise stated. This article is for informational purposes only and represents the author's own opinions. It is not a formal recommendation to buy or sell any stock, as the author is not a registered investment advisor. Please do your own due diligence and/or consult a financial professional prior to making investment decisions. All investments carry risk, including loss of principal.
Disclosure: I am/we are long TD, BNS, CM. I wrote this article myself, and it expresses my own opinions. I am not receiving compensation for it (other than from Seeking Alpha). I have no business relationship with any company whose stock is mentioned in this article.