Moody's (NYSE:NYSE:MCO) , Fitch and S&P (NYSE:NYSE:SPGI) control roughly 95% of the bond rating business. Today, with the rise of cryptocurrencies, I believe that a new market space exists and the first-mover will own the market. If you are unfamiliar with an ICO, it is an initial coin offering. Startups raise money by exchanging their own newly created coin for more liquid cryptocurrencies like Bitcoin (OTCMKTS:OTC:GBTC) and Ethereum. There has been no lack of controversy in relation to ICOs. How can investors know what to believe when looking at initial coin offerings if there is no regulation. Some ICOs are looking to raise money with very vague ideas and in the end, they never come close to executing. Others are using ICOs to reinvent the classic pump and dump scheme.
When negative news comes across the wire about ICO's, the main cryptos usually respond negatively. I am not saying I agree with the response, as I stated in a previous article, the high volatility creates many buying opportunities in the cryptocurrency market. I think many are quick to react negatively to any hint of bad news in the cryptocurrency market because they are misinformed. It is only human nature to be skeptical of something that is new and has little historical data. This skepticism creates an opportunity.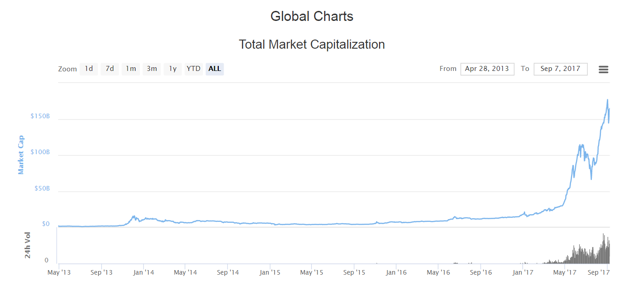 Source: https://coinmarketcap.com/charts/
The total market capitalization of cryptocurrencies has risen above $150 billion dollars. Most of this market cap was created in 2017, which is illustrated in the chart above. While this is nothing close to the trillions in corporate debt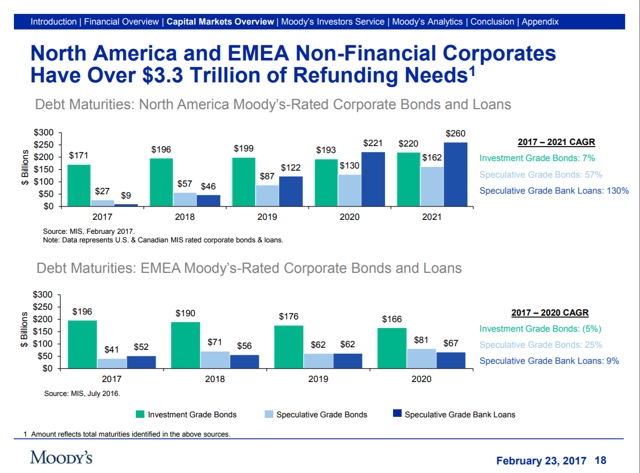 Source: Moody's Investor Presentation Q4 2016
The above slide gives an idea of many Moody's rated corporate bonds mature in a given year. As more coins are issued and used for ICOs this potentiallu new ratings market will expand to a similar size. The negative media attention generated by ICO scams has taken some investor confidence away from the crypto market. If investors are looking to invest in cryptos but they are wary, a rating given by a familiar company would certainly make them feel more comfortable. I cannot address how Moody's or another company might rate and ICO or cryptocurrency and I do understand they could tarnish their reputations by acting irresponsibly. Although, Moody's did prove their resiliency in surviving the financial crisis and eventually ended up paying an $864 million dollar fine which did not greatly impact their business.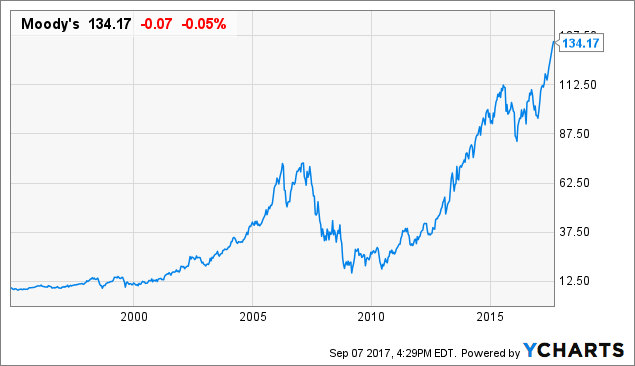 I think it would be beneficial for them to make a slow move into this market by hiring experts in the field now to give preliminary ratings or notes on larger ICOs.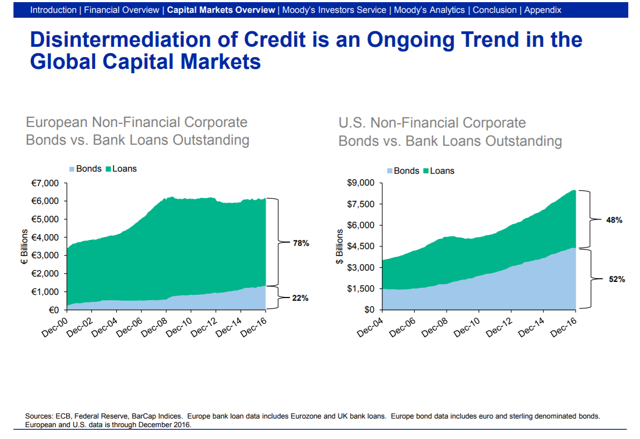 Source: Moody's Investor Presentation Q4 2016
There is already a clear trend in global capital markets. The disintermediation of credit has been ongoing since 2000 As you can see above, the trend is much stronger in the US than Europe, but they are both trending in the same direction. This trend of disintermediation could be a catalyst for cryptos that are more mainstream. Corporations may even choose to raise capital by issuing their own crypto. It is unclear what effects regulation might have on the use of cryptocurrencies by large corporations. If the market cap of cryptocurrencies continues to expand, regulators will have to realize that they cannot stop the growth and instead should embrace it. If regulators act in a friendly manner towards cryptos and corporations begin to use them, the ratings business could flourish in this space. I believe that the unfamiliarity and skepticism surrounding cryptocurrencies adds to the value of ratings.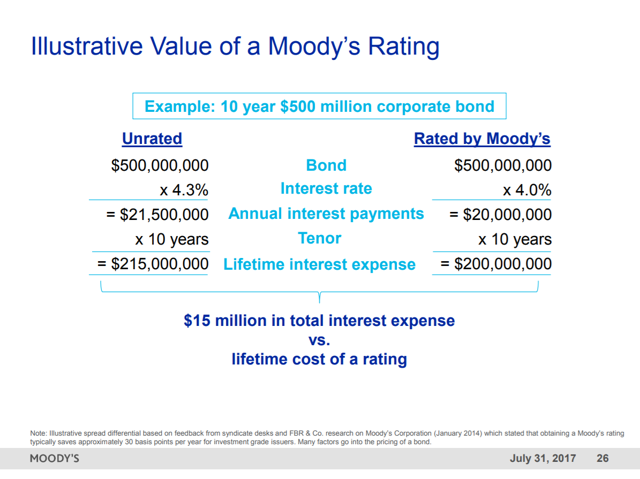 Source: Moody's Investor Presentation Q2 2017

A Moody's rating actually leads to savings in the issuance of a corporate bond. The higher interest rate paid on an unrated bond leads to a greater lifetime interest expense and thus a greater overall cost. There is a potential that this same concept could be applied to ICOs or cryptos used by corporations to raise money. Those receiving a rating from a known company like Moody's or S&P would likely be able to raise more money. It would also help to stamp out illegitimate ICOs and pump and dump schemes. They will not necessarily need to employ a traditional ratings system, they could simply vet and do due diligence to determine the legitimacy of a coin offering.
I believe that there is a huge potential market forming as a result of the rise of Crpytocurrencies and ICOs. The disintermediation of credit has been trending since the early 2000's. I believe that this points to the potential rise of ICO's as companies are less and less likely to employ a strategy that requires traditional bank loans. The uncertainty surrounding the cryptocurrency market is creating a huge opportunity for rating companies. The first company willing to take a risk and move into this space will reap great benefits if they are calculated and cautious.