Business
The Cheesecake Factory (NASDAQ:CAKE), founded in 1972, owns and operates 208 restaurants in the United States and 15 Cheesecake Factory-branded restaurants internationally through licensing agreements (est. <1% of sales). Out of the 208 domestic-operated restaurants, 194 are under the Cheesecake Factory brand (91% of sales), 13 are under the Grand Lux Café brand, and 1 is under the Rock Sugar Pan Asian Kitchen brand (together ~6% of sales).
In addition to operating and licensing restaurants, the Cheesecake Factory also operates external bakeries that sell to wholesale clubs, grocery stores, and internationally-branded Cheesecake Factory restaurants (~2% of sales).
The Cheesecake Factory Concept: The Cheesecake Factory is the core restaurant concept. It is 'upscale casual', which really doesn't target an 'upscale' demographic, but a variety of ages and incomes with an average check of $21.40. The company prides itself on its extremely extensive menu, which is comprised of over 200 items, 50 additional 'Skinnylicious' items (which are dishes that fall under a certain calorie count), and over 50 different types of cheesecakes.
Desserts (higher margin) play a large role at the restaurants, making up 16% of sales, while alcohol makes up an additional 13%. On a unit level basis, restaurants have historically generated AUVs between $10-$11m per year, and operated at ~18% EBIT and ~22% EBITDA margins.
The majority of the cost structure is fixed in the form of labor expenses (34% of sales), and other operating costs/expenses (25% of sales) which is primarily comprised of rent and maintenance expense. The variable costs are food expenses (23% of sales). Overall the cost structure is 72.0% fixed, and 28.0% variable, though fixed costs are subject to some inflation through wage inflation and rent escalators.
The Grand Lux Café & Rock Sugar Pan Asian Kitchen Concepts: The Grand Lux Café is another upscale casual dining concept with 13 locations. The concept is similar to that of the Cheesecake Factory with >150 menu items, but is meant to be more elegant, 'inspired by extensive European travel exploring Italian trattorias, French bistros, and the grand cafés and pasty shops of Vienna," though you wouldn't know it by the Crispy Thai Shrimp Spring Rolls or Special Enchiladas on the menu.
The company does not provide transparency on any operating metrics outside of average check, which is $21.50, roughly equivalent to that of the Cheesecake Factory. A large portion of sales are driven from 3 restaurants – two in Las Vegas, and one in Chicago. The Rock Sugar Pan Asian Kitchen is an upscale casual Southeast Asian restaurant that focuses on Thai, Vietnamese, Malaysian, Singaporean, Indonesian, and Indian cuisine with >75 family style dishes. The company operates one restaurant in Los Angeles, and recorded a $6.0m impairment against the carrying value of the assets in 2015.
International Licensees: The Cheesecake Factory entered into joint ventures with three partners to expand the brand internationally. The company doesn't disclose the terms of the licenses, but has indicated it is near a 100% margin business. Management has inferred that each restaurant contributes 1.5-2 cents of EPS, which would mean each restaurant generates roughly $960k after tax or $1.32m before tax. CAKE's JV partners are Alshaya (MENA/Eastern Europe), Alsea (Latin America), and Maxim Caterers (Asia).
External Bakery: The Cheesecake Factory operates two bakery production facilities, one in North Carolina and one in California. The bakeries produce cheesecakes and some of the other desserts for company-operated restaurants, and for sale to internationally-branded Cheesecake Factory restaurants, wholesale clubs, grocery stores, and more.
Other Concepts: In 2016, the Cheesecake Factory invested $42m to obtain a minority stake in two restaurant concepts, North Italia and Flowerchild, both under the Fox Restaurant Concepts umbrella. North Italia operates 11 restaurants in Arizona, California, Kansas and Texas in an upscale Italian concept, while Flowerchild operates 6 restaurants in California, Arizona and Texas, and is a farm/ranch-to-table concept. The terms of the investment are unknown.
Investment Thesis
Over the past few months, Cheesecake Factory's shares have declined ~45% from their high to $39.00. Fears over slowing traffic, wage inflation, and cheaper groceries have pushed the valuation down to 5.6x trailing EBITDA and 11.0x 2016e P/E. This presents the opportunity to buy into the company, which admittedly needs some help at a very attractive valuation. The current situation is perfect for an activist or strategic investor to enforce change. Some necessary changes include:
Shift from an 'own and operate' model to a franchise model, moving out of the low RoIC business of managing restaurants to the high RoIC business of managing a brand.
Improve unit level operating metrics by simplifying the unwieldy menu, cutting excess labor expenses, and refocusing maintenance/growth capex.
Focus growth capital-light ventures of equity stakes in new restaurant concepts/international JVs.
Allocate excess cash from divesting restaurants to franchisees to new restaurant concepts, share repurchases, or special dividends.

(Source: Company Filings / Author Estimates)
Franchising Of Company-Operated Restaurants
The first goal at the Cheesecake Factory should be to begin franchising out company operated restaurants. The company currently owns and operates all 208 restaurants in the U.S. By selling off a portion of these each year, the company could accomplish two things. First, it can raise cash to reinvest in other concepts, or it can be used to return to shareholders through share repurchases or special dividends.
Second, moving to a franchise model would improve the margin profile of the business. While top line would decline (the company would shift from accounting for the full restaurant's revenue to the franchise income), margins would improve due to the higher profitability of the franchisor income stream.
In addition to franchising off company-owned Cheesecake Factory restaurants, they could also either franchise or completely divest the Grand Lux Café and Rock Sugar concepts. Neither concept has significant brand equity, and the Grand Lux Café is essentially a direct competitor to the Cheesecake Factory. There is little point to maintaining either as it doesn't make economic sense to maintain these two businesses that detract time and money from the company and management.

(Source: Company Filings / Author Estimates)
Restaurants have historically generated EBIT margins in the high teens, EBITDA margins in the low twenties, and have exhibited positive comparable sales growth every year since 2009, making it an attractive concept for someone to purchase. Assuming a 6x multiple on a 50/50 split of EBITDA, the company can raise ~$7-9m per restaurant franchised.

(Source: Company Filings/Author Estimates)
The switch to a franchise model also lends itself to a healthier margin profile for the business. The switch would lead to a decrease in sales for the overall business as a whole. Assuming ~110 restaurants are franchised over the next 5 years, top-line for operated Cheesecake restaurants would decline -5.8% p.a., or by $535m off of a base of $2.1bn while franchised revenue would increase from $0 to $293m. The net change in revenue associated with domestic Cheesecake Factory restaurants would be a cumulative -11.7% decline in sales of $242m.
Meanwhile, as a result from shifting to a more profitable franchise model / operating improvements, EBITDA for domestic Cheesecake Factory restaurants would increase more than 10% from $457m to $500m while generating cash from restaurant sales.
Overall, switching to a franchise model is crucial for CAKE's improvement. Owning and operating restaurants is a low RoIC business as a large amount of capital gets tied up in the real estate and leasehold improvements. The Cheesecake Factory brand is their most valuable and highest returning asset, and by changing to a franchise model, the company isolates that asset. With lower capital intensity, it becomes easier and cheaper for the company to grow, allowing the business to allocate capital to higher-returning initiatives, such as shareholder return or investments in new concepts.
Restaurant Operating Improvements
Restaurant operating expenses are comprised of three main buckets – food costs, labor expenses, and other opex, which primarily includes rent and maintenance expense. While rent is a difficult category to find expenses to cut in – food costs, labor expenses, and maintenance all have substantial room for improvement.
Food Costs: Food costs have on average been ~26.5% of sales at the restaurant level over the past 5 years. This is actually significantly better than peers, who have averaged just about ~30% of sales over the same time frame. The reason for the difference can partially be attributed to CAKE's vertical integration. Through operating two external bakeries, they produce all of their cheesecakes and most of their other desserts in-house.
With desserts making up 16% of restaurant sales, and alcohol making up an additional 13%, a total of 29% of sales come in at higher margins than the standard appetizers and entrees. Despite already being more profitable when it comes to F&B costs, there is still room for improvement. The big area that the Cheesecake Factory can focus on is simplifying the menu. Currently, the menu has 24 sections and over 250 items. While the company believes this is a good thing in that the wide array of choices attracts customers, it really does more harm than good.
First, it creates issues for buyers sourcing food. The overly large menu can create complexity in buying the right quantities of each input, creating waste. It also benefits customer experience and service – some of the most common complaints on Yelp are that the restaurants were out of stock of various menu items. The other issue the large menu creates is difficulty with take-out.
As an example, it took the Cheesecake Factory a significant amount of time to find a partner in online take-out who could handle the size of the menu, and the only partner they could find for take-out was DoorDash, which lacks the coverage of Seamless or GrubHub (NYSE:GRUB). Through cutting the menu down, it makes it easier for consumers to order online (they're not barraged with far too many choices), and it makes it easier for the chefs and food prep team to quickly prepare dishes.
Labor Expenses: Labor expenses can generally be thought of as a fixed cost per restaurant, subject to inflationary pressures. On a unit level basis, labor expenses have averaged just under $3.5m per restaurant per year, or 33.5% of sales, versus competitors who average 31.5% of sales. Key points of improvement include simplifying the training process for new staff (salaried workers are trained for ~320 hours while hourly workers are trained for ~150 hours) and reduction of excess benefits.
Some of these benefits include company-leased vehicles for all restaurant general managers, fully-paid sabbaticals, health insurance for part-time employees, and college tuition reimbursement. The quantity of employees is another area for potential reductions. CAKE has significantly more employees per restaurant than peers – and a reduction in headcount can increase profitability by offsetting wage inflation.

(Source: Company Filings)
Capex: Another area of improvement could be focusing on lowering maintenance expenses and capex. While CAKE doesn't break out the amount of maintenance that is expensed and included in 'other operating costs and expenses', they do disclose how much they capitalize each year on restaurants. Over the past 5 years – CAKE capitalized ~$135k per restaurant per year for maintenance. Using peers as an estimate, they likely expensed an additional ~$65k p.a. (TXRH breaks out capitalized vs. expensed maintenance – expensed is roughly 50% of capitalized).
The $200k per year spent on each restaurant far exceeds other full-service peers who typically spend between $20k and $100k per year. The reasoning behind this is the desire to maintain a 'look like new' aesthetic in each restaurant. CAKE doesn't need to be spending that much on maintenance expenses – they can cut costs, and instead shift to doing relocations or renovations every 5-7 years to drive comps up.
Sales & Marketing Campaign
The Cheesecake Factory has struggled to generate traffic growth in the past few years, and a possible solution to that could be more aggressive marketing. To date, the brand has relied primarily on free social media advertising, and word-of-mouth. While this can be an effective method to reach a certain demographic (16-35yr olds), it isn't as effective at reaching those older than that range. The company has done very limited paid advertising experiments – for instance doing a traditional billboard in-mall and outside-mall campaign with no call to action or promotion, and nearby restaurants did see a lift in sales (though unquantified).


(Source: Company Filings)
A combination of a national marketing campaign and a re-organization of the menu could be effective at driving additional traffic. Rather than have 250 menu items all-year, the company could have a far smaller core menu, and rotate seasonal menus every few months to keep things new and drive repeat traffic. The campaign wouldn't need to involve a promotion or discount, allowing restaurants to operate at full-price, and would be simply informing consumers of the new menu setup.
A campaign could also focus driving sales towards 3 areas for higher margin growth. The first is driving awareness of take-out and delivery. While CAKE pays an undisclosed fee to their partner Doordash on take-out sales, the kitchens are built with the capacity to handle additional take-out sales in addition to normal business, allowing restaurants to leverage fixed labor and rent expenses. The second area of focus could be dessert sales. CAKE has vertically integrated production of their desserts, allowing them to achieve higher margins.
Plus, a differentiating factor of the brand is the cheesecakes (it's in the name after all). The third area of focus is pushing for more customers in the 21+ age group in order to raise alcohol as a percentage of sales. Currently desserts and alcohol make up 29% of restaurant sales, and any increase in that number can push incremental margins higher.
A pick-up in traffic would not only drive top-line growth, but allow for margin expansion. Each 50bp increase in traffic would translate to just over 25bps of EBIT & EBITDA margin expansion through levering fixed labor and rent expenses.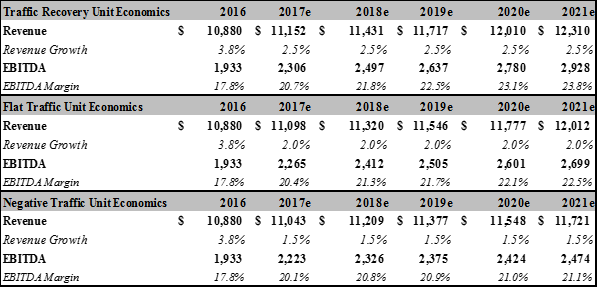 (Source: Company Filings / Author Estimates)
International Expansion
A big opportunity the Cheesecake Factory has for high-profitability growth is international expansion. Currently, CAKE has 3 JV partners – one in MENA, one in Latam, and one in Asia. CAKE has no ability to influence the rate of openings for any of their JV partners, they don't disclose the economics of the deal, but given that they've alluded to an impact of ~1.5-2 cents per share per international restaurant, which implies $1.32m is recorded in sales per restaurant, it's likely somewhere along the lines of a 50/50 EBITDA split.
International growth is beneficial in two ways – first, any sales CAKE recognizes are at or near 100% margin. Second, CAKE also generates top-line by selling desserts from their external bakery to international restaurants. While they are unable to control the pace of international expansion in regions where they have an existing presence, there are a few more regions they could expand into, including Western Europe and Australia.
Assuming international openings accelerate to 5-10 restaurants p.a. as CAKE's Asian JV partnership begins, revenue from JVs could increase from <1% of sales in 2016 to over 4% in 2020, with each new restaurant adding $1.3-$1.4m in sales each year.
Other Restaurant Concepts
The Cheesecake Factory has been looking at additional concepts in the upscale casual, casual and QSR segments as a source of additional growth, and in 2016 took a $42m stake in North Italia and Flowerchild, two restaurant concepts under the Fox Restaurants Concepts umbrella. While both are small chains of 11 and 6 restaurants respectively, the move is a good one. CAKE can use excess cash to take equity stakes in select chains and not assume operating responsibility. This is important as it keeps the business asset light, and it doesn't take as much time/focus away from the management team.
Risks
Slowdown in Mall-based Retail: Physical retail, particularly malls, have struggled over the past few years as consumers shift to e-commerce. Department stores such as J.C. Penney (NYSE:JCP) and Macy's (NYSE:M) (typically anchors for malls) are closing stores across the country, with JCP planning to close 138 stores in 2017, and Macy's planning to close 68.
The Cheesecake Factory is vulnerable to a continued slowdown in mall-based retail as over 2/3rds of its restaurants are tied to malls. Historically, mall-based traffic has been a beneficiary for CAKE, as they have tended to do better than peers in the mid-afternoon daypart, catching shoppers between lunch and dinner. This compares to restaurants in business districts where the lunch daypart ends right at 2:00pm.
As less shopping traffic moves through malls, CAKE will likely lose out on a portion of its mid-afternoon daypart sales and potentially suffer traffic declines during core lunch and dinner hours. This is somewhat mitigated as all Cheesecake Factory restaurants are located in "A to A+" malls, and that the restaurants located in and near malls always have their own door. This allows CAKE restaurants to bring business to malls, rather than purely feeding off of the mall's business.
Economic Contraction: An ever present risk for a cyclical business dependent on discretionary spending is a contraction in the economy. This would severely depress the economics of the business, and would likely make it difficult to sell and franchise off restaurants to raise cash. The Cheesecake Factory does have a resilient net cash balance sheet which should help it survive in any difficult operating environment.
Traffic/Pricing Pressure from Increased Competition: While attracting traffic has been difficult for the full-service casual segment of the restaurant industry, there hasn't been heavy or sustained promotional activity from publicly traded competitors. If traffic remains in a lull, it is feasible players may try to incentivize customers through discounting. This would likely lead to one of two results – either CAKE fights fire with fire and starts their own promotions, putting more pressure on prices overall, or they stick to full-price and deal with an accelerated decline in traffic. Either result leads to pressure on top-line and margins. Competition isn't only coming from other restaurants, but from grocery stores.
As grocery stores become more competitive with each other and push prices down, the spread in price between eating at home and eating out becomes wider, incentivizing consumers to stay home. The Cheesecake Factory sees itself as somewhat insulated from this risk in that it is an 'experimental' restaurant, where people eat for the experience just as much as the food, citing that it is the 2nd most Instagrammed brand behind Starbucks (NASDAQ:SBUX), though in reality this will likely afford little protection.
Commodity/Wage Inflation: An issue that the Cheesecake Factory has been dealing with in the past few years is periods of high food commodity and wage inflation. Food inflation is more volatile and difficult to predict, while wage inflation is somewhat to be expected, but there is little the business can do to offset the rise in costs. The main method for dealing with both types of cost inflation is simply passing that along to customers through price increases.
The Cheesecake Factory has been doing that for years, raising prices ~1.9% p.a. for the past decade. Commodity prices can also be hedged, but not easily predicted and wage inflation is more of a steady trend, with substantial wage increases being put into effect in states like California (also CAKE's biggest market).
Food cost inflation can be hedged – though it is difficult to not only predict what inputs (dairy/poultry/seafood/etc) will face rising prices, but also to find suitable and liquid hedging instruments. Dealing with wage inflation can be equally tricky. Wage inflation tends to be a regional phenomenon as minimum wage hikes are put into effect, and one way to counteract that would be to use regional pricing increases.
If there were to be a period of heavy sustained cost inflation, CAKE could likely push price increases up by an additional 50bps to ~2.5% p.a., though assuming 5% annual increases in labor/rent coupled with higher food COGS as a % of sales, after the initial benefits of simplifying the menu/cutting excess labor costs, EBIT margins would compress over time.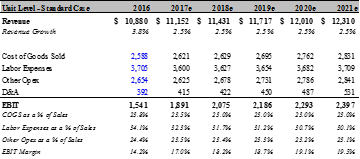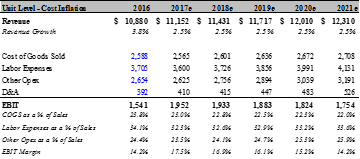 (Source: Company Filings / Author Estimates)
Food Safety: A food safety issue is a constant fear for a restaurant. An issue where the Cheesecake Factory serves contaminated food could cause irreparable damage to the brand. While they do subject all supplied to the necessary regulatory hurdles to ensure quality, there is always the possibility something slips through the cracks. An example is the recent BRF and JBS scandals in Brazil – where suppliers shipped rotten meat covered in acid to mask the smell. CAKE does have a web-based tracking and notification system to efficiently facilitate a recall.
Lowering Grocery Prices: An alternative to eating out for lunch or dinner is staying in to cook. Grocery prices have declined over the past few months, with a big wave of price cuts coming from Whole Foods following Amazon's (NASDAQ:AMZN) acquisitions. Some consumers may see the price disparity between eating out and eating in and simply choose that going out to eat isn't worth it. This could negatively impact traffic, as well as make consumers more wary of price increases at restaurants, something CAKE is reliant on in order to offset cost inflation.
Disclosure: I/we have no positions in any stocks mentioned, and no plans to initiate any positions within the next 72 hours.
I wrote this article myself, and it expresses my own opinions. I am not receiving compensation for it (other than from Seeking Alpha). I have no business relationship with any company whose stock is mentioned in this article.