Due to declining earnings and a weak outlook for the remainder of the year I believe that Francesca's (FRAN) shares should best be avoided, despite the sales growth the company is still recording.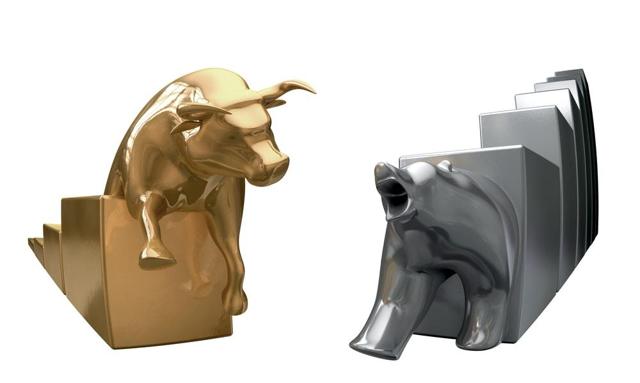 Francesca's has reported a top and bottom line beat during the most recent quarter:

The company's revenue growth rate looks good at first sight - after all many retailers have problems growing their top line at all, and Francesca's has delivered a mid single-digit sales increase. When we take a closer look, we see that the added revenues are of a low quality though.
All of Francesca's revenue growth was based on a higher store count - opening new stores obviously drives sales growth, but comps did not perform well at all, as comparable store sales were down three percent year over year.
Declining comps are quite bad for a company's margins, as that means that the fixed costs per store are covered by a smaller amount of gross earnings - a declining operating margin is the consequence.
In Francesca's case that is exactly what we see: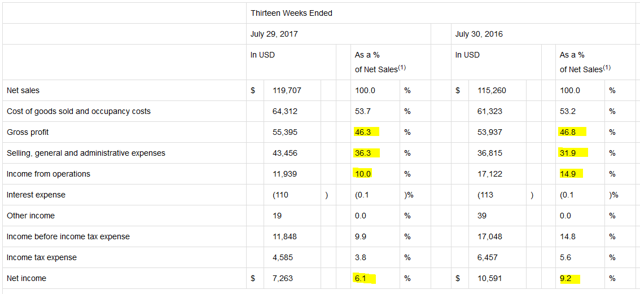 Gross margins were relatively flat, but due to a significantly higher amount of SG&A expenses (relative to sales), the company's operating margin dropped by almost 500 base points, and its net margin was roughly cut by a third, which explains why the company's net earnings dropped from $11 million to just $7 million despite revenues coming in higher year over year.
The growth Francesca's is experiencing is thus not profitable, and is thus not very meaningful for the company's owners - Francesca's can open as many new stores as management wants. If margins continue to decline the company's earnings will not recover.
The rather unprofitable growth and Francesca's comps sales problems explain why the company's share price is so low despite revenues being at an all-time high: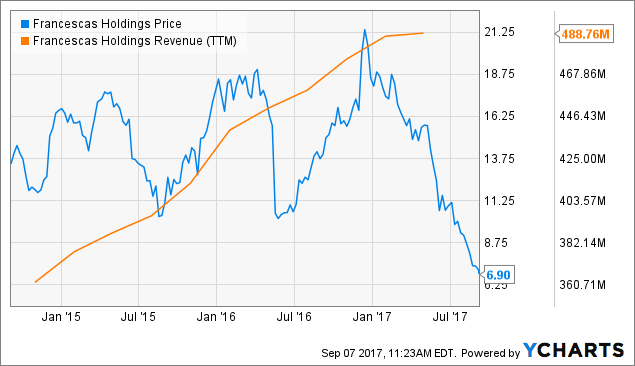 FRAN
data by
YCharts
Since its IPO Francesca's shares have never been this cheap, but I still do not believe that they are very attractive right here - falling earnings, falling cash reserves and cash flows dropping at a steep pace spell trouble going forward.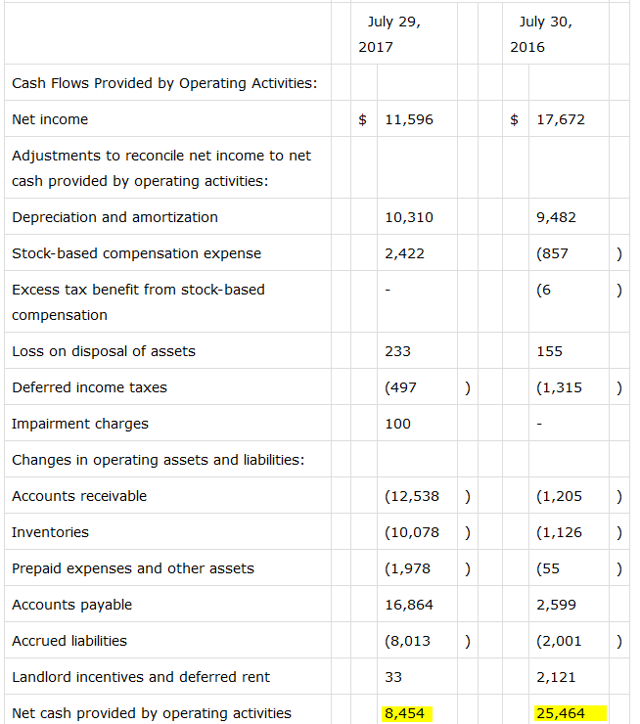 Francesca's operating cash flows came in at just one third of the level from the previous year in this year's H1, and those $8.5 million were not enough to cover the company's capital expenditures of $12.5 million (due to new store openings). With negative free cash flows for the last two quarters Francesca's cannot return any meaningful amount of money to the company's owners via dividends or share repurchases, although the company has spent $15 million on share repurchases this year so far - since free cash flows were negative, all that money came from the company's cash reserves on its balance sheet, which now total $33 million. The company will not be able to keep share repurchases at that pace forever, if its free cash flows do not improve a lot.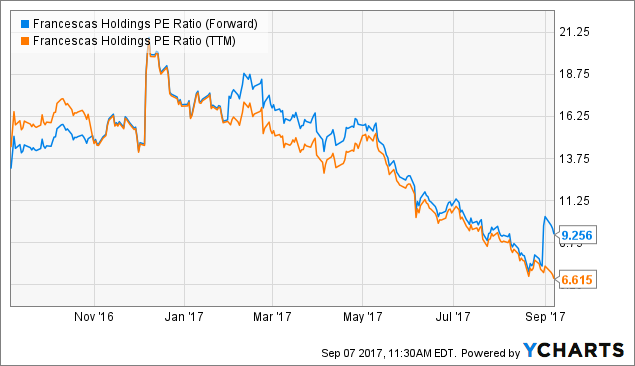 FRAN PE Ratio (Forward)
data by
YCharts
The company trades at 6.6 times trailing earnings, but the forward earnings multiple is significantly higher at 9.3. That is due to the fact that analysts are forecasting a steep earnings decline, and based on Francesca's guidance for the next quarter that seems likely:
The company expects that comps will decline at a mid to high teens rate -- when we account for the fact that the second quarter's 3% comps drop already was very bad for the company's margins, the forecasted comps drop will devastate Francesca's earnings in the current quarter.
Takeaway
If the company can get its comps growing again, Francesca's shares would be up for a steep rebound, but until that happens I don't believe that the company's shares have a lot of merit. The low valuation does make up for weak cash generation, dropping comps, margin compression and other operational problems.
Author's note: If you enjoyed this article and would like to read more from me, you can hit the "Follow" button to get informed about new articles. I am always glad to see new followers!
Disclosure: I/we have no positions in any stocks mentioned, and no plans to initiate any positions within the next 72 hours. I wrote this article myself, and it expresses my own opinions. I am not receiving compensation for it (other than from Seeking Alpha). I have no business relationship with any company whose stock is mentioned in this article.