This article is about Harley-Davidson (HOG), one of the largest motorcycle manufacturers, and why it's a buy for income investors who think long term and are willing to wait for President Trump to make the tariffs on Harley's motorcycles fair in foreign countries. The fundamentals of Harley-Davidson will be reviewed below in the following categories: The Good Business Portfolio Guidelines, Total Return and Yearly Dividend, Last Quarter's Earnings, Company Business, Takeaways, and Recent Portfolio Changes.
I used a set of guidelines that I codified over the last few years to review the companies in The Good Business Portfolio (my portfolio) and other companies that I am taking a look at. For a complete set of the guidelines, please see my article "The Good Business Portfolio: Update To Guidelines and July 2016 Performance Review." These guidelines provide me with a balanced portfolio of income, defensive, total return and growing companies that hopefully keeps me ahead of the Dow average.
Good Business Portfolio Guidelines
Harley-Davidson passes 9 of 11 Good Business Portfolio Guidelines, a fair score (a good score is 10 or 11). These guidelines are only used to filter companies to be considered in the portfolio. Some of the points brought out by the guidelines are discussed below.
Harley-Davidson does meet my dividend guideline of having dividends increase for 7 of the last 10 years, passing this guideline with moderate dividend increases for the last 8 years since 2010. It has a steady increasing dividend with a yield of 3.1%. The dividend growth rate is low, about 5%/year, and is therefore a buy for the income investor if you don't mind the slow dividend growth. The average 5 year earnings payout ratio is low at 28%. After paying the dividend this leaves cash remaining for investment in expanding the business and increasing the dividend.
I have a capitalization guideline where the capitalization must be greater than $7 Billion. HOG passes that. Harley-Davidson is a large-cap company with a capitalization of $8.3 Billion. The size of Harley-Davidson plus its cash flow of $950 Million give it the ability to increase the business going forward and increase dividends.
I also require the CAGR going forward to be able to cover my yearly expenses. My dividends provide 3.2% of the portfolio as income and I need 1.9% more for a yearly distribution of 5.1%. The three-year forward CAGR (S&P CFRA) of 9.0% meets my requirement of 5.1% with good growth.
My total return guideline is that total return must be greater than the Dow's total return over my test period. HOG fails this guideline since the total return is 44.71% less than the Dow's total return of 67.81%. Looking back five years, $10,000 invested five years ago would now be worth over $12,400 today. This makes Harley-Davidson a poor investment for the total return investor looking back, but it has future growth potential as President Trump cuts corporate taxes and makes the foreign tariffs fair for Harley.
One of my guidelines is that the S&P rating must be 3 stars or better. Harley's S&P CFRA rating is three stars or hold with a target price of $50.0, passing the guideline. HOG 's price is presently 10% below the target. HOG is under the target price at present and has a low PE of 13, making HOG a fair buy at this entry point if you can wait for the company revenues to start to grow again as you collect the above average dividend..
One of my guidelines is would I buy the whole company if I could. The answer is no. The dividend stream has a high yield and the growth of the dividend is low in a very competitive business sector. The Good Business Portfolio likes to embrace all kinds of investment styles but concentrates on buying businesses that can be understood, makes a fair profit, invests profits back into the business and also generates a fair income stream. Most of all what makes HOG interesting is the dividend yield and the potential growth of revenues as President Trump makes the competition fair for Harley. For now there are better investment opportunities.
Total Return And Yearly Dividend
The Good Business Portfolio Guidelines are just a screen to start with and not absolute rules. When I look at a company, the total return is a key parameter to see if it fits the objective of the Good Business Portfolio. HOG's total return under-performed the Dow baseline in my 56-month test compared to the Dow average. I chose the 56-month test period (starting Jan. 1, 2013, and ending to date) because it includes the great year of 2013 and other years that had fair and bad performance. The poor total return of 23.10% makes Harley-Davidson a poor investment for the total return investor looking back, but it does have a above average yield for the income investor. Harley-Davidson presently has a yield of 3.1%, which is above average for the income investor but does have low growth of the dividend. The dividend is estimated to be increased to $0.38/quarter, or a 5% increase in February 2018.
The Dow's 56-month total return baseline is 67.81%.
| | | | |
| --- | --- | --- | --- |
| Company Name | 56-Month total return | Difference from Dow baseline | Yearly Dividend percentage |
| Harley-Davidson | 23.10% | -44.71% | 3.1% |
When I scanned the 5-year chart, Harley-Davidson has a poor chart with a good up trend in 2013, then HOG has been down for the last 4 years and may be ready for a jump up if President Trump acts in reducing corporate taxes.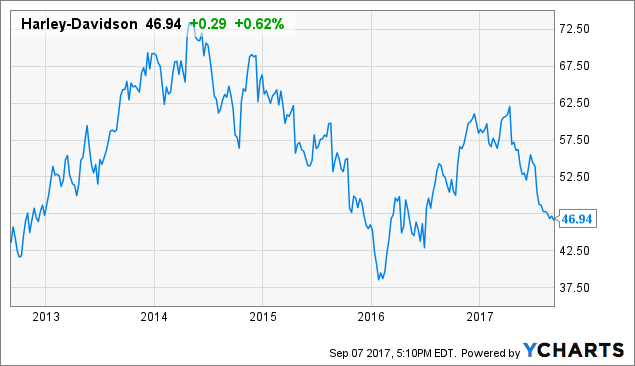 HOG data by YCharts
Last Quarter's Earnings
For the last quarter, on July 18, 2017, Harley-Davidson reported earnings of $1.48 that beat expected by $0.10 and was lower compared to last year at $1.55. Total revenue was lower at $1.77 Billion less than a year ago by 5.2% year over year and missed expected by $10 Million. This was a fair report with bottom line increasing and top line decreasing and with earnings less than last year. The next earnings report will be out in October 2017 and is expected to be $0.78 compared to last year at $0.64 a nice gain.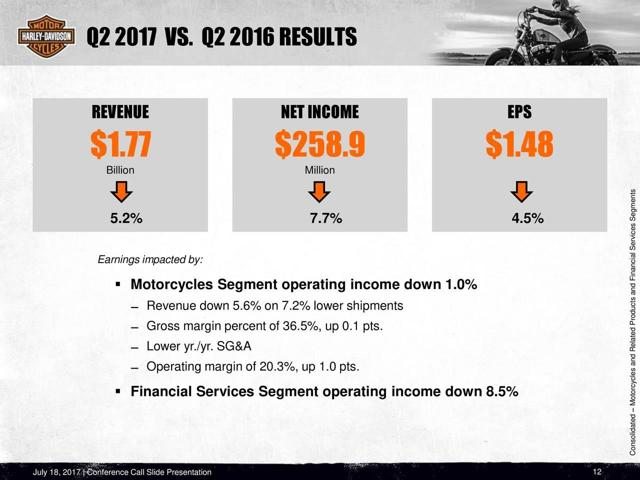 Source: Harley-Davidson earnings call slides
Business Overview
Harley-Davidson is one of the largest manufacturers and sellers of motorcycles in the United States and in foreign countries.
As per Reuters:
Harley-Davidson is the parent company for the groups of companies doing business as Harley-Davidson Motor Company (HDMC) and Harley-Davidson Financial Services (HDFS). The Company operates in two segments: the Motorcycles & Related Products (Motorcycles) and the Financial Services. The Motorcycles segment consists of HDMC, which designs, manufactures and sells at wholesale on-road Harley-Davidson motorcycles, as well as motorcycle parts, accessories, general merchandise and related services. The Company manufactures and sells at wholesale cruiser and touring motorcycles. The Financial Services segment consists of HDFS, which provides wholesale and retail financing and insurance-related programs to the Harley-Davidson dealers and their retail customers. HDFS is engaged in the business of financing and servicing wholesale inventory receivables and retail consumer loans for the purchase of Harley-Davidson motorcycles.
Over all Harley-Davidson is a business with a moderate CAGR projected growth that underperforms the market long term. HOG really likes a good economy, in 2013 the company price beat the Dow average total return by 17% , lately the stock price is on a down slope. If you want a high relative income stream in a out of favor business then HOG maybe fill your needs. Who knows when they will start to grow again.
The economy is showing moderate economic growth right now (about 2.4%), and the Fed has raised rates in June 2017, with future rate increases dependent on the United States economy and inflation. The Fed projects for 1 more increase in 2017. I feel the Fed is going slow, they don't want to trigger a slowdown in the economy.
From the July 18, 2017 earnings call, Matt Levatich (Chief Executive Officer and President) said:
You've all read through the Q2 results press release. I'll provide you with a little context on the quarter and what we expect as we move through the second half of 2017.

We had some distinct challenges in many of our markets in the second quarter. While we expected the U.S. industry to be challenged, we were disappointed by the unexpected magnitude of the industry softening in the quarter. Our international performance in the second quarter was down but in line with our expectations and we continue to expect international growth in the second half of the year behind expanded distribution and availability of new high impact motorcycles. In light of these challenges, however, we're pleased we delivered a strong gross margin and operating margin in the second quarter as our teams adapted well to market realities.

Based on what we believe will be continued pressure in the U.S. we're taking action in three areas; first, we'll address issues in the U.S. through disciplined and aggressive supply management. This includes reducing our 2017 shipment guidance to now be down 6% to 8% compared to last year. We also expect full year 2017 operating margin to be down approximately one percentage point compared to 2016 on deleveraging from the volume reduction. Second, we'll aggressively manage our business cost structure, lower expected shipments means we'll need to reduce plant production and this has the implication for our manufacturing facilities, our people and our financial performance. This action will require an hourly workforce reduction at some of our U.S. manufacturing plants; we'll be sharing details with employees beginning today but suffice it to say no one wants to have to take these steps."
This shows the feelings of the top management to continued action to reduce costs of Harley-Davidson and to deliver good value to its customer and share holders.
The graphic below shows the change from the prior year to second quarter actual shipment of motorcycles, not a pretty picture.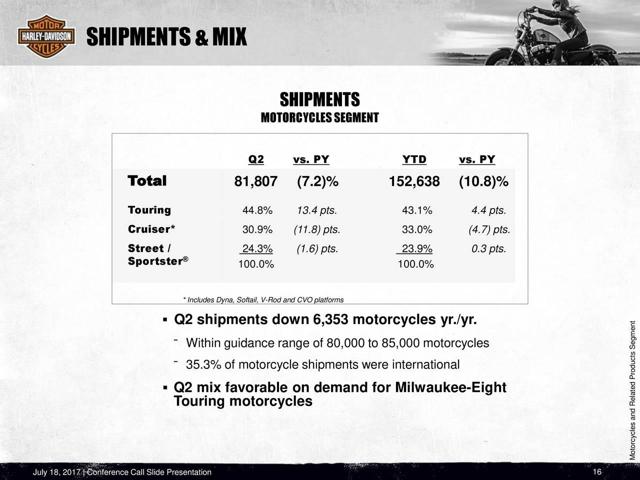 Source: Harley-Davidson earnings call slides
Takeaways
Harley-Davidson is an investment choice for the income investor with high yield and slowly growing dividend with a low P/E. The Good Business Portfolio has sold its position in HOG and will consider HOG as an investment for The Good Business Portfolio when sales growth returns. I keep the portfolio at 25 companies or less since I can't keep track of more than that, and 25 gives good diversification. There isn't an open slot in the portfolio at this time, since the portfolio just bought some 3M (MMM) for a new position.
Recent Portfolio Changes
Sold Harley Davidson position from the portfolio and will watch it to see if President Trump cuts corporate taxes or brings foreign profits back at a low tax rate .This gets rid of an underperformer and makes room for a company with more present growth.
Added a starter position of 3M at 0.5% of the portfolio. They have a good steady dividend history, a dividend king with 58 years of increasing dividends and great total return. Please see my article on 3M titled "3M: Dividend King With Great Total Return."
Wrote some LB Sept. 15 strike 37.5 calls on a part of holding. If the calls remain in the money, they will be moved up and out as it gets closer to the expiration date.
On July 27 trimmed Boeing (BA) from 10.9% of the portfolio to 10.7%. A great company, but you have to be diversified. The Paris Air Show was great for Boeing and they easily beat Airbus in orders by a mile.
Increased position of Omega Healthcare Investors (OHI) to 6.8% of the portfolio. I wanted a little more income.
Added to position of Digital Reality Trust (DLR) now at 2.6% of the portfolio. I feel the computer industry facilities business has nowhere to go but up and DLR pays an above average 3.3% dividend. I wrote an article on Digital Reality Trust this year if you are interested. This is another specialty REIT in a growing sector.
Started a position (position number 25, portfolio now full) in American Tower (AMT) a specialty REIT at 0.4% of the portfolio. The earnings for the second quarter were good, beating expected by $0.06 and with revenue increasing 15.3% year over year.
The Good Business Portfolio generally trims a position when it gets above 8% of the portfolio. The four top positions in The Good Business Portfolio are, Johnson & Johnson (JNJ) is 8.5% of the portfolio, Altria Group (MO) is 7.1% of the portfolio, Home Depot (HD) is 8.5% of the portfolio and Boeing is 10.6% of the portfolio. Therefore, BA, JNJ, and Home Depot are now in trim position.
Boeing is going to be pressed to 10% of the portfolio because of it being cash positive on 787 deferred plane costs at $316 Million in the first quarter, a increase from the fourth quarter. The second quarter saw deferred costs on the 787 go down $530 Million a big jump from the first quarter. The second quarter earnings were fantastic with Boeing beating the estimate by $0.25 at $2.55. S&P Capital IQ raised its one year target to $252.
JNJ will be pressed to 9% of the portfolio because it's so defensive in this post-Brexit world. Earnings in the last quarter beat on the top and bottom line and Mr. Market did like the growth going forward. JNJ is not a trading stock but a hold forever, it is now a strong buy as the healthcare sector remains under pressure.
For the total Good Business Portfolio please see my article on "The Good Business Portfolio: 2017 2nd Quarter Earnings and Performance Review" for the complete portfolio list and performance. Become a real time follower and you will get each quarters performance after the earnings season is over.
I have written individual articles on JNJ, EOS, GE, IR, MO, BA, PEP, Omega Health Investors (OHI), Texas Instrument (TXN), Digital Investors Trust (DLR) and Home Depot that are in The Good Business Portfolio and other companies being evaluated by the portfolio. If you are interested, please look for them in my list of previous articles.
Disclaimer: This is not a recommendation to buy or sell and you should always do your own research and talk to your financial advisor before any purchase or sale. This is how I manage my IRA retirement account and the opinions on the companies are my own.
Disclosure: I am/we are long BA, JNJ, HD, OHI, MO, TXN, DLR, EOS, MMM. I wrote this article myself, and it expresses my own opinions. I am not receiving compensation for it (other than from Seeking Alpha). I have no business relationship with any company whose stock is mentioned in this article.