Compared to Treasury ETFs, corporate bond ETFs usually offer higher returns to investors. For those with a better tolerance to risks, allocating some of their assets into corporate, high yield bond ETFs is a wise decision. However, there are a lot of different ETFs to choose from this niche space, this article aims to get some deep understanding by comparing two representative ETFs - iShares iBoxx $ Investment Grade Corporate Bond ETF(LQD) and iShares iBoxx $ High Yield Corporate Bond ETF(HYG).
Firstly, I'd like to juxtapose the two funds' assets under management(AuM), expense ratio and average spread as follows:

We can see that LQD has attracted more than doubled HYG's AuM, even both funds were issued by BlackRock, the cost of having LQD is less than one-third of that of HYG.
What really matters is the performance, so let's take a look at their total return in the past 10-years (chart plot from Chart ETF Returns & Volatility - ETFreplay). The two are highly correlated except during and after the financial crisis. Volatility, however, really differentiated LQD and HYG. To achieve a similar return, LQD investors don't have to assume as high risk as HYG holders (5.2% opposed to 6.4%).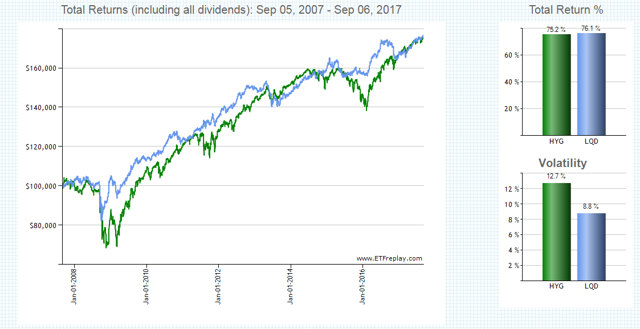 Staring at these numbers superficially is not sufficient, we'd better dive deeper to understand how these two funds are formed and managed. To do so, we need to decode the underlying indexes of the two ETFs.
LQD was issued by BlackRock back in July 2002. The average duration is 8.2 years, and there are roughly 1750 holding in the portfolio. HYG was also issued by BlackRock back in April 2007. The average duration is only 3.7 years, and there are about 1027 debt securities. Given the much longer duration of LQD compared to that of HYG, the volatility or risk of LQD usually should be higher than HYG as it would be more susceptible to interest rate fluctuation. So the other facet - credit profile between the two must be significantly different.
LQD's underlying index is the Markit iBoxx $ Liquid Investment Grade Index. According to the index Fact Sheet, to be eligible in this index, the issuer types are limited to a corporate bond, so Government debt, quasi-sovereign debt, and debt guaranteed or backed by governments are not included. Minimum time to maturity is 3.5 years for new bonds and 3 years for existing index constituents. The outstanding face value of all bonds must be greater than or equal to USD two billion as of the bond selection cut-off dates. Investment grade rating from Fitch Ratings, Moody's Investor Service, and Standard & Poor's Rating Services is required. It's Market capitalization weighted.
HYG tracks the Markit iBoxx $ Liquid High Yield Index. Opposed to the Markit iBoxx $ Liquid Investment Grade Index, this index requires a shorter/half time to maturity, 1.5 years for new bonds and 1 years for existing index constituents. In addition, the outstanding amount is lowered from $2 billion to only $400 million. It's also market cap weighted. Lastly, instead of a requisite investment grade rating, this index only needs the sub-investment grade. As a result, this fund is designed to yield a higher return at the cost of higher volatility too. The name of this index - "high yield"- declares its intention clearly.
Now the comparison seems to be focused on which yield is better: yield from a long duration or yield from a low investment grade? Looking at the past 10-year performance between LQD and HYG, I think LQD makes a compelling case that it's better to pursue high yield generated from holding a long period than to bear the risks of investing in "junk" companies. The former yield is less fluatuated than the latter yield. Additionally, LQD's cost to purchase is much lower than HYG, 0.15% versus 0.49% expense ratio, as is listed in above table.
Lastly, it's worthwhile to point out that the past 10 years, from 2007 to 2017, is overall a low-interest rate environment, in which, high duration bonds tend to perform better. The future is likely to be burdened by both inflation and deflation factors, so whether LQD can continue beating HYG in terms of return/risk is not a sure thing. We shall always be prudent and thorough when making investment decisions.
Disclosure: I/we have no positions in any stocks mentioned, but may initiate a long position in LQD over the next 72 hours. I wrote this article myself, and it expresses my own opinions. I am not receiving compensation for it (other than from Seeking Alpha). I have no business relationship with any company whose stock is mentioned in this article.