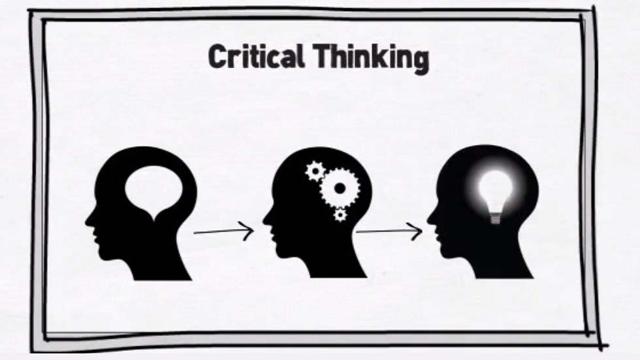 Investment Thesis
DryShips' (DRYS) CEO George Economou always comes up with new ideas to surprise his investors. Make no mistake however, all of his idea benefit his private companies, not the investors. The company cancelled the Kalani deal at 97% completion and suspicious action boosted the share price and avoided the inevitable reverse split. The company's previous strategy (Kalani deal) punished its shareholders heavily. During the dilution, if one held DRYS for more than a month, they would have lost their entire investment. To avoid the authorized share failure and stay in NASDAQ, the company performed six reverse splits. This time, Mr. Economou comes up with a "new" idea, but it is no different than the Kalani Deal. Therefore the outcome is no different.
Old Strategy vs New Strategy
Old Strategy: In nine months, the company collected close to $700 million from the US capital markets through Kalani by dumping 329 million shares. During the share dilution and share price collapse, the company regularly helped Kalani by performing voluntary reverse splits to stay in NASDAQ (see chart below). By using this money, the company strengthened its balance sheet and acquired seventeen more vessels this year. The CEO Economou also bought DRYS' debt at 44% discounts. By using a small portion of debt controlled by the CEO's private company, Economou acquired super voting rights (D preferred shares). By using super voting rights, the company can take any action without shareholders' approvals. They destroyed shareholders in the nine month long share dilution. The insiders did not bother acquiring common shares during the share dilution.

Source: Seeking Alpha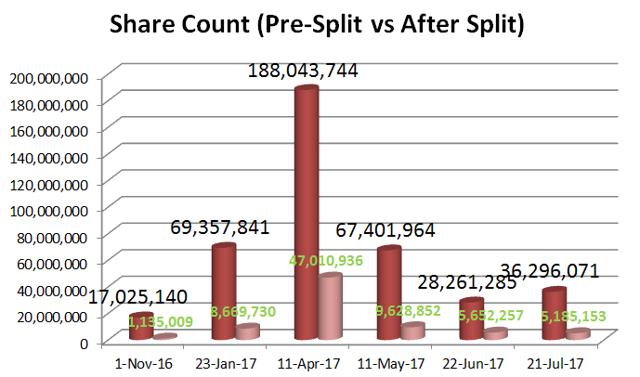 Source: Created by Author (data obtained from the company's website)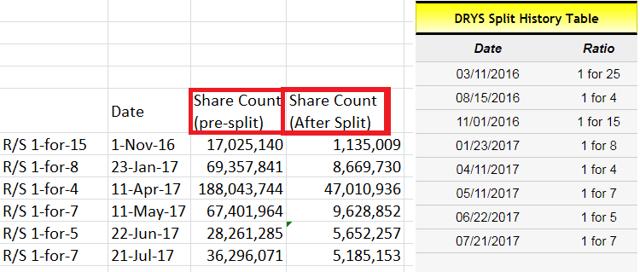 Source: Created by Author (data obtained from the company's website)
New Strategy: The CEO sells his personal assets to DRYS for the common shares but shareholders did not ask for it. Earlier the CEO bought DRYS' debt at 44% discount. This time however, the CEO acquires the common shares at an 85% discount which means that the shareholders never win and the CEO never loses.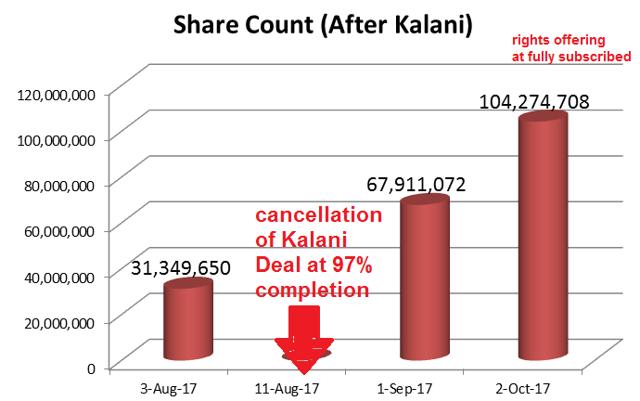 Source: Created by Author (data obtained from the company's SEC filings)
Conclusion
The current business model (unfair dealings between the CEO/family's private firms and DRYS in financing and operations of the company) means that DRYS will be never profitable. It may generate higher revenue through recent vessels acquisitions, but their operating and financial expenses would be higher. This means that DRYS would continue to post at a loss. No further dealings with Kalani, but the share count is continuing to rise (same result). I would avoid DRYS altogether.
To read my previous articles, please click here.
Note: On March 28, 2017, George Economou's other company Ocean RIG UDW Inc. (ORIG) filed for Chapter 15 bankruptcy protection in the U.S. court.
Author's note: Get my articles as soon as they are published by clicking the big orange "Follow" button at the top of this page.
Disclosure: I/we have no positions in any stocks mentioned, and no plans to initiate any positions within the next 72 hours.
I wrote this article myself, and it expresses my own opinions. I am not receiving compensation for it (other than from Seeking Alpha). I have no business relationship with any company whose stock is mentioned in this article.
Editor's Note: This article covers one or more stocks trading at less than $1 per share and/or with less than a $100 million market cap. Please be aware of the risks associated with these stocks.