Summary
Investors in the E&P companies comprising the BOTB Club endured another horrible month in August as stock prices continued their dramatic fall.
Updated stock market performance data is analyzed on several time frames for the companies comprising the Bottom of the Barrel Club.
YTD 2017 capital transactions activity is summarized and analyzed for significant events.
Other recent disclosures from a review of Q2 financials are detailed and their implications discussed.
As a prelude to much more detail to follow, capex disclosures and the impact of private equity capital is presented.
Originally this article was going to be about seasonality in trading of E&P stocks, which have a reputation for poor performance in September and October. This year each month is giving the fall period a run for its money, so to speak, so far with no concrete evidence of an end to the selloff in sight. As many studies have pointed out, a company's overall performance is most highly correlated to market and/or industry trends, and it is particularly challenging to remain 'N SYNC with the market … and that ain't no lie.
Readers who are new to my series of articles on the "Bottom of the Barrel Club," or BOTB, may want to read my previous articles to get some background about the companies and our previous discussions, particularly since I may not cover items here that I have discussed previously. In particular, #17-1: Land of Confusion, #17-2: Mayday, Mayday and #17-3: Under Pressure might serve as a good foundation for this article.
Several readers have asked me to update and expand upon an article I wrote a year or so ago that included very detailed financial information and metrics about the BOTB Club. I have purposely put that off until now, but as I continue to look at companies for investment, I have found that I am using the data, process and techniques that will be described here more and more. Given that, I feel it makes sense to me to share the results with readers.
As I have said repeatedly, I am not a registered investment advisor and do not make individual stock recommendations. Even stocks I may disclose as having a position in should not be relied upon as anything other than a current status, and given the vast number of potential investment time frames, risk tolerances, portfolio sizes and other factors that go into defining an investment/trading strategy, readers should decide for themselves whether a particular company, position and strategy are appropriate for them.
I have obtained the information presented herein from a wide variety of sources, including company press releases; annual 10-K, quarterly 10-Q and 8-K filings with the SEC; company presentations; and third-party sources that I consider highly reliable. Because of the sheer size of the undertaking, and the spreadsheet with data that will follow (eventually), there may be errors or omissions, but I have checked, double- and triple-checked the data and formulas. The presentation style and format is my own, and is something akin to what I have used for over 30 years, well before the data became available on the internet; others may choose to look at and/or prepare things in different ways. Opinions expressed are my own, and are subject to change at any time.
Market Performance
The chart below reflects the performance of the BOTB Club common stocks for the various periods shown. Obviously, one thing that stands out quite clearly is that I need to check my magenta cartridge ink level, because virtually every stock has negative performance on all time frames.
During August alone, Sanchez Energy (SN), Jones Energy (OTC:JONE), Northern Oil (NOG), Gastar (GST), Denbury (DNR), EV Energy (EVEP-OLD), Chesapeake (CHK) and W&T (WTI) all posted returns that were (-25%) or more. "Outperformers," in this case companies who were down less than (-10%), included Abraxas (AXAS), California Resources (CRC), Legacy (LGCY), Comstock (CRK), EXCO (XCO) and Mid-Con (MCEP). There is not much positive to write home about in any of those results for a single month, and what the overall return of (-17%) for the Club indicates is that the selloff accelerated in August.
YTD '17 figures are just as (negatively) staggering. Overall returns were (-51%), with EXCO, Jones, EV Energy and Denbury all down (-70%) or more, with three more down (-60%) or more. The "best" performers, Approach Resources (AREX) and Eclipse (ECR-OLD), were down (-20%) or less.
The ITD figures from 12/1/2015 actually show three positive returns, from Abraxas, Approach and Resolute (REN). EXCO, EV Energy, Rex (REXX), Northern, Jones and California Resources all racked up losses of (-80%) or more. Even with Resolute's +630% return skewing overall Club performance, the overall return of (-18%) shows that the trading rally that began early in 2016 had largely been offset by losses since then.
From the cycle high around July 1, 2014, a full six months prior to OPEC's decision to pursue market share rather than price stability, overall returns are (-85%). A dozen companies posted losses of (-90%) or more, simply stunning even now.
Not to overemphasize the point I have made in several previous articles, but overcoming such horrendous performance is nearly impossible for buy and hold investors. Bounces of +500% are not theoretically impossible to achieve breakeven results overall, but readers should always keep in mind that protecting capital is the first objective of investing, and considerations such as trend direction, appropriate position sizing, risk tolerance, entry/exit points and stop loss strategies are key to investing in an industry that is by its very nature highly cyclical. Those who do not feel comfortable dealing with individual stock positions can still participate with ETFs such as XOP to diversify risk while still employing the factors above.
BOTB Club Market Performance Chart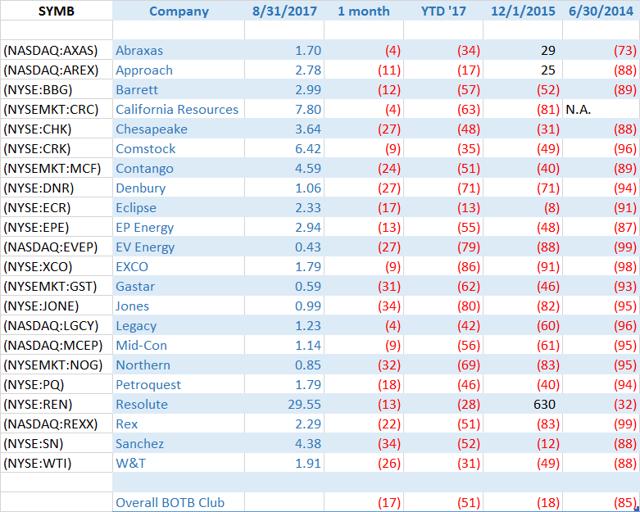 Longtime readers of this series realize that the losses cited above are actually understated due to "survivorship bias." That is, results only include those companies that have not declared bankruptcy, which includes another dozen companies.
I tend to focus on equities, but the BOTB Club has publicly-traded debt as well. Without depicting every issue of every company and the details of credit facilities, secured loan documents, unsecured debt issues and maturities, the chart that follows shows the nearest maturity for each company and pricing, YTM and '17 gain or loss. Overall the results show lesser losses than for equities, although it is difficult at this point to assess whether or how much of that pricing may be due to an expectation that they will ultimately be converted to equity before maturity. Issues yielding more than 12% or so are high yield candidates for restructure and/or reorganization, at least according to our recent experience with the X-11 Club members.
BOTB Club Debt Chart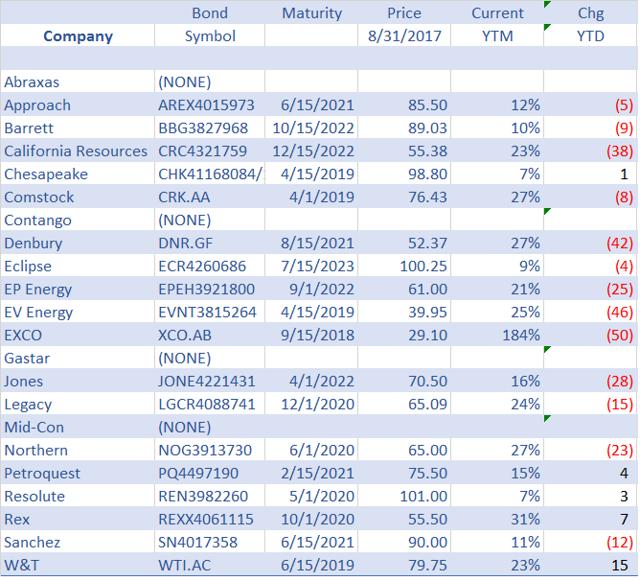 As a precursor to a subsequent article I plan to write on that group, which I call the "X-11 Club," I am also including the chart below that shows stock performance ITD and YTD basis for these companies. While at one point I thought that the limited liquidity these companies possess might be a positive as far as the markets are concerned, they have also struggled mightily this year, even with valuations and debt levels upon emergence that are in some cases much better than their BOTB Club counterparts. Further details will be provided soon.
X-11 Club Market Performance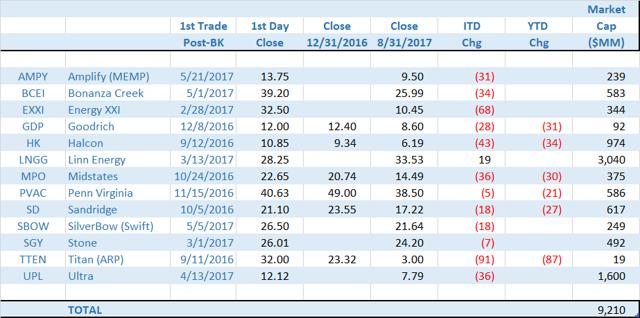 YTD Capital Transactions
On an overall basis, the number and pace of capital transactions (mergers, acquisitions, dispositions, debt and equity offerings) have been very light for BOTB Club companies in '17. The chart below pulls out for each company these items with just a brief comment. The results of this activity obviously show up in the financial statements of the companies over time, but the point here is simply to give an overview of the activity within this subgroup.
BOTB Club Transactions Chart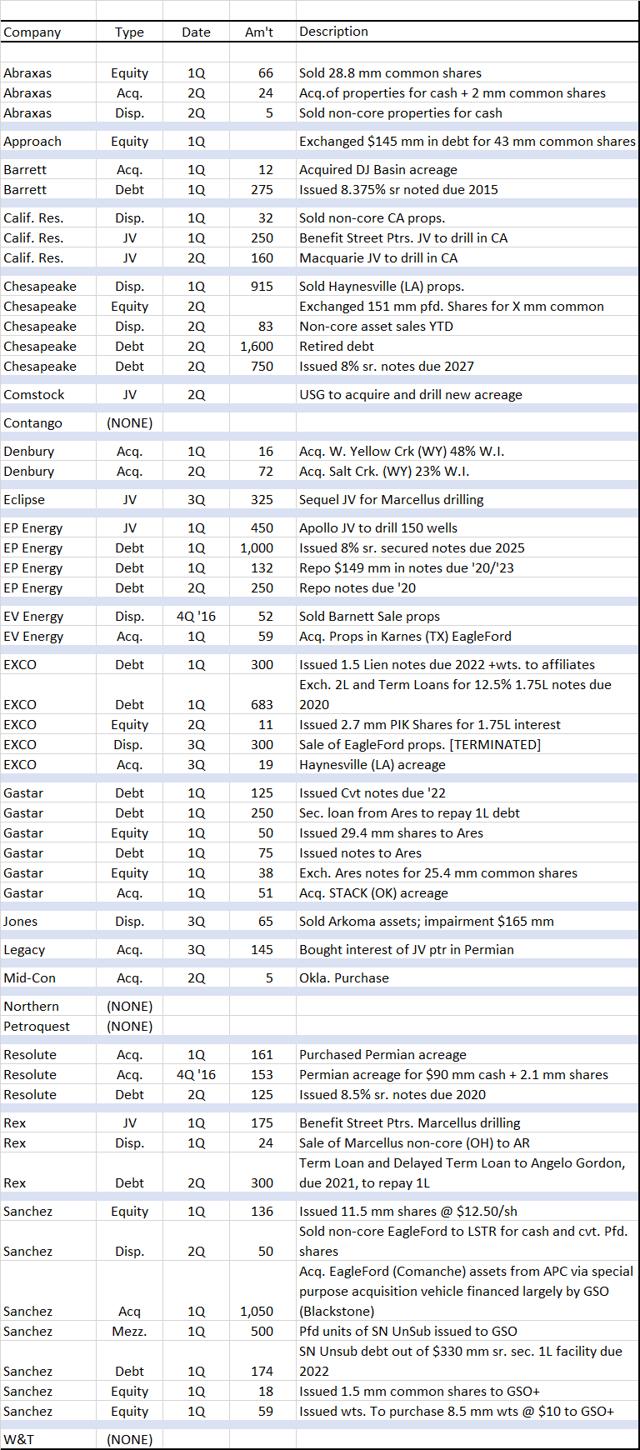 That said, there are still transactions worthy of specific mention. My own "top plays of the year" list includes:
Chesapeake/EP Energy (EPE)/Barrett (BBG): In some respects incidental, the fact that any companies could raise new debt to retire existing debt is notable. In doing so, these companies eliminated near term risk of bankruptcy, and they extended significant maturities by several years. What this does is free up capex to be used to plug shortfalls in asset values relative to debt, especially when combined with the possibility of product price improvement over a longer time frame. The overall impact of maintaining liquidity would be great for any debt-stressed E&P company, but Wall Street has apparently shut the window for such activity in the short term … at least without an appealing growth strategy.
Approach: Any time you exchange debt for equity in the context of restructuring it is notable, but in AREX's case the size of the conversion raised eyebrows at the time. Of course, existing shareholders may focus primarily on the dilution in common shares that accompanies such deals (particularly deals with anywhere close to a 50% dilution like AREX's), but being able to "issue" equity at any price certainly beats seeing equity evaporate completely later, something that shareholders are unlikely to see as likely … until too late.
EXCO: That EXCO still has not declared bankruptcy is amazing to me, and it is a credit to management that has a significant equity stake of its own to protect. Yes, Wilbur Ross has been very wrong with the timing for his group, and even though Bluescape came in a year or two thinking that the bottom was in, it was also obviously wrong. However, XCO has kept things going and done more with what it had than many others. The recent transactions, though, signify a growing concession to the realities, in my opinion, because they were "priming" the capital structure with securities that had not just security and seniority but also an equity component. Particularly with securities whose interest payments may be PIK (payable in kind), and without any further participation by Ross in the new money raise, that to me signifies that it is time to throw in the towel for existing equity.
Gastar: Gastar's debt and equity raise from Ares is notable for replacing its bank revolving credit facility/RBL with advances from a non-bank "financial partner." The majority of Are's investment dollars were inserted in priming fashion above the existing equity, but it was clearly hoping that positive results from GST's STACK play would benefit the equity it advanced as well. The transactions essentially turned over control of GST to Ares, and diluted existing equity by almost 50% to enable GST to pursue its growth strategy.
Rex: Like GST, REXX brought in a non-bank financial partner, Angelo Gordon, to effectively guide (and control) REXX's development program in the Marcellus. Signals like bringing in an expert in distressed asset investing should set off warning bells, but shareholders often cheer any new cash coming in currently, and continue to do so until they realize what that control really means in the event that things do not improve. REXX still has a significant shortfall of asset value relative to debt, not a good sign.
Sanchez: Joint ventures are a standard part of the E&P business, as finding partners to participate in projects allows companies to pursue deals they might not be able to do otherwise. That is clearly the case with Blackstone (NYSE:BX)/GSO's financing of SN's purchase of its Comanche project. Most such financings reside off the balance sheet, so why do a deal that is put ON the balance sheet? Pardon the cynicism, but SN's balance sheet looked so horrible without the deal that "plumping it up" was probably a concession to management. In the end, the economics of the deal are much the same as an off-balance sheet JV, and the structure of the deal allows GSO to strip out the subsidiary that owns the Comanche properties if the deal does not measure up to its IRR hurdle. Just ask CHK about carrying dead JV assets on its balance sheet. The deal really saves "existing SN" if the excess value over what GSO owns can flow outside the subsidiary (or UnSub for Unconsolidated Subsidiary) back to SN in time to pay its unsecured debt at that level. With over $700 million in negative shareholders' equity prior to the deal, the deal is yet another example of needing a homerun and electing to swing for the fence, not uncommon among all of the companies with very active drilling programs.
PIK: Get on the PIK bandwagon! Arranging to pay interest with a PIK feature is my definition of a "bankruptcy lite" environment, particularly when done in connection with an exchange. Telling creditors it will be better for them if the company uses the cash interest "savings" to fund development, as well as save the time and expense of a bankruptcy filing, was a common strategy in '16 and somewhat in '17. Examples now include Comstock, EXCO, Gastar, PetroQuest (PQ), Rexx and W&T. The biggest issue is that when the PIK period expires the assets need to be in excess of the remaining debt, or else the creditors will be unlikely to give any more flexibility to management/equity outside of a reorg that eliminates equity (and possibly discounts debt) this time around.
Other Disclosures
While many readers probably focus on the earnings release, conference call and/or transcripts for their view of the company, I largely discount these sources. They are clearly management's current "dog and pony" highlights, designed more to keep investors interested in the company rather than disclose items that might be important but don't look good in print. I go instead to "Item 2. Management's Discussion and Analysis" (MD&A), which is part of every company's 10-K and 10-Q filings. Some companies do repeat what is in the earnings release, but I have little interest in hearing about Well A which IP'd at X barrels of oil per day, because those disclosures are designed to communicate information to analysts and others to use in constructing reserve and production estimates and decline curves for their modeling purposes. Rarely (if ever?) do you see any follow up in subsequent releases of then-current rates, which in any development activity (but particularly so in shale plays) is key; a well with a 30-day IP of 2,000 barrels of oil per day flows sounds very impressive, but if the same well will only be producing 200 barrels a day in a year, the usefulness of disclosing such information to investors is questionable.
Some interesting (to me) disclosures in the 2Q 10-Qs, interesting not only because of how they impact the company making the disclosure but also what their impact might be on other companies in similar situations:
Abraxas: Its PDP reserves will decline by 40% next year and 15/12/11/9% thereafter. This really hits home the extent to which it and others need to maintain an active capex program to replace or grow production and reserves going forward. Almost 70% of its reserves are PUD and will require substantial capex to develop.
Approach: Its debt exchange triggered a "change of ownership" for tax purposes, thereby limiting future use of prior losses. Although E&P companies rarely pay taxes if they are actively drilling, if prices were to skyrocket, the loss of such benefits would not be positive. Many companies try to hold onto tax benefits even throughout bankruptcy.
Bill Barrett: Frankly, I had forgotten that Bill Barrett had to keep a firm transportation agreement when it sold some properties a couple of years ago, and that obligation is, for it, pretty substantial $18 million/yr. for another four years. Straight cash out the door for no benefit to the company… ouch! Like many companies who needed to commit to provide natural gas in developing plays that had no existing infrastructure, they have substantial off-balance sheet obligations that may be settled either by delivering volumes or paying cash if volumes are insufficient going forward. Such "contingent" obligations are included in the notes to the financials.
California Resources: CRC disclosed that it may be in default under the terms of their First-Out credit agreement in early '18 if strip pricing does not improve. CRC's senior secured debt trades at $50 now, indicating the market believes that restructuring is virtually certain.
Chesapeake: Details about CHK's "impairment" charge are detailed (and now already known to the market); it had to pay $416 million in cash to terminate a natural gas contract and an oil supply contract on properties sold, meaning the loss is permanent, not simply a reduction of transportation expenses going forward. CHK also disclosed its ongoing program to exchange common stock to retire 151 million preferred shares, with common stock dilution from such exchanges now approaching 40% in the past three years and still over $1.5 billion in preferred remaining.
Comstock: Its maturity for the PIK bonds is '19. One additional point I did not make earlier regarding any exchange transactions is that they frequently come with "springing maturities" in the event that junior securities have not been retired out of profits or refis by a certain date. They often "strip" the bonds as well, meaning that the only protective covenants that such junior securities retain relate to the timely payment of interest and principal. Even if such senior securities have a stated maturity further out than other, junior securities, if certain conditions are not met well prior to the maturity of the junior securities, the "springing maturity" triggers and becomes due and payable prior to the maturity of the junior securities. It should not be surprising to holders of junior securities, particularly if they are unsecured, that senior creditors have no desire for cash to leave the company to such unsecured creditors unless it is clear that their own positions will not be jeopardized.
Denbury: In the first six months, DNR capitalized $55 million of G&A costs. As longtime readers of my articles know, G&A can be allocated to many different places and is often largely discretionary, so relying only on expensed G&A does not give a true picture of costs.
Eclipse: Eclipse still seems to me to be the technological leader in the Marcellus, "eclipsing" 19,000 lateral horizontal feet in recent drilling. Interesting too is its recent $325 million joint venture with Sequel, yet another affiliate of Blackstone. According to a recent article I read somewhere (WSJ?), BX is committing almost $7 billion to these new ventures.
EP Energy: EP Energy disclosed buying debt at a discount, which is often what common equity holders like to hear or see. However, for distressed firms the past experience is that such purchases were often totally inefficient uses of cash, actually shortening the financial runway and forestalling any chance of recovery. EPE is a large enough company where it can adjust, but many companies have purchased debt only to find that they require a higher level of DIP (debtor in possession) financing in a reorg.
EV Energy: It disclosed that it does not expect to be in compliance with its leverage covenant in 1Q '18. The company also included language about the potential for CODI (cancellation of debt income) in the event of exchanges of debt for equity.
EXCO: EXCO had hoped that a $300 million sale of Eagle Ford properties would help its finances (slightly), but its agreement was terminated after CHK purportedly terminated the gas contract underlying the property values. This is likely to result in a cascade of negatives, including an EBITDA/Interest covenant breach as early as 3Q '17. In addition, because XCO's reverse split was not effective in keeping its market cap above minimum exchange requirements ($50 million), and because the lower stock price (down from $5 to less than $1.75 post-split) prevents XCO from paying certain creditors using PIK, its liquidity remains extremely weak and only getting weaker. De-listing would trigger defaults and/or a likely bankruptcy filing soon, in my opinion, and in any event XCO will also have to deal with a likely looming "going concern" qualification by its auditors.
Jones: In selling its Arkoma properties for $65 million, JONE announced that it would take a $165 million loss/impairment. This highlights as clearly as any example the difference between full cost and successful efforts accounting; successful efforts' lax impairment standards allow companies to keep properties at inflated values for book purposes, "hiding" permanent value reductions until actual sales. More pain will be coming for investors in successful efforts companies as de-leveraging occurs, whether decided by management or effectively imposed on them by credit agreements.
Legacy: Drawing down its 2L commitment from GSO allows LGCY to generate more cash flow for development in the short term. The question remains whether it will be enough to add value in the longer term above the GSO financing hurdle rate. Also in question is whether LGCY will seek an advance of GSO's remaining $95 million commitment by its expiration in October. If drilling results do not bootstrap LGCY values up sufficiently, GSO's position as lead creditor will have been advanced and it will be in an effective control position regarding any required restructuring.
Mid-Con: Wow, an impairment by a successful efforts company! The performance of that property must really have sucked. Readers do not fully appreciate the reserve/production risks associated with waterfloods, which is MCEP's basic strategy for ownership. The stock market realized that some of MCEP's projects were likely overvalued for book purposes, and if the impaired properties had already been taken down by its banks and reserve engineers, then the overall impact should be minor. The bigger issue remains whether the banks will allow it the borrowing base it needs to grow in the future, and the fact that its "preferred equity" is really debt at this price level (with a put provision back to BCEP in '21) means that its true borrowing base availability is closer to $0 now ($120 million in bank debt + $20 million in preferred = $140 million against a $140 million borrowing base).
Northern: NOG indicated it may offer debt for equity exchanges to holders.
Still, investors may ask why it is important to read things like Item 2 to financial filings. That part is easy for me, even apart from the mere fact of disclosures like the above or other examples; it is because even everything in the footnotes is considered to be "disclosed" for SEC and liability purposes if it exists there … even if nobody has read them. Also, because the adequacy of the disclosures must pass accounting and legal reviews, the footnotes often come with a completely different "tone" than the sometimes ebullient stylings of the CEO, for example. Chances are if investors ask "why didn't the company tell us that?" it is because they did not read Item 2 and don't realize that for legal purposes they actually have been told.
Capex
According to many readers and media reports, recent capex announcements have reflected huge decreases, very negative for E&P going forward. That is very interesting to me, not only because cuts are only 3-5% overall as I recall, but because many announcements of cuts to remaining '17 capex budgets have come with statements that the reasons for the cuts were because their production guidance could be equaled or exceeded with lower capex due to efficiencies. That, coupled with a vast increase in DUC wells (in part due to delayed availability of frac crews), particularly in the Permian Basin, has caused companies to pause for the remainder of '17; to me a welcome sight given product pricing of $50/$3. As one of my earlier articles pointed out, planning for '18 will begin in earnest shortly anyway, so the cuts only amount to a window on 4Q.
BOTB Club members are in an interesting situation, as the chart below illustrates. Even though "headline" cuts may have been announced, the actual capex for the group has been revised higher, not lower. This is primarily due to the off-balance sheet JVs discussed earlier, which one could argue add 20% to the $5 billion in disclosed capex guidance, or $1 billion in total. There is a saying in E&P: "$1 B here and $1 B there, and pretty soon you are talking real money!" Obviously, larger firms that are relying only on their existing balance sheet sources of funds are impacted in a different way, but in my opinion it would be unwise to discount the impact on capex that efficiencies have and will continue to play. More on that later…
BOTB Club Capex Chart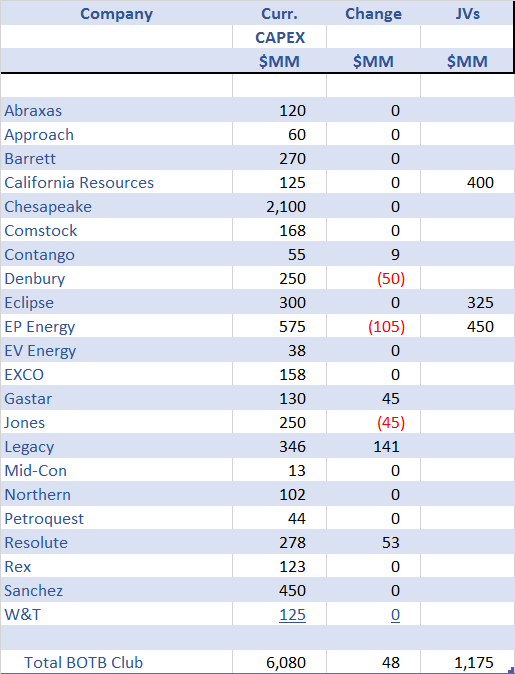 One additional point I should make here and will undoubtedly make again before this article is completed is that the emphasis that readers often place on capex and free cash flow (cash flow from operations less cash from investing activities) is misplaced, in my opinion. Of course spending capex wisely is important, but FCF is irrelevant without knowing what the results of that investment will be.
If a company is able to grow production profitably it will, and if it has sources of liquidity that are more than adequate to handle any negative FCF, there is nothing inherently wrong with negative FCF. Companies that have negative FCF and production declines are obviously not going to last long, obviously. You may have heard the saying, "It's not the size of your capex that matters, it's what you do with it that counts." All of that said, when prices are weak, investors are going to be quick to punish companies that they feel are spending too much on capex in the current price environment or that show they cannot replace and grow reserves with the capex planned. That's basic economics, not specifically capex or FCF-related.
Private Equity
Technically a subset of the capex discussion above, PE remains a significant contributor to the E&P industry, one not tracked by those who follow only public companies. A year ago my understanding was that $100-200 billion in PE funds were still looking for attractive opportunities (2X that considering the use of debt). While I haven't heard recent estimates, my earlier article pointed out that one of the biggest beneficiaries of the Wall Street retail checkbook offerings in '16 was PE, because they were selling assets and withdrawing capital at the same time as retail investors were buying public stocks.
The chart below was presented by PLS, Inc. at the recent Enercom Oil and Gas Conference, showing PE commitments in '17. Although < $10 B is not going to change the world, it is interesting to note as an important source of liquidity for PE. Readers may note that several PE investments are to firms that successfully sold assets and returned cash to PE investors in '16, thus enhancing the ability of those PE firms to raise new capital.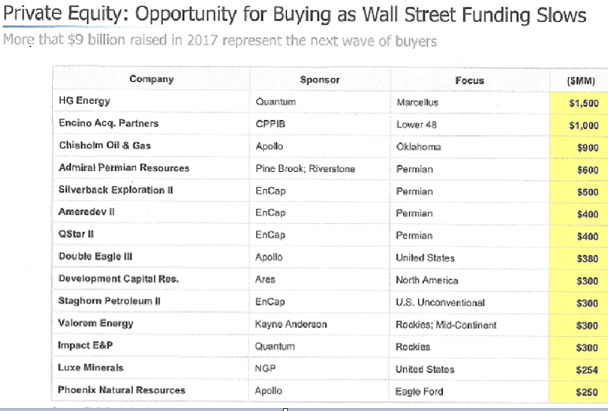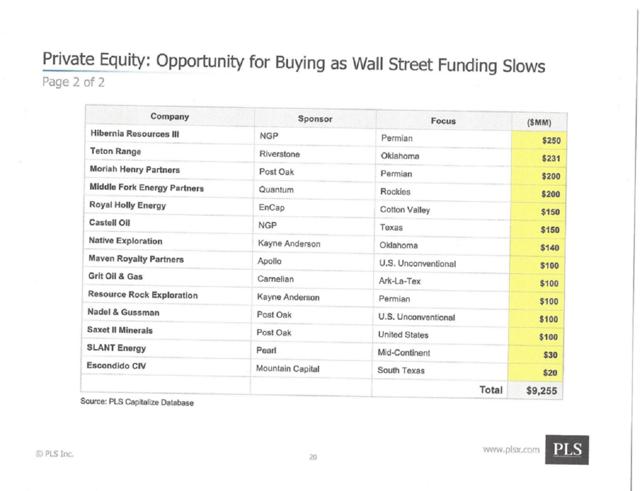 Conclusion
After a discussion this extensive, readers may be wondering where the "meat" is … the actual numbers. Trying to incorporate it all into a single article is pretty unworkable, not to mention lengthy, and I prefer in this case to include as much detail about as many companies as I can. There may be readers who think I have shortchanged "their" company, but I can only say that I try to keep my analysis as factual as possible, while still expressing my own opinions. Covering 20+ companies like this may provoke many differences of opinion about this or that fact or this or that opinion, but hopefully when readers see the entirety of it, all they may find it useful in evaluating their own investments or prospective investments.
The next part of the article should follow shortly, after one more pass over it to make sure there are no obvious gaps or errors. Will it be "Buy, Buy, Buy" or "Bye, Bye, Bye?" Hopefully readers will stay tuned to find out.
Next up: A data deluge!
Disclosure: I am/we are long CDEV, SRUN, VEAC, KAAC, TPG.E. I wrote this article myself, and it expresses my own opinions. I am not receiving compensation for it (other than from Seeking Alpha). I have no business relationship with any company whose stock is mentioned in this article.
Editor's Note: This article covers one or more microcap stocks. Please be aware of the risks associated with these stocks.