Summary
Reserve estimates and disclosures relating to volumes and values may be critical in analyzing a company's future performance.
Costs incurred for each of the 21 companies comprising the BOTB Club are presented.
Reserve volumes and standardized measures for all companies are presented and analyzed.
Finding costs are presented.
Analyzing future performance using the methods and data presented here may prove very useful.
Readers who may not have seen Part 1 might want to review it before reading this article. I won't repeat all of the disclaimers I issued there, but I do want to repeat that a primary purpose of the article is simply to provide the data so that readers can examine and decide for themselves how they should approach companies that are included. Part 1 lays the groundwork somewhat in describing what companies have been doing in 2017 apart from their day-to-day operations, while Parts 2-4 include the financial impact of all of those activities.
The data in the spreadsheets was taken from company press releases, presentations, 10-Qs and 10-Ks through the 2Q reporting period, and no attempt has been made to update the data for interim events that will be reported in the 3Q releases. It is unfortunate that there are no standards for disclosure, and companies often disclose similar data in dissimilar fashion compared to other companies. I try my best to make disclosures and data as consistent as possible, but there is no way of constructing a perfectly correlated data set. I gave up early on in trying to use computer-generated data sets for the same reasons, but the differences in accounting methods and presentation made that impossible for me. Also, despite having used similar formats for over 30 years, this one continues to be tweaked; that, combined with the use of formulas that may have been added or changed, makes ensuring "six sigma" quality that much more difficult.
Individual investors are at a disadvantage when seeking out the information provided in the tables that will follow. Institutional investors receive research reports prepared by analysts at investment firms, at accounting firms, and from their own research departments, and it is difficult for individuals to put together the same kind of data. I am a research staff of one, so readers need to be cautioned that although I have done my best to compile the data herein from public sources, they should do their own research to evaluate any companies of interest.
Rather than in-depth analyses of each company's prospects, transactions, etc., the data presents a financial overview that readers may still find of great interest since the overview includes 20+ public E&P companies in the BOTB Club. I have included as many valuation and other metrics as possible, with the idea that readers have their own preferences and investment strategies that may find any one of several aspects of a company's finances of interest.
Finally, the article is divided into sections to allow the spreadsheet data to be presented in a way that makes it as easy to view as possible. Along with the specific data, I will attempt to refer readers to items I consider of primary importance and evaluate which companies have either favorable or unfavorable metrics for each presentation. It is not a brief overview … no "Buy, Buy, Buy" … but hopefully readers will still find it of great interest in what it provides.
Year-End 2016 Disclosures
In this article, I will start with data that is found in the annual 10-K, in part because prior year-end financials are the starting point for current year activities but also because reserves are only required to be disclosed once each year in the 10-K. Many readers may know where to locate this data, but for those who don't, or as a reminder to those who do, I will also present capture shots from the 10-K of what various tables there look like. Throughout this "demonstration", I will use Chesapeake's (CHK) disclosures as an example because, well, frankly because it is the most followed, most written about (160 articles and counting so far in 2017, or almost 1 a day for each trading day!) and most commented on company in the E&P universe.
Accounting Method: Row #3 is one of the most important disclosures any E&P company makes to those who follow it, its accounting method. A huge difference in results between companies who use the Full Cost method and those who use the Successful Efforts method is now embedded in E&P balance sheets and income statements, including any reference to "book" anything. As a future article will likely point out, E&P GAAP has become "CR*P" instead.
Wells: Rows 6-7 are qualitative measures, but not in the way most people think. Big is not better from an administrative standpoint, so the number of wells a company owns may present diversification of risk, but at the same time shows how spread out its activities might be and how much effort is required to maintain records, particularly if a company operates many wells. Thousands of wells with hundreds of owners and ongoing transfer of ownership through sales, inheritances, gifts, foreclosures, etc., makes for necessary tasks but also efforts that cost a lot of administrative time and effort, possibly contributing very little to reserves or profitability.
Acreage: Rows 8-13 relating to acreage owned was traditionally a good way of judging whether a company had enough undeveloped acreage left to evaluate, but frankly the importance has waned since the introduction of horizontal drilling and multi-bench/formation reserves. The figures in the 10-K reflect ownership of the acreage in the primary formation only, and sometimes acreage in deeper, more prospective zones is not the same as for the primary formation. "Retained deep rights" in lease reserve those zones for prior transferors of such leases, not the current owners of the "shallow rights." On the other hand, where a company does own the rights to multiple prospective formations, its acreage may be effectively much larger than just the base acreage number (i.e., a 10,000-acre lease block with 5 potential bench targets is effectively similar to 50,000 prospective acres in single formation areas).
Note: By clicking on any table in this article, the image will enlarge. Right-clicking on your mouse will allow you to zoom the image to a comfortable viewing ratio. In addition, by clicking on "save as," the image can be saved on your own computer. It is, however, an image rather than a spreadsheet, so you will be able to view it but not change it.

Costs Incurred: Chesapeake's table appears on p. 141 of its 10-K, as shown below. As you can see, the format allows investors to see not only current year activity (2016 being the last full year available), but the two prior years as well. That way, "one-time" events can be smoothed out and results evaluated over time. Seeing items like "capitalized interest" or "capitalized G&A" can also show up here, while they may not show up in any of management's capex disclosures (CHK does disclose that in its capex guidance).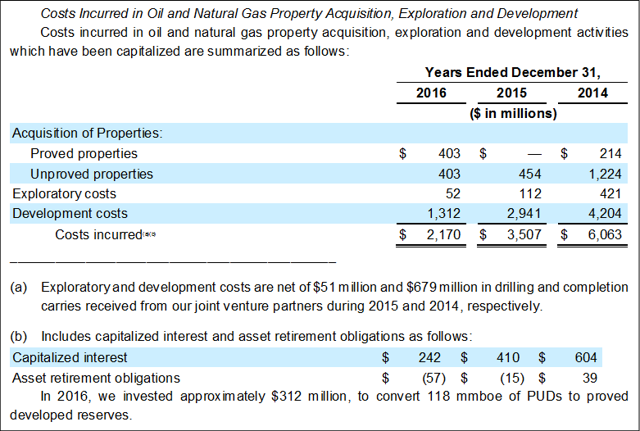 In the spreadsheet for all BOTB Club members, rows 15-20 reflect how capex was spent in 2016, primarily for calculations relating to its effectiveness in adding reserves. Out of total capex, almost 70% was spent on development drilling, with 6% spent on "exploration," which can be anything from actual drilling to lease abandonments to G&A. Proved reserve costs of 5% reinforce how much of the industry's activity was directed to development. In 2016, we invested approximately $312 million, to convert 118 MMBOE of PUDs to proved developed reserves.
Although I do not view the total amount of Costs Incurred to be particularly important other than to highlight the relative sizes of the companies, I have noted the largest expenditures in green and the lowest in red so that readers can quickly focus on the 5 top (green) and 5 bottom (red) figures in a particular line. For example, in 2016, the companies that spent the most on capex were Chesapeake, EP Energy (EPE), Sanchez (SN), Resolute (NYSE:REN) and Denbury (NYSE:DNR).

Reserves: Reserve data is maintained constantly by companies in connection with their operations and updates to financial statements, bank borrowing base reviews, etc. Engineering software allows them to retain all assumptions that go into the calculations of reserves, and running a new "case" requires just the push of a button once all changes are set. However, the only data provided to investors occurs at year-end, when it is included in the 10-K, usually in footnotes to the financial statements. Many readers have probably never seen or looked for these figures, relying instead on disclosures by management in some press release or presentation slide.
Chesapeake's format for reserve volume disclosures is on p. X of the 10-K. The standard format is to take prior year-end reserves, adjusted (down) for production, (up) for extensions and discoveries of new reserves, (up/down) for revisions to previous estimates, (up) for purchases and (down) for sales. That "walks forward" reserve changes with sufficient detail that analysts can use in evaluating how engineers are looking at a company's properties. It also shows how much of remaining reserves are Proved Developed (PD) and how much is Proved Undeveloped (PUD). PUD reserves require additional capex to convert to PD, which amount is shown below in the Standardized Measure.
Presented below is a summary of changes in estimated reserves for 2016, 2015 and 2014.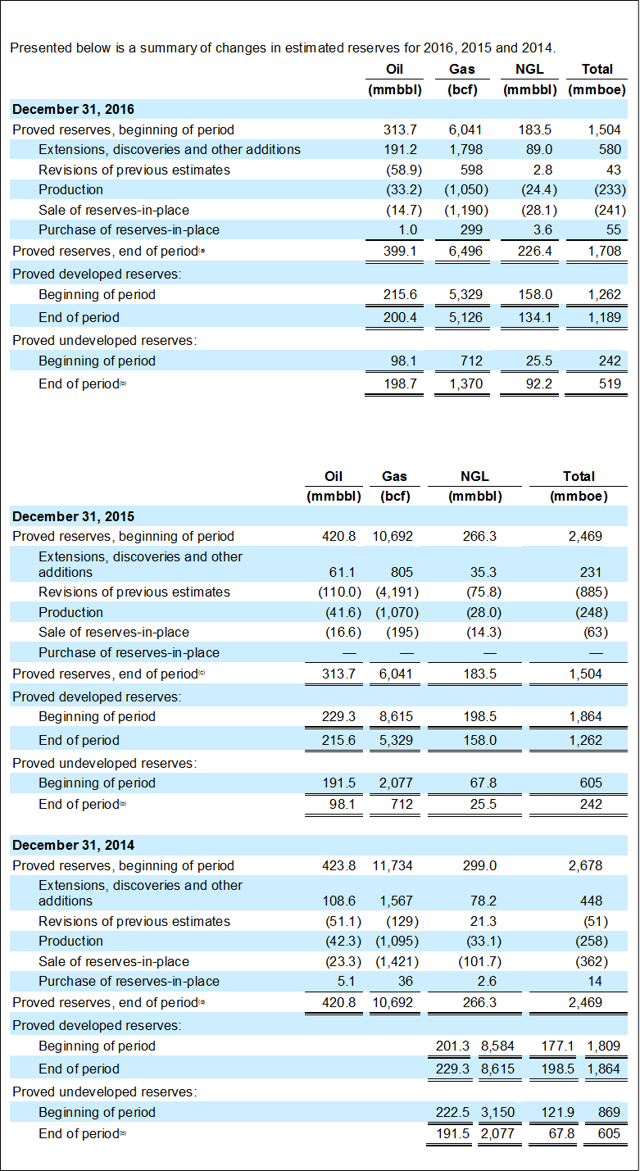 In the spreadsheet, rows 22-42 reflect data relating to reserves, with a breakdown into actual quantity disclosures and changes from the prior year. Readers can see the relative contributions of oil, natural gas and NGLs as a % of overall reserves, as well as the contribution that proved developed reserves and proved undeveloped reserves make. Because the traditional $/BOE calculations use a 6:1 ratio of natural gas to oil, when the revenue-equivalent is more like 15:1, I have also shown BOEs calculated on the latter ratio. The impact will also be shown in the revenue/BOE and profitability figures shown later.
The first few rows detail reserve products by category for oil, natural gas and NGLs, with total MMBOE and BCFE at a 6:1 ratio. Note that NGLs are expressed in barrels and are considered as such in the calculations even though their pricing makes them more like natural gas volumes. The highlighting in the total rows helps readers identify those companies with the highest and lowest MMBOE figures.
Of potentially more interest to analysts is the split between PD and PUD reserves. While PUD reserves may indicate the ability of a company to replace production and cash flow internally, they also require future capex to be able to produce; high PUD ratios identify such companies. On the flip side, low PUD ratios may indicate (1) that a company has little upside because its reserves are fully developed; (2) that it has a conservative approach to booking PUD reserves; and (3) that its PUD reserves have been eliminated due to the SEC mandate that PUD reserves be planned for development within 5 years. That's where, while the numbers themselves may seem to indicate one thing, additional research may indicate something entirely different.
The rows that detail companies' split between oil and natural gas (and NGL) reserves are useful in identifying those companies whose reserves are skewed toward one or the other of those products (the same comparison that was discussed regarding current production, except that this compares total reserves).
In particular, those companies whose reserves are primarily oil include Denbury, Mid-Con (MCEP), Northern (NOG), Resolute and California Resources (CRC) all with percentages of greater than 70%. Companies with more than 80% of their reserves in natural gas include Comstock (CRK), Eclipse (ECR-OLD), EV Energy (EVEP-OLD), PetroQuest (PQ) and Rex (REXX).
All of the reserve and production figures are expressed in $/BOE terms even though company disclosures may express them in $/MCFE terms; I convert at 6:1. Some companies express their reserves in oil equivalents; others in natural gas equivalents. This makes comparing across companies difficult but still shows how each company stacks up in replacing its own production.
The main row to focus on is row 38, which details reserves added through discoveries and extensions. Companies must replace their current production or they become merely liquidating entities, and this row shows their progress (or lack thereof) in doing so.
By looking at row 42a, which compares total reserve changes to beginning reserves, readers can see which companies grew their overall reserves during the year in some way. Resolute, Comstock, Bill Barrett, Eclipse and Chesapeake were the top performers, but it is notable that only the first 3 of those companies actually added reserves during the year. The transactions announced during the year, as noted in Part 1, will undoubtedly have an impact on the 2017 figures when they are released early in 2018.
Several companies reported drops of 10-20% (and more) in 2016, and it is worth noting that the prices used in determining reserves were $42.75 for oil and $2.48 for natural gas. Calculated today, reserves and valuations using roughly $50/$3 would increase values, although past reserve revisions have been fairly nominal so should not dramatically increase with higher prices.

Standardized Measure: The charts of Standardized Measure and Changes to Standardized Measure from Chesapeake's 10-K follow the standard formats, allowing readers to see what changes have occurred from year to year due to production, revisions to reserve values, extensions and discoveries, etc. While most companies will discuss annual changes in their disclosures, these charts go back 3 years for a longer-term perspective. One item I noted specifically when CHK announced its numbers was a very low F&D cost for 2016 alone, but by looking back and, more importantly, factoring in the future increase in development costs for PUD reserves adds, the F&D costs increase substantially. Another item of note is that 2014 figures are somewhat irrelevant in discussing pricing upside, because so much of CHK's 2014 reserve base has either been produced or sold since then.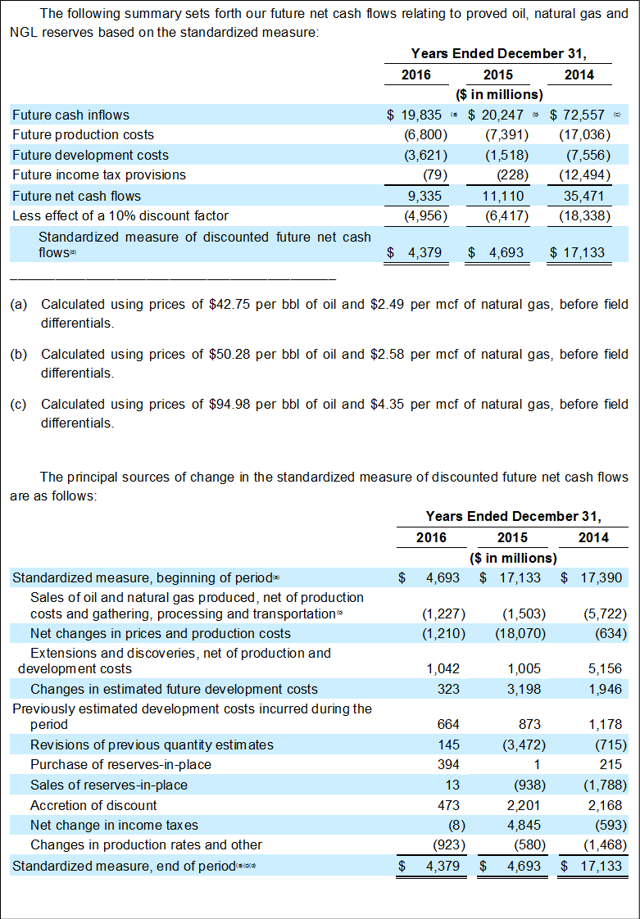 In the spreadsheet, rows 44-68 contain both the SEC10 (Standardized Measure) figures for YE 2016 as well as a detailed breakout of the changes from the prior year. The Standardized Measure, or SEC10 value (or as I will refer to it, simply SEC value), is a mandated calculation by the SEC which determines the reference value of a company's reserves. It is disclosed once a year in the 10-K, but companies and other stakeholders (i.e., banks) keep current with the calculation methodology, as do the companies' accounting firms (which must assist management in determining whether impairments to their property accounts are required). Essentially, the SEC value takes existing proved reserves and calculates a value based on constant prices and costs, discounted at 10%.
Rows 44-51 walk through the various adjustments provided by companies to compute the SEC value. As is apparent, large future cash inflows are eaten up as a company pays LOE to operate them, spends capex to develop them, pays taxes and then discounts the future net revenue stream to current value. The table shows how "marginally economic" the E&P sector is at $42.75/$2.50 (and well above).
Using Denbury as an example, it projects future revenues of $9.74B. Against that, LOE alone takes up $5.7B, and another $1.6B in development costs and taxes (almost 75% of future revenues). Discounting the $2.2B in future net revenue (cash flow) to get to the current SEC value yields $1.4B, or 15% of future revenues.
That shows extreme operating "leverage," which works in both directions. Many companies would see their SEC value largely wiped out if prices were to decline much from $50 oil, reinforcing the view that past investment results were not economic at that price level, and in fact were likely negative. While managements continue to stress their "breakeven points" for new investments, that does not take into account any legacy debt from previous investments, which the new investments must also support… at least absent a financial restructuring.
I have highlighted the biggest (red) and smallest (green) adjustments to SEC values for Quantities and Total % Change, respectively, as well as the largest/smallest changes due to extensions and discoveries. These results in some ways mirror the reserve findings, just expressed in the SEC value calculations in $ rather than in MMBOE.
It may not be shocking that the figures in row 68a show a total decrease in SEC value for these 21 companies of (-22%) from their level at year-end 2016. Reserves only declined by (-2%). The greater impact on SEC values comes from the operating leverage described above; if LOE starts out at 50% of revenues and prices decline by 50% with no LOE change, 100% of cash flow is eliminated.
There are several other rows with highlights for best/worst performers in a particular category, so readers can do whatever comparative analysis they want. Seeing numbers to "play with" often raises questions or provokes "aha" moments, much more than for me to simply say, "Buy XYZ company."

Finding and Developing Costs: Rows 70-75 show F&D costs for 2017, based on a calculation that takes total capex/reserve adds. Although the actual F&D cost figure is important for any single year, most analysts will look at 3- or 5-year averages as a better longer-term indicator of how efficiently companies are adding reserves. Rows 74-75 have estimates prepared in connection with the recent Enercom Oil and Gas Conference for certain companies, but not all. Of course, any reader can construct their own estimates by going to the same tables over the past 3 or 5 years themselves. In today's environment, managements are all guiding toward much lower finding costs going forward than their recent past would indicate, primarily due to efficiencies in capex in shale plays.
The previous tables set out changes to reserves and to SEC values for the companies comprising this data set. While that is useful, another analytical tool that is used to evaluate the efficiency of capex programs is compute finding costs. In general, the way I compute finding costs for these purposes is to take all costs incurred during the year and compare that to reserves added due to purchases, extensions and discoveries. Companies may disclose the data in other ways, and often both analysts and companies will use 3-year or 5-year averages to compute finding costs, on the theory that one year may be anomalous.
The impact of reduced capex shows up to some extent in the calculated Finding Costs, row 73. The overall number for the combined companies calculates as less than $5/BOE, but the range varies widely. As mentioned above, companies devoted most of their capex to development drilling. If the reserves to which the capex applied were already booked as PUD in the company's reserve report, they spent $X to add 0 reserves - merely converting them from PUD to PD. If a company acquires or otherwise adds proved reserves that require future capex, their "all in" or "full cycle" capex/BOE figures may look less impressive. Using 3- or 5-year calculations helps take that into account and smooths the data, but for my purposes, the 1-year analysis tells a lot.

Conclusion
Despite all of the focus in other articles on current and future cash flows and earnings, I find the information in the 10-K about reserves just as, if not more, interesting. A company's history in adding reserves and reserve value, as well as data that shows how effective a company has been in creating that value, is often a good indicator of how it will perform in the future. This can be an important part of any critical analysis, in my opinion. Since reserves are only required to be disclosed once each year, the data can be useful in analyzing how banks and others will react to the company as well. The data don't lie … so, "bye bye" for now, and stay tuned (and rested!) for Part 3.
Disclosure: I am/we are long CDEV, SRUN, VEAC, KAAC, TPG.E. I wrote this article myself, and it expresses my own opinions. I am not receiving compensation for it (other than from Seeking Alpha). I have no business relationship with any company whose stock is mentioned in this article.
Editor's Note: This article covers one or more microcap stocks. Please be aware of the risks associated with these stocks.