Little did it matter that Kroger (KR) delivered a rather solid quarter this Friday morning: top-line beat of $110 million on sales of $27.6 billion and EPS that exceeded expectations by a penny. Investors are looking past the short-term news and asking themselves: can the company compete profitably in the long run with a number of apt players in the grocery space, now including the likes of Wal-Mart (WMT), Target (TGT) and the always dreaded Amazon (AMZN)?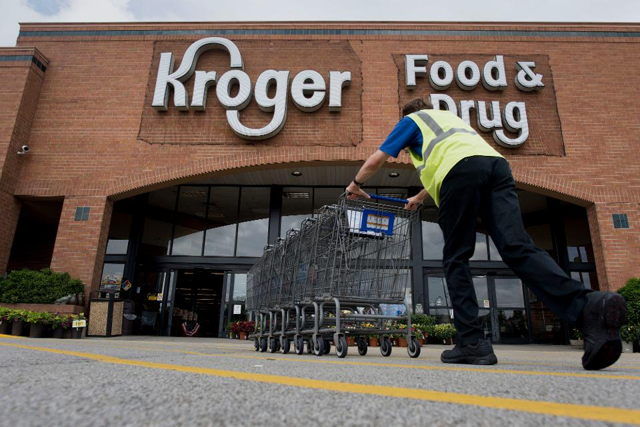 Credit: Forbes
It did not help at all that Kroger's management team decided to cease providing long-term guidance as it had been since 2012. I certainly understand why this move makes sense given all the challenges and changes taking place in the food retail arena (shift to online, heated pricing wars, etc). But at the same time, what Kroger least needed in this moment of turbulence was more uncertainty.
As I proposed earlier this week, I was "skeptical that this level of earnings growth (EPS boost of nearly 10% in the three- to five-year time horizon proposed by Kroger's management team) could be achieved in this tough environment, let alone sustained for very long." Management's call to discontinue long-term guidance was, in my view, a nod from the executive team that my (and possibly most of the Street's) skepticism over pie-in-the-sky hopes of near double-digit earnings growth was warranted.
Adding to the uncertainties, but having more of a short-term impact, a potential triple-hit by hurricanes Harvey, Irma and Jose in September could throw off management's unchanged outlook for the remainder of fiscal 2017 ($2.025 EPS for the year and +0.75% ID sales in the second half, both at the mid-point of the guidance range). I believe long-term investors should not be as concerned about the economic impact of this year's hurricane season when assessing KR's investment thesis. But they should be fully aware of the extra volatility that the stock could endure as a result of these potentially meaningful events.
My thoughts on KR stock
I maintain my view that KR is a cheap stock (see graph and table below) for very good reasons: fierce price wars, narrowing margins, and a changing competitive landscape (including a shift to online and improved customer experience). Operating on razor-thin op margins of only about 2.5% (GAAP, fiscal 2Q17 and 2Q16), even modest pricing pressure could cut significantly into Kroger's bottom line. I estimate that 1% headwind to pricing, holding all else constant, could result in a 20-cent drag to quarterly EPS (about half of what Kroger was able to produce in fiscal 2Q17).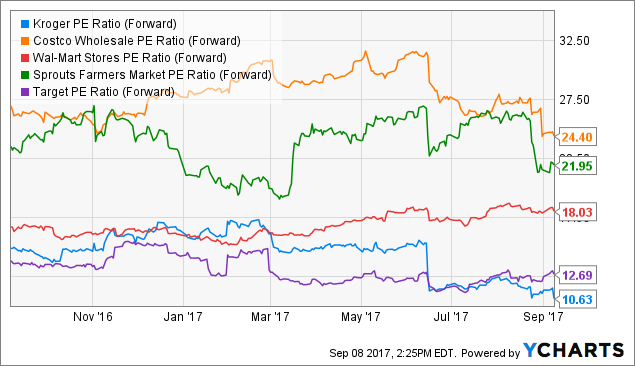 KR PE Ratio (Forward)
data by
YCharts
| | | | |
| --- | --- | --- | --- |
| TICKER | Fwd P/E | EPS Growth | Fwd PEG |
| KR | 10.6x | 6.3% | 1.7x |
| COST | 24.4x | 10.2% | 2.4x |
| WMT | 18.0x | 6.3% | 2.9x |
| SFM | 22.0x | 12.0% | 1.8x |
Absent confidence from the management team that EPS could grow robustly through 2022, I can't justify much optimism over the company's prospects. I see little upside to the Street's current 6.3% long-term earnings increase estimates (see table above), and would not be surprised to see EPS flatten out over the next few years. Under this more pessimistic scenario, KR may continue to reach for a bottom well below the $20/share mark. For this reason, I choose to stay away from a stock that looks to me more like a value trap.
Note from the author: If you have enjoyed this article and would like to receive real-time alerts on future ones, please follow DM Martins Research. To do so, scroll up to the top of this screen and click on the orange "Follow" button next to the header, making sure that the "Get e-mail alerts" box remains checked. Thanks for reading.
Disclosure: I am/we are long TGT. I wrote this article myself, and it expresses my own opinions. I am not receiving compensation for it (other than from Seeking Alpha). I have no business relationship with any company whose stock is mentioned in this article.