Summary
USD/JPY has broken out of the 108-114.50 trading range it has spent months in.
A downward move is also backed by fundamentals, given a weaker USD and rising geopolitical tensions as the backdrop - the latter would support strength in safe haven JPY.
Look to short USD/JPY at 108 (breakout zone), with a stop loss at 109 and take profit target at 102.
We observed another leg of USD weakness late last week post the European Central Bank meeting on Thursday, where Draghi appeared nonchalant about the recent surge in Euro strength during the press conference, while revealing that the central bank will discuss the fate of its quantitative easing programme come October. All in all, it can be said the central bank meeting ended on a hawkish tone, where previously a portion of the market was expecting Draghi to at least attempt to hose down Euro strength.
Nevertheless, the USD Index now finds itself trading below key support level of 91.90. Will the Greenback rebound from such depressed levels? Will potential progress in tax reform, as promised by Trump in the upcoming weeks, change the fortunes of the Dollar? Having seen the USD slide for the past few months, with the market calling for a bottom at regular intervals, bottom-calling may just turn out to be a tedious, expensive exercise. Going with the trend may just yield better outcomes from a financial perspective.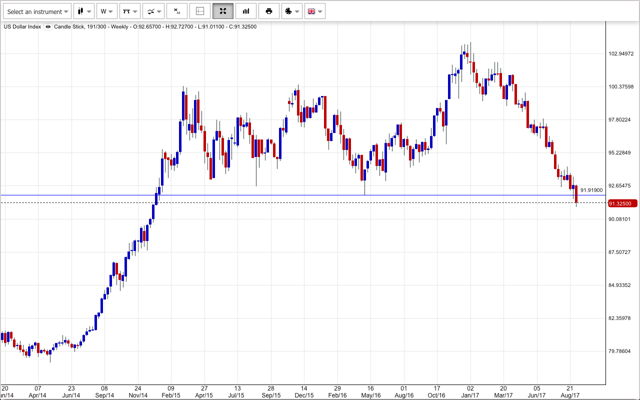 One interesting pair that struck me was USD/JPY. The JPY is treated as a safe haven asset, largely due to it being used as a funding currency in a carry trade, where investors borrow a currency with a low interest rate and purchase a currency yielding a higher interest rate. During times of distress, the unwinding of risk-on carry trades causes the JPY to appreciate. This is why, with the backdrop of a weaker USD and rising geopolitical tensions between the US and North Korea, the JPY has traded on a strong note, along with other safe haven assets like XAU/USD.
Looking at the weekly chart of USD/JPY below, we observe that the currency has been trading in a relatively tight range of 108 to 114.50 for the large part of this year. Last week's close below the lower bound support of 108 was telling, and a more powerful downward move may be in store should the currency fail to recapture the 108 support in the upcoming few days or weeks. Keep in mind that the currency pair has been trading in the 108-114.50 tight range for months. Any breakout would likely be sizeable given the amount of time spent in the trading range.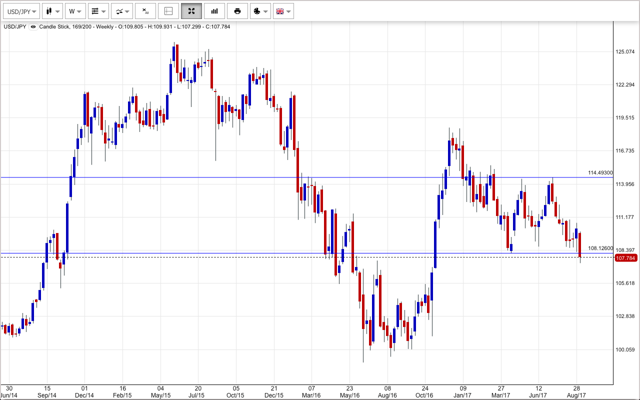 Should 108 not hold, suddenly the 100.00 psychological level looks vulnerable. USD/JPY had previously rallied from that level mid-2016, and the market might look to test those levels again.
To sum up, USD/JPY downside might pick up momentum in the days/weeks to come, given that the pair has broken out of the 108-114.50 trading range it has spent months in. The fundamental backdrop of both a weaker Greenback and rising geopolitical tensions validate this move, and the fundamentals camp will likely join the technicals camp in pushing the currency pair down.
I would suggest going short USD/JPY at 108 (breakout zone), with a stop loss at 109 and take profit target at 102.
Disclosure: I/we have no positions in any stocks mentioned, and no plans to initiate any positions within the next 72 hours. I wrote this article myself, and it expresses my own opinions. I am not receiving compensation for it (other than from Seeking Alpha). I have no business relationship with any company whose stock is mentioned in this article.