Recent IPO That Is Still Under The Radar
Includes:
OKTA
by: Zacks Investment Research
Last night Okta (NASDAQ:OKTA) reported earnings for just the second time in company history. As a recent IPO, the market is still getting to know this company and there is an old adage that investment managers tend to follow. The saying is that they need to see a year of performance before they can commit real money to a new stock. I am going to suggest that if the first two quarters are anything like the next two, you will not be penalized for getting in a little before the institutions do.
Brief Description
OKTA is an identity solution provider, helping companies grant access to resources on any device while still ensuring strong security. A recent conference of customers and partners had 2,400 attendees which was an increase of 50% from the year ago level.
Recent Quarter
After the close on September 7, OKTA reported a loss of $0.16 and that was $0.10 better than Wall Street had expected. Revenues of $61M were $5M more than expected and represented growth of 63% from the year-ago period.
Guidance was strong, with the company projecting EPS next quarter to be a loss of between $0.24 to $0.25 when Wall Street was looking for a loss of $0.29. Revenues were guided to $62M-$63M when the consensus was calling for $60M.
The company also guided full-year earnings and revenue ahead of expectations.
Upgrades Coming?
At the time this article was written, the analyst reports were not yet published. Following earnings events, sell side brokerages typically release an updated model which is the foundation of the Zacks Rank. OKTA is currently a Zacks Rank #3 (Hold), but with the solid beat and upside to guidance, we can expect the Rank to move higher in the coming days.
There could also be some upgrades coming as well. Canaccord Genuity has the stock as a hold with a $25 price target, so this report could be enough to move that needle higher. JMP Securities also has the stock at the equivalent of a hold rating with a market perform. Goldman Sachs has the stock at a neutral, which is basically the same thing as a hold. JPMorgan and Pacific Crest both have the stock at "Overweight" which is the same as a buy rating.
Tomorrow could bring an upgrade or two, but it will almost certainly see higher target prices from Goldman and Canaccord. Goldman has a nearly bearish target of $22 on the stock so look for that number to increase in a significant way. Canaccord has a $25 target on OKTA which is more than $3 below where the stock was trading when after-hours trading ended last night.
My Take
With the EFX security breach, a lot of software security names were being bid higher in after-hours. Look for some carry over onto OKTA today as well. The options market was pricing in a move of more than 11%, but the same was true of last quarter when options were calling for a move of 13% but the stock only moved up 5%. To me, it all hinges on the potential for an upgrade from at least one of the analysts. If that comes, then this stock could easily trade over $30 for a new 52-week high.
Okta, Inc. Price and Consensus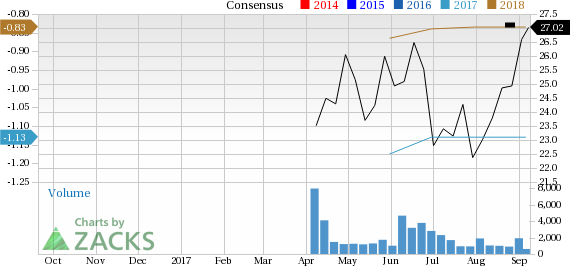 Okta, Inc. Price and Consensus | Okta, Inc. Quote