AMD (AMD) has joined hands with Baidu (BIDU) for optimizing software for AMD's Radeon Instinct GPUs in Baidu's datacenters. As a result, AMD's open ROCm 1.6 software platform will better compete against Nvidia's (NVDA) CUDA GPU computing software platform.
AMD is leaving no stones unturned to become a strong player at the datacenter level. This article delves deeper into AMD's recent initiative and estimates its probable impact on AMD's stock price.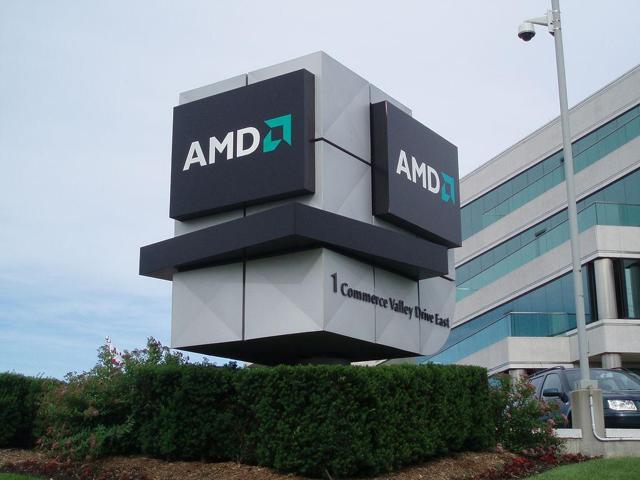 Image Source: Wikimedia Commons
AMD's Software Optimizing Initiative
ROCm, the acronym of Radeon Open Compute Platform, has been made to become as popular as Nvidia's proprietary CUDA (compute unified device architecture) toolset in the HPC (high-performance computing) environment. This is essential for AMD to grab Nvidia's datacenter market share. AMD's new Radeon Instinct MI25, MI8, and MI6 accelerators needed an advanced heterogeneous processing approach. The open ROCm platform, coupled with MIOpen framework libraries, will help developers rely less on OpenCL, the industry-standard heterogeneous processing platform led by the HSA Foundation.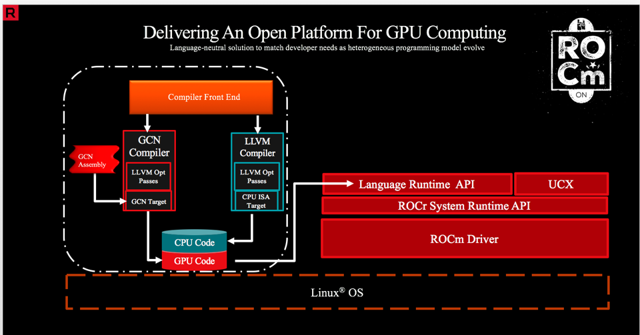 Image Source: GitHub
Although OpenCL is an efficient platform for mobile and desktop PCs, for HPC workloads, such as deep learning, inference and training, OpenCL is far less robust compared to Nvidia's CUDA. Now that AMD has developed ROCm, the company needs to popularize it by spreading the platform across the globe. Via partnering with Baidu, AMD will be able to achieve this goal.
Why Baidu?
Baidu is equivalent to Google (GOOGL)(GOOG) in China. Baidu offers (1) search services in China and internationally, (2) transaction services like mobile games, wallet, maps etc., and (3) iQiyi, an online video platform that shows licensed movies, television series, etc. These activities has made Baidu a real hyperscale player. The Chinese search giant recently released its conversation-based AI (artificial intelligence) platform DuerOS. In addition, the company released its Apollo autonomous driving platform, which Baidu's COO Qi Lu called the "Android of the autonomous driving industry, but more open and powerful."
Baidu has partnered with Nvidia to use the latter's Volta GPUs in its AI ventures, including Baidu Cloud and Apollo autonomous driving. Baidu is specially interested in deploying Nvidia's HGX architecture with Tesla V100 and Tesla P4 GPU accelerators for AI training and inference in its datacenters. Amid this scenario, it makes perfect business sense for AMD to collaborate with Baidu to popularize and optimize its ROCm platform.
Beating CUDA Isn't Easy
Although beating CUDA isn't an easy task, AMD can certainly narrow the gap it currently has in competition with Nvidia. Despite the fact that Nvidia is a stronger opponent, and CEO Jensen Huang spent huge money to develop CUDA, the recent rise of AMD proves that even Nvidia isn't invincible. According to The New York Times:
"The cost to the company was incredible," said Mr. Huang, 54, who estimated that Nvidia had spent $500 million a year on the effort, known broadly as CUDA (for compute unified device architecture), when the company's total revenue was around $3 billion. Nvidia puts its total spending on turning GPUs into more general-purpose computing tools at nearly $10 billion since CUDA was introduced.
The point is AMD can't out-compete Nvidia's ecosystem just yet, but can certainly throw competition toward Nvidia, albeit gradually. Why has Baidu agreed to collaborate with AMD, despite its ongoing partnership with Nvidia? Because it believes AMD's hardware and software products have potential to compete with those of Nvidia.
Investors' Angle
In my last article on AMD I opined it would be difficult for AMD's MI series GPUs to out-compete Nvidia's Tesla V100 just yet because ROCm needs time to mature. The recent development that AMD is partnering with Baidu to optimize its ROCm software platform will help ROCm to mature quickly than I previously anticipated.
Baidu is not a small company. If it shows interest in AMD's datacenter initiative, that should be construed as a positive development from investors' point of view.
Meanwhile, the year-end is approaching, and investors should now focus on AMD's 2018 financial performance. AMD's annual sales growth is expanding at a CAGR of approximately 4% since the last five quarters. I believe in the next five quarters its sales growth will rise at a CAGR of around 5-6% due to new product launches and software platform maturity. For CY-2018, I expect its yearly sales would reach approximately $6 billion or $6 per share. At a maximum P/S multiple of 3x, I expect the stock to reach $18 sometime in the next 12 to 15 months.
Conclusion
As I explained in a previous article, AMD's indebtedness is the toughest enemy for its stock. Offering a P/S multiple of more than 3x isn't possible for me, since AMD's high debt-load will prevent it from being profitable in the foreseeable future. Despite that, the stock has significant upside left. I believe for long-term investors it's the right time to buy the stock.
Disclosure: I/we have no positions in any stocks mentioned, and no plans to initiate any positions within the next 72 hours.
I wrote this article myself, and it expresses my own opinions. I am not receiving compensation for it (other than from Seeking Alpha). I have no business relationship with any company whose stock is mentioned in this article.