American Outdoor Brands (NASDAQ:AOBC) reported its earnings and investors felt the burn.
AOBC reported FY2018 net sales of $129.0 million compared with $207.0 million for the first quarter last year, a decrease of 37.7%.
This resulted in a GAAP loss of $2.2 million, or $.04 per share, compared with a net income of $35.2 million, or $.62 per share, for Q1 FY2017
Taking out and excluding $3.8 million for amortization and fees related to acquisitions gives us a non-GAAP profit of $1.2 million, or $0.02 per share, compared with $37.7 million, or $0.66 per share, for the comparable quarter last year.
The Good
While it is not quite news, we know the Gemtech and Bubba Blade acquisitions have closed.
Gemtech in particular is a very good acquisition for Smith & Wesson as it gives it a leading name in suppressors, second best only to AAC or Surefire. Gemtech truly has some unique designs and intellectual property and will be a great addition. We still don't know how much of the company it will maintain or when it will be adding to overall sales, but to put a "half full" hat on, $10 million for the brand alone is a good deal, and far better than any stock buyback management could have done. Come to think of it... management would have lost far more money on its debt financed share buyback back in the $20s to where the stock is today. At least with $10 million for Gemtech, you have some property and inventory. =)
Bubba Blade was another acquisition. Here however we learned from the conference call that it was essentially buying just the brand name.
Take something like Bubba Blade which was a very simple acquisition where you acquire no people, you acquire merely the brand, the products that have been developed, the supply chain, and you give those products to your salespeople that are already selling knives, then it's a relatively easy acquisition and not difficult on the rest of the company.

Source: Jeff Buchanan, CFO - Q1 Conference Call Q&A
Is the Bubba Blade brand worth $12 million? I don't know... I'm a gun guy, not a knife guy, but I've never heard of Bubba Blade.
The Bad
Where do we start?
The company's firearms shipments declined by 39.1%. This breaks down to a 34.6% drop for handguns, and a decline of 57.1% for long guns. Long guns would include the "black rifles", i.e. the "scary looking" AR-15s.
The company blames this significant drop in part due to the success of its "heavy promotional costs", i.e. rebates for the S&W Shield launched in April. Thus, the reasoning is, the distributors stocked up in Q4 2017 and pulled the demand from Q1.
My question is... if the promotion was so great, why have they not re-ordered?
One major point of clarity which we received on the conference call is the company's stance on market share vs. margins.
In one of my previous articles, "As If Gun Stocks Haven't Been Hurt Enough?", I summed up:
For Smith & Wesson, one of two things is going to happen.

First, Smith & Wesson is going to lose more margin share (in order to maintain profit margins), or two, Smith & Wesson is going to keep discounting the M&P 2.0 line of pistols in order to maintain market share and revenues.

For the bottom line however, neither of those are good.

Source: As If Gun Stocks Haven't Been Hurt Enough?
On the conference call, we had a number of statements, both during prepared remarks and the question-and-answer section which solidified where the company stands on promotions:
As a result of our promotion, our monthly market analysis indicates that we gained significant market share in the first quarter as a large number of consumers purchased the SHIELD pistols that we had previously shipped into the channel in Q4. In fact, our research indicates that we grew our SHIELD share of the total handgun market by more than 5 percentage points, an incredible result.

Source: FY2018 Q1 Conference Call

Third, we will continue to offer market-leading products at attractive price points that provide our consumers quality and value. We believe consumers right now are seeking compelling promotions, and we fully intend to participate as required to protect and grow our market share.

Source: FY2018 Q1 Conference Call

We fully intend to take market share from Glock with our new M&P 2.0 Compact series pistol.

Source: FY2018 Q1 Conference Call

Well, I think adjusted NICS, and again, it's obviously a lagging data point, tells us that the consumer is there. They're willing to buy, they just got eyes on what is the most compelling promotion, we believe, right now. So they're very promotionally-driven. But one of the things that you don't really need to do to the same level, I'm never saying you would not promote a new product, but it's exactly that. New products out there generally do not require as much promotion as long as that shopper is going through the door.

Source: FY2018 Q1 Conference Call
Any questions?
Just as I discussed in "As If Gun Stocks Haven't Been Hurt Enough?" and other articles, there is no doubt American Outdoor Brands Co. and Smith & Wesson will continue to sell, but I believe they are making the mistake of chasing market share with arguably inferior products instead of maintaining profitable margins.
By pushing promotions, they are only pushing the margins lower. Secondly, the longer the promotions last, the more people will be relying on those rebates to buy from the company in the future.
Want proof and examples? Is anyone in their right mind considering buying a GM (GM), Ford (F), Fiat Chrysler (FCAU) or a Volvo (OTCPK:VOLVY) vehicle without a massive rebate? Of course not. I got $8,000 off between a rebate and discount on our Volvo S60; I would not be getting another one without another steep discount.
Remember Borders, the book store and those 40% off coupons? Worked out well for it didn't it?
How about shopping at Bed Bath & Beyond (BBBY) or buybuy BABY? Ever go into the store without a $5 off or a 20% off coupon?
Like it or not, customers are now used to $75 rebates from Smith & Wesson on brand new pistols.
If sales are strong and you have great adoption for your new pistol... you do not have to offer a lower price than your main competitor and then throw another $75 rebate on top of it.
It was also announced on the call that the M&P 2.0 treatment is now being launched with the M&P Compact models to compete with the Glock 19 and Glock 23 models.
Smith & Wesson suffered for as long as I can remember against Glock in the compact market, and if the 2.0 has been stale against the older Gen 3 and Gen 4 Glock 17/22 full size models... how are they expected to compete with a much improved 5th generation Glock 19?
Discounts coming? You BET! On brand new guns too.
Inventories
Even with the massive sales, Smith & Wesson units in distributor inventories still remained at around 231,000 firearms.
Furthermore, even with the already full inventories, the company has increased its inventory by another $29.4 million to $161 million, up more than 22% from $131 million last quarter.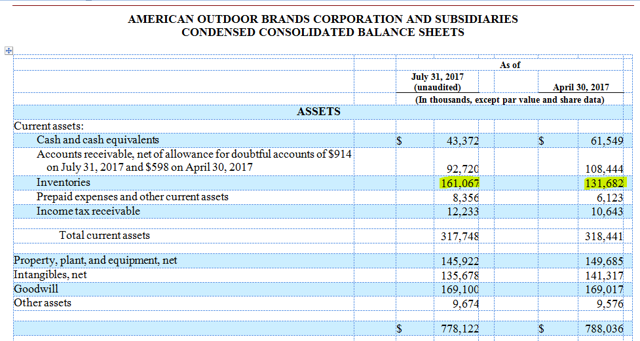 Source: AOBC 8-K/10-Q Balance Sheet
Most of this inventory should be for the new M&P 2.0 compact line of pistols. I am estimating that this is about 100-125k additional pistols.
The Ugly?
There were two key things about the call that just boggled my mind.
First was the complete dismissal or pivoting away from what I believe are tougher questions, especially around guidance provided during the last call.
During the last conference call, management stated:
...for the first quarter of fiscal '18, we expect revenue to be between $140 million and $150 million, with GAAP EPS of between $0.01 and $0.06 and non-GAAP EPS of between $0.07 and $0.12.

Source: AOBC 8-K/FY2017 Q4 Conference Call
So the company guided for $140-150 million in revenue with a GAAP income of $.01 and $.06 per share, with a non-GAAP of $.07 and $.12 per share.
A problem is the miss, an $11 million miss off of the low end and a miss of $21 million off of the top line, and a miss of $.05 and $.10 off of both GAAP and non-GAAP numbers.
"THE" problem is the timing.
That guidance was provided on June 29th... 2 MONTHS into the Q1 FY2018 quarter.
HOW THE HECK DO YOU MISS SO BADLY.... 2 MONTHS IN?!?!?!!?!?
Facepalm moment? Yup!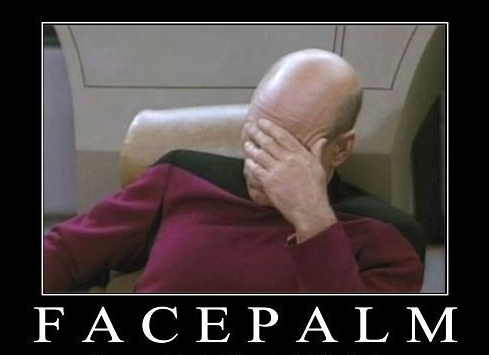 Fortunately I was not the only one who thought that.
Steven Lee Dyer of Craig-Hallum Capital Group LLC asked:
Yes, that's - that, I guess, segues into my last question just around visibility. So you guys reported into Q4 and guided with just a month left to go in the first quarter. And it seems like things either dropped off very significantly just in the month of July or there was an air pocket. What sort of visibility do you feel like you have into the channel at this moment?

Source: AOBC Conference Call
The answer was perfect pivoting and avoiding the issue...
P. James Debney - American Outdoor Brands Corporation - President, CEO & Director

Fairly good. But I would say, to be honest, pretty much the same level that we had at that point when we last gave guidance. It's very fluid, it's a very dynamic environment right now. You do not know what a competitor is about to do next in terms of their promotional activity. You walk into an independent retailer or some of the bigger box stores right now, and sometimes it's tough to see the top-of-the-glass counter because of so many promotion cards out there. That drives a lot of confusion with the consumer, obviously, which nobody enjoys. So as those - that level of promotional activity diminishes. We're doing analysis on our competitors' promotions, the ones that we have visibility at but focus on the consumer all the time, and we see that most of those come to an end - have come to an end at the end of August. So that level of activity is definitely coming down. It makes it easier to understand the market and what we believe is going to happen next.

Source: AOBC Conference Call
So now we know the guidance is not worth the paper it is written on and either management was clueless or misled.
Keep in mind, AOBC is heavily criticized for soft-balling guidance. Over the last five years, it has been calculated that it exceeded guidance for 20 quarters, and the two quarters where it did not, it came in at the top range of the guidance.
In any case, promotions that came to an end in August?
While Springfield's free magazine promotion finished in August... I still see Smith & Wesson, Taurus, H&K, Kahr, FNH, and Walther are STILL running mail in rebates for their pistols. This does not include any money and discounts offered direct to distributors or promotional money to retailers either.
Looking ahead, we do have some more "guidance":
For the second quarter, we expect revenue of between $140 million and $150 million with about 1/3 of that revenue coming from our Outdoor Products & Accessories. We expect GAAP EPS to be between 0 and $0.05, and non-GAAP EPS to be between $0.07 and $0.12. For the full year, we are adjusting our revenue estimate down to a range of $700 million to $740 million. This estimate takes into account the challenging environment we have outlined for the first half of this fiscal year and, based on historic trends, our continuing belief in the strong improvement in that environment for the second half of the year. The August NICS results that James just mentioned would seem to support those trends. For the full year, we expect GAAP EPS to be between $0.77 and $0.97 and non-GAAP EPS to be between $1.04 and $1.24.

Source: AOBC Conference Call
Will it miss again?
For Q1, firearms revenue was $99.4 million, or 77% of the total revenue.
So, if for Q2, it is estimating 1/3 to come from outdoor products, does that mean we can see yet another drop to $92.4 million from $99 million for firearms?
Firearms sales recovery? I don't think so.
Fortunately we were able to get some NICS data for August, which was not yet publicly released. In the prepared remarks, we got this gem:
By way of an update, August adjusted NICS results were published just a few hours ago with a sequential increase from July of 12.6%. This result is an encouraging indicator that the normal seasonality we have come to expect will play out in second half of our fiscal year.

Source: FY2018 Q1 Conference Call
Very quickly a few bullish investors and contributors took this to mean a 12.6% increase to the headline FBI NICS statistic.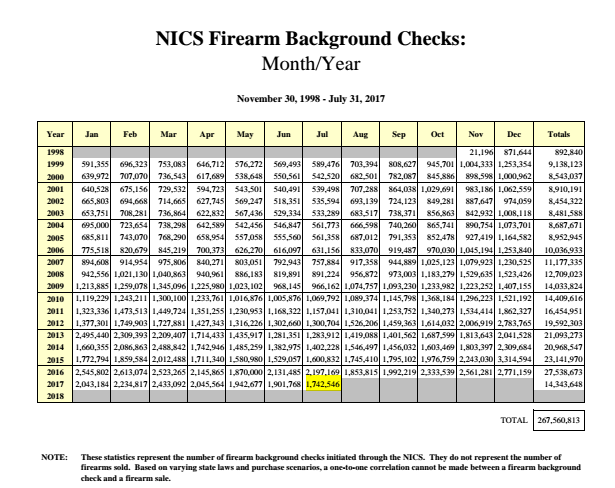 Source: FBI NICS Data
1.742 million * 1.12 gives us 1.95 million NICS Checks. That would indeed be the highest August on record... just like May.
But wait.... the key word there is "adjusted."
What is adjusted?
The headline NICS number includes administrative background checks and more importantly checks performed for firearms licenses and CCW permits.
In order to get a better retail picture, manufacturers and industry organizations such as the NSSF (National Shooting Sports Foundation) publish adjusted numbers which remove those permit checks.
In June 2017, the headline number was 1,901,768 million. The adjusted number however is only 1,016,213. Yep, about half.
What you have to do is actually go into the deeper statistics, also published by the FBI under the "by state" report.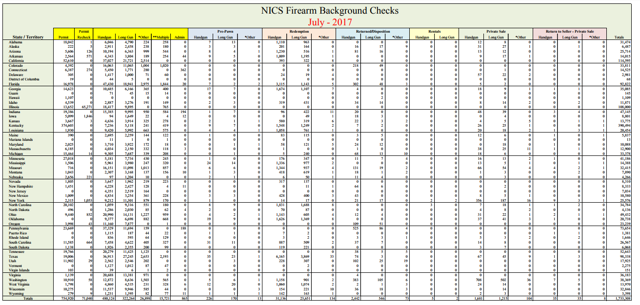 Source: FBI NICS Checks
Looking at the above and looking at just the sales of new handgun, long-gun, other, multiple and admin, we get 845,872 for July (Last year this number was 1,143,824).
A 12% increase to this number gives us about 947,380. Last year, this number was 1,144,436.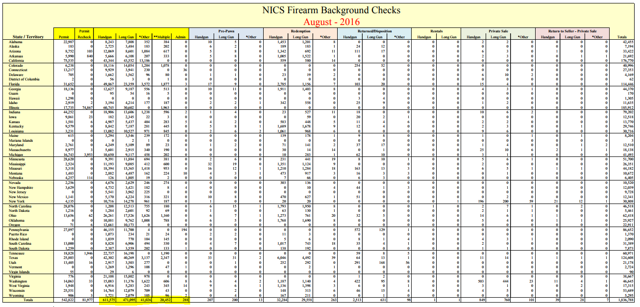 Source: FBI NICS Checks
Even with a 12% increase from July, we still have a 17% drop from the same time last year. Bazinga!
Firearms recovery? Yeah... okay!
I will admit, in a few previous articles, I have also used the headline numbers because they give a general trend year over year. My main sources for the firearms health comes from firearms dealers, gun ranges, gun owners and trends from my firearms forum and other media partners. The top-line FBI NICS data just reinforces it. If we want the truest data, there it is. For a future article, I will actually go back and compile some easy to see charts of this adjusted data.
Bottom Line
I believe the company lost major credibility with the analysts and investors.
The stock fell more than 17% on Friday. That should tell you just how bad of an egg this quarterly loss was.
The company was already criticized for its "guidance" being inaccurate. The investors and analysts went along with it for the sole reason that typically the company would beat on the upside.
When you miss YUGE on the downside, especially with a MONTH to go in the quarter for which you are guiding? Something majorly wrong is going on.
I have major issues with the rising inventories and heavy discounting on already "cheap" guns for the sake of maintaining market share.
As a gun guy, I don't think the 2.0 line of M&P compact pistols is going to significantly help. It has not really worked for the full size line of pistols and it is likely not going to work in the cheaper compact market, especially with a brand new and already successful Glock 19/23 line of pistols.
Look, I am not a huge fan of Glocks, but even I am looking at buying a Gen 5 G19, and guess what? Glock does not need to sell them with rebates! (although it takes REALLY good care of LEO and Military).
As an investor, I am seriously concerned about the future perception of the Smith & Wesson M&P line of pistols.
If you think Revolvers, Smith & Wesson is now the leader. If you want the collectible, buy a Colt... but you can't, so Smith & Wesson, particularly the 686 and 586 if you like blued finish, are the essential cornerstones of the revolver pistols. If you cannot afford a 686, you buy a Ruger GP100. They are reliable as a tank, a complete workhorse, but the fit and finish is not that great but they are hundreds cheaper. Then there is the Taurus line of revolvers which, while they are good, lack the pedigree, but quite cheap.
Glock is in the polymer pistol world what Smith & Wesson is in the revolver world.
The people who cannot afford a Glock (or just want to be different)... buy an M&P pistol, for at least $100 less, plus any rebates.
By continuing to offer the heavy rebates, especially on brand new pistols, Smith & Wesson is continuing to reinforce that image. It IS the GM of the gun world.
As an investor I am worried about people getting used to the brand offering rebates and not buying pistols unless they come with a rebate, and oh yeah, it has to be cheaper than the "good guns" from Glock, Sig, Walther and H&K.
As a gun owner, one who bought a brand new M&P pistol, I would be quite mad at the heavy rebates that just dropped the value of my used gun even more.
If you can buy a brand new M&P 9mm for low $300s with a rebate, or a new M&P 2.0 9mm for high $300s, what does it mean for your used gun value? Mid $200s if you are selling used on a forum, or low $200s or even high $100s if selling to a dealer.
Beyond that, everyone besides Glock is in the rebate or discount game creating a blood bath. When we have a recession, it is only going to get worse.
Is it just guns? Of course not. Even ammo has heavy rebates right now with Vista Outdoor (VSTO) offering rebates on even common AR-15 ammo.
I've been screaming for the ENTIRE YEAR since coming back from Shot Show and seeing the signs confirmed at the show. Since then they have all been decimated... except Cabela's (CAB) which is getting bought out and Ruger (RGR) which was only "hurt" being down only 12.2%.
A 44.5% drop for Vista Outdoor, a 34% drop for American Outdoor Brands, a 49.4% drop for Dick's (DKS), a 55% drop for Sportsman's Warehouse (NASDAQ:SPWH)...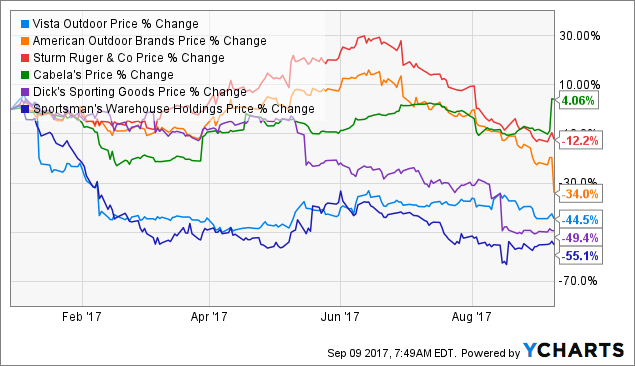 ... but yes, as some Seeking Alpha commenters stated, apparently I know nothing about the gun industry as a gun owner, competitive shooter, an owner of a gun forum, and a regular media attendant at industry shows.
Bottom line, you CANNOT treat these companies as "cheap" based on their prior cash flows or earnings. They are cheap for a reason and anyone who has bothered to see or understand the business would know.
If calendar year Q4 2016 was the PEAK in gun sales and profitability, and logically we know the demand is not going to be there for the foreseeable future and there are no catalysts to keep the sales growing.... why are analysts bothering to base their projections on those peak numbers?
It is as silly as continuing to project Hummer H2 and H3 continuing to sell well AFTER gas prices shot up!?
Here is the thing, less than 1% of the gun owners are EVER going to "wear out" a gun, and whatever component they wear out, they can easily replace. Most of it is cheap springs for the recoil, firing pin, extractor and magazine springs. $20 or less and you are good to go. Very few people will actually "shoot out" a barrel and even that is about $100 for a pistol.
Gun owners are only going to buy so many guns and then they are good. I have fully functional guns as old as over 120 years old and as recent as a few months. Guns are not tennis shoes. Not one was purchased because another one was worn out or needed to be replaced. A gun is a longer-term purchase than a car! I have owned most of my guns longer than any of my cars, with the exception of a 2005 Mazda which I purchased new and is now kept as a third car as a "beater" to go to the range.
When nearly everyone who ever thought about buying a gun has already bought a gun (or 5 or 10 or 30) and there is almost ZERO chance of any new gun control measures being passed in the next three and a half years, where is the growth going to come from? How will we see growth from the Q4 2016 when even gun companies bet on Hillary Clinton becoming president and the imminent gun control.
There is only one area of firearms which may see explosive growth and that is suppressors, or what the media and non-gun people incorrectly term "silencers."
Fortunately, Smith & Wesson acquired a leader in that space and that is Gemtech. In order for that to happen however, we will need new legislation which will remove the costly $200 tax stamps required to buy one along with bureaucracy and paperwork. If that happens however, I am sure there will be many new entrants into the space and the prices will fall just like they did with AR-15s.
FY2016 is unsustainable in terms of Net Income. Can they sell the same amount of units? Sure, if the price is low enough. Why buy one AR for $1,500 when you can buy three at $500 a piece (Yes... AR-15s which shot up to close to $2,000 each after Sandy Hook shooting can now be purchased for under $500).
Firearms sales are at 2015 levels only with the help of HEAVY discounts and promotional prices. What will happen if those discounts stop?
Thanks for reading and looking forward to continuing the conversation!
Disclosure: I/we have no positions in any stocks mentioned, and no plans to initiate any positions within the next 72 hours. I wrote this article myself, and it expresses my own opinions. I am not receiving compensation for it (other than from Seeking Alpha). I have no business relationship with any company whose stock is mentioned in this article.