Defense Stocks For North Korea And The New Cold War
Summary
High tension between North Korea and other countries is likely to keep defense spending strong.
Investors of defense stocks are set to benefit from North Korea and other ongoing threats.
The defense stocks are currently consolidating, but still have upside for the long term.
The nuclear situation with North Korea will keep defense spending on the front burner for the United States, South Korea and Japan. The countries being threatened by North Korea are likely to ensure that they have the latest technology to intercept and defend against a nuclear attack. The defense companies are poised to perform well as they are likely to be awarded contracts by these countries to defend themselves. This is likely to boost revenue for these companies.
The New Cold War: The U.S. and North Korea
The escalation of the North Korea situation has the United States in a new cold war. Recent news shows that Trump threatened to stop trade with any country doing business with North Korea via Twitter. This tweet is most likely targeted at China, which is North Korea's main source of food and energy.
The series of six nuclear/hydrogen bomb tests ordered by North Korea's Kim Jong-un has most of the world on edge. North Korea is not showing any signs of backing down from its nuclear program with the continuation of these tests. Now, South Korea is warning that North Korea may launch an intercontinental ballistic missile [ICBM], based on activity around launch sites.
The most troubling thing coming from North Korea's Kim Jong-un is the reckless nature of some tests and his threats. For example, North Korea threatened to fire a missile towards the U.S. territory of Guam after recently flying a missile over Japan. North Korea appears to be purposely angering multiple nations.
This situation will maintain ongoing demand for high-tech defense systems. This includes systems that can intercept and destroy missiles that have been launched.
Companies that Produce Missile Intercepting Technology
Lockheed Martin (LMT) produces the Terminal High Altitude Area Defense [THAAD] system. The THAAD system uses kinetic energy to destroy a threatening missile. South Korea recently announced that they will deploy four THAAD launchers to help defend the country against an attack.
The THAAD system costs $800 million, so it can be a strong revenue driver for Lockheed Martin. With the threats from North Korea looming, I expect there to be continued interest for producing the THAAD system for the U.S. and for other countries that need the protection.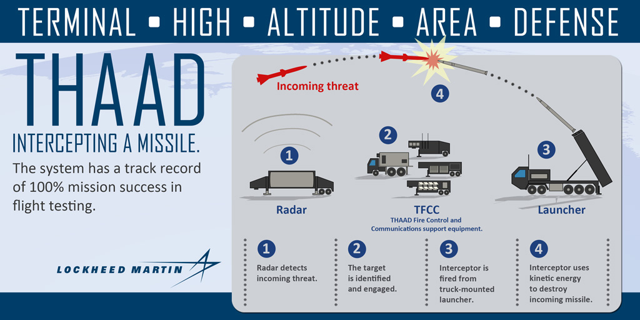 Source: Lockheed Martin
Lockheed Martin also produces the Aegis Ashore system. The Aegis Ashore is a collection of phased-array radars, fire control directors, computers, and missiles. Japan has been leaning towards using Aegis Ashore over the THAAD. Japan announced earlier this month that they plan on installing the Aegis Ashore as a result of the North Korean threats. Japan plans to build two Aegis Ashore systems. This system is estimated to cost $728 million. So, this is also likely to help drive revenue growth for Lockheed Martin as just two Aegis Ashore systems represent almost 3% of the company's expected 2017 revenue of $50.6 billion (consensus).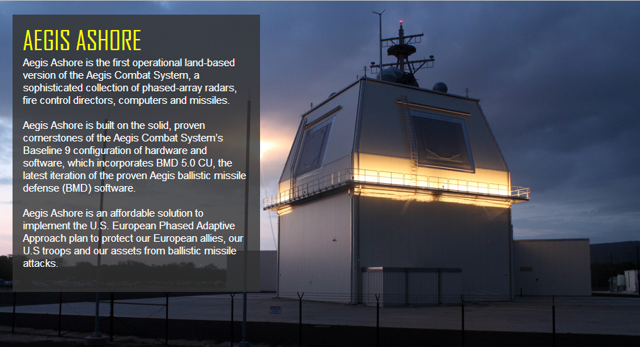 Source: Lockheed Martin
Lockheed also makes the Patriot Advanced Capability 3 [PAC-3] defense system. The PAC-3 can intercept tactical ballistic missiles, cruise missiles, and aircraft at lower altitudes than the THAAD and Aegis systems.
Raytheon (RTN) is another company that produces missile defense systems. Raytheon makes radars, interceptors, space sensors and missiles. Thirteen countries rely on Raytheon's Global Patriot Solutions. Raytheon's radars are continuously operating to detect threats.
Raytheon recently successfully tested the SM-6 missile to intercept a medium range ballistic missile in its terminal phase at sea. The company received multiple contracts worth over $300 million in 2017 for the SM-6. Raytheon was also awarded a potential $653-million contract from the U.S. Navy for the SM-2 missile. With tensions running high with the North Korea situation, I expect Raytheon to continue to get additional contracts for the SM-6, SM-2 and other Global Patriot products.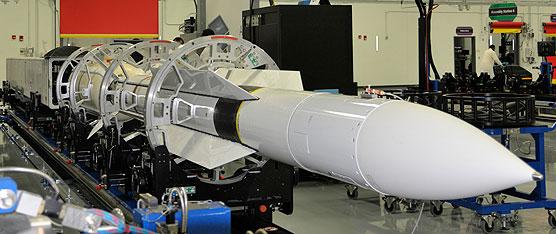 The SM-6 missile. Source: indiandefence.com
Boeing (BA) produces the Ground-Based Midcourse Defense system. This system is designed to detect, intercept, and destroy long-range ballistic missiles during the midcourse phase of flight. This system detects missiles during the boost phase, allowing the counter missile to destroy the threat through the force of collision.
The U.S. tested Boeing's missile defense system in May 2017. The test was successful as the 'threat' ICBM missile used for the test was detected, intercepted, and destroyed. This system could help to defend against the ICBM missiles that North Korea is developing. Therefore, there are likely to be more orders for Boeing's system to help countries like South Korea, Japan and the U.S. to increase the amount of defense against North Korea.
Boeing's stock has a bull flag formation, where the stock has been consolidating between $232 and $242. Catalysts such as new contract announcements and positive earnings reports will allow the stock to break out of this range.
Northrop Grumman (NOC) makes the Ground-Based Midcourse Defense Fire Control and Communications system [GMD FCC]. The fire control aspect constructs a real-time picture of an attack in progress. This information is communicated to areas that control interceptors that can destroy threatening missiles.
Northrop Grumman and Boeing were awarded contracts worth $328 million and $349 million, respectively, to develop the U.S. Ground-Based Strategic Deterrent program. The program is designed to replace the older Minuteman missiles.
Investing Outlook for Defense Stocks
I expect all four of these companies to continue to get a steady amount of contracts from the U.S. and our allies. North Korea is just one threat that is currently on the front burner. Others such as Iran, China, Russia, and terrorists in various places will also be a catalyst for U.S. defense spending going forward. The U.S. and their allies are likely to continue to boost defense spending to have the latest missile defense technology.
Some of the anticipated contract growth has been priced in. All four companies are trading above the S&P 500's forward P/E of 18.9.
Lockheed

Boeing

Raytheon

Northrop Grumman

Forward PE

21

22

21

19.6

Expected 2018

EPS Growth

12%

7%

11.7%

8%
Source: finviz.com (consensus)
Although the defense stocks trade above the market's average, they are not trading too far away from the average. At these valuation and growth levels, I expect the stock prices of these companies to do the following:
I expect Lockheed Martin's and Raytheon's stocks to outperform the S&P 500 over the next 12 months. Lockheed's and Raytheon's double-digit expected earnings growth should help drive the stocks to outperform the S&P 500, which is expected to grow earnings at about 6% in 2018.
I expect Boeing and Northrop Grumman's stocks to trade closer to the S&P 500's price appreciation. This is based on their single-digit expected earnings growth.
That's what I think. Let me know what you think in the comment section below.
Disclosure: I/we have no positions in any stocks mentioned, and no plans to initiate any positions within the next 72 hours. I wrote this article myself, and it expresses my own opinions. I am not receiving compensation for it (other than from Seeking Alpha). I have no business relationship with any company whose stock is mentioned in this article.
Additional disclosure: If you like my analysis, click on FOLLOW at the top of the article near my name. That will allow my articles to display on your homepage as they are published. The article is for informational purposes only (not a solicitation to buy or sell stocks). I am not a registered investment advisor. Investors should do their own research or consult a financial advisor to determine what investments are appropriate for their individual situation. This article expresses my opinions and I cannot guarantee that the information/results will be accurate.