Jack Henry & Associates (NASDAQ:JKHY) is a company that I would love to have in my portfolio: it has a strong moat with few to no competitive threats with a long record of earnings and dividend growth to go along with high profitability metrics, a fortress balance sheet, and a consistently shrinking share count. However, it has risen about 15% so far this year and commands a premium valuation (P/E of 32.32) even as growth rates have stalled, making it considerably overvalued at present prices.
Investors should wait until the price drops to a more reasonable level (low-to-mid $80s) before initiating a long-term position.
JKHY's moat comes from its provision of core operating software for accounts at small and midsize financial institutions. As a critical operating system for these institutions that becomes deeply entrenched in their daily transaction operations, companies and their employees become acclimated to and dependent on Jack Henry's system, making them highly unlikely to switch products. The high expense, necessity for reliability, and extensive infrastructure installation required to install and integrate this type of software system provide additional significant reasons why companies stick with highly-reputable and well-established JKHY, providing a significant barrier to entry for upstart technology challenges.
Further padding profits are JKHY's ancillary product offerings that sync with its core software, making it convenient for the firm to be the all-purpose provider for banks' software needs. The company also benefits from significant brand power (from many years of service) and customer satisfaction (nearly all customers state that their customer service experience either "exceeded expectations" or "far exceeded their expectations"). Meanwhile its ability to attract top talent is boosted by its superior treatment of employees (rated a top place to work by six different organizations last year).
These competitive advantages have led to a long record of earnings and dividend growth fueled by a highly profitable business model: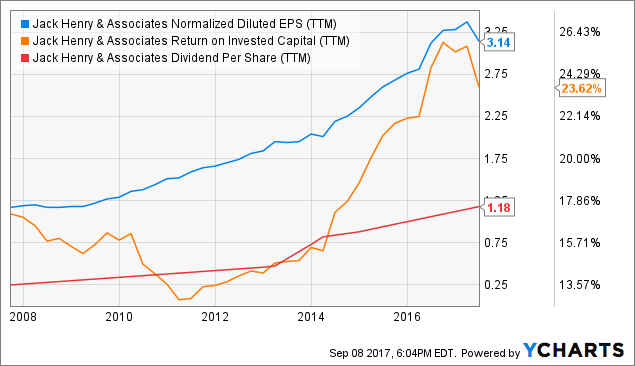 JKHY Normalized Diluted EPS (TTM) data by YCharts
The company has continually reinvested in its business model and distributed earnings back to shareholders while also reducing float considerably, which has served to further support dividend growth by keeping the payout ratio low: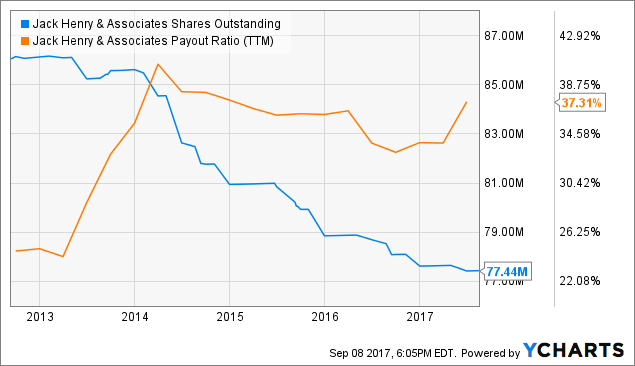 JKHY Shares Outstanding data by YCharts
With just a 37% payout ratio aided by ongoing float reduction and moat-protected earnings, the company has considerable ability to grow its dividend for the foreseeable future. An additional tailwind for growing shareholder capital returns is the company's fortress balance sheet, containing little debt (0.05 Debt-to-Equity ratio) and a 2.30 cash-to-debt ratio, enabling it to invest in further share repurchases and dividend hikes.
Tailwinds for the company's performance are found in the rising rate/deregulating environment, both of which should boost client profitability and therefore their ability to invest in additional services from JKHY. Additionally, in this profitable environment, banks should be more secure (fewer closures) and even new banks may open, adding further demand for JKHY's services. Finally, a recent employee engagement survey reflected broad employee confidence in the company's future. 74% of employees had great confidence in the future of JKHY (against the benchmark value of 54%) and 23% had confidence, while only 3% didn't (against the benchmark value of 8%). Meanwhile, 86% of employees strongly believed in JKHY's values (against the benchmark value of 67%) and 13% believed in them, while only 1% didn't (against the benchmark value of 4%). When the people who know a company best feel very good about its future prospects, that is a very encouraging indicator for investors.
The main threats to its future are potential cyber attacks that could undo the company's pristine reputation and consolidation trends within the financial industry that could reduce JKHY's number of clients. While these threats are very possible, the company's strong business model and industry tailwinds far outweigh the risks in my view. Analysts believe that the company will be able to grow EPS by 12% over the next five years, up from 10.37% annual growth over the past five years. Despite their bullish outlook, they still view the stock as overvalued with a zero buy ratings on the stock and a consensus price target ~5% below current price levels. A look at several valuation metrics seems to indicate the same thing:
| | | | | |
| --- | --- | --- | --- | --- |
| | JKHY | Industry Avg | S&P 500 | JKHY 5-yr. Avg |
| P/E | 32.4 | 37.7 | 21.5 | 25.2 |
| P/B | 7.6 | 4.9 | 3.0 | 4.8 |
| P/S | 5.6 | 2.2 | 2.1 | 4.1 |
| P/CF | 22.3 | 15.4 | 13.5 | 16.3 |
A DCF model assuming the company sustains its current 5-yr. 10% annual EPS growth rate over the next five years implies that the company is fairly-to-over valued by offering good security through its wide moat, but only returning 8% annually at present prices:

Investor Takeaway
For a company with such impressive strengths, a 10% annual return is enough to attract me. Based on a 10% annual EPS growth rate, I believe fair value is around $86-87 per share, which is also about $10 cheaper than the average analyst price target. I view JKHY as a hold and a buy in the mid-to-low $80s.
Disclosure: I/we have no positions in any stocks mentioned, and no plans to initiate any positions within the next 72 hours.
I wrote this article myself, and it expresses my own opinions. I am not receiving compensation for it (other than from Seeking Alpha). I have no business relationship with any company whose stock is mentioned in this article.