Summary
Crude oil sold off on Friday to end the recent week. While I had a short bias last week, I was hesitant to take on exposure due to the potential price volatility that could have come with the hurricanes. Over the past week, I have shifted from a bearish bias to a neutral bias, which I will discuss below.
Here are my week-ahead indicators for crude oil. I will take a swing-trading long position if I can rate at least one trend indicator and two other indicators as green. I will take a swing trading short position if I can rate at least one trend indicator and two other indicators orange or red. While physical supply and demand is a long-term factor on price, in the short run, price movement is governed by money flows. The supply and demand for futures contracts may or may not reflect physical fundamentals in the short run.

Keeping It Simple
There should be little doubt regarding the current daily trend in crude oil. A downtrend is defined by a series of lower highs and lower lows, such as we have seen in crude oil since February 2017. The next key support and resistance tests will occur at the top and middle trend lines below.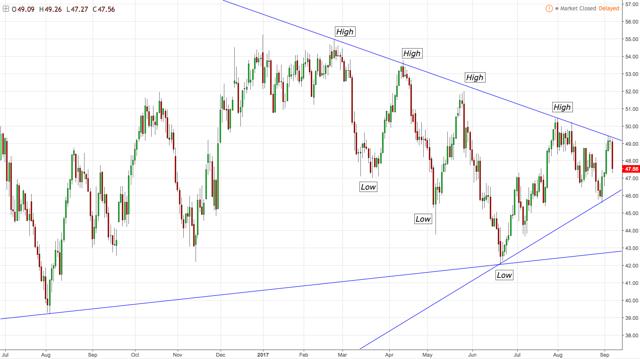 Crude oil was rejected at the 200-DMA and the downtrend line, and broke below past support to find support in the range of the 50-DMA and 100-DMA. I had notified my subscribers to look out for this possibility.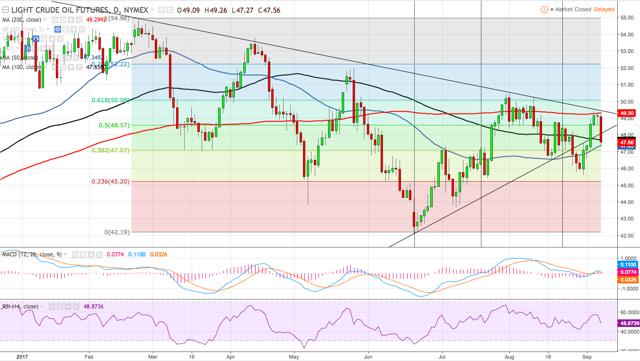 Short-Term Trend
Looking at a four-hour chart, we see that crude oil encountered resistance at the monthly R1 fibonacci pivot point as well as the 200-DMA. If crude oil breaks below $46 convincingly, then it will break below both a key support line and the monthly Fibonacci S1 pivot. We might see price volatility this week - up or down or both - as more hurricane news hits the wires next week. A break below $46 and $45 may suggest more additional downside ahead.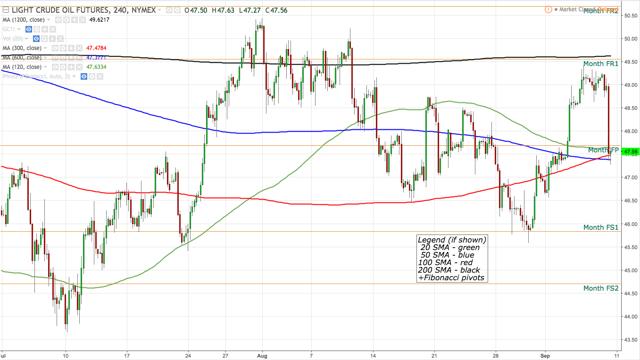 Crude Oil Relative Value
I have created two value indicators for crude oil, and I am including one here so that the reader does not get "blinded by science." This indicator graphically shows when crude oil is relatively over- or undervalued to E&P firms. This indicator shows crude oil moving from a very high overvalued reading to just slightly overvalued. This indicator may also indicate that the E&P firms have underperformed versus crude oil this year, and they might rally to catch up.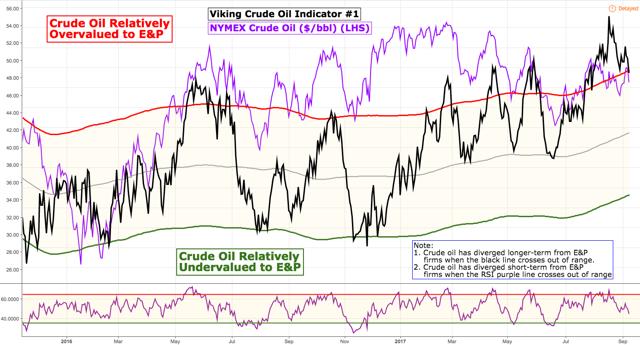 Crude Oil OPEX Magnets
Each day, I compile all of the near-the-money options in the NYMEX crude oil market to determine the "sweet spot" or "price magnet" that optimizes the value of these options at several different expiration dates. This OPEX magnet can be thought of as a put/call ratio indicator on steroids. For an introduction to OPEX magnets, please read my introductory article.

Crude oil options will expire on September 15th - this coming Friday. The current OPEX magnet is $48/bbl - right in range of current price. So, I rate the overall OPEX magnet as neutral. On the other hand, the options open interest change over the past week points to a value more than $50/bbl, which could suggest upside ahead this week.
Crude Oil COT Report
Managed money traders are covering shorts and adding longs and have increased their net long position. The managed money traders are the "hot money" traders who enter and exit positions more often than the producers, so their activity often coincides with price movement. The chart below is from John Kemp from Reuters. If you want to be more educated on many aspects of crude oil and related products, I suggest that you follow him on Twitter and/or get his daily e-mail on a variety of crude oil and other topics. He is a great resource.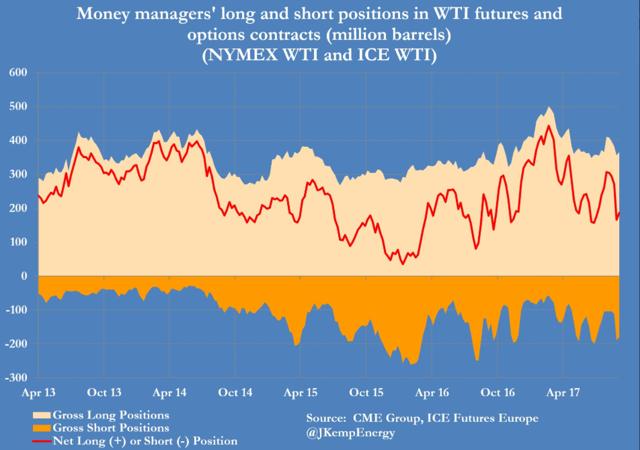 The largest traders in NYMEX crude oil are net short - but, the largest traders have reduced their net short exposure for five weeks in a row (the difference between the two histograms is shrinking).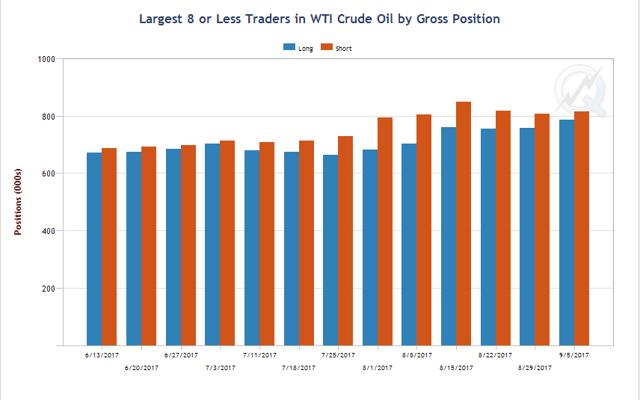 (Source: CME Group)
Current Trading Bias
Here are my current biases with respect to what might happen with crude oil and three ETFs that have high correlation to it.
| | |
| --- | --- |
| Security | Swing Trading Bias |
| Crude Oil Futures | Neutral |
| United States Oil ETF (USO) | Neutral |
| Energy Select Sector SPDR ETF (XLE) | Long if oil breaks to the upside |
| SPDR S&P Oil & Gas Exploration & Production ETF (XOP) | Long if oil breaks to the upside |
Commodity Conquest
If you enjoyed this article, you might consider Commodity Conquest. I provide daily value indicator updates on oil and gold as well as weekly reports and deep value picks. It's designed for those with a keen interest in gold, oil, and deep value. It is also priced so that it can be supplemental to other services. My first three deep value picks all returned over 20% in the first two months. Come and see!
Disclaimer and Notes
All charts above were taken from Trading View unless otherwise indicated, and all tables were created by Viking Analytics unless otherwise indicated.
This article was written for information purposes, and is not a recommendation to buy or sell any securities. All my articles are subject to the disclaimer found here.