Advanced Energy (NASDAQ:AEIS) is a company that has achieved something rather rare - impressive growth with no long-term debt. The balance sheet is very strong, and cash flow has been equally impressive. Therefore, we think a further dive into this company is warranted.
Business Overview and Outlook
Advanced Energy has been around for over 36 years, focusing on power conversion and control technologies. Its power products enable manufacturing processes that use thin films for various products. These include fabrication processes for semiconductor, flat panel display, data storage products, solar cells, architectural glass, and other advanced product applications. Its remote plasma sources are also used in film processing industries and gas abatement applications. Additionally, the company produces high voltage power supplies for a wide range of applications. Precision optical temperature measurement pyrometers are manufactured for semiconductor and other industrial applications. The company's SCR power controllers are used for industrial manufacturing processes that require exacting material melting, heating, drying, or forming. Advanced Energy also offers PV heaters to warm water from solar power. Finally, the company offers repair services to go along with this array of products.
The market for power conversion solutions is large, and there are many competitors. Advanced Energy has been able to grow by focusing on highly engineered products that solve its customers' toughest problems. The company's products are sold worldwide to about 200 OEMs and integrators, as well as directly to more than 1,500 end users. Sales to the ten largest customers accounted for 67.7% of sales in 2016. We view it as a negative that the percentage of sales attributed to the top ten customers increased for each of the last three years. Applied Materials (AMAT) is the largest customer and accounted for a rather concerning 35.2% of sales in 2016. Wafer fabrication equipment supplier Lam Research (LRCX) accounted for another 20.7% of sales. This customer concentration is the biggest risk for investors to consider, given that losing either of these customers would obviously have a significant impact. The table below shows the sales makeup for Advanced Energy by country.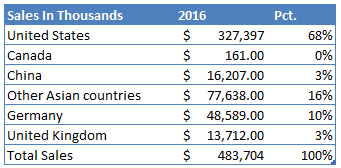 (Source: 2016 Annual Report)
Long-term demand for semiconductors will be the main driver of sales growth for Advanced Energy. Growth in areas like IoT and artificial intelligence will help maintain and grow semiconductor demand. Automotive and industrial markets are also expected to drive semiconductor demand. The average semiconductor count per vehicle continues to increase, and semiconductors will also benefit from the trend toward renewable energies. Overall, the global semiconductor equipment market is expected to report a CAGR of 7.6% between 2017 and 2025. This would be a significant level of growth, considering the largest semiconductor chip maker, Intel (INTC), generated $54 billion in revenue in 2016. The graph below shows historical semiconductor sales growth and some estimates for 2017 onward.
Semiconductor sales revenue worldwide from 1987 to 2019 (in billion U.S. dollars)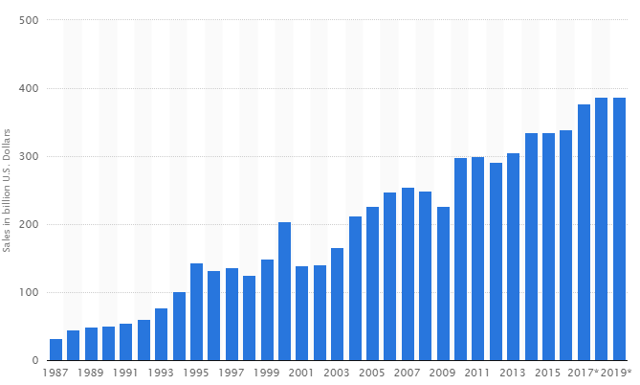 (Source: Statista)
As far as recent results for Advanced Energy, revenue grew by 39.7% in the second quarter of 2017 compared to the same quarter in 2016. Non-GAAP EPS from continuing operations grew by 67.1% year over year. The company sees 3D NAND as the biggest growth driver in its semiconductor segment for the next few years, with high potential demand coming from China. The Industrial and Service segments also posted impressive results with positive outlook. For the industrial segment, it covered the recent Excelsys acquisition, a well-known DC power supply company. This acquisition was highlighted as part of Advanced Energy's strategy of diversifying its industrial business. Excelsys adds low-power, high-density configurable solutions to the company's offerings.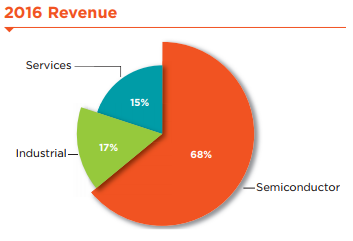 (Source: Investor Fact Sheet)
Valuation
Advanced Energy grew EPS by an average annual rate of 28.4% over the past five years. However, we do not need to assume that the company will be able to continue to grow at this impressive rate to view it as undervalued based on a discounted cash flow evaluation. Finviz provides an overly optimistic forecast of 47.4% for annual EPS growth rate over the next five years. For our discounted cash flow analysis, we assumed a future P/E ratio of 19, which is equal to the current P/E ratio, and used a 10% discount rate. Using these inputs, a DCF model shows that the company needs to grow by at least 10% a year on average for the next five years to provide a 10% annualized return to shareholders. We also looked at a 10-year DCF model, which assumed a given growth rate for the first five years and then half the growth rate for the next five years. This model requires a growth rate of 14% for the first five and 7% for the next five years to show the company as a buy at current levels. Both of these models did not account for any share buybacks, which seems reasonable given that Advanced Energy's total outstanding share count has only been reduced slightly over the last four years. We think the company can achieve these EPS growth targets, and therefore, think the shares are at least slightly undervalued at the current price.
Additionally, we like the company's strong balance sheet, which shows no long-term debt. The current ratio is an extremely comfortable 5.10, and the total assets-to-total liabilities ratio stands at 3.59. The retained earnings balance has also shown steady growth since 2015 after the acquisitions of HiTek Power Group in 2014 and the acquisition of intellectual property from AEG Power Solutions' Power Control Modules in the same year. The company has also shown consistency in its operational performance. Consider that operating income was 26.1%, 25.8%, and 23.5% of sales in 2016, 2015, and 2014, respectively. Operating expenses as a percentage of sales have remained stable at about 52% in the last three years. R&D expenses were 9.2%, 9.5%, and 10% of sales in 2016, 2015, and 2014, respectively. Basically, all expenses remained impressively stable over the last three years, including SG&A, which accounts for about 16% of sales. Cash flows over the last five years are equally impressive, in which cash from operations easily covered capital expenditures and even the 2014 acquisitions.

(Source: Barchart.com)
Other profitability metrics also provide for more confidence in Advanced Energy's prospects going forward.
(Source: Finviz)
Given the operational performance and growth prospects of Advanced Energy, we think the company will continue to outperform the Nasdaq as a whole over the next five years just as it has over the past five years per the graph provided below, although likely not to the same extent.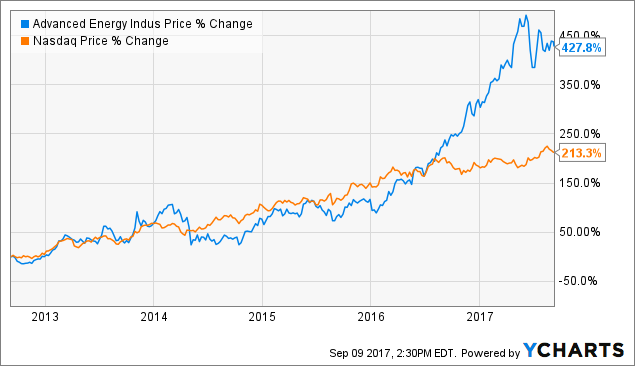 AEIS data by YCharts
Final Thoughts
We think that Advanced Energy Industries is slightly undervalued at the current level. When a great company is slightly undervalued, we think it makes sense to initiate a position, so we rate this one a buy. We believe the company will be able to meet or exceed the average annual EPS growth estimates used in our discounted cash flow models discussed above. For investors interested in using options to enhance returns, we think a buy-write strategy makes sense in the case of Advanced Energy. To give you an idea on the covered calls that an investor could sell, consider the January 19th expiration date. An investor could sell a call with a strike price of $90 and receive $70 per contract sold based on the current bid of $0.70 per share. This option would not be exercised unless the stock price increases by over 25% in slightly over four months. If the contract expires worthless, the seller receives a return of about 2.4% on an annualized basis for selling the call option.