Everybody loves an underdog story. Tintri (NASDAQ: TNTR), one of the smallest-cap companies to go public this year at $7 and a market cap of $216 million, had once hoped to fill that role in investors' eyes. Tintri's awful Q2 print has dashed those dreams.
When I published my prior article on the stock, shares were rallying to near-IPO levels in anticipation of a recovery after Q2 earnings. The reverse turned out to be true, with the company reporting lackluster growth and a crazy burn rate - the company is losing more money on an operating margin basis than nearly every other company out there. Following Tintri's Q2 print, the stock tanked 32% to settle at an all-time low.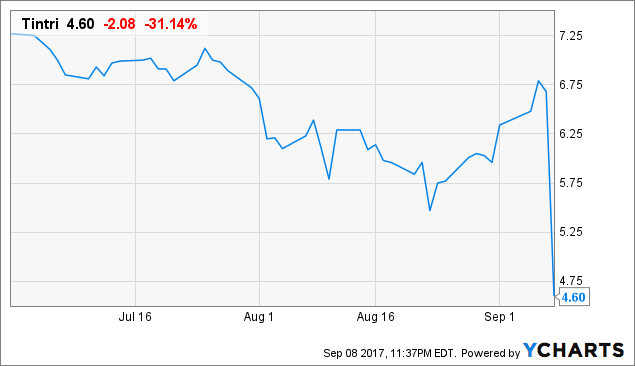 TNTR data by YCharts
This article will recap Tintri's Q2 performance and discuss the most pressing item on the horizon: its evaporating liquidity, which may soon force it to raise capital (if it's even able to). Tintri competes in the harsh market for NAND flash storage, where products are commoditized, and dire competition for ever-dwindling supplies of NAND have severely pressured the margins of end-product vendors like Tintri. Only the flash storage players with scale (namely, Western Digital (NYSE:WDC) and Pure Storage (NYSE:PSTG)) have the bandwidth and cash to survive in the flash storage wars. If you think this is an exaggeration, it's really not - raw input prices for Tintri's flash products have increased an approximate ~15-20% this year, cornering a company that can barely afford any amount of margin compression.
The main investor takeaway: Tintri is no longer just a wait-on-the-sidelines story; it's a downright short. Barring a miracle in which it can raise ample funds in a follow-on offering, or (even more unlikely) convince creditors to increase the company's leverage, Tintri looks likely to be headed to bankruptcy court within the next 8-12 months.
Q2: Top Line Disappointing, Bottom Line Scary
Tintri reported $34.9 million (+27% y/y) of revenue in Q2, a stark deceleration from Q1's 33% growth. Analysts had expected $35.7 million (+29% y/y), and a top-line miss for a new IPO's first-ever earnings is similar to a mortal sin that takes forever to recover from, if ever.
Let's put Tintri's disappointing growth in perspective. With a top line of approximately $35 million, Tintri is on a run rate of $140 million. When Nutanix (NASDAQ: NTNX), a storage peer that went public in 2016, was at a similar scale ($127 million in revenues in 2014), its top line nearly doubled the next year to $241 million. The following year revenues nearly doubled again, to $445 million, and just a few weeks ago, the company capped off FY17 with yet another near-doubling year, surprising analysts with its $767 million top line.
Tintri looks nowhere near capable of doubling its revenues anytime in the next three years, let alone all three years consecutively. Tintri looks nowhere near touching a growth rate of even 35 or 40% ever again. When the growth engine stalls, tech stocks die.
Margins and the Balance Sheet: Doom is in the Cards
If revenue had been the only worry, perhaps the selloff wouldn't have been so brutal. But the top-line miss is only half the story. Tintri looks dangerously close to running out of cash, a scenario few tech companies ever find themselves in - because they generally have the ability to turn to a follow-on offering for more cash, or raise debt capital.
Not Tintri. With its stock carrying nearly half the valuation at the time of its IPO (and even then, the IPO had only raised $56 million in net proceeds) and its balance sheet already levered with $68 million of debt and not a penny of cash flow to support it, Tintri has neither liquidity nor access to capital.
On its Q2 balance sheet, Tintri reported $80.6 million in cash - a fine number, if not for the $68.2 million in debt it also holds, leaving its net cash position at a mere $12.4 million.
Tintri's debt consists of two revolvers, according to its S-1 filing: a $20 million senior secured revolver with SVB (NASDAQ: SIVB) and a $60 million junior revolver with TriplePoint, a venture debt provider. With current drawn debt at $68 million, the facilities are nearly maxed out. They both expire in mid-2018 - the SVB facility in May 2018 and TriplePoint's in August 2018. Neither lender is likely to extend its graces much longer.
Tintri's losses are exacerbated by its dwindling gross margins, caused by the price spike in NAND flash. Gross margins dropped a breathtaking 8% in Q2, also sending operating margins to an unheard-of -141% (down from 89% in the prior year quarter). See chart below:
Figure 1. Tintri Q2 results


OCF in the six-month period from February 2017 to July 2017 totaled -$41.5 million, and factoring in $2.1 million of capex, Tintri burned $43.6 million of cash in this year alone - nearly half of its available liquidity.
With margins and losses showing no signs of improvement, the company looks set to burn through the rest of its cash in about one year - about the same time that its debt facilities come due.
With limited avenues to additional capital, this looks like a bankruptcy scenario to me.
Takeaways
The main investor takeaways:
Despite its rapid stock decline, Tintri is neither a bargain stock nor a growth stock; it's simply one waiting to crash.
Industry dynamics are extremely challenging right now, with the flash shortage pressuring even the largest and most well-funded of storage players.
The little guy rarely wins in this scenario, especially when its cash is drawn thin and a pile debt is coming due soon.
There are few times I would ever call a short on a stock, but Tintri would be the exception to the rule.
Disclosure: I/we have no positions in any stocks mentioned, and no plans to initiate any positions within the next 72 hours.
I wrote this article myself, and it expresses my own opinions. I am not receiving compensation for it (other than from Seeking Alpha). I have no business relationship with any company whose stock is mentioned in this article.