A lot of investors have been questioning how to position their portfolio in recent months as upside momentum for global equities slows. The answer may be to reduce risk as safe-haven assets across the globe break out this week. As the Japanese yen, gold, and Treasury bonds continue to move higher, funds could further flow out of the stock market, leading to a correction lower over the next year.
The chart below is of the CurrencyShares® Japanese Yen ETF (FXY), representing the yen/U.S. dollar currency pair. The yen broke higher last week after consolidating throughout the year. This breakout was largely due to continued economic concern in the U.S., on top of geopolitical concerns regarding North Korea.
Sentiment regarding the U.S. economy and its prospects under President Trump are diminishing. For one, Trump's relationship with economic advisor Gary Cohn looks to be eroding. Following some of Trump's controversial comments in recent weeks, Cohn has tried to distance himself from the President. President Trump, who seemingly demands loyalty from his staff is allegedly not taking this well, and there is talk of a falling out between the two. This does not bode well for U.S. equity markets, which have sold off on previous talk of Cohn leaving the White House.
Gary Cohn is a shrewd businessman, who many believe is essential in getting pro-growth policies passed over the coming years. Should he leave, economic uncertainty will rise, and markets will likely experience selling pressure.
Moreover, there remains a lot of gridlock in Washington, meaning the likelihood of passing tax and regulatory reform is not good over the foreseeable future. The longer it takes for Washington to come together on pro-business policies, the more likely it is investors will lose faith and sell out of riskier assets such as stocks.
Additionally, geopolitical risks across the globe are also increasing. South Korea is now preparing for North Korea's next act of aggression as North Korea continues to push the limits of its enemies. Should North Korea make another move to launch missiles at Japan, Guam, or another U.S. ally, it is likely to escalate tensions, and lead investors to sell risk assets aggressively.
Although it is largely uncertainty that plagues markets currently, this uncertainty is causing investors to add hedges, and safe-haven assets to their portfolios. With the yen breaking out to the upside last week, expect further momentum buyers to follow in coming weeks.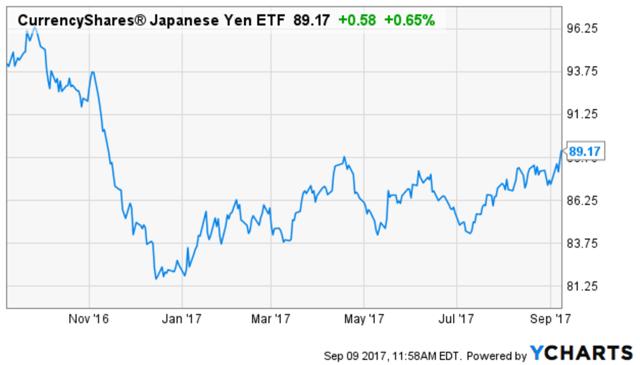 Moreover, gold is also moving higher after breaking out last week. The chart below is of the SPDR® Gold Shares (GLD). Gold is a currency alternative, and traditionally appreciates in value during times of uncertainty. With the narratives listed above, alongside a weakening U.S. dollar, investors have flooded into gold. As long as interest rates remain low, or continue to fall, pushing the price of the dollar down, gold should continue to trend higher.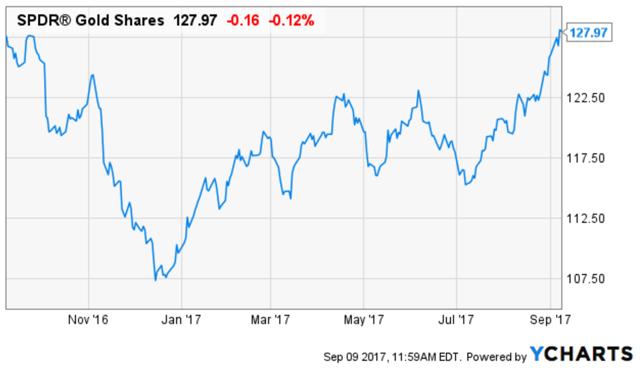 Finally, the iShares 20+ Year Treasury Bond ETF (TLT) is shown below. Although the Federal Reserve has been raising interest rates this year, many believe the pace of hikes will slow in coming months. This is due to economic concerns, listed above, leading the Fed to be less certain about the efficacy of tighter rates at the current time. This also follows the resignation of Fed Vice Chairman Stanley Fischer, who was one of the strongest supporters of tighter monetary policy.
As the Fed potentially becomes more fundamentally dovish on policy, interest rates could continue to move lower after spiking significantly higher in the aftermath of the U.S. Presidential Election. This should support bond prices, pushing interest rates lower, and keep upward momentum for both gold and the Japanese yen.
Ultimately, economic conditions currently support demand for safe-haven assets. Economic and political uncertainty in the U.S. is leading to lower growth and interest rate expectations. Moreover, geopolitical tensions with North Korea is causing investors to be cautious of taking too much risk in their portfolios. As upward momentum for riskier assets decline, reducing exposure to global equities by way of selling current holdings, or shorting the market outright is appropriate. Meanwhile adding exposure to gold, Treasury bonds, as well as the yen could also protect the portfolio and benefit as risk assets potentially selloff over the coming year.
Disclosure: I am/we are long FXY, GLD, TLT.
I wrote this article myself, and it expresses my own opinions. I am not receiving compensation for it (other than from Seeking Alpha). I have no business relationship with any company whose stock is mentioned in this article.