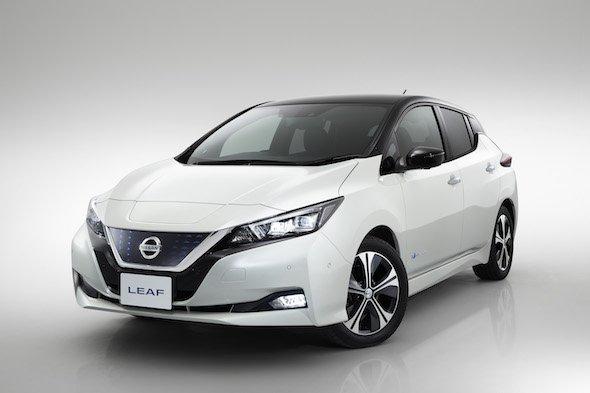 Nissan LEAF due for release in the US in 2018
The news comes thick and fast in the battery electric vehicle (BEV) space, with concrete action from Nissan (OTCPK:OTCPK:NSANY) to make their LEAF offering more competitive with Tesla's (NASDAQ:TSLA) Model 3. At the same time Toyota (NYSE:TM) continues to have an ambiguous attitude towards BEVs, as Chairman Takeshi Uchiyamada speaks out to dismiss talk of Toyota aggressively driving its BEV program. Here I try to makes sense of these conflicting positions.
Nissan LEAF launch
An upbeat report last week concerning the revamped Nissan LEAF suggested that major strides had been made to take the LEAF beyond its niche position as a popular BEV with a very limited range. This vehicle has sold well as a short range city-limited vehicle. The news indicated that the news LEAF seeks to break this mold. It is a much sharper car than existing models of the LEAF, with improved aerodynamic design.
Range is a big issue with the LEAF and reports indicate that the range on the 2018 model will be 235 miles, significantly up from the current Nissan Leaf Acenta's range of 155 miles. This is competitive with the small battery version (220 miles) of the Tesla Model 3, but it doesn't compete with the more expensive larger battery version of the Model 3 (310 miles). The LEAF battery seems quite small at 40 kW, but it has the same footprint as the earlier model while having 30% more capacity. It has 0-60 mph performance of 7.9 seconds. It can be charged to 80% in 40 minutes with a quick charger (16 hours with a 3 KW charger).
The new LEAF features Nissan's ProPILOT driver assist technology, which has some autonomous driving features and also includes the first appearance of Nissan's ProPILOT Park, which automatically guides the vehicle into a parking spot. Much of the driving can be controlled with the accelerator pedal (in e-Pedal mode), with the conventional brake pedal only needed for aggressive braking. The autonomous driving features clearly set out in the direction of the Tesla Model 3.
The LEAF will go on sale in Japan on 2 October of this year and in the US, Canada and Europe in January 2018. Nissan is working with the Indian Government and expects to announce a long term plan for India soon according to Daniele Schillaci, Nissan Executive VP Global Marketing and Sales. The Nissan LEAF could find a large and very interesting market in India.
Toyota Chairman Takeshi Uchiyamada says that BEVs are in a distant future and ICE cars are here to stay
It is becoming clear that Toyota is behind in the switch to electric vehicles as it now has no fully electric models after discontinuing the Rav4 EV (which had a powertrain made by Tesla).
Here is what Chairman Uchiyamada said last week :

"I must say upfront that we're not against electric vehicles. But in order for electric vehicles to cover long distances, they currently need to be loaded with a lot of batteries that take a considerable amount of time to charge. There's also the issue of battery life, But as laws and regulations (that encourage the development of electric vehicles) come into effect in places like China and the U.S., car makers will have no choice but to roll out electric vehicles or risk going out of business. Toyota is no exception, but we're skeptical there would be a rapid shift to pure electric vehicles, given questions over user convenience."
One concludes from this pretty clear statement that at least Toyota's Chairman thinks that battery technology is too immature and that more needs to change in the regulatory space before Toyota will takes electric cars seriously. He seemed enthusiastic about big improvements by Toyota in fuel economy that will translate to their V6 and V8 offerings.
When one compares Chairman Uchiyamada's statement with those of key executives in Volvo (OTCPK:OTCPK:VLVLY), Volkswagen (OTCPK:VLKPY) and Daimler (OTCPK:DDAIY), one gets a sense of how far off the pace Toyota has become.
Whereas other car companies have reference to their electric vehicle programs, a tour through the Toyota.com website gave nothing other than hybrids from a search for electric vehicles. So who is in charge? Late last year, a small and highly focused electric car division was formed to fast track an electric vehicle program; this involves the Toyota President Akio Toyoda, two senior Vice-presidents and Koji Toyoshima, the chief engineer of the Prius hybrid. My expectation was that with such senior executive involvement this meant Toyota was in catchup mode.
Last week's announcement by Toyota Chairman that electric cars are not expected to happen quickly, suggests an internal struggle about Toyota's priorities. It could be that 92 year old Honorary Chairman Shoichiro Toyoda has been brought into the discussion as he said recently that it is important to have a "resolve to open up the future" and a need to go back to the founding spirit. President Akio Toyoda has also weighed in with a comment about the challenges of shifting from gasoline to electric vehicles and the emergence of autonomous driving and ride sharing services. He said recently that Toyota is navigating "uncharted territory".
Meanwhile the response from Shekar Viswanathan, Vice-Chairman and Director of Toyota's Indian subsidiary Toyota Kirloskar Motor, to the announcement in India about a punitive tax on hybrid vehicles because they have an ICE (Internal Combustion Engine), seems quite plaintive and focuses on job losses in the ICE industry.
One can't help but conclude that Toyota really hasn't taken on board the fact that over 400,000 people in the US put down a deposit on the Tesla Model 3 sight unseen, and that the Indian Government really does plan to push BEV developments hard and give no quarter to cars with an ICE, even if they are hybrids.
The contrast between the Nissan and Toyota approaches to the BEV developments in India is stark.
It is really important for Toyota's future to get this resistance to BEV developments resolved.
Conclusion
There is a lot going on in the electric vehicle space, which has great relevance not only to investors in the car industry, but also the oil industry. Hitherto what is happening in India might not have been of much interest to investors, but today the intention by the Indian Government to transition to BEV cars by 2030 is creating a lot of interest. I've shown here that Toyota isn't coping well with the intention by the Indian Government to penalise hybrid cars because they have an ICE, while Nissan is embracing the change with its new LEAF BEV. It is a time for Toyota investors to be nervous and Nissan investors to pay attention. I'm not sure that Nissan has done enough with the new LEAF to be a serious competitor for the Tesla Model 3, but the Indian market looks really interesting.
I'm not a financial advisor, but I have an interest in the dramatic changes in energy and transport that are shaking up many established companies. If my commentary helps inform you investment decisions please consider following me.
Disclosure: I/we have no positions in any stocks mentioned, and no plans to initiate any positions within the next 72 hours.
I wrote this article myself, and it expresses my own opinions. I am not receiving compensation for it (other than from Seeking Alpha). I have no business relationship with any company whose stock is mentioned in this article.
Editor's Note: This article discusses one or more securities that do not trade on a major U.S. exchange. Please be aware of the risks associated with these stocks.