Note: There is much greater liquidity on the German Stock Exchange under the ticker WDI.
Note: amounts are in Euros unless otherwise specified.
Introduction
It is estimated that e-commerce will keep growing at double-digit rates during the next few years and that people will use less cash as a means of payment. Under these circumstances, PayPal Holdings (PYPL) is starting to welcome some new serious competitors, eager to grab market share and get a slice of cake.
This is where Wirecard AG (OTC:OTCPK:WRCDF) (OTC:OTCPK:WCAGY), one of its fastest-growing competitors, appears.
I invested in this company at € 55.01 per share in May this year. Despite having obtained 30% returns in only 4 months (and with no short-term plans of selling shares), I believe that its current price is still an attractive investment, taking the figures the company expects to obtain in the coming years into account.
About the company

Wirecard AG is a German company that offers outsourcing and white label solutions for electronic payments transactions and plays a part in the payment industry as a service provider in the area of electronic payment processing. The company enables transactions to be safely completed between customers and retailers. To get a more general idea, Wirecard's business model is similar to that of the giant PayPal Holdings, its biggest competitor.
Despite being only 18 years old, the company operates in the five continents through its more than 25 subsidiary companies all over the world. One of the biggest is Wirecard Bank, which issues credit cards for all countries in the Single Euro Payments Area. Services provided include payroll payment card, employee benefit cards, commission payment cards, and corporate payout cards. Wirecard possesses the required licenses from Visa (V), MasterCard (MA) and others including Unionpay, Amex, etc.
Its portfolio includes 33,000 large and medium-sized and almost 170,000 small sized merchants. Among its biggest customers we can find Qatar Airways, Air France (OTCPK:AFRAF), Carrefour (OTCPK:CRERF), Lidl, Vodafone (VOD), Microsoft (MSFT), Rakuten (OTCPK:RKUNF)…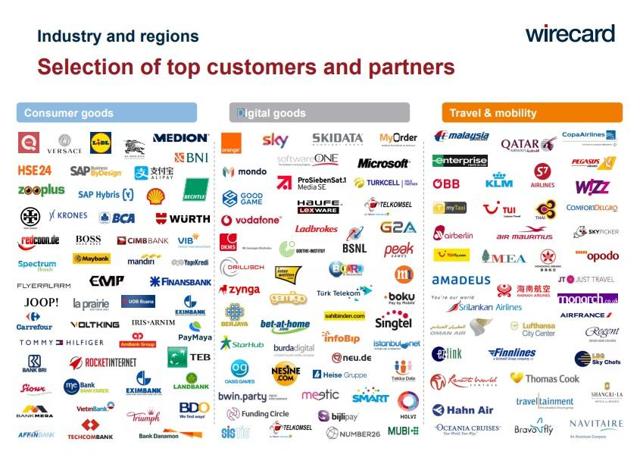 Source: Wirecard's 2015 annual presentation
Wirecard's main revenue comes from processing payment transactions. The majority of this business comes from Europe, with 68.2% of the total 2016 transaction volume, Germany being the country with the highest transaction volume, with 25.8% of the total in 2016.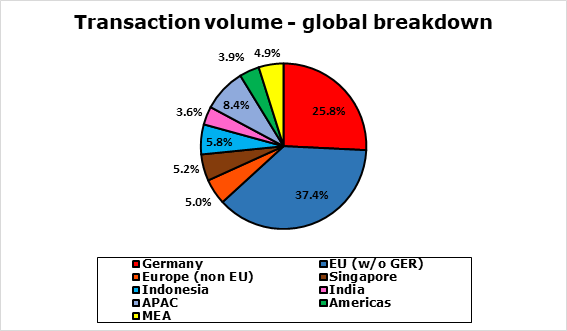 Source: Created by author using official data
A long history of sustained growth
Over the past decade, Wirecard developed an ambitious global expansion plan through strategic acquisitions. These allowed the company to enter new markets and gain new customers, while grabbing market share from larger competitors. Its most recent acquisition was Citi Prepaid Card Services, which helped Wirecard get to the U.S.
Wirecard's transaction volume increases year after year, not only in gross terms (€ 61.7 billion in 2017 vs. € 12.6 billion in 2010), but also in relative terms, where volume per merchant is increasing: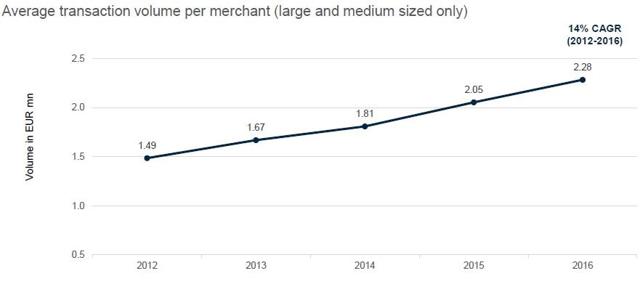 Source: Wirecard's 2016 annual presentation
Wirecard charges a small fee for each transaction processed, so this transaction volume increase also brings greater profits to the company.
From 2007, these have been the impressive results obtained by Wirecard:
CAGR in revenue: 25.4%
CAGR in EPS: 24.5%
CAGR in FCF per share (excluding expansion CAPEX): 27.1%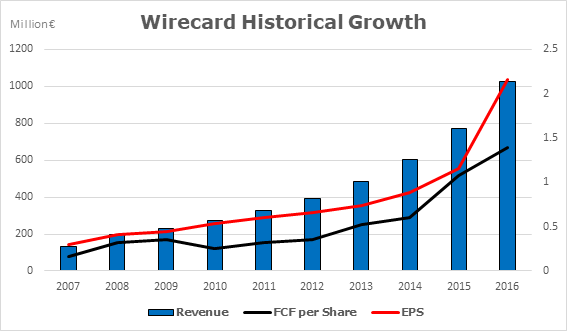 Source: Created by author using official data
Note: I decided to calculate cash flow myself, as the cash flow stated in the reports misrepresents the company's multiples due to changes in working capital, thus seeming not as attractive. The formula would be as follows:
Cash flow from operations = EBITDA – Interest paid – Taxes
Even during the most important financial crisis of the last century, while the global banking sector trembled, Wirecard was able to increase its revenues by 16.2% and its EPS went from € 0.41 to € 0.45. The main driver of this growth was the acquisition of a minor card payment provider in Singapore, which brought new customers and served as a bridge to expand their existing partnerships, which support its operational activities in Asia.
Given this contrast between Wirecard's results and the banking sector's in 2008-09, we can state than although this German company has a bank among its subsidiary companies, it has little to do with the sector and its business model. These are details that give us some security in the face of any future crisis.
International expansion without punishing shareholders
Despite the fact that Wirecard's growth comes mainly from acquisitions, the management of the company has not only been able to obtain value from them, but has also maintained debt levels that have never exceeded 2.5x times EBITDA in the last 9 years: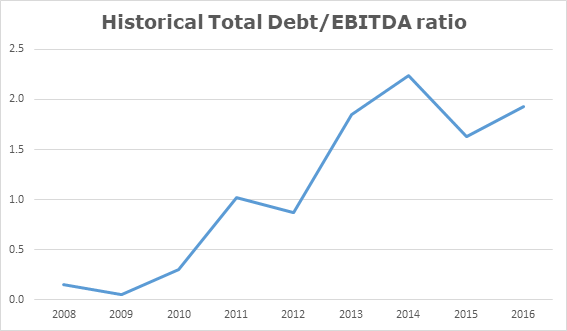 Source: Created by author using official data
If we take away cash from this debt (excluding customers' deposits from cash estimations), we find that only in 2013, 2014 and earlier this year (when big purchases were made) debt exceeded cash in hand. In the other years, Wirecard has always had net cash. Its current net debt is 1x times 2016's EBITDA.
As for capital increases, shareholders have not had to endure a high share dilution. The company's annual share issuance rate in the last 8 years has been 2.43%. If we compare this with an annual FCF per share growth of 27.1%, it seems that capital allocation has been more than right.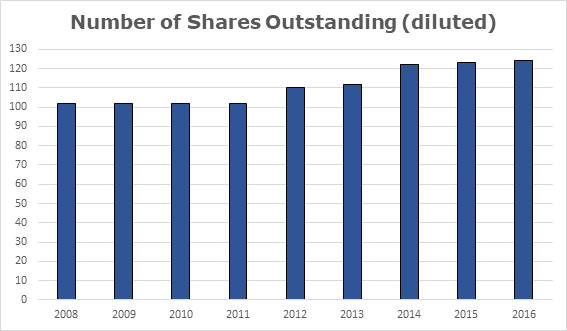 Source: Created by author using official data
Strategic Plan for 2020
The company's most recent annual financial report states that many sources foresee that the sector will experience strong growth in the next few years:
"In 2017 and 2018, E-Marketer expects an increase in global online retail sales of 22.9 percent and 21.6 percent respectively."
"According to Statista, there will be a total transaction volume in 2021 of EUR 4,184,004 million, which corresponds to annual growth of 14.8 percent worldwide (CAGR 2017-2021)."
Wirecard's management not only supports these estimations, but also expects the company to beat the sector: "We are convinced that the Wirecard Group will grow faster than the overall market in both 2017 and 2018."
With these estimations in mind, Wirecard developed a strategic plan for 2020 with which they expect to reach record figures, such as:
A transaction volume of 190 billion.
Revenue of 2.5 billion, implying a 24.9% CAGR for the next 4 years.
An EBITDA margin of 30-35% with an FCF conversion rate higher than 65%. This would imply a FCF of 29.7% CAGR for the next 4 years.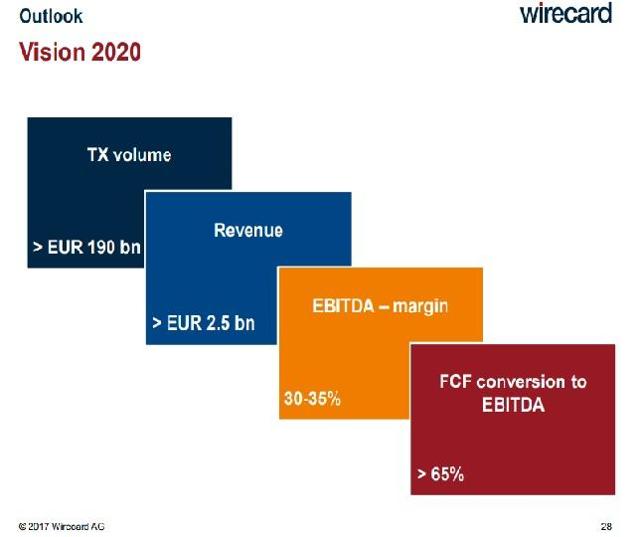 Source: Wirecard's 2017 Q2 presentation
If these results are achieved (and I personally believe they will be), we will be talking about doubling the size of the company in less than 4 years.
Projections are already taking shape, as in the first quarter of 2017 the company increased its transaction volume by 38%, its revenue by 36% and its EBITDA by 33% over the same period the previous year.
Valuation
Having talked about the company's great projections, we still have to look into one of the most important parts of the analysis: whether the quoted price is attractive or not.
This company has grown at 24.5% CAGR for the last 9 years and it belongs to a sector that is also experiencing double-digit growth. Therefore, the price we can expect from Wirecard should be considerably higher than the market average. Although multiples do not seem that attractive at first sight, if we have a look at the figures the company expects to achieve in the future, things change quite a bit.
I estimate a debt level of 1.5x times net debt/FCF (this being the highest debt level in almost a decade, as in the future the company will have to face larger and larger acquisitions to achieve 24.9% growth rate). At its current price of € 71.51, it is quoted at 42.1x times its EV/FCF for 2017, 26.8x times its EV/FCF for 2019 and 21.5x times its EV/FCF for 2020. It is not a total bargain, but I believe it's a price that could generate returns that beat the market in the coming years.

In order to obtain a realistic price at which Wirecard should be quoted, we could use the average historical price of the German company (37x times its EV/FCF in the last 8 years) and the price of its largest competitor. PayPal is currently sold at 50x times its EV/FCF for 2016 and it grows at an annual rate of 17-19%, with an almost absolute global market share. Therefore, I estimate an appropriate price for Wirecard of 40x times its EV/FCF.
With this calculation in mind, we can estimate a target price for 2020 of around $ 137.80 per share, with a total upside potential of 92.7%. This would mean an annual return of 24.4% for the investor – much higher than the market's.

Source: Created by author using official data
Conclusion
Many investors consider Wirecard's current price too high to stop and analyze the company's short-term projections. I personally believe that this is where they forget the fact that Wirecard is going to multiply the size of the company by more than 2x times in only 4 years. Other analysts think that PayPal is too strong for them to invest in small competitors in the sector, but Wirecard keeps proving year after year that it is capable of increasing its transaction volume without being influenced by its competitors' decisions.
These are the main reasons why I believe there is a divergence between the stock's value and its price, thus creating an investment opportunity that is worth considering. As mentioned in the beginning, I accumulate returns of 30% and I plan to keep this stock in my portfolio for a few more years if everything goes according to the company's plans.
Disclosure: I am/we are long WRCDF.
I wrote this article myself, and it expresses my own opinions. I am not receiving compensation for it (other than from Seeking Alpha). I have no business relationship with any company whose stock is mentioned in this article.
Editor's Note: This article discusses one or more securities that do not trade on a major U.S. exchange. Please be aware of the risks associated with these stocks.