Background and Reverse Merger:
Leap Therapeutics (NASDAQ:LPTX), based in Cambridge, MA, is a HealthCare Ventures ("HCV") focus company (meaning fully funded and run by HCV) that is developing two anti-bodies, DKN-01 and TRX518, that target novel pathways in the immuno-oncology (I/O) circuit. LPTX was founded in 2015 when HCV merged two of its portfolio companies, GITR, Inc. and Healthcare Pharmaceuticals, Inc. together into a new entity, Leap Therapeutics. In early 2016, HCV took LPTX public through a reverse merger with the defunct Macrocure Pharmaceuticals (MCUR) shell. In exchange for ~31.8% equity, LPTX obtained a Nasdaq listing and the rest of Macrocure's cash balance of ~ $20M. While this reverse merger was advantageous in bringing LPTX public, the negative stigma associated with reverse mergers and lack of institutional buyers, as seen in a traditional IPO, have made it difficult for LPTX to maintain visibility in a competitive biotech investing world. However, this lack of visibility has created a buying opportunity for savvy investors. Those who can recognize the value proposition of Leap's operations and visualize the rising momentum within the DKN-01/TRX518 programs, have the potential to be richly rewarded over the next 12 months.

Asset Development:
The primary focus of LPTX is the development of the DKN-01 and TRX518 anti-bodies.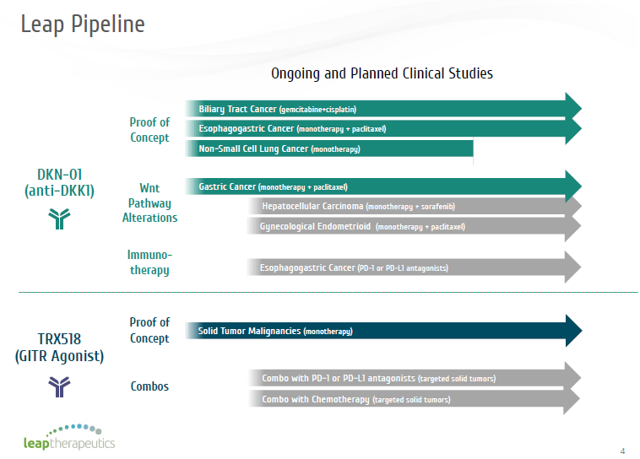 source: Leap Therapeutics
DKN-01 (Anti-DKK1):
LPTX's lead program, DKN-01, targets Dickkopf-related protein 1 (DKK1). Big pharma such as Pfizer (NYSE:PFE), Amgen (NASDAQ:AMGN) and Merck (NYSE:MRK) all at one point had anti-DKK1 candidates in study for bone related diseases. However, these studies never panned out to anything meaningful. It was not until recently, that the role of DKK1 in the tumor micro-environment had been understood and explored. And it is becoming increasingly apparent that the Wnt/beta-catenin pathway, and DKN-01, have a potential role in I/O, as described in the below company slides detailing the program:
The above scientific rational and data indicate that DKN-01 may enhance the efficacy of existing chemotherapy in biliary tract (NYSE:BC) cancers, esophageal cancers (EC) and other cancers. LPTX is now expanding recruitment in its ongoing ph1/2 BC trial to confirm this thesis. In addition, LPTX is beginning to expand into trials that are enriched with patients with genetically-defined Wnt pathway mutations, including additional cohorts in its EC ph1/2 trial. The goal here is to determine if these patients respond better to DKN-01 therapy, as there is evidence, seen above in a EC patient, that DKN-01 has superior efficacy with certain bio-markers and genetic mutations.
LPTX is also about to explore DKN-01 in combinations with immune checkpoint inhibitors, and the company recently announced a collaboration trial with Merck's anti-PD1 therapy, Keytruda. LPTX also just announced a collaboration with the European Organisation for Research and Treatment of Cancer (EORTC) to study DKN-01 in combination with Roche's anti-PD-L1, atezolizumab, with or without chemotherapy, in advanced esophagogastric and biliary tract cancers.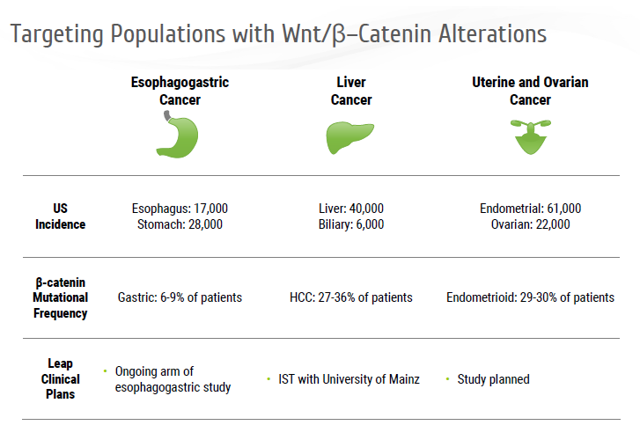 source: Leap Therapeutics
All told, DKN-01 is a promising I/O asset, with an increasing value proposition. It's a intriguing anti-body that is at the cusp of launching into many new trials, in several new indications, with multiple new data readouts expected in the next 3-12 months. DKN-01 also is an attractive partnership opportunity, as highlighted later.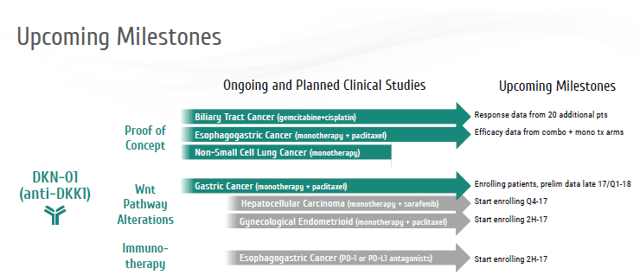 source: Leap Therapeutics
TRX-518 (Anti-GITR):
LPTX's second wholly owned asset, TRX518, is earlier stage and arguably targets a very new, potentially hot, target in I/O. TRX518 is an anti-body targeting glucocorticoid-induced TNFR-related protein (GITR). There are many pharmaceutical companies (see competition) going after this target, and the understanding of GITR's role in I/O is still a work in progress. Despite this, the scientific rational is compelling, and in the below corporate slides LPTX articulates why it believes TRX518 is differentiated and how it has demonstrated encouraging data so far in early clinical evaluation:
While other companies have yet to obtain a solid data set on their anti-GITR anti-bodies, TRX518 is the only anti-GITR program that so far has shown to significantly deplete GITR+ Tregs. Currently, the multi-dose ph1/2 is still ongoing, and top-line efficacy data is expected to be reported late 2017 or 1H 2018. This event will likely be LPTX's largest upcoming catalyst and potentially a significant binary event for the company if it can show mono-therapy clinical benefit in multiple patients.
LPTX is also rapidly progressing TRX518 into combination studies. A chemotherapy combination trial and a anti-PD1 trial are slated to start soon. The data from these new trials will significantly inform more on the value proposition for TRX518, and its place in I/O.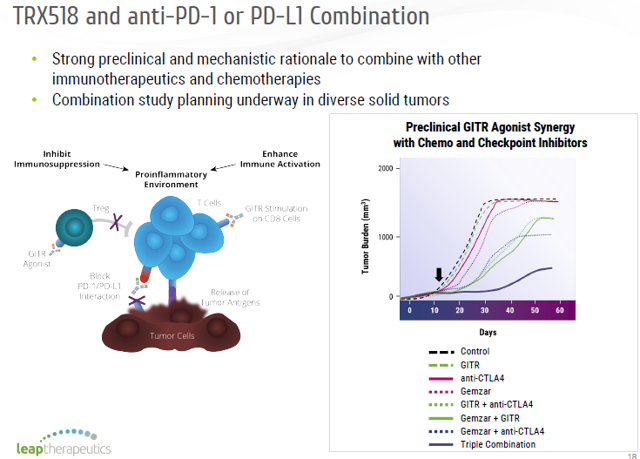 source: Leap Therapeutics
As with DKN-01, TRX518 appears to be a promising early stage I/O candidate. With multiple new trial initiations and data readouts over the next 3-12 months, TRX518 could be a major value driver for shares. TRX518 is also an attractive partnering candidate, as highlighted later.

source: Leap Therapeutics
Cash Position and Capital Structure:
As of June 30th, LPTX had approximately $20M cash on its balance sheet, enough to last into Q2 of 2018. With a burn rate of around $6M+ per quarter, the company will likely have to raise funds through a business development deal or a private placement before the end of 2017.
LPTX has a very attractive capital structure. The company has no debt, warrants, or convertibles, and has only 9.4M shares outstanding.The float is far smaller however, as HCV and Eli Lilly own a collective ~6.1M shares, or ~65% of the shares outstanding.

Well known biotech blogger, Ohad Hammer, works for a venture capital fund, Pontifax, who owns an undisclosed amount of shares. Taken together, the float of LPTX is likely in the 2-3M range.
Partnership Potential:
One of the core investment opportunities for investors in LPTX is the potential for a strategic partnership for DKN-01 and/or TRX-518 in 2017/2018. Both anti-bodies are wholly owned, with broad applicability, and target significant unmet medical needs. The company certainly needs cash and a strategic deal could bring in much needed capital to fund development of both these programs and provide significant validation. LPTX has publicly stated at investor conferences that they are actively focused on business development and that collaborations/partnerships are a priority. Investment bank, Ladenburg Thalmann, has even gone as far to suggest in its coverage that LPTX could garner an upfront payment exceeding the current market cap of the stock:
LPTX expects to sign partnerships for at least one of its two lead assets in 2017/2018 with potential upfront payment above its current market cap"
Peers such as Agenus (NASDAQ:AGEN) and Calithera (NASDAQ:CALA) both have seen significant value appreciation after entering into strategic partnerships with big pharma. Whether a partnership also occurs for LPTX remains to be seen. However, at $50M market cap, any deal could dramatically move the stock price upwards and remove the ongoing low cash overhang.
Management:
LPTX is extremely unique in that it is completely run by managing directors of HCV, LPTX's founder and largest shareholder. All three have worked together for many years and have a proven track record developing successful companies and drugs.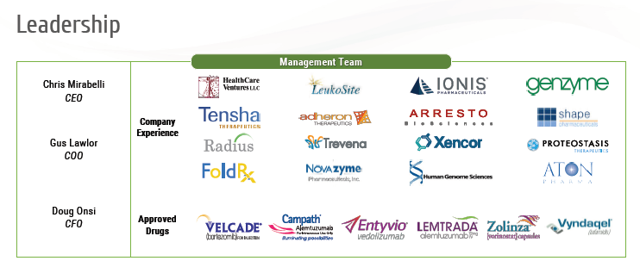 source: Leap Therapeutics
One could bullishly argue that LPTX's management team, whose fund owns 58% of the company, is completely aligned with shareholders and their interests. This is quite a selling point of the company.
Competition:
LPTX currently has limited competition for DKN-01 in targeting DKK1. MorphoSys AG, the lone current competitor, has an anti-DKK1 anti-body partnered with Novartis in multiple myeloma, whose status is unknown. However, as more literature emerges of DKK1's role in I/O, other competitors are likely to emerge.

TRX518 and anti-GITR are another story. There are numerous competitors going after this intriguing target and they are shown below. Who will come out the most successful is yet to be determined. The anti-GITR landscape and understanding is just starting to unfold.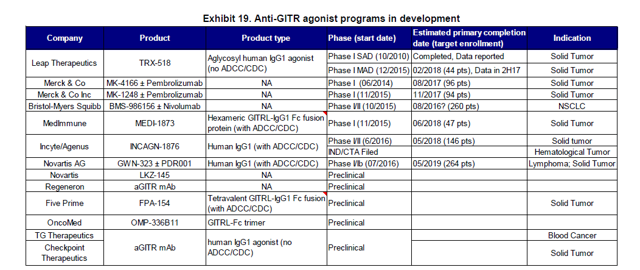 source: Laden
Risks:
As is the norm in biotech, there are risks to investing in early stage companies. LPTX is no exception. If either DKN-01 and/or TRX518 show sub-par efficacy, in the current and future trials, the company's prospects could be adversely affected. Furthermore, any meaningful safety signals, that theoretically could be reported, may severely damage overall prospects and viability.
If LPTX is unable to raise cash in the near future, through either a strategic partnership/investment or equity offering, the company's ability to continue operations will be significantly cast into doubt.
Conclusion:
All stories have a beginning, and Leap Therapeutics is still a company in its infancy. However, with the right execution, LPTX has the potential to grow in value significantly. The company has two promising I/O assets, targeting novel pathways, which have generated encouraging early data. Both are well on their way for rapid expansion into new trials, and both have upcoming value driving data readouts over the next 3-12 months. The company also has a proven management team, whose interests are completely aligned with the common shareholder. As a value investor, LPTX has all the right ingredients going for it that make it a compelling investment opportunity. Sometimes, it's advantageous to ignore the noise and avoid trotting through the potential minefield of what every other biotech investor is chasing in the market. That's when one can truly focus and find opportunities that are being completely overlooked by the market, finding hidden gems as some would call it. Is LPTX a hidden gem? I believe the odds favor it, and if so, in time, the days of $50M market valuation will be long gone.
Disclosure: I am/we are long LPTX.
I wrote this article myself, and it expresses my own opinions. I am not receiving compensation for it. I have no business relationship with any company whose stock is mentioned in this article.