The past month witnessed what happens when the lofty growth ambitions of U.S. E&P (particularly Permian) names are called into question. Pioneer Natural Resources (PXD) — the second largest holder of Permian Reserves — reduced capex by 4% and production guidance for 2017 by 1%. This was due to changes in field pressure regimes, and a faster than anticipated rise in gas-oil ratios, which could signal a steeper decline profile than expected.
Rising gas-oil ratios (GOR's) are often seen as a sign of decreasing pressure from depleted reservoirs the market punished Pioneer with a 20% sell-off. As former Pioneer Petro-physicist Scott Lapierre stated "ALL oil shale wells (condensate excluded) will die a disappointing and gassy death", and should Pioneers recent stumble become a trend, the results could be profound for U.S. shale's future production growth.
While the significance of Pioneers GOR results is the subject of another article, what is truly important is the market reaction to Pioneer's results. Not only did Pioneer sell-off, but the entire Permian producer complex sold off with it. This is what happens when some of the most expensive producers on an EV/1P basis encounter negative risks. Pioneer's results were reported on August 1st.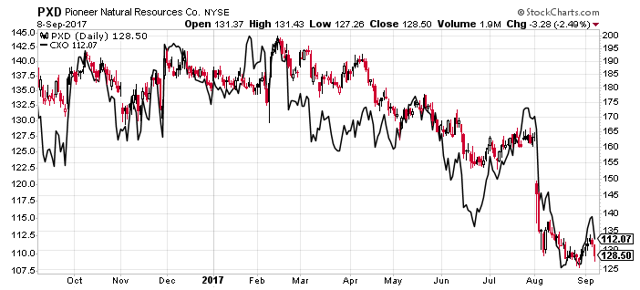 The above chart shows what happened to Pioneer & Concho Resources (CXO), the #2 and #1 respective holders of Permian Reserves, and below shows the entire Permian peer group relative to Canadian producers and the U.S. Energy ETF (IYE). They also underperformed the Energy Select Sector SPDR ETF (XLE).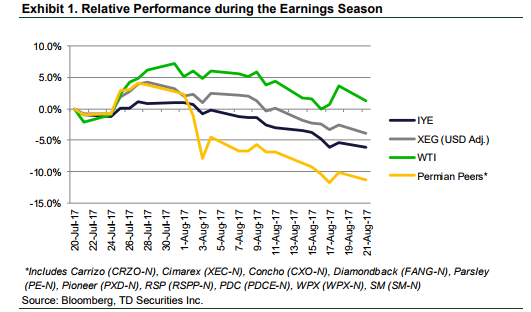 Source: TD Securities.
Pioneer currently trades at a $34.00 EV/1P ($34 of Enterprise Value for one BOE of proven resources). Concho trades at $30. EOG Resources (EOG), and Energen Corporation (EGN) trade at $26 and $16 respectively. This compares to the overall U.S. E&P average of $14. These valuations are predicated on significant production growth, and these names have significant downside risk should any risks to aggressive production growth forecasts materialize.
U.S. Shale Production Growth Is Likely Unsustainable
Cracks may already be appearing in the U.S. Shale production growth thesis, and the future risks are numerous, with negative implications for major shale producers. Much of the current production growth witnessed by U.S. shale is built on the back of asset purchases and capital expenditures before 2014. High oil prices in the pre-2014 period supported the significant purchase of fixed-assets, as evident in this chart by Scotiabank: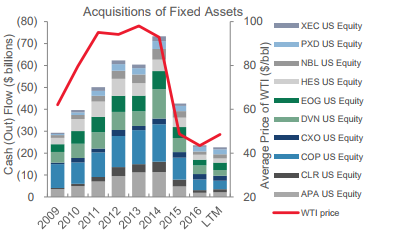 While U.S. Shale Producers may claim break-even costs in the $30-$40 range, these break-even costs are almost always defined as mid-cycle costs. These include drilling, completion, tie-in, and some basic infrastructure costs. Full-cycle costs, which represent the true cost of production, include land acquisitions, geological surveying and exploration, and construction of facilities. These costs were largely spent while oil prices were high. Eventually, as reserves deplete, these costs will emerge again and will provide one of the several headwinds for U.S. shale producers.
It is also important to note that outside the Permian (which is only 25% of U.S. production and about half of shale production), the remaining key regions are already facing major challenges. Bakken production has essentially been flat since 2014, and the Eagle Ford has gigantic decline curves to overcome. The Eagle Ford experienced production declines of approximately 55% in 2016, well above any other U.S. shale plays, and as production grows, the absolute amount of barrels per day of production that needs to be replaced will grow as well, as reserves deplete.
Consider Oil Services and Canadian Oil Producers
What should you buy instead of U.S. shale names? One option is to look North. Canadian light oil producers like Crescent Point Energy Corp. (CPG) and Spartan Energy (OTCPK:PTORF) offer superior economics to nearly any Permian player, without any of the valuation risk. I detailed this further in my previous article.
Canadian heavy oil producers like Canadian Natural Resources Ltd. (CNQ) or Suncor Energy Inc. (SU) benefit not only from the growing scarcity of heavy oil but also from low-risk, high production growth stemming from long-life oil sands projects for which spending is either nearly or already complete. While lower U.S. production is bullish for oil prices, Canadian producers will reap the entire benefit via rising production, whereas U.S. producers will benefit from rising prices but with weaker-than-expected production.
Investors should also consider oil service providers, particularly pressure pumpers. Even in a fairly low oil price environment, demand for pressure pumping should outstrip supply into 2018. In a recent note by Eric Nuttall from Sprott Asset Management, he quoted an analyst from Simmons & Company that indicated pressure pumping demand would be 15MM HP in a $45 environment, and 18MM HP in a $55 environment, compared to a current fleet of 14 MM HP. The sector is also trading at lower levels relative to WTI than when oil bottomed back in 2016: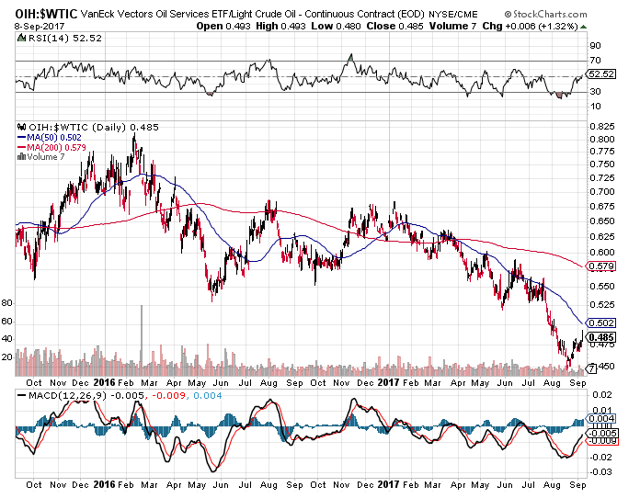 I welcome all comments and feedback. If you enjoyed this piece and would like to be notified of further articles, don't forget to click Follow at the top of the page.
Disclosure: I am/we are long PTORF.
I wrote this article myself, and it expresses my own opinions. I am not receiving compensation for it (other than from Seeking Alpha). I have no business relationship with any company whose stock is mentioned in this article.