Introduction
We like consumer staples because they are generally stable companies. In particular, they are recession proof. Considering that a decade has passed from the previous recession, investors should consider this as a possibility.
However, these concepts are well known and are pushing valuations higher. Solid companies such as Coca-Cola (KO) and P&G (PG) are trading at their highs and at a 2017 P/E of 30X for KO and 23X for PG. These valuations are not cheap, especially considering that these companies haven't been growing for a while.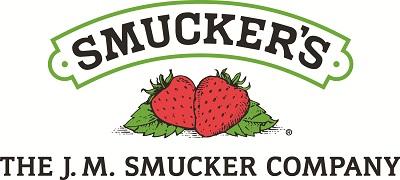 J.M. Smucker
Today, we investigate whether J.M. Smucker (NYSE:SJM) is worth investing. The company manufactures and markets branded food and beverage products worldwide. It operates through U.S. Retail Coffee (29% of sales), U.S. Retail Consumer Foods (28% of sales), U.S. Retail Pet Foods (29% of sales), and International and Foodservice segments (14% of sales; source: Company's presentation).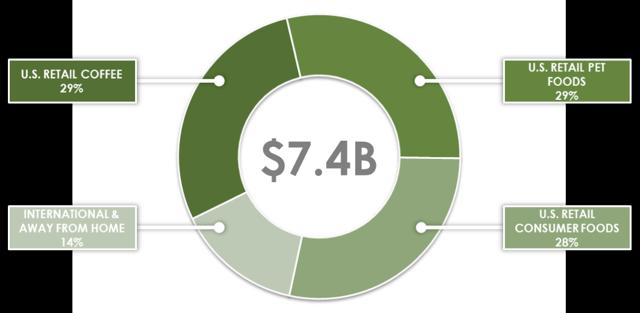 The company primarily offers coffee, pet food products, pet snacks, peanut butter, fruit spreads, shortening and oils, baking mixes and ready-to-spread frostings, frozen sandwiches, flour and baking ingredients, juices and beverages, and portion control products. It also provides pet premium products, dog snacks, ice cream toppings, pickles, and canned milk. The company offers its products primarily under the Folgers, Dunkin' Donuts, Café Bustelo, Folgers Gourmet Selections, Jif, Smucker's, Crisco, Pillsbury, Meow Mix, Milk-Bone, Natural Balance, Kibbles 'n Bits, 9Lives, Pup-Peroni, Nature's Recipe, Robin Hood, Five Roses, and Douwe Egberts brands (source: 4-traders). The company's products are sold through several channels where Wal-Mart (WMT) represents a significant portion (28% of total sales; source: company's presentation). As always, a concentration of business in one customer presents a risk.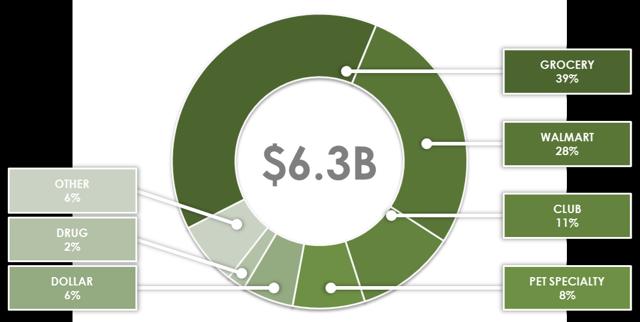 Valuation
Fundamentally, J.M. Smucker is in a similar situation compared to the likes of Coca-Cola or P&G, which have experienced declining or stagnating sales. Yet its valuations have come down considerably. The stock price declined from almost $160 reached in mid-2016 to the current $107 (source: Google Finance).

At this price, SJM trades at 18.6X expected 2018 earnings and 15X 2019 expected earnings. Even its EV/Ebitda expected is 10X, compared to 14X for P&G (sources: 4-traders). Therefore, based on valuations, the stock represents a compelling buy. This thesis has also been put forward by a Seeking Alpha author.
However, it is important to note that its earnings are not as rosy. The graph below (source: Simply Wall st) shows that earnings have been relatively volatile. For example, in the three months ended in July 17, the company's gross profit declined from $722M in 2016 to $662M in 2017. Net income declined from $170M to $126.8M. As the graph shows, analysts expect a significant increase going forward. The expectation is for an EPS 5.76 in 2018, 7.10 in 2019 and 7.30 in 2020, up from 5.10 in 2017. This is a significant increase which, at this stage, looks optimistic.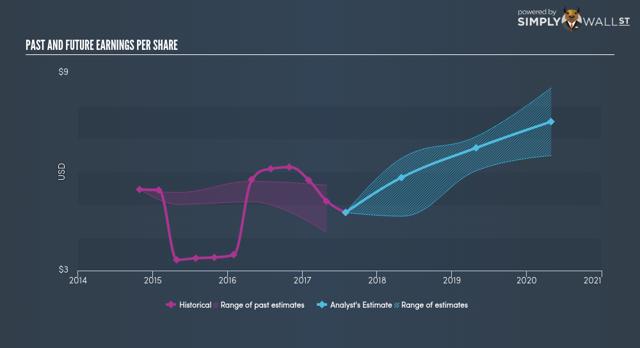 The market seems to be optimistic as well. If we run a reverse DCF, the market is behaving optimistically. Assuming a discount rate of 8% and a terminal growth rate of 3%, the current valuation reflects the EPS to increase for the next 10 years at a CAGR of 10.7%. This is considerably higher than the growth rate experienced over the last 10 years: 6.2% for EPS, 6.5% for book value, and 5.5% for revenues (fuelled by acquisitions). If we apply the same parameters but a growth of 6.2%, the fair value comes at $74, considerably below the current share price of $107 (31% decline).
Acquisitions and Debt
The company has a substantial debt. It currently has long term debt of $4.4B and a total debt of $5.2B. The graph below shows the big jump in 2015.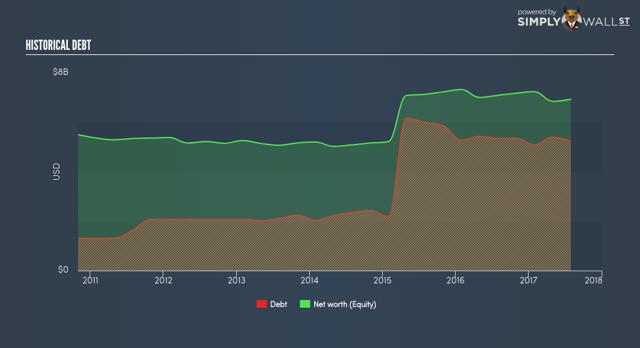 This was due to the $5.8B acquisition of Big Heart Pet Brands. Under the terms of the transaction, Smucker gave to Big Heart's owners 18 million newly issued shares and $1.3B in cash. It also assumed $2.6 billion in debt. This increase in debt costs $163M in interest expense. This figure is significant considering that free cash flow is estimated to be $775M (sources: company's annual report and presentation).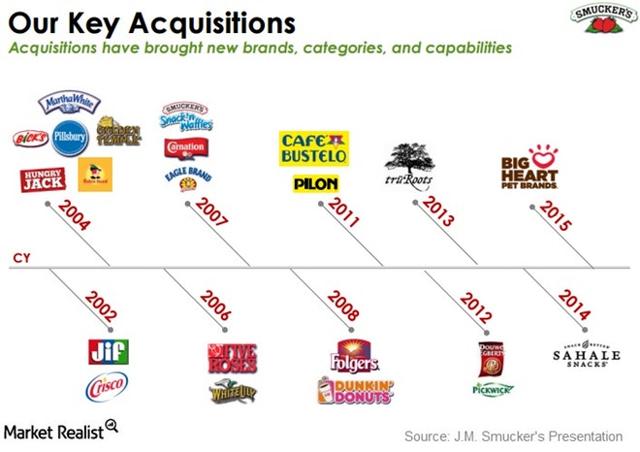 The deal, Smucker's biggest ever, added brands like Milk-Bone, Kibbles 'n Bits and Meow Mix to a stable that already includes Smucker's jelly, Jif peanut butter and Folgers coffee. The Folgers brand was recently added in a deal worth $3B.
The pet food brand contributed $2.1B in revenues in 2016. However, they declined from $2,269M in 2016 to $2,135M in 2017 (source: company annual report). The company argues that 10% of 2016 revenues were generated from products developed in the last 3 years. However, this doesn't sound like a great achievement when revenues are actually declining. The growth of the company in the past, and in the future, seems to be coming from acquisitions rather than organic growth: management writes in the 2016 letter: "we expect acquisitions to play an ongoing role in our future growth." However, although acquisitions are great to boost revenues in the short term, they usually come with a substantial price tag and debt load. Most acquisitions are unsuccessful or too expensive, increasing companies' risks. It is difficult to say with certainty, but considering that the revenues generated through these acquired brands are declining, we would not be surprised to see impairments in the coming years.
Bankruptcy
The high debt load and interest expenses pose risks. We have looked the Altman Z-score of the company and its competitors. The Altman Z-score was developed by Edward Altman in his paper published in 1968 in the Journal of Finance
The graph below (source: Gurufocus) compares the Altman Z-score of J.M. Smucker with its main competitors such as Campbell Soup (CPB). Not surprisingly, SJM is at the bottom of the ranking. In practice, the lower the score, the higher the risk of bankruptcy. When Z-Score is less than 1.81, it is in Distress Zones. Currently, the company has a score of 1.61.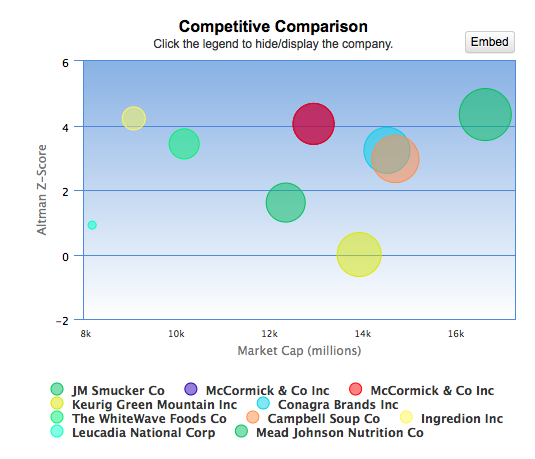 The table below (source: Company annual report) summarizes the capital obligations of the company.

As it can be seen, approximately $500M a year should be repaid, on top of $160M in interest payments. The EBIT 2018 should come at $1.4B. The following costs should be incurred:
Tax $300M

Interest $160M

Debt repayment $500M

Capital investments$310M

Dividends $340M
At this stage, the company would need to refinance approximately $200M of debt and be able to meet all other demands, but not to buy back shares. Overall, the situation does not look alarming, but slightly extended.
Insider transactions
A Seeking Alpha article has emphasized the recent insider activity. Richard Smucker has acquired 10,000 shares for a cost of $1M. Although the monetary value is significant, considering that he owns almost 2.3M shares, the additional 10k shares look like a way to preserve the value of the current investment, rather than a buy signal. Further, other insiders are selling at a rapid pace, although others are buying. Overall, the situation looks balanced but not a signal.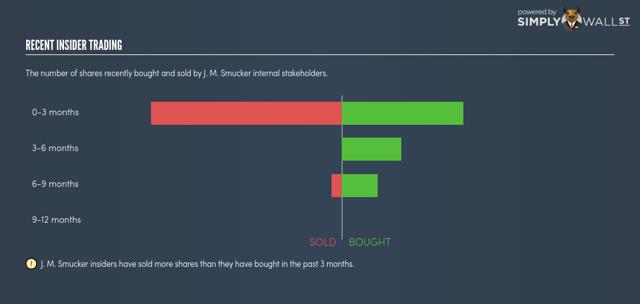 The graph below offers a broader picture. As it can be seen, sells are definitely more numerous than buys. However, in recent months, buys are increasing and the last time they have happened (in Jan 14), they offered a good entry point.
Shareholders' reward
The company pays an interesting divided which, at current valuations, offers an almost 3% yield. This yield is not only high compared to the average market, but also compared to the historical yield offered by the company. Not long ago, the yield was approximately 2%. Hence, the current yield is attractive.

In addition, the company returns cash to shareholders through buy backs. It has spent between $400M and $500M in buybacks in 2017, 2016 and 2014 (source: Google Finance). However, due to the dilution occurred because of acquisitions, over the last years, the number of shares outstanding actually increased.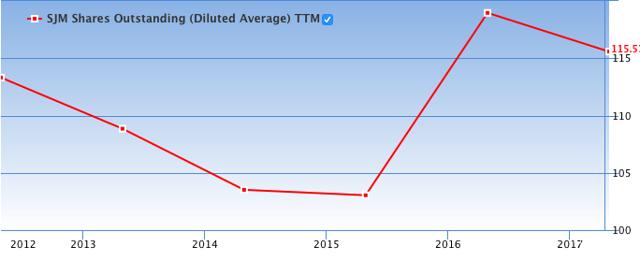 Letter to shareholders
As always, I like to read the letter to shareholders and get a feeling of what the management think. In this case, the management is the Smucker family, which makes it even more relevant.
The letter starts with these words:
For the past 120 years, The J.M. Smucker Company has grown and flourished thanks to an unwavering commitment to making quality products that meet the evolving needs of our consumers. We recognize consumers' eating habits have fundamentally changed since our founding—and even over the past few years. We are developing an increasingly sophisticated view of the link between food and our consumers' sense of purpose in their lives. These insights are helping us develop brands and products that align with the values of today's consumers, giving us a clear roadmap for the future.
I like the long history of the company as well as the acknowledgement of the consumer preferences' change. The management goes on to praise the company's performance:
While top-line softness persisted throughout the fiscal year, both for our industry and for our business, we achieved adjusted earnings per share in line with our projections for the year by accelerating realized synergies related to the Big Heart Pet Brands acquisition and managing budgets and costs efficiently.
Considering that revenues declined from $7.8B to $7.4B and net income from $688M to $592M, I am not sure I appreciate this enthusiasm as well as the use of adjusted earnings.
The management then discusses the strength of its brands as well as how the company is positioning itself for market changes:
We see consumers in the future making choices that fit their nontraditional, fast-paced schedules; meet highly specific wellness and functional needs; deliver convenience and quality in equal measure; and center on authentic brands with recognizable ingredients. These food trends diverge sharply from the past, which is why we have developed a three-year strategic roadmap to capitalize on new marketplace opportunities and generate sustainable, profitable growth.
Going forward, the management discusses the three-year plan:
Our three-year plan is about balancinga focus on top-line growth with a diligent approach to cost savings, allowing us to deliver our growth objectives regarding earnings per share. It includes disproportionate investment in key growth segments across our portfolio.
The management also declares that the goal is to generate online 5% of sales by 2020. This doesn't sound like an ambitious goal. Further, management wants to increase capital spending. Already this year, the expectation is to boost capital investments from $200M in the last years, to $310M (source: Company's presentation). Although we like companies that invest, this will squeeze shareholders' return. On one hand high interest repayments, and on the other hand capital expenditures, will limit capital returned to shareholders.
Other facets of the strategic plan include increasing capital expenditures to add new manufacturing capacity, improving flexibility and productivity at several existing manufacturing facilities, and enhancing our information technology.
The letter concludes with:
Our plans for the near future as we expect to deliver on three key financial objectives:

• Achieve earnings per share growth in line with our stated long-term objective;

• Grow the top line, both organically and through acquisitions; and

• Achieve significant cost savings that will provide fuel for investments in growth and support the bottom line.
Overall, I am not impressed with the letter. The management does not really provide a clear strategy going forward. It also ignores the problems, and seem to suggest that the solution lies in the same initiatives conducted so far. I also don't see a clear connection between the strategic initiatives and the consumer shifts. These are acknowledged, but they don't seem to be fully taken into consideration or understood. For example, if consumers are changing, why and how the acquisitions of a pet food company or cooking oil (Wesson) go into this direction? The letter mentions that consumers wants convenience, simple ingredients, and snacking, and they acquired a pet food company and frying oil? They probably forgot to mention that consumers are shifting toward healthier and organic products? The main product of Wesson Oil, for example, is canola oil, which is made with a highly unnatural processing method that involves high heat, deodorization and the toxic solvent hexane. Significant amounts of trans fats are formed during this process (source and source). I am not sure how these acquisitions address shifting consumer preferences. The management does not seem to have a clear plan.
Conclusion
J.M. Smucker is a 120-year-old company. They operate in the consumer staples industry, and we like this long term stability. On the positive side, the business is somehow stable, and the company nicely rewards shareholders with a 3% dividend yield and continuous share buybacks. The valuation is also conservative compared to the likes of Coca-Cola and P&G and the historical multiples applied to the company. However, the company strategy is focused on acquisitions financed with shares and debt, and does not seem to follow a clear path informed by changing consumer markets. Overall, investing at this price does not sound outrageous, and the company might well be M&A target. I would not be surprised if, in the short term, the stock price reaches $120 or if a large company tries to acquire J.M. Smucker. Yet, we are not convinced and will stay out of the stock.
As always, thank you for reading. If you wish to follow our future articles, just click the "Follow" button next to our name at the top. If you want to know more about Integer Investments click on our link at the top or visit our website. Thank you for reading.