In today's highly efficient and (potentially) overpriced stock market, hunting for value is no easy task. So when I came across a cheap financial services stock with a good dividend yield, my initial impression was "there's something wrong with it". Upon digging deeper, however, I discovered various positive attributes that merits a discussion. In this article, we're going to perform a fundamental analysis on the lending activities of Ally Financial (ALLY) to determine whether ALLY is a viable investment for value investors.
Interest Rate Sensitivity
Considering how lending stocks are interest rate sensitive due to leverage and their income stream is influenced by prevailing rates, it comes as no surprise that ALLY's stock price has a pretty strong correlation to the 10-year Treasury rate. As such, there is a more pronounced negative correlation to fixed income than other equities. This relationship can strategically be used with treasuries for diversification purposes. Furthermore, any slowdown in the financial sector (and thus the economy), should boost government bonds significantly and protect your downside risk.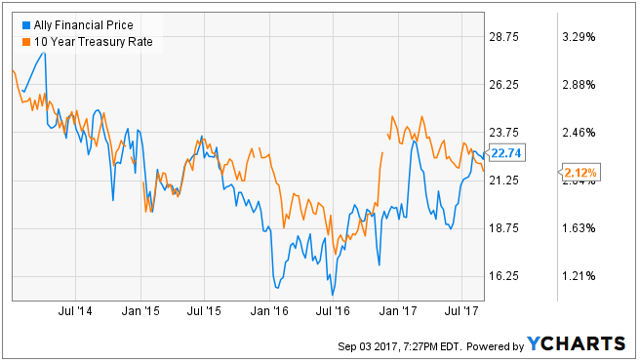 Assessment of Operations and Earnings
ALLY's business strategy is different from other banks in that they don't have brick and mortar locations and they focus primarily on automotive finance. As such, the bank runs a very efficient operation with non-interest expenses totaling only 29% of revenue, compared to 56% for the average U.S. based bank.
The bank's top and bottom-line numbers have stayed consistent for the most part. While the size of the figures won't blow people away, the consistent performance and short duration loan portfolio should result in price stability for the stock, all else equal. They were able to increase their earnings from 2015 to 2016.
One of the key figures in the performance of ALLY is Net Interest Income and the details behind those earnings with the latter to be discussed shortly. NII has grown each of the past few years and has a superior growth rate relative to its peers/competition. Seeing how their NII has pulled away from the competition the past few years speaks to the sustainability of ALLY as a long-term investment. How they choose to reinvest those earnings will be a strong determining factor of future stock performance. Net Interest Margin, which measures the profitability of the bank's loans, is currently right in line with the national average of 3.13%.

(Source: Original Image – Data from Wall Street Journal)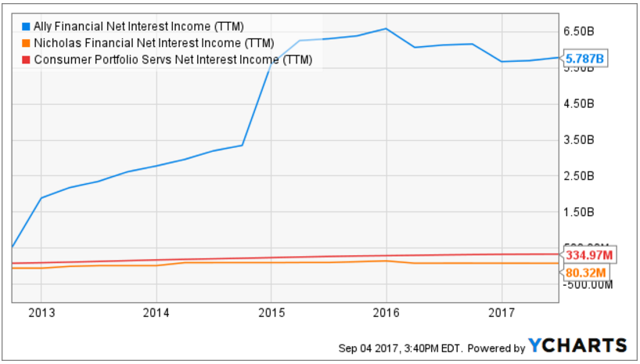 (Source: YCharts.com)

(Source: Original Image – Data from Wall Street Journal)
Earnings Quality
Although overall NII figures have steadily increased each year, that performance can be explained by ALLY's management strategically increasing the default risk of their loan portfolio to increase yield according to their 2016 10-K. They have upped their exposure to "nonprime" borrowers (FICO score of 619 and below) and used car financing while also experiencing increasing amounts of nonperforming loans. As of December 31st, 2016, 13.8% of their automotive loan portfolio was nonprime. The concerning part is that the nonperforming assets have caused ALLY's bad loan percentage to increase each year and was 100 basis points above the national average in 2016. Furthermore, their loan loss provisions stood at 33% on the 2016 P/L. Ideally, the ratio should be 1 to 1 or greater. This implies that their earnings are being artificially boosted by not expensing out enough for loans that are currently behind and may eventually default.
The bank did pass the Fed's annual stress test which measures their ability to withstand a recession.


Sustainability of Dividend
A potentially attractive feature of the stock is the modest 1.8% dividend yield. An analysis of its sustainability yields somewhat mixed results, however. On one hand, the dividend payout ratio is a very conservative 15.46% and the 2016 Dividend to FCF Ratio is only 5.88%. While they have generated enough FCF through two-quarters to cover the dividends, the ratio has become much larger in 2017 which casts doubt on the feasibility of consistent cash flow.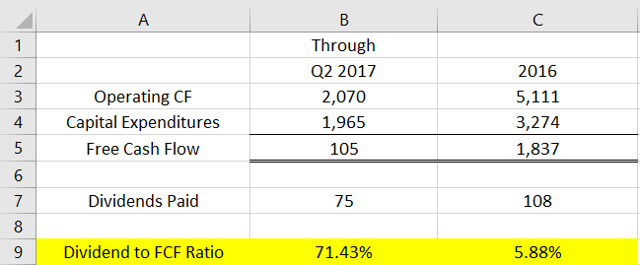 (Source: Original Image – Data from 2016 10-K)
Valuation
Not surprisingly, ALLY does have attractive valuations. But it's all for naught if there are underlying issues with the stock. In other words, investors are discounting future potential defaults into the stock price.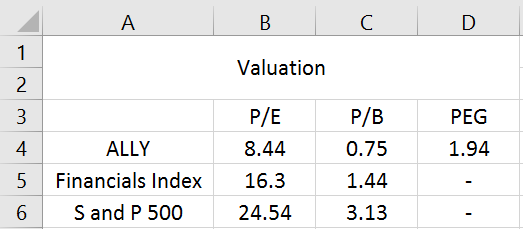 Conclusion
Overall, there is definite potential to go long on ALLY but it depends on how their high-risk loan portfolio pans out in the near future. Decreasing their bad loan percentage and expensing out more loan loss provisions would go a long way to improve stock performance.
Disclosure: I/we have no positions in any stocks mentioned, and no plans to initiate any positions within the next 72 hours. I wrote this article myself, and it expresses my own opinions. I am not receiving compensation for it (other than from Seeking Alpha). I have no business relationship with any company whose stock is mentioned in this article.