Everyone invests as best suits their character (or at least, should do). People with risk aversion play it safer, people who like or need to get income regularly go to dividends, and people who like to out-think the market go to value or contrarian corners.
Investors who have a knack for getting out in front of the next big thing will want to play for growth, and one way to do that is by identifying new trends. That's where Matt Bohlsen focuses his efforts. Bohlsen has decades of investing experience and has opened Trend Investing on the Marketplace this year. We interviewed him by email for the Marketplace Roundtable with a focus on how he spots trends, spots busted stories, and which areas are catching his attention now.
Interview
Seeking Alpha: You spend a lot of time in the cobalt, lithium, and EV space. How much overlap do you find between those spaces in your research process and in your analysis? In other words, do the three industries all go in the same direction, or are there key nuances or different drivers that you watch out for in the respective industries?
Matt Bohlsen, author of Trend Investing: Yes correct. I author the Electric Vehicles (EV), lithium and cobalt monthly news here on Seeking Alpha. Generally speaking there is a key overlapping theme – demand for electric vehicles and lithium ion battery energy storage. So yes they do tend to go in the same direction, but there are indeed nuances. For example issues of supply affect the lithium and cobalt miners. Currently lithium is in short supply with lithium prices up around 12% so far in 2017 after more than doubling in 2016. Cobalt is in deficit with prices up 125% in 2017. Another nuance I follow is the evolving battery chemistry – wherein the amount of EV battery metals composition is sometimes changing. So for the miners the demand and supply issues are very important. Also the size of the metals market is important and what the demand drivers are. I have published some of my model results in my article "A Study Of The Effects Of EV Penetration On Demand For The EV Metals" (paywall).
SA: Electric Vehicles have been a perennial 'coming soon' technology. We are starting to see real growth in EV sales, though - where do you think we are on the growth curve for the industry?
MB: Yes, EV growth was up 40% in 2016 and so far in 2017 growth is between 40-50%. We are still at the very early stages of the growth curve as EV penetration is still only around 1% global market share (and at 1.6% in China and Europe).
Global electric car sales 2010-2016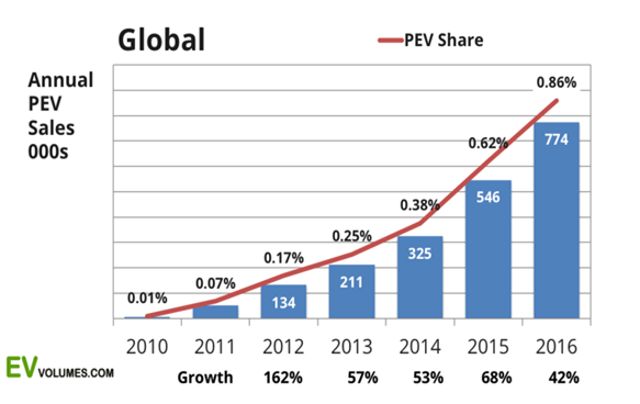 So if EVs continue to boom (as is looking highly likely), then we can expect an exceptional two decades of growth ahead as I wrote here "The Lithium Boom May Have Only Just Begun A 20-Year Bull Run." A recent UBS report forecasts an EV CAGR of 31% to 2020, then a CAGR of 46% from 2021 to 2025. Meaning the best years are most likely still ahead.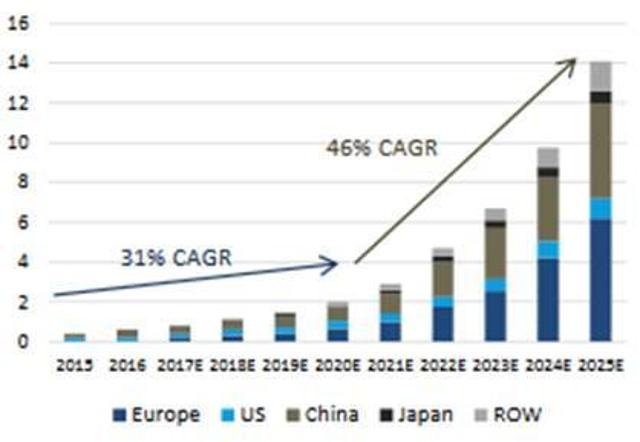 Source: UBS
SA: One of the challenges with trying to invest in an emerging trend is the risk of being early. How do you prepare for this sort of risk? Any examples of how you've done so?
MB: An excellent question. Two ways I combat this risk:
1) Allocate a smaller dollar investment initially, so I can be patient if nothing happens
2) Research, research, research
In particular I track EV sales, EV metals pricing and inventory levels, and industry trends often via company presentations. Actually, I have also had some good luck. For example with EVs I was lucky in that I timed the Chinese EV boom perfectly (read "Chinese electric vehicle companies about to boom"), with lithium I was just about 2 months late (but still early) when I picked up on the boom (read Lithium Miners Are Booming As Lithium Spot Prices Rise - Which Lithium Companies Should I Buy?), and with cobalt I was one of the first global analysts to pick the cobalt boom about 4 months early (read "Cobalt miners set to boom"). So perhaps I should say that with thousands of hours of research and dedication you can make your own luck.
SA: Another challenge would seem to be the Kitty Hawk problem, to use Warren Buffett's example - even if the trend plays out, the first movers are often losers. How do you address that in your investing? Any examples of how you've done so?
MB: This is quite difficult. My solution is to diversify across a basket of quality stocks in that sector, and adjust as necessary depending upon the various new events that arise. An example of diversification for lithium is my article "Top 12 Lithium Miners To Create Your Own Lithium ETF." It also helps enormously writing the monthly news articles on EVs, lithium miners, and cobalt miners as that keeps me abreast with all the new events across the sector. It is also good to remember that usually a trend will continue once it passes the 1% market share, and typically it will accelerate as per the "S" curve. So watching for the market to reach a 1% market share helps answer both this question and your last question. Looking on the graph below EVs would be equivalent to where the internet was in 1990 – about to take off.
The "S" curve of technology or new trend adoption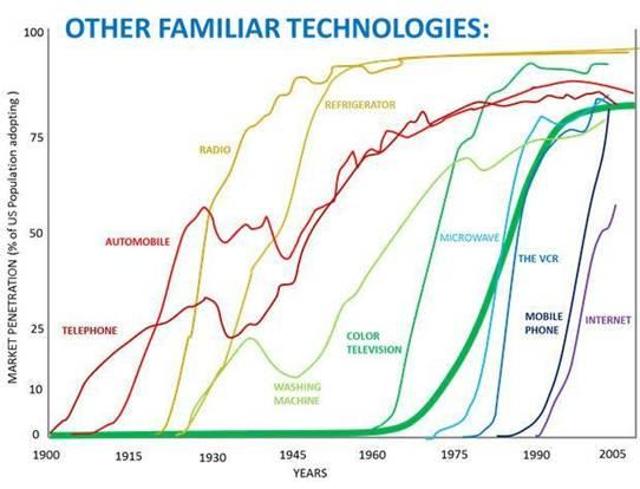 One example that comes to mind was when I was first researching the lithium miners it appeared that Clayton Valley miners were the way to go. Upon further research I soon realized that was incorrect as the Clayton Valley lithium grades are low and so are the lithium resources. Upon realizing that fairly early I shifted away from that area and invested and wrote Seeking Alpha articles focusing on the best global lithium plays. Another learning point was that Bolivia lithium has very high impurities so is not really so economically viable at this stage.
As time has gone by I have also connected up with hundreds of CEOs and with industry experts such as Tony Seba, Chris Berry, and Joe Lowry who I am very appreciative of, for sharing their knowledge and time with me. In the end it all comes down to thousands of hours of research. Certainly writing the articles for Seeking Alpha since March 2015 has been a great way to focus myself towards this research, and I am also grateful to Seeking Alpha for the opportunity to be paid for doing what I enjoy.
SA: You do write about other industries: What's another current trend you are interested in, and how does that play out for investing opportunities?
MB: Yes correct. Generally my investment approach with "Trend Investing" is to pick a relatively new trend as that can act as a tailwind to the sector.
Another trend I am currently following and writing on is "smart vehicles" and the "data boom".
Smart vehicles are now just starting and include vehicles that are connected to the internet via Wifi, have advanced driver assist features, and semi and autonomous vehicles. Investors can read my article on this topic – "Companies To Benefit From The Future Smart Car Boom."
BI Intelligence forecasts a 29% CAGR for connected car revenue from 2015 to 2020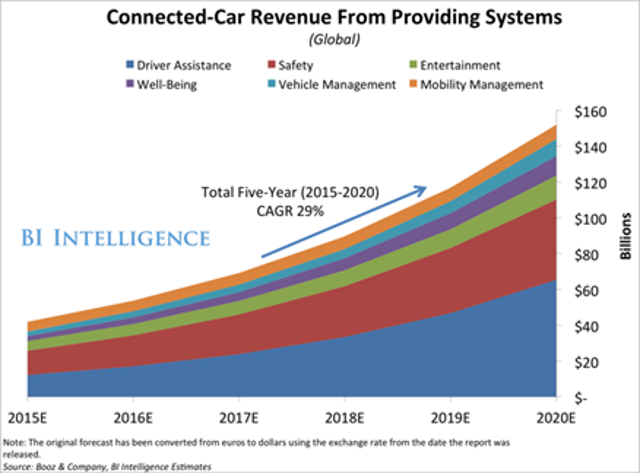 Source: BI Intelligence
All this connectivity creates a "data boom". The current boom in the internet, social media, video streaming, online gaming, smartphones, Internet of Things (IOTS), artificial intelligence, virtual reality, and smart vehicles is creating ever increasing amounts of data. Investors can read my article on this topic – "How to profit from the data boom" (paywalled).
Mobile data traffic is forecast to grow at 47% CAGR from 2016 to 2021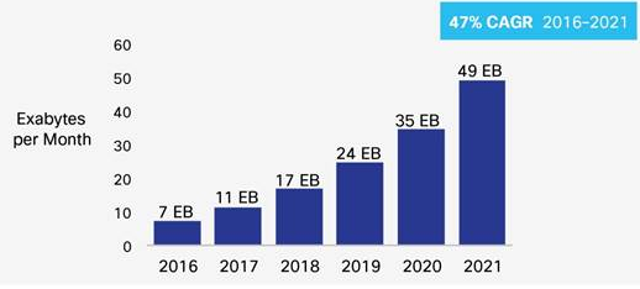 Source: Cisco VNI Mobile, 2017
SA: How does a trend get on your radar? What leads you to consider a given trend as investable?
MB: Hard to say how a trend hits my radar. I read a lot, and I try to observe what people are doing in society. Of course it does help if you are early in a trend as the stock prices have a greater potential to rise.
A trend becomes investable if I can see a pathway for the companies to make profits in the short- to mid-term. Also, as stated above, if a trend is taking hold (1% market share and above), and how I view the potential of a trend to impact our world. An example is the smartphone trend – it was very obvious that a portable device with often free Wifi internet access would become immensely popular. With electric vehicles once they are the same price as ICE vehicles (about 2020-2022) they should also be super popular as they are almost free to run and maintain, as well as being fun to drive. Plus many places in the world have severe pollution problems that Governments are obliged to solve. China already has over 400 million electric motor bikes.
SA: What's one of your current favorite investment ideas, and what is the story?
MB: My favorite is still the EV boom and the associated EV metals boom. In particular I like the potential of the lithium and cobalt miners, and as a secondary the graphite and nickel miners. Investors need to do plenty of research and select the companies that are either in production or have a high chance to make it to production. If choosing a more speculative miner then look for strong management with a track record of success, and a potentially great resource or high chance of exploration upside.
More specifically the latest trend within the EV metals story is a shift in the battery chemistry towards more nickel content. As this shift continues the nickel miners can benefit. My top stock pick in the nickel miners sector right now is Norilsk Nickel [LSE:MNOD] (OTCPK: NILSY) as they have the world's largest nickel reserves and industry leading low costs of nickel production. An added benefit is that they also have cobalt as a by-product. Finally they are currently paying an 8.83% dividend yield and are on a 2018 PE of just 9.1. You can read more in my recent Trend Investing article "Time To Buy Norilsk Nickel Before The Nickel Boom Starts Perhaps In 2018" (paywalled).
***
Thanks to Matt for joining the Roundtable. If you're interested in reading more of his work, check out his profile for his free articles. Or, consider signing up for Trend Investing for his best investing ideas - the service is one of the best performing services based on subscriber retention.
If you'd like to stay on top of the Marketplace, follow this account above or below this article. We've had an exciting summer and are building for a big finish to 2017.
Disclosure: I/we have no positions in any stocks mentioned, and no plans to initiate any positions within the next 72 hours. I wrote this article myself, and it expresses my own opinions. I am not receiving compensation for it (other than from Seeking Alpha). I have no business relationship with any company whose stock is mentioned in this article.
Additional disclosure: Matt Bohlsen is long Norilsk Nickel (LSE:MNOD)
Editor's Note: This article discusses one or more securities that do not trade on a major U.S. exchange. Please be aware of the risks associated with these stocks.