Investment Thesis
As an investor, it is easy to get focused on the mile high view because it takes less effort/energy to comprehend and to manage investments from this perspective. Sometimes, we need to drop down to the ground level and analyze more tedious aspects of our portfolio in order to make sure that we are dotting our I's and crossing our T's.
When I look at my own accounts or the accounts of those I advise, I can't help but feel that 80% of the task is actually fairly simple (mile high viewpoint). This includes research, tracking, and monitor investments and potential investments. The remaining 20% (operating at ground-level) can feel a lot more difficult because it requires extensive attention to detail and can make me feel inefficient or unproductive. Operating at ground level is the only way to make sure that investment decisions are accurately representing the game plan my clients and I have established.
The purpose of this article is to look at dividend distributions in John and Jane's portfolio on a monthly basis (all of my previous articles have focused on annual dividends). I want to compare their previous portfolio distributions with their new portfolio to see how it has impacted the consistency of their distributions on a monthly basis.
Cash Flow From John and Jane's Current Portfolio

Over the course of the last two months, I have advised John and Jane to make some significant changes to their portfolio on the premise that their current investment allocation was too focused on growth and did not generate adequate yield. The problem was amplified by the following aspects:
Many of the mutual funds that John and Jane's advisor had them invested in were focused on making large year-end distributions that consist of dividends, short-term and long-term capital gains.
John and Jane's previous portfolio had Eaton Vance Floating Rate Advantage Fund (EAFAX) and Loomis Sayles Investment Grade Bond Fund Class (LIGRX) as the only two mutual funds that pay dividends on a monthly basis and exhibited a more consistent history of strong distributions. As for the remaining mutual funds, some of them paid on a quarterly basis and the worst paid a year end distribution that fluctuated dramatically. The funds that represent this level of inconsistency include the Pioneer Fundamental Growth Fund (PIGFX), Victory Sycamore Established Value Fund (VETAX), AIG Focused Dividend Strategy Fund (FDSAX), and First Eagle Global Fund (SGENX). In other words, most of the mutual funds in John Jane's portfolio were not creating an environment of consistency. The following illustration demonstrates just how volatile mutual funds (this particular example being SGENX) with year-end distributions can be.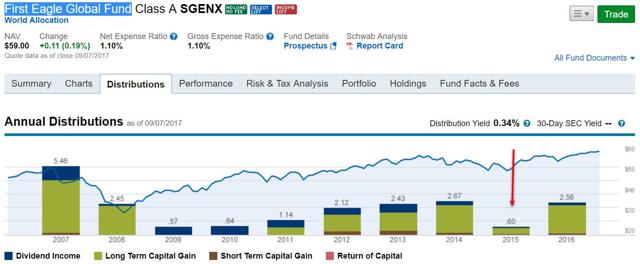 Source: Charles Schwab
Fees, fees, and more fees - when I recently reviewed John and Jane's statement from their financial advisor I was shocked to see the extraordinary fees that ate up almost all of their dividend/distribution income. Honestly, John and Jane would've had a better cash flow return (year to date 2017) by putting their money into a CD and avoiding the fees charged by the financial advisor and mutual funds (load fees and expense fees).
Dividend/Distribution Breakdown (Old Portfolio)
For readers who may not have followed my John and Jane series, I want to provide a chart of what their account looked like when I brought it over from their financial advisor. The following chart is updated with current values (think of it as what John and Jane's portfolio would have looked like had they done nothing).

Source: Consistent Dividend Investor, LLC.
In order to paint a better picture of what I am talking about I decided to create a chart that demonstrates the dividend and distributional cash flows associated with John and Jane's previous portfolio. The chart below is intended to demonstrate their previous portfolio's dividend payout over the course of 12 months in 2017 (assuming no raises or cuts for the remainder of the year).
Source: Consistent Dividend Investor, LLC.
From this chart, we can see that John and Jane could expect that there will be seven months out of the year where their portfolio would experience week dividend/distribution cash flow. For the record, I think it is fair to point out that John and Jane have prepared extremely well for retirement and as a result, it is not absolutely imperative that they have money on a monthly basis in order to meet their financial obligations. Even with this point aside, the variance between months is far too drastic for my liking.
A significant portion of funds are received during two months of the year (November and December). These two months present the biggest inconsistency in John and Jane's portfolio because the dividend represented is variable based on the discretion of the mutual fund managers. If we remove the distributions from the two most inconsistent mutual funds (SGENX and PIGFX) we can see that these represent approximately 40% of John and Jane's current dividend distribution. Remember, our primary goal is to create consistent and steady cash flow while protecting capital. With 40% of dividend/distribution returns being uncertain this indicates that John and Jane's income was being subjected to an extreme level of risk.
What Does Their Portfolio Look Like Now?
Over half of John and Jane's taxable investment portfolio is still invested in three of the six original mutual funds. The primary reason for leaving these investments alone is that the sale of PIGFX and VETAX would result in capital gains in excess of $20,000. With John and Jane still both working it would be financially unwise to sell either of these because of the taxable consequences associated with them.
The one mutual fund I have recommended John and Jane continue to hold is EAFAX. I have advised John and Jane to maintain this component of their portfolio because of the monthly distributions and the strong history of returns associated with Eaton Vance's (EV) bond portfolios looks like a good way to add diversity to their portfolio at this point in time. The following chart is the most recent snapshot of John and Jane's current portfolio.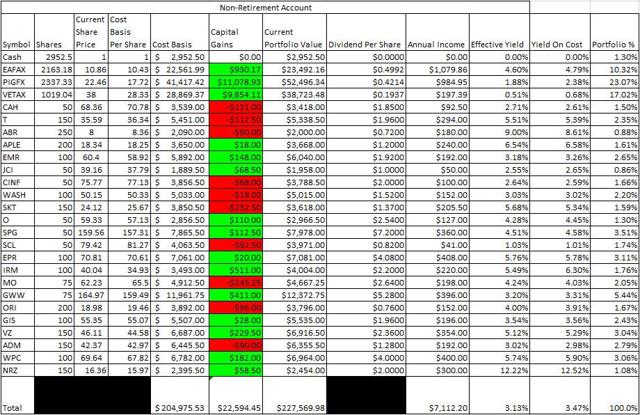 Source: Consistent Dividend Investor, LLC.
As you can see from the chart above, the funds acquired from the sale of John and Jane's mutual funds were invested in a number of stocks that come with a strong history of consistently growing dividend payouts. Before purchasing the stocks, we were looking to find companies that boasted a strong dividend history that looked unfairly beaten down.
Here's the same chart that demonstrates a 12-month payout history of all of John and Jane's current investments in 2017 (assuming no dividend raises or cuts).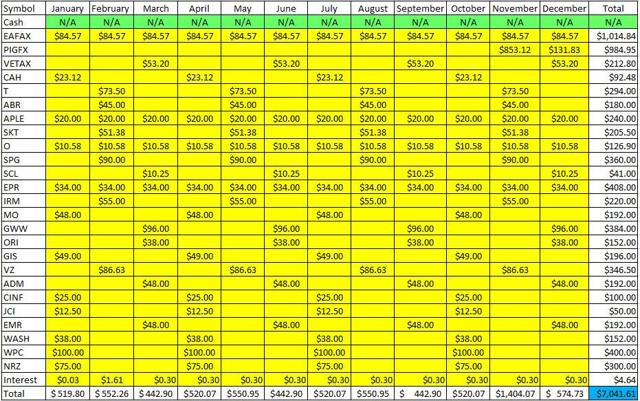 Source: Consistent Dividend Investor, LLC.
Since moving their account to Charles Schwab (SCHW) John and Jane have not added a single penny to this account. It is also important to remember that my intent over the long run is to sell all shares of PIGFX and VETAX because these will offer additional funds from which we can further increase the current dividend yield. All things considered, John and Jane have increased their annual dividend distributions by almost $1600 per year while still maintaining investments in healthy companies that are built-to-last. John and Jane's current set up has reduced the risk associated with a highly variable year end distribution mutual funds from approximately 40% down to 15% (PIGFX is the only one remaining).
Even more importantly, when you compare the dividend distributions for a full 12 months you can see that at current levels, 11 of 12 months have dividend distributions that are between $440 and $570 per month versus $155 and $1670 per month. Since almost all of these companies have strong track records of paying out dividends this has created more consistency and therefore certainty in John and Jane's retirement income.
Conclusion
Achieving a portfolio where dividend distributions are evenly spread can be challenging because we as investors do not dictate when a company makes distributions. What makes this even more challenging is the fact that we want to invest in strong consistent dividend paying companies which dictates the number of potential stocks that we can choose from.
In order to simplify this concept, I want investors to look at this process as a method of making their retirement have the consistency of a pension or an annuity. The biggest difference between a dividend based retirement plan and a pension is that investors are able to retain the full value of their retirement assets (which I believe is much safer given the future uncertainty of pension obligations).
When constructing a dividend paying portfolio I personally recommend that an investor should take a closer look at when a company tends to make its distributions in order to figure out if that company will be a good fit for their portfolio and how much of their portfolio should be allocated towards it. By focusing on the minute details of when distributions are made investors can better arrange their portfolio to make it meet their dividend income obligations\needs.
Final Note: If you enjoy my articles, please take the time to follow me. While I enjoy performing analysis, following me is the best method for showing me that SA subscribers are finding my work useful.
If you have any suggestions to improve my articles or if you would like me to perform analysis on a stock please feel free to message me and I will do my best to make it happen. I truly appreciate thoughtful feedback and would love to create content that is truly meaningful.
John and Jane are currently long the following mentioned in this article: Eaton Vance Floating Bond Fund (EAFAX), AT&T (T) Archer Daniel Midland (ADM), Altria (MO), Apple Hospitality (APLE), Arbor Realty (ABR), Cardinal Health (CAH), Cincinnati Financial (CINF), Emerson Electric (EMR), EPR Properties (EPR), General Mills (GIS), Iron Mountain (IRM), Johnson Controls (JCI), New Residential (NRZ), Old Republic (ORI), Realty Income (O), Simon Property Group (SPG), Stepan Co. (SCL), Tanger Factory Outlets (SKT), Verizon (VZ), WP Carey (WPC), Washington Trust (WASH), Grainger Inc. (GWW).

Disclosure: I am/we are long SKT, SGENX.
I wrote this article myself, and it expresses my own opinions. I am not receiving compensation for it (other than from Seeking Alpha). I have no business relationship with any company whose stock is mentioned in this article.
Additional disclosure: This article reflects my own personal views and is not meant to be taken as investment advice. It is recommended that you do your own research. This article was written on my own and does not reflect the views or opinion of my employer. I am personally long both SKT and SGENX in my personal investing portfolio.