Welcome to the Canadian gas edition of Natural Gas Daily!
Volatility in Henry Hub prices is not remotely comparable to those seen in AECO.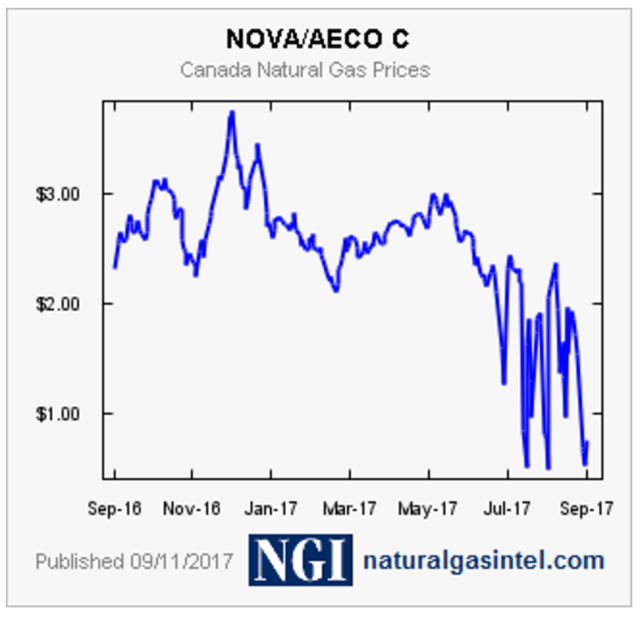 Source: Naturalgasintel.com
The extreme volatility we are seeing in AECO results from the restrictions on IT and around the provincial borders. This has impacted storage operators' ability to take on and off gas daily resulting in the large spikes up and down on AECO gas prices.
In Peyto's (OTCPK:PEYUF) last two President's monthly reports, Darren Gee, CEO and President of Peyto, went onto explain the issues impacting Canadian natural gas producers (emphasis added by us):
As a producer this creates two problems locally; one, how do you ensure you can get your gas onto the system and to market, and two, how do you ensure the price you receive is insulated from the extreme volatility that can exist. Those two problems are also interrelated. When there are restrictions to getting the gas on the system, generally there is less supply and better prices. Alternatively, when everyone but storage operators have access to the system through excess firm service, gas gets on but the prices are volatile depending on the daily supply-demand balance.

We've seen both of these two situations over the last couple years. In summer 2016, firm service restrictions on TCPL's Nova system Up Stream James River (USJR) reduced the volume of gas on the system and supported AECO prices during the summer and fall when Alberta storage was reaching a tipping point. In summer 2017, we are experiencing the opposite. Most producers have better access to firm service in USJR, but restrictions on IT at and around the provincial border, which affects the majority of storage operators and removes their ability to take gas off or put gas on, has resulted in extreme volatility in AECO daily prices (Figure 3).
The issue that plagued Canadian natural gas producers last year was the lack of takeaway capacity. To combat that issue, all of the producers learned to obtain excess firm service, but this has resulted in price volatility as storage operators are facing restrictions.
Looking at Canadian storage levels, storage levels remain relatively healthy compared to the 5-year average:

But prices have been far from healthy...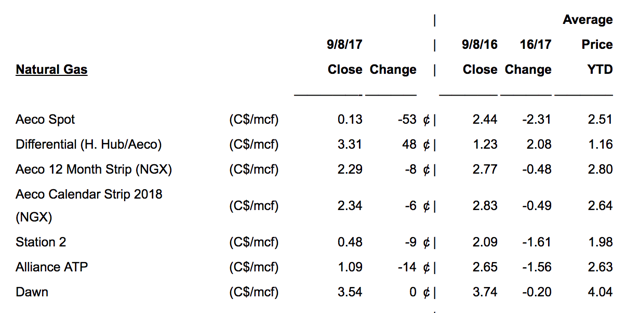 Source: GMP First Energy
Canadian gas net imports into the US have also averaged lower than last year.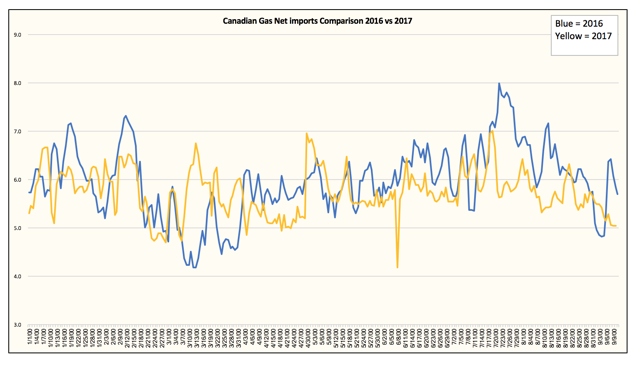 Source: HFI Research
This extreme volatility has seen AECO basis differential reach C$3.31/Mcf! A level that's not likely to be sustained in the weeks ahead as restrictions come off.
At the moment, pipeline maintenance should be completed sometime in October, but the lack of clarity along with the extreme price volatility has resulted in some producers to start shutting-in supplies.
Going forward, we expect AECO gas prices to improve, but the volatility should be expected to continue for the next several weeks. The backwardated futures curve have also resulted in several NG producers to lower capex guidance for the rest of 2017.
For readers that want to stay up to date with the Canadian natural gas market, we think you should sign up for HFI Research Natural Gas, a dedicated natural gas publication.
Disclosure: I am/we are long PEYUF. I wrote this article myself, and it expresses my own opinions. I am not receiving compensation for it (other than from Seeking Alpha). I have no business relationship with any company whose stock is mentioned in this article.
Additional disclosure: We are long Peyto through PEY.TO.
Editor's Note: This article discusses one or more securities that do not trade on a major U.S. exchange. Please be aware of the risks associated with these stocks.