Apple (NASDAQ:AAPL) is the largest publicly traded company in the world and has completely transformed every industry it operates in. Steve Jobs' focus on innovation has permeated the company and created a commitment to consumers that has handsomely rewarded shareholders throughout the years. I have recommended option strategies for Apple since 2010 with tremendous results (remember past results do not guarantee future results). For reference, please view the first and other articles in the series to fully understand the strategy and its strong potential returns. In essence the investment objective is to capitalize on Apple's volatility by selling out-of-the-money options to generate weekly income without sacrificing long-term returns.

A brief recap of this week in Apple [Up $23.87 (4.6%)]:
Apple Announces iPad 3 Event on March 7 (February 28 The Loop)
Apple Wins Photo Patent Battle Against Motorola (NYSE:MMI) in Germany (March 1 Apple Insider)
AT&T (NYSE:T) Moves To Throttle High Data "Unlimited" Users (March 1 Wall Street Journal)
Google (NASDAQ:GOOG) Updated Privacy Policy Goes Into Effect (March 1 Information Week)
Apple sent out invitations to its annual iPad announcement event which are stoking rumors about the stock and sending it to fresh all-time highs. The stock rose sharply leading up the announcement of the announcement and finally pinned at $425 Wednesday to the end of the week. I cannot think of any other company in the world that has so much excitement backing it. Apple s tagline for the event is "We have something you really have to see. And touch." Just that simple 560 by 465 pixel image has set the Internet on fire as speculation rages as to what features the iPad 3 will sport. You can kind of use this as a cheat sheet when watching the iPad 3 announcement. Apple tends to selloff during these announcements if the device simply meets expectations as much has been priced into the stock after it rocked up nearly five percent this week. Note that this is just one investor's thoughts on the matter and should not be taken as fact.
Siri: 100% Chance
Retina Display: 95% Chance
A6 Processor (Faster processor facilitates speediness of apps): 95% Chance
4G LTE (Internet access that is up to ten times faster than 3G: 75% Chance
5MB+ Camera: 75% Chance
Better Batery Life: 50% Chance
No Home Button: 50% Chance
Smaller Screen iPad Mini: 10% Chance
With these predictions in mind, the real question is what should you do leading up to the announcement? Unless Apple can blow past these expectations above I fully expect Apple to trade flat or decline somewhat during the day. Apple somewhat predictably follows the pattern of by the rumor, sell the news and I do not see that breaking with this announcement given Apple's dramatic price increases to start 2012. Apple is not worth over $.5 billion, how much more can it really grow in the short-term? Conservative long investors would be best served by selling calls or puts to cushion against a slight price decrease. This is precisely how I am playing it: Long AAPL and short AAPL March 9 545 calls. Apple does present these volatile opportunities that enable investors to simultaneous generate income and enhance returns and you certainly should take advantage.
Aside from the iPad, there was minimal news this week for Apple or its competitors. Google has been in the news unfavorably because its updated privacy policy went into effect on March 1st that revitalized concerns about consumer's privacy when using Google services. The firestorm surrounding the latest controversy will blow over as it always seems to but it is worth monitoring because Apple has had similar minor issues concerning privacy.
Below I present three possible scenarios and the potential returns for the Apple options. The first scenario represents a negative outlook for Apple while the final two scenarios are more reasonable. These scenarios are just projections and there is no guarantee that they will come to fruition. Even if you are optimistic it is important to generate both positive and negative circumstances in order to stress your assumptions. As a general rule, selling calls with higher strike prices has greater potential return but additional risk of loss due to the lower (or lack of) downside protection. For more information on the fundamentals of covered calls, consult Investopedia.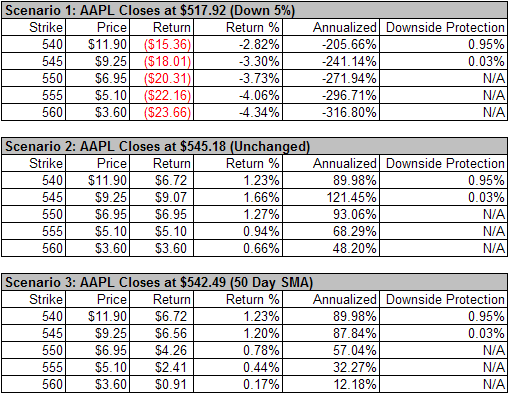 Additionally, if you would like even more information, I have prepared a sensitivity analysis for absolute return and percent returns, respectively. After studying the information above, these two charts make it easy to pick a strike price based on where you believe Apple will close at the end of the week. Estimate where you believe Apple will close and select the strike price with the highest return.

With this information, executing a buy-write on AAPL March 9 (Weekly) 545s is the optimal risk-return strategy. Please note that there is a higher probability of being called with these at-the-money options; therefore, you may wait to avoid them for tax purposes. Please consult with your accountant or personal financial planner. If you are uncomfortable with this strategy I suggest a buy-write 535s, 540s, or 550s. Even if you are extremely bullish you can still profitably sell covered calls; Apple is volatile enough that you will have opportunities to repurchase on dips. An alternative approach is to sell out-of-the-money 540 puts and collect the premium without having to purchase the stock outright. Note that if the stock declines to the strike price, you are obligated to buy the stock (or closeout the position).
Disclosure: Author is long AAPL, GOOG, and MMI.
Additional disclosure:
Short AAPL March 9 545 calls