Investment Thesis: Ventas REIT (NYSE:VTR), New Senior (SNR) and Welltower (HCN) have a lion share of their income from senior housing. We analyze all 3 along with supply and demand for this sector and bring to light the challenges will outweigh opportunities for the next 5 years. We have not taken a position in any, but a confluence of other positives forces us to single one out as the relative best value.
Predicting demographics is a one-foot putt. Birth and death rates change very slowly over time and outside of war, it is very easy to predict future population composition with a high degree of certainty. It is with this modeling that companies have predicted that demand for senior housing will rise substantially over time. In case you missed it, the 3 companies we are going to talk about today, will periodically remind you.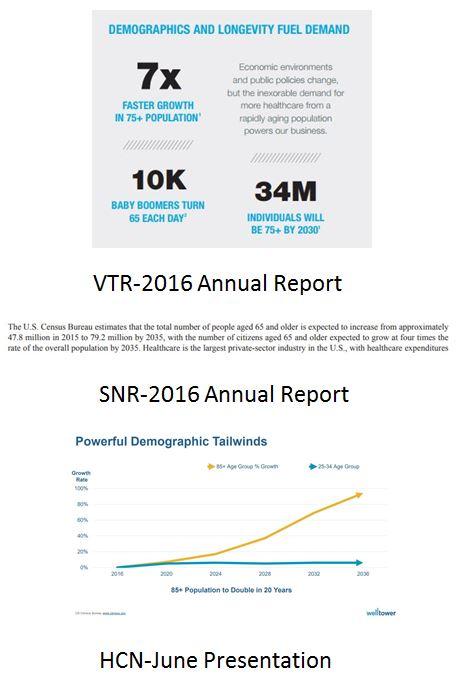 Ok, so demographics are good. Does that make an investment case for these three REITs? Let's take a look deeper.
1) Total numbers are completely useless
Total figures like over 10,000 people attaining the age of 65 every day and similar such growth numbers are completely useless and misleading. They give the illusion that demand for senior housing is and will be astronomical. The facts beg to differ. Approximately 50 million US citizens are over 65 today. However, this translates currently into only approximately 1.6 Million Units of supply for senior housing. So as a percentage of total senior citizens, senior housing supply is just 3.2%!
2) Supply is not equal to demand
Taking this further, current occupancy is around 87%. So current demand for senior housing is just about 1.4 million units. Wait, we have 13% unoccupied? Yes, we do. Just look at our three stalwart REITs who mimic this occupancy level.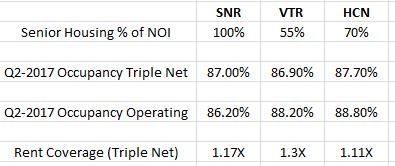 Further added in the statistics above is the rent coverage of their senior housing operators which we will get to a bit later.
3) Developers are adding to supply like shale oil CEOs love to drill for oil
Now that it is clear that the total market is just 1.6 million units, the numbers below will add a lot more value. Total units under construction are over 33,500. That is not a small number, unlike what many assert. In fact, if this supply came on to the market without any corresponding increase in demand, occupancy would fall another 2%. Based on recent sentiment, there is no projected slowdown as everyone still perceives senior housing to be a lucrative investment.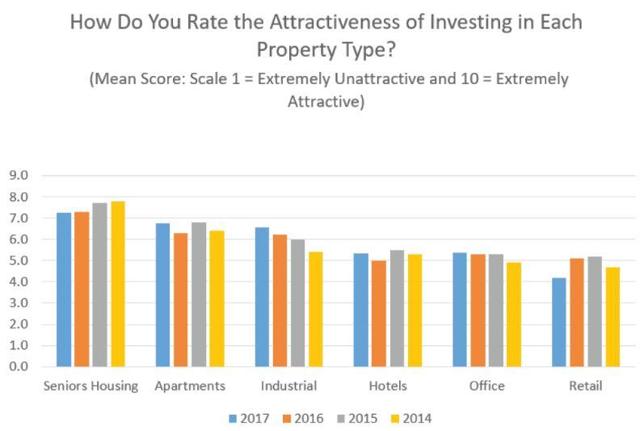 Source: Haven Senior Investments
4) Assisted living already needs assistance
Within senior housing are two categories, assisted living and independent living. Some facilities have both while others may fall somewhere in between. Analyzing facilities that fall in the "predominantly assisted living category" shows how bad the situation is. As NIC put it
Assisted living occupancy averaged 86.5% during the second quarter, down 0.7 percentage points from the first quarter and 1.4 percentage points from year-earlier levels. The level was equal to the low point reached in the data series in the second quarter of 2009.
All 3 are feeling the pinch, with Ventas making this comment in their second quarter earnings call.
Moving on to our senior housing operating portfolio, consistent with prior guidance assumptions, same-store cash NOI in the second quarter grew 0.4%. Unpacking the P&L further, second quarter same-store revenues increased nearly 2%, driven by attractive rate growth of over 4%. Rate growth was partially offset by 200 basis points of year-over-year occupancy decline.
5) The real numbers for senior housing
According to NIC, the average age of seniors entering assisted living is around 84 years of age. How does this demographic look over the next 5 years?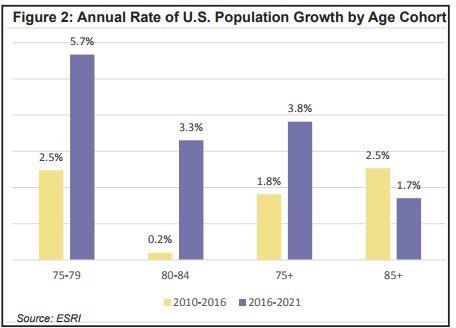 The 80-84 group will grow much stronger than it has in the past 7 years, while the 85+ group will actually grow slower than it has in the past 7 years. Remember, in the past 7 years, not only did we keep up with demand, we actually overshot it. Compare the occupancy number for Q4-2010 for these three REITs with today's occupancy numbers.

6) The real growth story...rising wages
The point of emphasizing occupancy and EBITDAR or rent coverage of the operators is to show that while actual construction has jumped, the operators themselves are struggling to make money. They have been hit with a triple whammy of
Rising rents
Falling occupancy
Compared with the 3.3% year-over-year increase in assisted living rents, average hourly earnings were up 4.2% for assisted living employees as of Q1 2017, according to data tracked and monitored by the U.S. Bureau of Labor Statistics.
Compensation costs are expected jump another 5.5%-6.0% in 2017 for some operators. If the underlying operators cannot make money, don't expect the three REITs to be able to keep passing on rent increases.
7) Is there value in any of these REITs?
Just examining the multiple shows SNR to be the best value here, however it suffers from external management, lowest EBITDAR coverage of underlying tenants and 100% exposure to senior housing.

Source: Author's estimates
Given the lower exposure of VTR to senior housing, the lower multiple is actually an anomaly and it definitely is a better value here than HCN in our opinion. VTR has also historically delivered a better return than HCN and we think the management is better.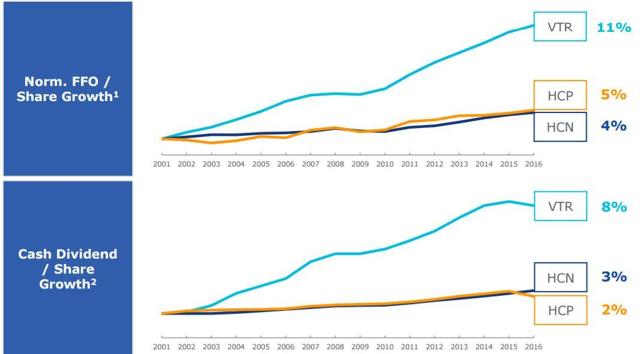 It's relatively stronger EBITDAR coverage in this difficult environment also makes us more optimistic on its future outlook.
Conclusion
The bottom line is that all 3 REITs are dealing with huge issues on the senior housing side. The short-term headwinds are so large that we would hesitate to call any of them as "defensive plays". Post 2020, the demand does increase materially (see HCN chart above), however, our crystal ball is extremely murky and we are struggling to even predict next year's Super Bowl winner. The demand for senior housing is well known, but what is unknown is how much progress we will make in healthcare. There are a multitude of drugs under development, LMTX and Intepirdine to name just two. Even mild successes that delay or reduce dementia by 1-3 years will have huge implications for senior housing.
We have a neutral (5.0) rating on VTR along with lower ratings (4.0) on both HCN and SNR. The oversupply challenges are only going to get worse in 2017 and 2018 for all three. Additionally, SNR is on the verge of cutting its dividend in our opinion. For us to own HCN or VTR we would need to see supply growth slow down markedly and developer optimism dial down from ludicrous levels. Additionally, we would need to see a 12 or 13 multiple to become interested as we are at heart deep value investors. In the case of SNR, things might get more interesting once the dividend is actually cut. We think the ensuing sell-off might give us a chance to sell at the money puts or actually buy the stock for a nice return once total pessimism is priced in.
Note: Please note that this is not financial advice. Investors are expected to do their own due diligence and consult with a professional who knows their objectives and constraints. Additional company specific information not referenced derived from respective company websites.
If you enjoyed this article, please scroll up and click on the "Follow" button next to my name to not miss my future articles.
If you did not like this article, please read it again, change your mind and then click on the "Follow" button next to my name to not miss my future articles.