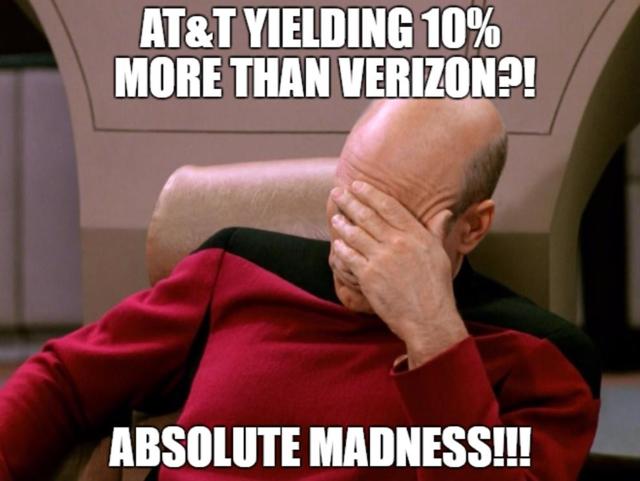 Big telecom companies like AT&T (NYSE:T) and Verizon (NYSE:VZ) are viewed as high yield utilities and strong bond alternatives, and for good reason.
After all, these are subscription-based businesses generating gobs of recurring revenue and securing yields north of 5%, compared to a 10-year Treasury yield of just north of 2%. In addition, both have very low volatility and make for solid core holdings for conservative retiree portfolios.
However, the current valuations of these two companies make no darn sense at all. That's because for similar companies such as these, a premium price, i.e., lower yield, generally signals a qualitative superiority - which, in the case of income investing, is generally one of two things: stronger long-term growth and/or a more secure dividend.
However, as we'll now see, Verizon is the objectively far inferior company, yet it somehow trades at a premium.
AT&T Is Growing Faster...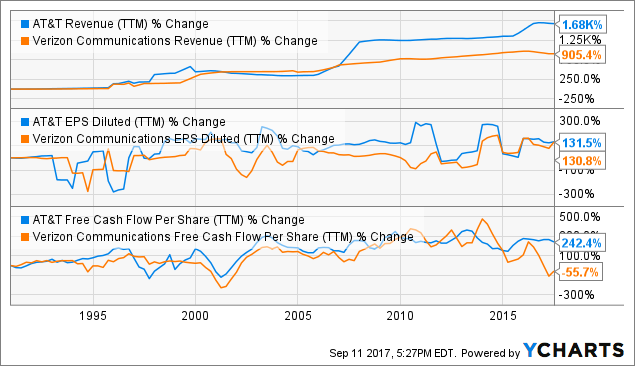 T Revenue (TTM) data by YCharts
AT&T has historically outgrown Verizon on both the top and bottom lines, meaning revenue and free cash flow, which is ultimately what secures and funds the dividend. This is largely thanks to a far better management team that has making far better capital allocation decisions than Verizon's.
For example, thanks to its success in expanding its Mexican wireless business (which saw 3.7% QoQ subscriber growth to 13.1 million) AT&T's global cell service has grown by 29% over the past two years and 10.8% in the past year alone.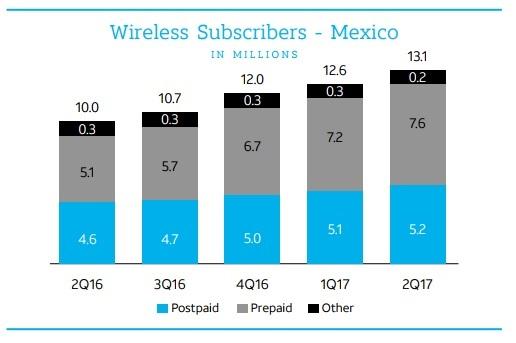 In addition, AT&T is proving partnering with FirstNet to provide the nation's first responders with a nationwide broadband and voice communications services.
In other words, when it comes to its core business, AT&T is proving highly adaptable and capable of expanding into new growth opportunities. Meanwhile, it continues to successfully evolve beyond its bread and butter wireless business into a true world-class communications and media conglomerate.
For example, the $48.5 billion acquisition of DirectTV, while adding a lot of debt to the balance sheet, also added a cash-rich business that has allowed AT&T to bundle its various TV, internet and phone services effectively to minimize the cord-cutting problem that has plagued the telecom and media industries.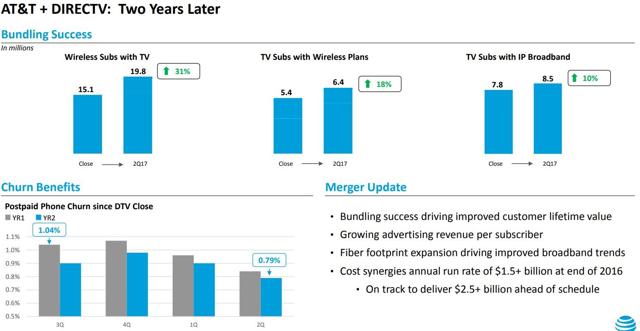 (Source: AT&T Earnings Presentation)
That, combined with $2.5 billion in synergistic cost savings, means AT&T's free cash flow is set to grow about 20% to $20 billion by 2020.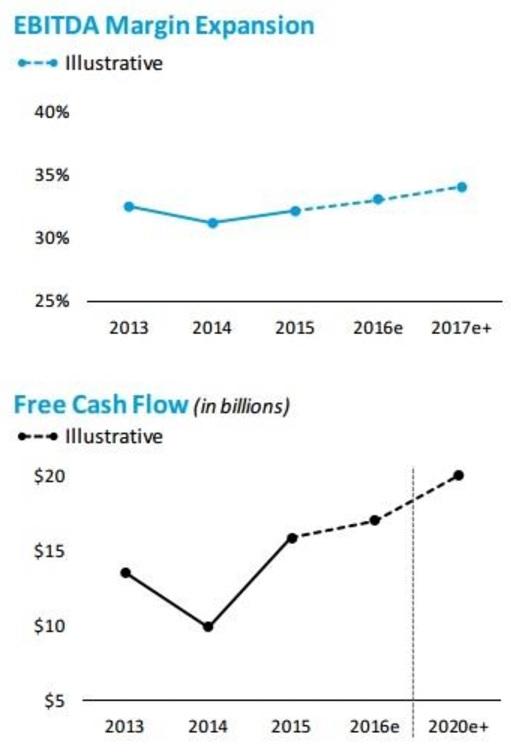 But wait, it gets better.
Thanks to its $85.4 billion acquisition of content king Time Warner (NYSE:TWX), the company is about to add even more growth potential.
(Sources: Morningstar, management guidance)
And thanks to the fact that Time Warner is a faster-growing and higher-FCF margin company, this means by the time AT&T has finished with its cost synergies, its FCF will soar an additional 30%.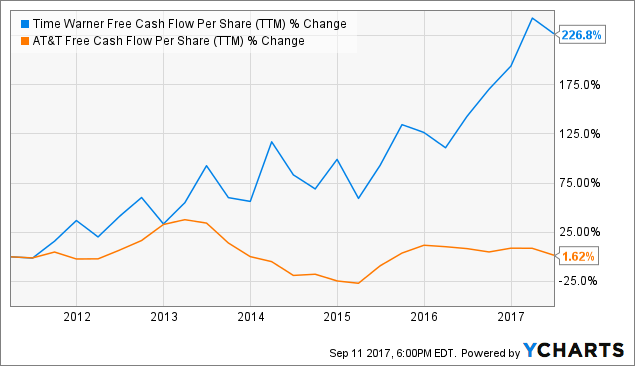 TWX Free Cash Flow Per Share (TTM) data by YCharts

In other words, AT&T is set to potentially increase its FCF by 64% over four years, or 13.2% CAGR.
Of course, the high debt being taken on to complete the deal means dividend lovers will need to be patient before we see the payout growth rise from its current annual token rate of one cent per quarter.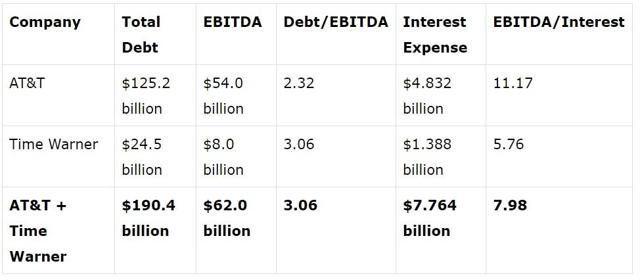 The good news is that once AT&T deleverages, the potential for much stronger dividend growth is clear.

On the other hand, we have Verizon, whose growth prospects are far inferior and whose management seems to be flailing for a solution.
Verizon: The Captain Is Drunk At The Helm
All is not well at Verizon. In the first half of 2017, the company added just 69,000 postpaid wireless subscribers, compared to 549,000 for AT&T.
Meanwhile, thanks to Verizon throwing in the towel on unlimited data plans ($80 per month for the first line), its profits have taken a hit, with service revenue down 7% YoY in the most recent quarter and management guiding for the next quarter's decline to be around 4%.
That's due to the industry-wide price war that T-Mobile (NASDAQ:TMUS) has instigated. On the other hand, AT&T gets away with charging $90 per month for unlimited data (for the first line) because it bundles a $25 per month discount for TV and free HBO with the package.
In other words, AT&T has gone the route of Amazon (NASDAQ:AMZN), whose Prime service offers ever more useful features and thus continues with subscriber addition while charging a premium.
So, with Verizon's cash cow wireless business struggling to maintain market share and pricing power, cash flow growth (the key to stronger dividend increases in the future) must come from acquisitions.
However, unlike AT&T that's wisely going after related businesses, such as TV distribution and content, Verizon's approach to buying growth is baffling, to say the least. For one thing, Verizon has spent years and a fortune cobbling together a murderers' row of failed content providers and social media companies, including HuffPost, Yahoo Sports, AOL.com, MAKERS, Tumblr, BUILD Studios, Yahoo Finance and Yahoo Mail (over 50 in all), into its new subsidiary, Oath.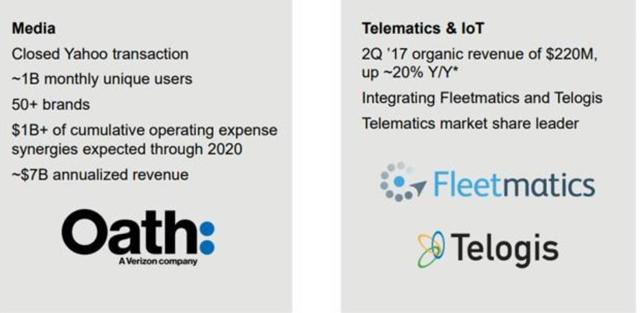 (Source: Verizon Investor Presentation)
Sure, Oath may have a billion monthly users and be generating $7 billion in annual revenue (5.7% sales growth post all acquisitions), but only time will tell if there's any long-term growth potential from that.
Personally, I don't believe there is, based on the following comments from Oath's CEO, former AOL Chief Tim Armstrong:
"We have dominating consumer brands in news, sports, finance, tech, and entertainment and lifestyle coupled with our market leading advertising technology platforms."
This is meaningless corporate babble for Verizon hopes to become an advertising and Big Data juggernaut, taking on the likes of Facebook (NASDAQ:FB) and Alphabet (GOOG, GOOGL), which together have 50% and 60% worldwide and US online ad market share, respectively. In other words, Facebook and Alphabet are masters of their universe, or MOTUs, and Verizon is just being silly, naive, or both, to think it can extract meaningful growth from Oath.
Now, as for the Internet of Things, or IOT, well, that is indeed growing like a weed. However, given that Verizon paid $3.4 billion for Telogis and Fleetmatics, shareholders should hope so.
But keep in mind that at an annualized run rate of $880 million, this represents just a 0.7% boost to revenue. In other words, it's a very expensive drop in the bucket, unless those businesses continue to generate that kind of growth for at least a decade before it starts to move the needle.
AT&T Has The Safer Dividend And Superior Total Return Potential
| | | | | | |
| --- | --- | --- | --- | --- | --- |
| Company | Yield | TTM FCF Payout Ratio | 10-year Projected Dividend Growth | 10-year Potential Annual Total Return | 10-year Risk-Adjusted Total Return |
| AT&T | 5.5% | 75.4% | 3.2% | 8.7% | 17.8% |
| Verizon | 5.0% | 84.7% | 2.7% | 7.7% | 13.3% |
| S&P 500 | 1.9% | 39.5% | 5.9% | 9.1% | 9.1% |
(Sources: Morningstar, Simply Safe Dividends, F.A.S.T. Graphs, GuruFocus, FactSet Research, Moneychimp.com, Multpl.com, YCharts)
So, if Verizon is growing slower than AT&T, and is likely to continue to do so, then naturally the lower yield must mean that dividend is much safer, right? Otherwise, why would the yield be lower, indicating a less risky dividend?
Well, that's not true either. Because even accounting for the numerous one-time financial charges VZ underwent in 2016, the adjusted FCF payout ratio is much higher than AT&T's.
And let's not forget that AT&T is a Dividend Aristocrat with 32 years of dividend growth versus Verizon's 12.
Combine this with a much slower potential for dividend growth than AT&T (even adjusting for AT&T's need for deleveraging), and you get a substantially lower expected total return.
But maybe the reason Verizon trades at a premium is because the volatility is much lower, thus boosting the risk-adjusted returns?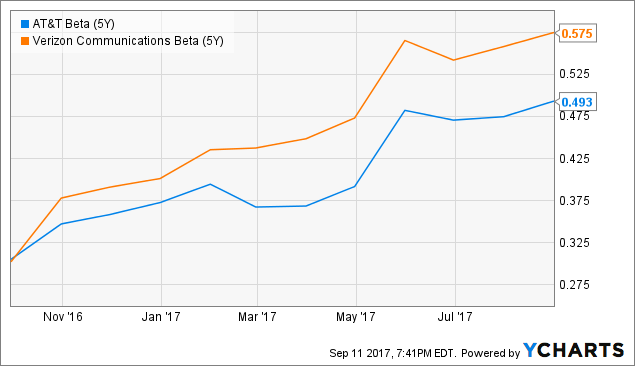 T Beta (5Y) data by YCharts
Again, that proves not to be the case. In fact, AT&T offers not just the higher, more secure, and faster-growing dividend, but lower volatility and thus a vastly superior (by 34%) risk-adjusted total return potential.
Yet, The Valuation Is Ass-Backward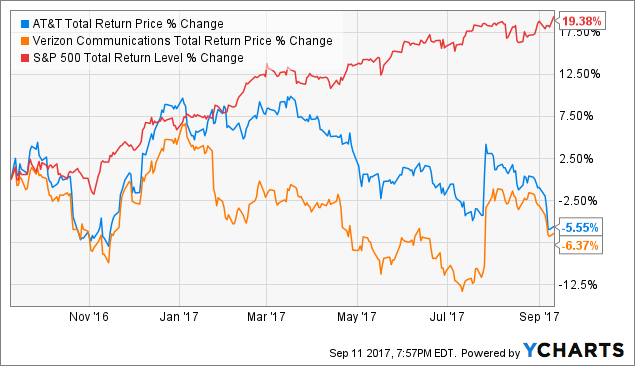 T Total Return Price data by YCharts
Given that both AT&T and Verizon have basically tracked each other's underperformance this year, the question of the latter's premium can't be explained by recent share movements.
But perhaps I'm using the wrong valuation metric? Perhaps a discounted free cash flow analysis will vindicate Verizon's lower yield in the face of such obvious relative weakness with AT&T?
| | | | | | |
| --- | --- | --- | --- | --- | --- |
| Company | TTM FCF/Share | 10-year Projected FCF/Share Growth | Fair Value Estimate | Growth Baked Into Current Share Price | Margin Of Safety |
| AT&T | $2.56 | 3.8% (analyst estimate) | $45.85 | -0.8% | 22% |
| | | 7.5% (my estimate) | $68.26 | | 48% |
| Verizon | $2.73 | 2.9% | $41.89 | 4.3% | -11% |
(Sources: GuruFocus, F.A.S.T. Graphs, Management Guidance, Morningstar, Simply Safe Dividends)
Again, we see the exact opposite. Whether or not you believe the current analyst 10-year growth forecast, which I consider to be very conservative, it's clear that the slower growing Verizon is overvalued at today's levels, while AT&T is undervalued by a significant amount.
Bottom Line: The Only Logical Answer Is To Buy AT&T Instead Of Verizon
Don't get me wrong, I'm not saying that Verizon is a bad dividend stock, just one that's a far inferior place for new money compared to AT&T.
If you bought Verizon during the financial crisis, than it may well be worth hanging onto those shares because Verizon should be able to continue its annual token dividend increases.
However, given it's more - generous, safe, and with a faster-growing payout, courtesy of a far more skilled management team and lower volatility - there is simply no reason for anyone to buy Verizon today instead of Ma Bell.
Disclosure: I/we have no positions in any stocks mentioned, and no plans to initiate any positions within the next 72 hours. I wrote this article myself, and it expresses my own opinions. I am not receiving compensation for it (other than from Seeking Alpha). I have no business relationship with any company whose stock is mentioned in this article.